Airbus A320-232 Brake unserviceable. SDR 510017672
Loose bolts found on brake nos. 3 and 4 following pilot reports of slight 'brake grabbing' during taxi. Brakes sent to Goodrich for investigation. P/No: 21684. TSN: 3643 hours/1778 cycles
Airbus A321-231 Passenger compartment lighting ballast unserviceable. SDR 510017671
Burning smell in cabin. Investigation found row 12 lighting ballast unit 117LG unserviceable and fluid on fluorescent tube. Investigation continuing. P/No: 41972002.
Airbus A330-203 Traffic collision avoidance system (TCAS) unserviceable. SDR 510017656
Investigation continuing. P/No: 751780010100.
ATR ATR72212A Crew station equipment system spring unserviceable. SDR 510017686
Captain's seat outboard spring found to be broken. Investigation continuing. One other similar defect. P/No: 1A5270016. TSN: 2190 hours/1733 cycles.
ATR ATR72212A Overheat detection system control unit unserviceable. SDR 510017728
Engine overheat detection control unit replaced following engine cockpit alert during start. P/No: EL13201. TSN: 4390 hours/4166 cycles
ATR ATR72212A Window wiring lug burnt. SDR 510017705
Evidence of burning on cockpit window heat terminal lug. Investigation continuing. P/No: NSA936501TA1402. TSN: 3306 hours/2911 cycles
BAC 146RJ100 Hydraulic power system isolation valve faulty. SDR 510017731
Cockpit warnings for hydraulic system high temp. Yellow hydraulic system isolation valve replaced. P/No: HTE95313.
Beech 1900C Wing plates/skin corroded. SDR 510017843
Minor corrosion found on inner side of the lower centre belly skin. No further corrosion found. P/No: 11412004937.
Boeing 717-200 Hydraulic system main transfer valve failed. SDR 510017792 (photo above)
R/H hydraulic system low pressure observed shortly after take-off. Investigation found transfer valve cylinder failed. P/No: 3790055102
Boeing 737-800 Cabin cooling system bellows cracked. SDR 510017682
Cabin altitude increased above 10,000ft at FL370. Passenger oxygen system activated. Investigation found bellow in RH air con pack cracked. P/No: AS150518A0042.
Boeing 737-838 Flight control system lever faulty. SDR 510017816
Take-off rejected following take off warning horn annunciation. Speed brake lever suspected to be not correctly stowed.
Boeing 737-8FE Autopilot system unexpected operation. SDR 510017825
Aircraft performed uncommanded left bank, followed by uncommanded right bank. Nil faults in autopilot fault history. Aileron and trim operation checks, cables and runs all tested satisfactory. Investigation continuing.
Boeing 737-8FE Attitude gyro and indicating system ADIRU unserviceable. SDR 510017662
LH Air Data Inertial Reference Unit (ADIRU) u/s. P/No: HG2050AC07. TSN: 35,809 hours/20,560 cycles
Boeing 737-8FE Drag control system spoiler out of adjust. SDR 510017652
Nos. 4 and 9 flight spoilers asymmetrical. Investigation found No. 9 spoiler 1.5 degrees high. Spoiler adjusted.
Boeing 737-8FE Elevator tab control system springs broken. SDR 510017696
Two springs in RH elevator tab mechanism found to be broken. P/No: 251A24391
Boeing 737-8FE Fuel storage gasket unserviceable. SDR 510017692
Fuel leak noticed after take-off. Wing fuel surge tank access panel gasket found to be u/s. P/No: 654A0004499.
Boeing 737-8FE Pressure controller unserviceable. SDR 510017826
Master caution light illuminated on descent through 8000ft. Cabin altitude decreased to 2000ft. Cabin pressure module replaced. P/No: 71231997303AB. TSN: 50 hours/35 cycles
Boeing 737-8FE Trailing edge flap control system transmission unserviceable. SDR 510017678
Water contamination found in No. 7 flap drive transmission. P/No: 256A321010. TSN: 10,510 hours/6191 cycles
Boeing 767-336 APU bleed air system valve faulty. SDR 510017666
APU auto shutdown. Faulty surge control valve. P/No: 97980612. TSN: 9380 hours TSO: 4502 hours
Boeing 767-338ER APU indicating system faulty. SDR 510017708
Speed sensor replaced following APU auto shutdown. P/No: 38760263. TSN: 25,582 hours TSO: 25,582 hours
Boeing 767-338ER Rudder tab control system suspect faulty. SDR 510017707
Rudder ratio message illuminated during climb. Completion of applicable fault isolation manual sections found nil defects.
Bombardier DHC8-102 Flight control system actuator leaking. SDR 510017719
Hydraulic fluid dripping from LH wing inboard and outboard fairings. Leak traced to the RH outboard spoiler actuator piston seal. Actuator replaced. P/No: A44700009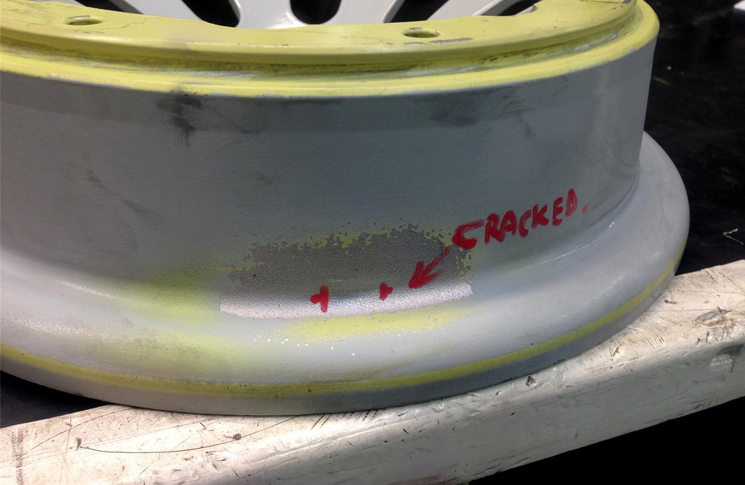 Bombardier DHC8-102 Wheel hub cracked. SDR 510017704 (photo above)
During eddy current inspection for a tyre change a 15mm long crack was found in the bead seat of the inboard hub half. This was most likely caused by metal fatigue. P/No: 300654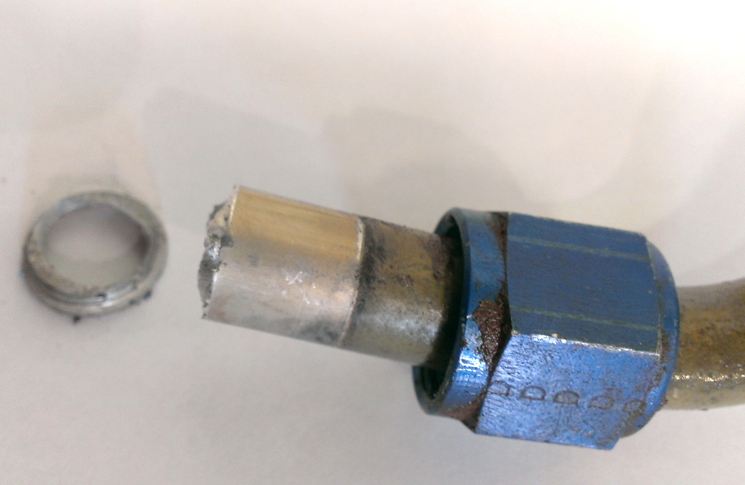 Bombardier DHC8-106 Hydraulic system main tube failed. SDR 510017638 (photo above)
No. 2 hydraulic system pressure pipe (tube) failed at flared end. P/No: 82970009325.
Bombardier DHC8-106 Landing gear position and warning system harness damaged. SDR 510017751
Weight on wheels caution light illuminated after take-off. Aircraft returned to port. Investigation found a broken wire at plug. Wiring repair carried out and system tested OK.
Bombardier DHC8-202 Power lever control rod seized. SDR 510017683
Engine condition lever difficult to move. Investigation found condition lever control rod between the quadrant and mechanical fuel control was seized.
Bombardier DHC8-314 Landing gear doors spring hole worn elongated. SDR 510017780
Landing gear RH extension spring upper eye end worn through attach bush and partially through the attach bolt. P/No: 83231020003. TSN: 33,895 hours/30,700 cycles
Bombardier DHC8-315 Airfoil de-ice system distributor valve faulty. SDR 510017661
LH outboard wing de-ice boot failed to deflate. Outboard distribution valve suspect faulty.
Bombardier DHC8-315 Brake anti-skid system suspect faulty. SDR 510017650
Anti-skid lights illuminated when landing gear selected down. Aircraft landed with anti-skid lights on. Investigation found no definitive cause and the system eventually tested serviceable.
Bombardier DHC8-315 DC generator failed. SDR 510017668
No. 1 DC generator failed. Investigation found faulty generator control unit (GCU).
Bombardier DHC8-315 Electrical power system odour. SDR 510017648
Strong electrical burning smell. Electrical mission equipment turned off and smell dissipated. Investigation continuing.
Bombardier DHC8-315 Navigation system failed. SDR 510017660
GPWS and de-ice boot warning lights. Investigation found automatic flight control system (AFCS) interface box faulty.
Bombardier DHC8-315 Stall warning system stick shaker intermittent. SDR 510017773
One second intermittent stick shaker event with autopilot engaged. Investigation continuing.
Bombardier DHC8-402 Landing gear steering system suspect faulty. SDR 510017802
Nose wheel steering unresponsive on take-off. Investigation revealed over-pressurisation of NLG shock strut.
Bombardier DHC8-402 Ice detection probe faulty. SDR 510017632
Propeller de-ice warning. Faulty static air temperature (SAT) probe.
Bombardier DHC8-402 Trailing edge flaps failed extend. SDR 510017828
Trailing edge flaps failed to extend. Maintenance lubricated flap select lever and trigger mechanism. Operational check satisfactory.
Bombardier DHC8 Drag control actuator – clutch manufacturing fault. SDR 510017763
Flight spoiler clutch assembly missing sleeve spacer. One other similar defect. P/No: 8274006102001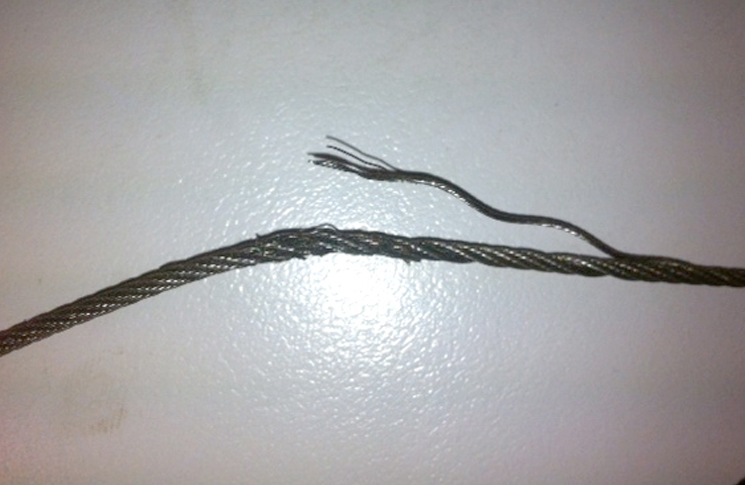 CASA C212200 Power lever cable frayed. SDR 510017647 (photo above)
RH engine speed lever control cable frayed. Another two cables in a similar frayed condition. P/No: LN936124N46L2670.
Embraer EMB-120 Engine torque indicating system suspect faulty. SDR 510017655
No. 1 engine torque signal condition unit (TSCU) suspect faulty. Investigation continuing. P/No: 3005000052. TSO: 886 hours/886 cycles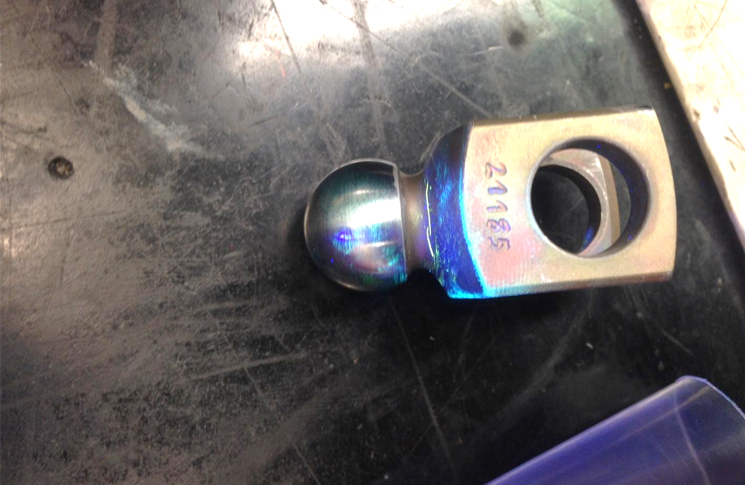 Embraer EMB-120 Landing gear steering system link cracked. SDR 510017657 (photo above)
Nose wheel steering link ball joint cracked. Found during magnetic particle inspection (MPI). P/No: 2118500000. TSN: 30,119 hours
Embraer ERJ-170 Hydraulic system main shutoff valve unserviceable. SDR 510017794
Hydraulic shutoff valve replaced following inspection iaw AD2007-02-01.Two other similar defects. P/No: 9752873. TSN: 9761 hours
Embraer ERJ-190-100 Cabin cooling system aircycle machine failed. SDR 510017646
No. 2 air cycle machine (ACM) failed. Investigation found fan rotor blade missing. P/No: 10007004. TSN and TSO: 14,287 hours/9800 cycles/9800 landings/63 months
Embraer ERJ-190-100 Stabiliser position indicating control unit fault message. SDR 510017833
After landing a no dispatch message occurred with no pitch trim indication. Horizontal stabiliser actuator control unit replaced. Operational testing produced nil defects. P/No: 4165001005. TSN: 14,681 hours/10,142 cycles.
Fokker F27MK50 Fuel boost pump unapproved part. SDR 510017709
Fuel pump sent to OEM following intermittent faults. Suspected unapproved part. P/No: 1C275.
Fokker F28 MK0100 Aircraft fuel line worn. SDR 510017675
LH main fuel rigid supply line found to have minor chaffing causing fuel leak. Fleet inspection found one other installation with similar chaffing where hydraulic line was in close proximity. P/No: 1159P416427.
Fokker F28 MK0100 APU smoke/fumes. SDR 510017748
Pilots reported bad smell of contamination below 10,000ft and on the ground. Pack recirculation filters removed for lab testing and found to have oil impregnation.
Fokker F28 MK0100 Landing gear door hinge cracked and corroded. SDR 510017688
During scheduled maintenance the LH main landing gear (MLG) outboard door hinge lug was found to be partially missing. Damaged section found with corrosion and cracks.
Fokker F28 MK070 Fuselage attach fittings hinge bracket cracked. SDR 510017633
LH and RH upper and lower speed brake hinge support brackets cracked. Found during inspection iaw SBF 100-53-113.