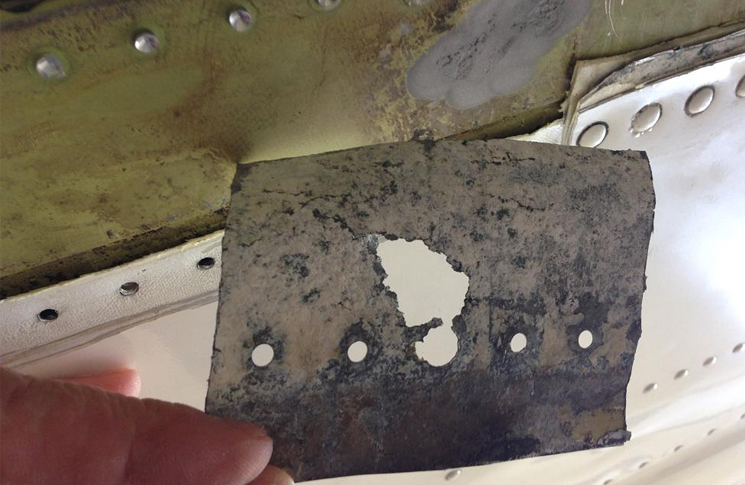 Beech 76 Wing spar corroded. SDR 510017726 (photo above)
Corrosion found around lower LH and RH wing spar rivets behind engine nacelles/wheel well. Skins and spars also corroded.
Britton Norman BN2A27 Fuel tank water contamination. SDR 510017636
Engine power loss. Water in carburettor and accelerator pump faulty. Further investigation found water contamination of the LH main fuel tank.
Cessna 172RG Hydraulic pump electric motor open circuit. SDR 510017703
Gear failed to retract after take-off. Gear selected down and extended manually. Hydraulic power pack motor armature found to have one open circuit winding. P/No: 98811281. TSO: 2739 hours
Cessna 182Q Battery/charger system unserviceable. SDR 510017690
Evidence of battery acid spill found by MRO during annual inspection. Battery replaced.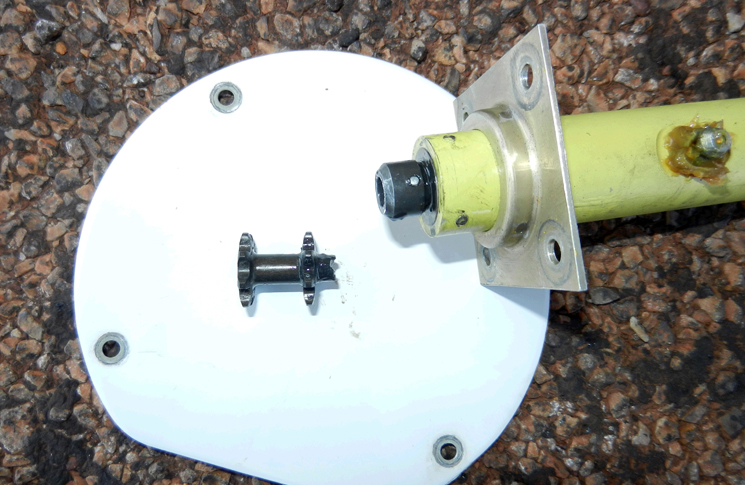 Cessna 206H Elevator tab control system sprocket sheared. SDR 510017635 (photo above)
Elevator trim tab actuator drive sprocket failed. P/No: 12601131. TSN: 686 hours/215 cycles/215 landings/6 months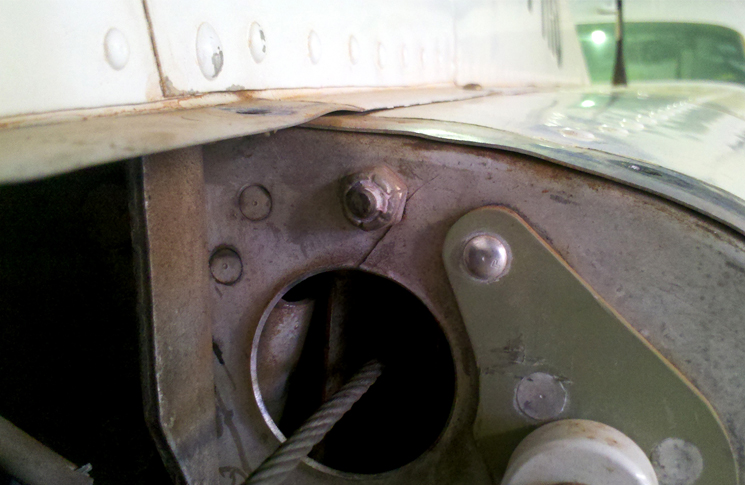 Cessna 210L Fuselage bulkhead cracked. SDR 510017781 (photo above)
During routine inspection tail cone bulkhead found to be cracked. P/No: 1212131-5. TSN: 9199 hours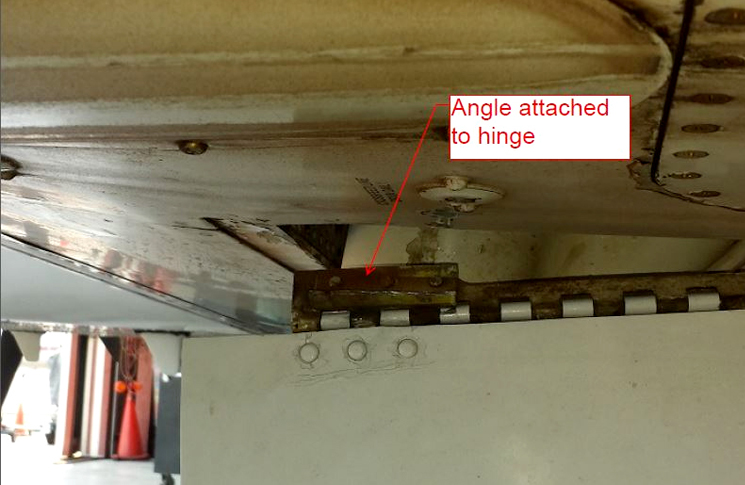 Cessna 441 Landing gear doors angle broken. SDR 510017809 (photo above)
Angle bracket attaching the forward end of the main landing gear door hinge was found to be broken, allowing the door to twist back in the airflow and bend the hinge assembly. P/No: 572730223.
Cessna 441 Wing spar cap corroded. SDR 510017725
Wing spar cap corroded. Found iaw Cessna SIDs Phase 55 inspection. P/No: 58221661. TSN: 6980 hours/5789 landings/420 months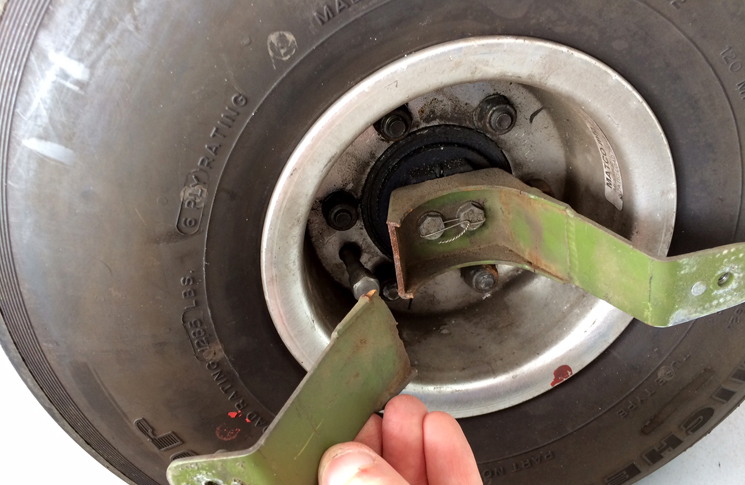 Czech Aircraft Works PiperSport Landing gear/wheel fairing bracket failed. SDR 510017756 (photo above)
Wheel spat mounting brackets found cracked during inspection. TSN: 350 hours/1024 cycles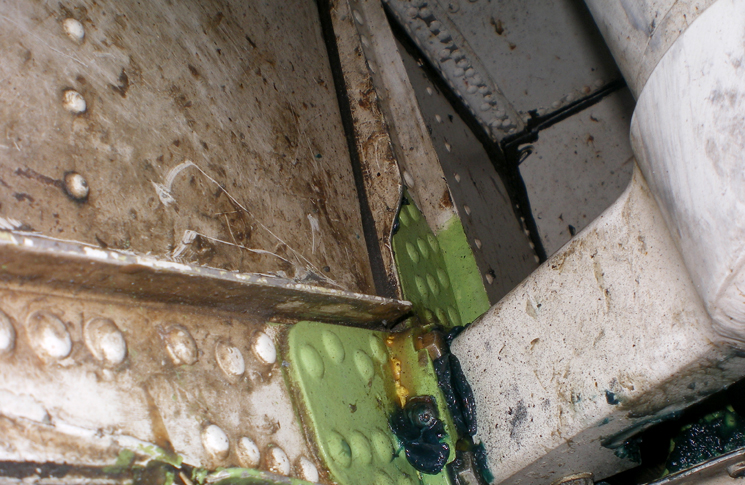 Gulfstream G73AT Landing gear attach fittings corroded. SDR 510017645 (photo above)
Nose landing gear LH and RH trunnion blocks P/Nos. 112329L and 112329R had corroded support doublers. P/No: 1073283. TSN: 5290 hours/99 months
Pilatus PC12 Pitot tube unserviceable. SDR 510017654
Pitot tube internal deflector plate broken and moved from correct position in front of pressure sensing port. P/No: 9651112302. TSN: 5888 hours/5189 cycles
Piper PA23 Elevator control system pulley unserviceable. SDR 510017805
Two elevator pullies found with nuts missing from attaching bolts. Lower pulley cable keeper also missing. Entire aircraft control system inspection continuing. P/No: 481624PIPERPN. TSN: 5025 hours
Piper PA31350 Nose landing gear strut/axle fork cracked. SDR 510017776
During scheduled maintenance the nose gear fork assembly at the axle lug was found with extensive fatigue cracking. P/No: 4533303. TSN: 13,591 hours
Piper PA44180 Engine mount section cracked. SDR 510017837
Engine mount frame cracked at dyna mount plate. P/No: 8621202LH. TSN: 11504 hours
Piper PA44180 Main landing gear attach section trunnion cracked. SDR 510017841
RH main landing gear trunnion cracked at 1 of 4 bolt holes. Found when carrying out SB 1161. One other similar defect. P/No: 6704015. TSN: 11,504 hours
Piper PA44180 Wing skin cracked. SDR 510017811
6.7 inch crack found in the RH wing aft bottom skin between WS115.29 and 108.59. P/No: 86560007.
Piper PA44180 Wing ribs cracked. SDR 510017840
LH and RH wing ribs cracked in locations described in SB 116. P/No: 78475006LH7847507RH. TSN: 11,504 hours
Swearingen SA227DC Wing attach fitting cracked. SDR 510017830
LH forward spar wing attach fitting cracked. Defective part was replaced and tracked for future inspection intervals iaw SB CC7-53-006. P/No: 2722121011. TSN: 23,889 hours/28,105 cycles
Swearingen SA227DC Wing attach fitting cracked. SDR 510017831
LH aft wing attach fitting found to be cracked. Replacement fitting subject to re-inspection intervals iaw SB CC7-53-006. P/No: 2722123011. TSN: 23889 hours/8105 cycles