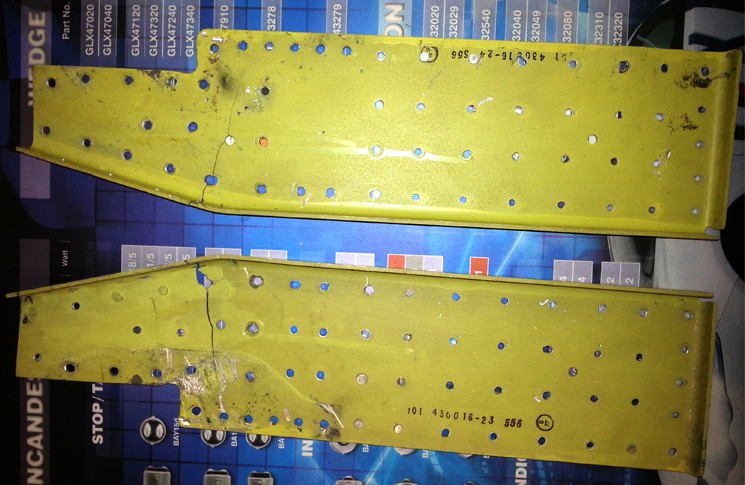 Beech 200 Fuselage frame cracked. SDR 510018007 (photo above)
LH and RH fuselage frames P/Nos: 101-430016-23 (LH) and 101-430016-24 (RH) cracked in area of FS 207.00 at floor level. Found during inspection iaw AD/B200/65 Amdt1 and Beech SI 48.
Beech B200C Engine mount cracked. SDR 510018135
Found during NDT inspection following removal iaw SIP 57. P/No: 5038913315. TSN: 3932 hours
Beech B350 Wing rib cracked. SDR 510017979
LH wing skin cracked. Found using dye penetrant inspection. During internal boroscope inspection of area, upper flange of LH outer wing rib found cracked through four rivets. Fleet inspection found minor cracking in the wing ribs of seven out of eight aircraft. P/No: 50110090123. TSN: 5893 hours/5618 cycles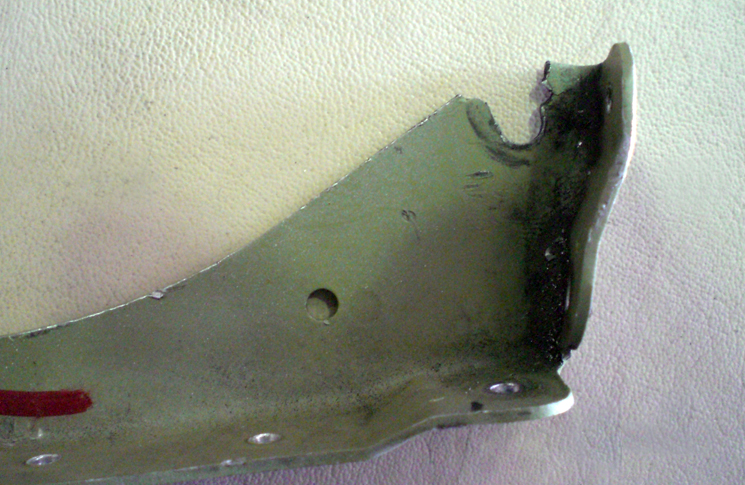 Beech G58 Landing gear door angle failed. SDR 510018117 (photo above)
RH main landing gear hinge brackets damaged and forward bracket broken. Caused by seized hinge arm bushings due to paint contamination. Similar problem with the LH side hinge bushings. P/No: 95110032359511003257. TSN: 911 hours
Britton Norman BN2B21 Elevator rivet sheared. SDR 510018194
RH elevator outboard attachment piece (bearing support) to elevator rib rivets (4off) sheared.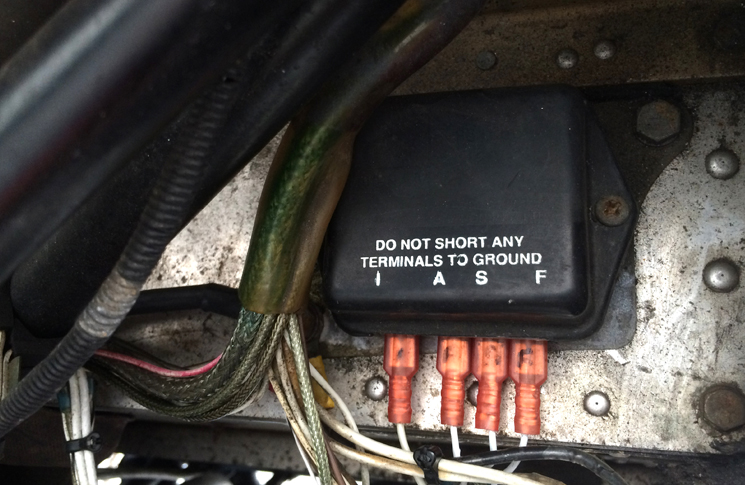 Cessna 177RG DC volt regulator suspected unapproved part. SDR 510018206 (photo above)
Voltage regulator faulty. Regulator was an automotive type with the manufacturer's details painted over.
Cessna 177RG HF communication system mount incorrectly secured. SDR 510018208
HF radio rack rear support loose, allowing radio to sag and jam elevator controls. Recent avionics work had been carried out in area.
Cessna 182Q Aileron control system terminal corroded. SDR 510018161
LH and RH aileron cables P/Nos: 1260078-2 and 1260078-3 corroded on swaged fittings. TSN: 4609 hours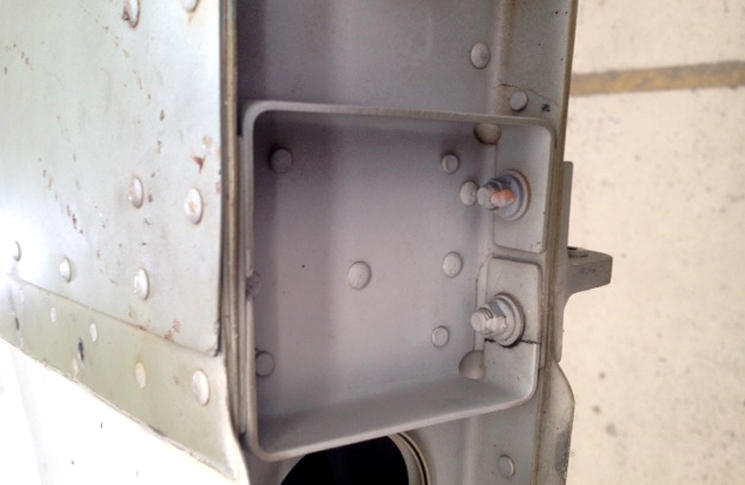 Cessna 182T Horizontal stabiliser spar reinforcement cracked. SDR 510018056 (photo above)
Horizontal stabiliser rear spar LH reinforcement cracked over full length of lug. P/No: 07321014. TSN: 3587 hours
Cessna 206 Nose landing gear oleo strut broken. SDR 510017897 (photo above)
Nose gear strut tube assembly being removed for replacement iaw requirements of Cessna SEB-32-0. While removing the tube assembly the upper portion came out, leaving the lower part inside the strut. The four pins securing the two sections had sheared off. In the new tube assembly the two parts screw together. P/No: 07436311. TSN: 493 hours
Cessna 210N Horizontal stabiliser attachment fitting unserviceable. SDR 510017914
Found during SIDs inspection 55-10-01. P/No: 1232624-1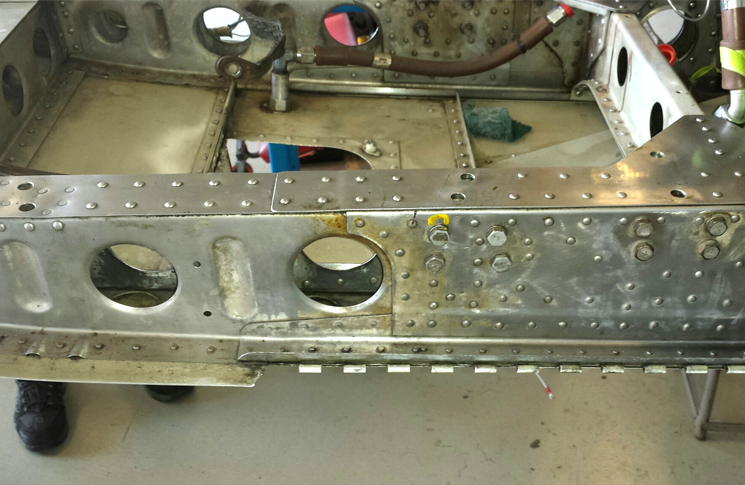 Cessna 404 Powerplant attachment fittings doubler cracked. SDR 510018074 (photo above)
LH inboard rear engine beam doublers cracked in two places through previous weld repairs. P/No: SERVICEKITSK4044058540212
Cessna 404 Trailing edge flap control rod corroded. SDR 510018348
LH flap control rod assembly corroded internally. No evidence of external corrosion. P/No: 586510220
Cessna 404 Trailing edge flap control rod worn and damaged. SDR 510018349
LH flap control pushrod chafed due to worn bearings and link rod. Area of wear approx. 10mm by 8mm (0.39in by 0.31in). Depth of damage approx. 1mm (0.039in). P/No: 586510221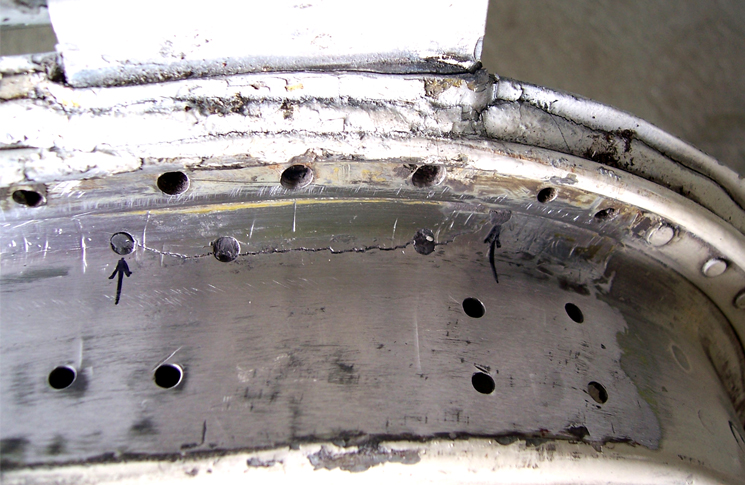 Cessna 421C Passenger door repair plate cracked and corroded. SDR 510018060 (photo above)
Lower cabin door rear hinge point crack repair plate rusted and cracked in area of previous weld repair. TSN: 7609 hours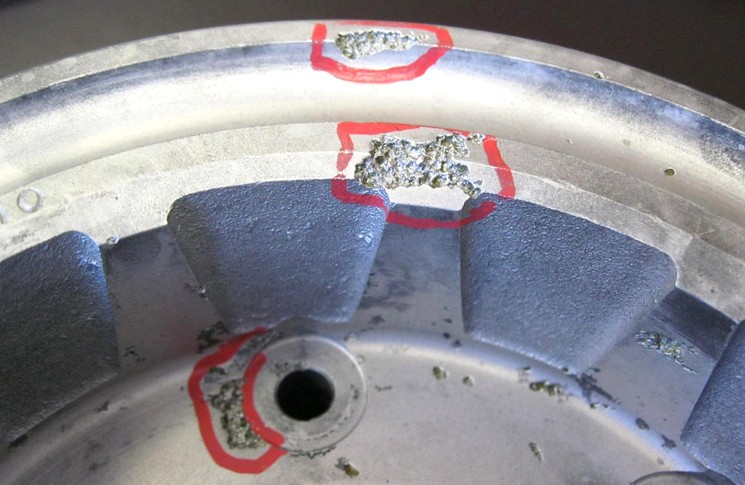 Cessna 441 Wheel corroded. SDR 510018104 (photo above)
Nose wheel outboard half severely corroded. P/No: 40140A
Cessna A150M Wing fuselage attachment brackets cracked. SDR 510018332
Numerous attachment brackets found cracked during SIDs inspection. Cracked brackets include: upper wing strut brackets (2off) P/No: 0523614-1-2; lower wing strut bracket P/No: 042001-3-1; forward wing attachment spar blocks (2off) P/No: 0411129-2; horizontal stabiliser attachment bracket. P/No: 0432004-9; LH horizontal stabiliser to fuselage attachment bracket P/No: 0432005-2-1.
Cessna P206B Wing spar stiffener corroded. SDR 510018055 (photo above)
RH wing main spar stiffener corroded in area approx.1 metre from the inboard end. P/No: 122210523. TSN: 7924 hours
Cessna U206G Aileron hinge cracked. SDR 510018065
LH aileron inboard hinge cracked in radius. P/No: 122005311. TSN: 7577 hours
Cessna U206G Fuselage bulkhead cracked. SDR 510018067
LH and RH forward door bulkheads cracked. Found during inspection iaw AD/C206/48 A2.
Cessna U206G Nacelle firewall cracked. SDR 510018068
LH and RH lower firewall cracked in area of muffler support brackets. P/No: 12534353. TSN: 7577 hours
Cessna U206G Engine attach stiffener cracked. SDR 510018070
LH forward engine mount structure cracked. Crack had previously been stop drilled. Found during inspection iaw AWB 53-003. One other similar defect. P/No: 12136621. TSN: 7577 hours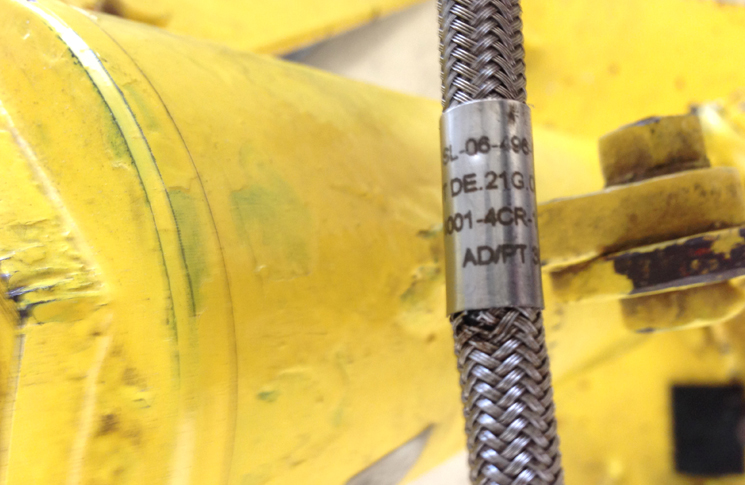 Diamond DA42 Hydraulic system main hose ruptured. SDR 510018224 (photo above)
Nose landing gear actuator hydraulic hose ruptured. Hose failed adjacent to metal identification band, causing loss of hydraulic fluid. P/No: 12404GG3700. TSN: 3226 hours/6185 landings/83 months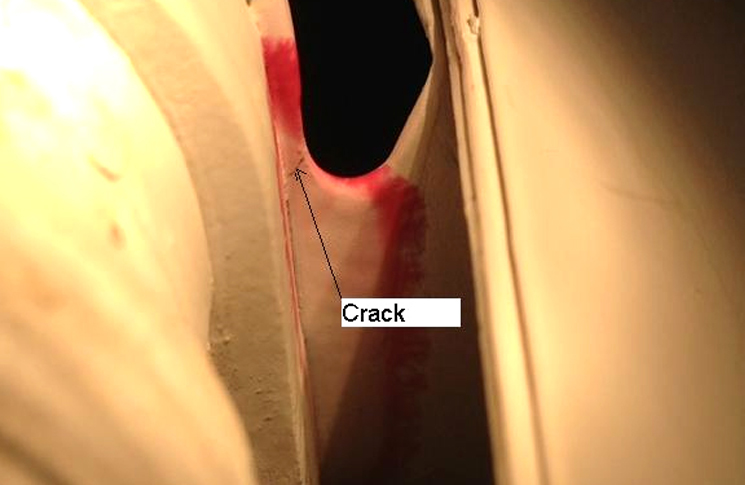 Gippsland Aeronautics GA8 Fuselage frame rib cracked. SDR 510017992 (photo above)
No. 6 rib cracked. Crack had propagated beyond acceptable area from a small crack found during modification. No. 5 and No. 6 ribs had been modified iaw Gippsland SB-GA8-2013-99.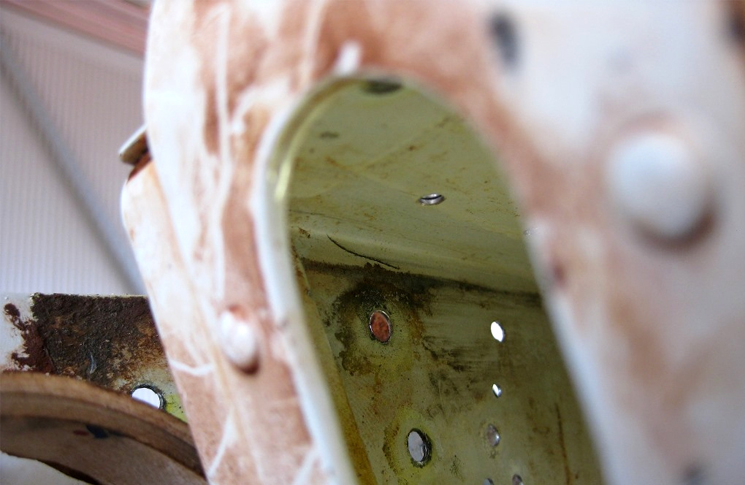 Gippsland Aeronautics GA8 Fuselage skin doubler cracked. SDR 510017961 (photo above)
RH aft skin doubler P/No: GA8-538021-310 cracked. EO 0853-008E1 (washer installation) carried out on RH and LH doublers. Approx. 200 hours later LH doubler inspected and found cracked, but RH doubler crack had not progressed. Following removal of the doublers for replacement, the LH fuselage skin was found cracked in area above the tailplane attachment fitting forward bolt hole. Crack approx. 19.05mm (0.75in) long. P/No: GA8538021309LH. TSN: 7244 hours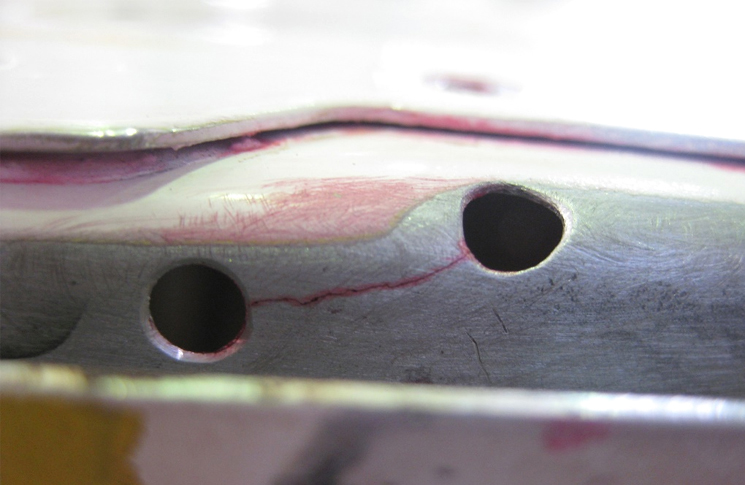 Gippsland Aeronautics GA8 Fuselage skin doubler cracked. SDR 510018110 (photo above)
LH and RH rear fuselage aft skin doublers cracked around tailplane attachment bolt holes. P/No: GA8538021309. TSN: 3337 hours
Gippsland Aeronautics GA8 Horizontal stabiliser spar cracked. SDR 510018321
Horizontal stabiliser rear spar splice plate lower flange cracked. Found during inspection iaw SB-GA8-2002-02.
Gippsland Aeronautics GA8 Landing gear fairing mount broken. SDR 510017986
RH main landing gear fairing lower RH mount broken. P/No: EO0832009E1
Gippsland Aeronautics GA8 Main landing gear attach section fitting worn. SDR 510017985
RH main landing gear inboard fitting worn and attachment bolts loose. P/No: GA832102221.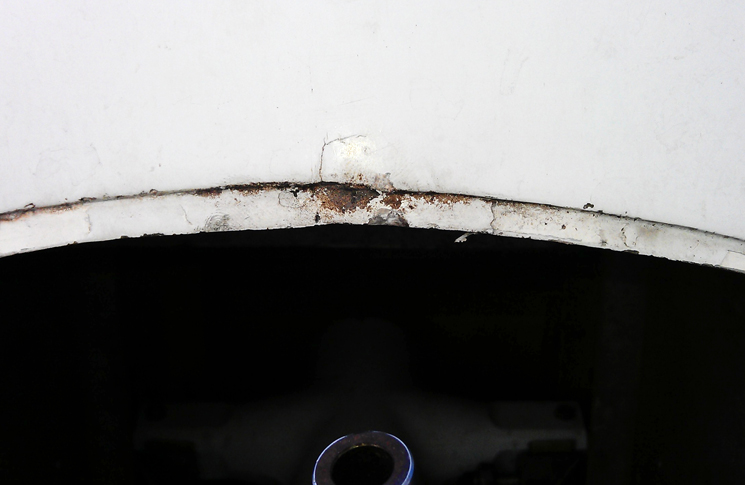 Gulfstream 500S Landing gear extension system roll pin failed. SDR 510018298 (photo above)
Nose landing gear unsafe light during down selection. Aircraft landed and NLG collapsed, causing minor damage to doors, linkages and belly skin. A previous possible ground handling mishap had put strain on the NLG steering actuator, causing the roll pin in the spacer assembly to fracture and allowing the hinge pin to eventually fail which caused the actuator shaft to foul on the fuselage and prevent the NLG from fully extending. P/No: ES10119
Piper PA28161 Mixture control rod end unserviceable. SDR 510017937
Engine mixture control rod end bearing inner race separated. Found during investigation iaw AWB 27-018. P/No: 452606
Piper PA28161 Stabiliser control system cable faulty. SDR 510018262  (photo above)
Forward upper and lower stabiliser control cables P/Nos: 62701-113 and 62701-114 failed inspection in area of cable termination crimps. Found during 10x inspection iaw AD/PA-28/2013-02-13 and Piper SB 1245A. Three other similar defects. P/No: 62701113.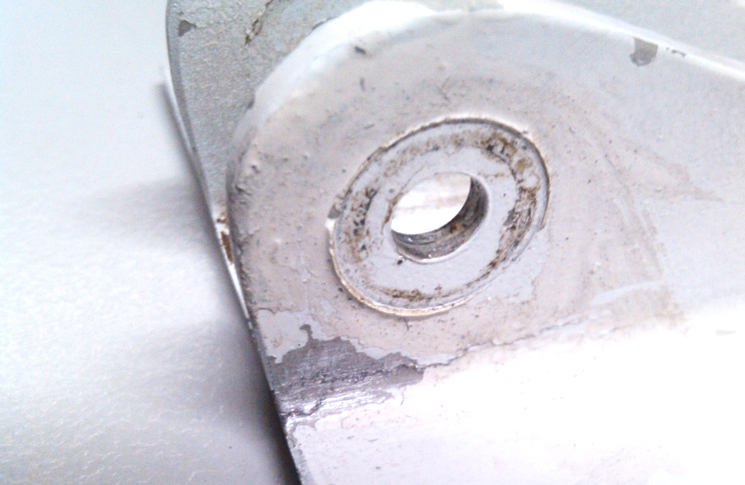 Piper PA28181 Aileron control system fitting cracked. SDR 510018153 (photo above)
RH aileron rod end fitting cracked. P/No: 3564022. TSN: 4060 hours/384 months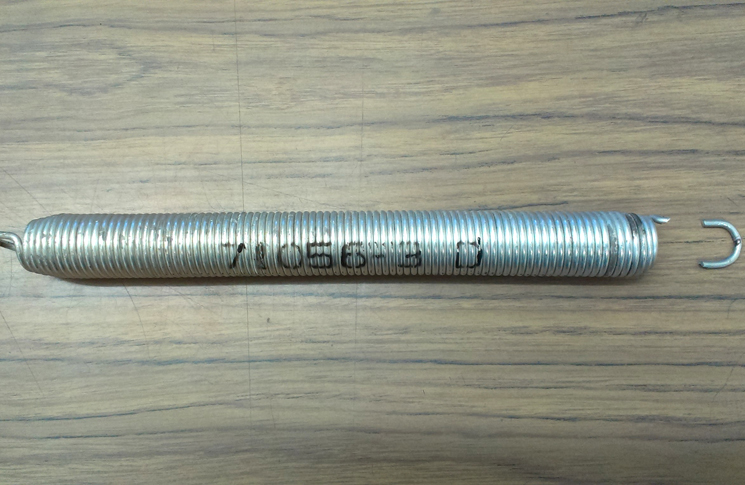 Piper PA31350 Elevator control system spring broken. SDR 510017890 (photo above)
Elevator down spring failed during flight. This caused the aircraft to suddenly pitch up 300ft until full forward elevator trim could be obtained to counteract subsequent air loads. Auto-pilot was not engaged at the time. Elevator down spring had failed at the airframe attachment end. P/No: 71056003. TSN: 467 hours
Piper PA31 Landing gear collapsed. SDR 510018012
RH main landing gear retracted during landing. New downlock pin and hook had been installed before flight. Damage to RH flap, inboard landing gear door and RH propeller and engine. Investigation continuing.
Swearingen SA227AC Autopilot system cable broken. SDR 510017969
Autopilot system aileron bridle cable broken under cabin floor. P/No: AVED1148819923166002. TSN: 1957 hours/2013 cycles
Swearingen SA227AC Landing gear brake system incorrect operation. SDR 510017970
Both LH main landing gear tyres blown and oleo strut deflated. Fluid contamination and evidence of overheating in the LH wheel well and surrounding area. LH wheel park brake valve was not fully released, causing a build-up of heat during take-off which damaged wheel well components when the gear was retracted. No conclusive evidence of fire found.
Swearingen SA227DC Fuselage wing attach fitting cracked. SDR 510017952
RH aft fuselage wing attachment fitting cracked. Found during inspection iaw SB CC7-53-006 and AD 2012-18-01.
Swearingen SA227DC Passenger door diaphragm damaged. SDR 510018141
Passenger door safety latch diaphragm ruptured. Safety latch system prevents inadvertent opening of the passenger door by creating differential across the diaphragm. Ruptured diaphragm will not develop a differential and will not prevent door from opening while cabin pressurised. P/No: 2724127075
Yak 52 Wing spar caps corroded. SDR 510018113
LH wing spar upper and lower spar caps had severe exfoliation corrosion. P/No: 52204000LEFTHAND. TSN: 1330 hours/372 months