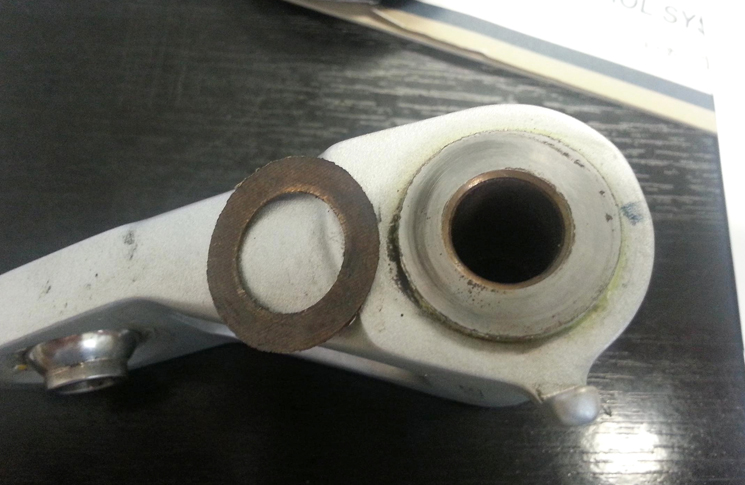 Agusta Bell A109SP Main rotor control bushing debonded. SDR 510018041 (photo above)
Main rotor swashplate rotating scissor lever bushing Teflon face debonded. Bushing specific to new scissor assembly (P/No: 109-0134-21-103). P/No: 13BSF0828C.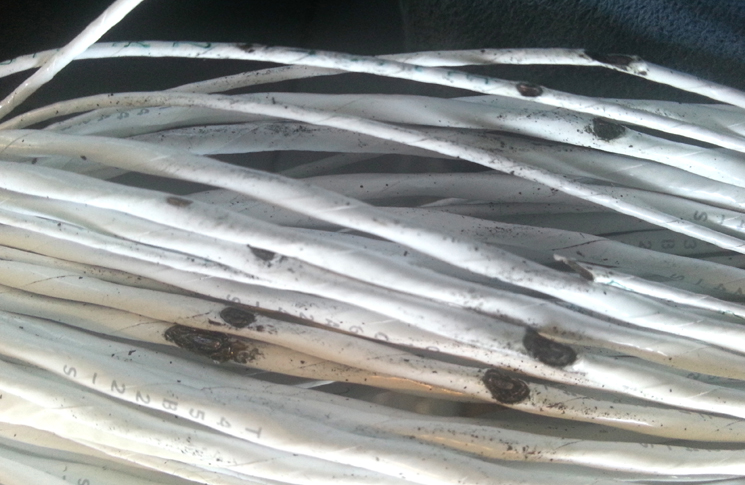 Agusta Westland AW139 Autoflight wiring harness worn and damaged. SDR 510018095 (photo above)
Trim system P125 wiring harness chafed.
Agusta Westland AW139 Fuselage floor panel engine deck corroded. SDR 510018165
Rear fuselage upper deck corroded and delaminating. TSN: 3023 hours
Agusta Westland AW139 Landing gear bearing cracked. SDR 510018164
RH main landing gear forward sponson spherical bearing ball cracked inside housing.
Bell 206B3 Engine transmission coupling drive shaft failed. SDR 510017968
Main engine to transmission drive shaft failed. P/No: 206040075103. TSO: 603 hours
Bell UH1H Elevator rib cracked. SDR 510018235
P/No: 20503085619. TSN: 2620 hours
Bell UH1H Power lever bellcrank damaged. SDR 510018109
Throttle control rod P/No: 205-060-729-019 and bellcrank P/No: 205-060-717-001 damaged by loose restraint cable fitted as part of firefighting bucket system. Cable was too long and snagged under the throttle rod and bellcrank in the aircraft 'hell hole' during a RH turn. P/No: 205060717001.
Eurocopter AS332L Landing gear extension system cylinder suspect faulty. SDR 510018127
Landing gear failed to extend. Suspect faulty RH damper cylinder. P/No: C23954107. TSN: 7280 hours
Eurocopter AS350B3 Hydraulic system main hose failed. SDR 510018216
Hydraulic hose failed, causing loss of hydraulic fluid. Second occurrence in 136 hours. P/No: 704A34412257. TSN: 136 hours
Eurocopter AS350B3 Hydraulic system main vent hose failed. SDR 510018008
Hydraulic hose failed/ruptured when only 79 hours old. Hose is manufactured from Teflon/stainless steel and is the subject of CASA AWB29-004 and Eurocopter information notice 2506-I-29.
Eurocopter EC120B Main rotor drive system housing cracked. SDR 510018087
Aircon compressor mount lug failed and housing cracked adjacent to compressor mounts. Threaded inserts in transmission also damaged. Housing was slightly distorted, causing fan tip rub, and the lower flange had contacted the transmission oil filter housing causing wear. P/No: C632A2162101. TSN: 1768 hours TSO: 1768 hours
Robinson R22Beta Mixture control cable broken. SDR 510018054
Engine mixture control cable broken near mixture arm. Investigation found bushing P/No: A130-48 missing from the mixture arm. P/No: A5223.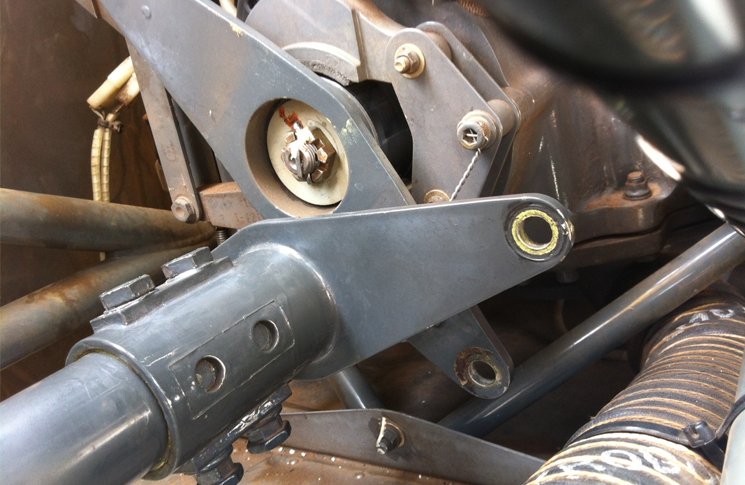 Robinson R44 Tail rotor drive shaft yoke worn. SDR 510018130 (photo above)
Unusual noise noticed during shutdown. Forward flex plate attachment bolts loose and drive yokes fretting due to paint under the bolt heads and where the yokes sit against the flex plate.