GE CF3410E Engine turbine failed. SDR 510018255
Two large bangs heard from No. 2 engine followed by severe vibration. Engine failed on approach.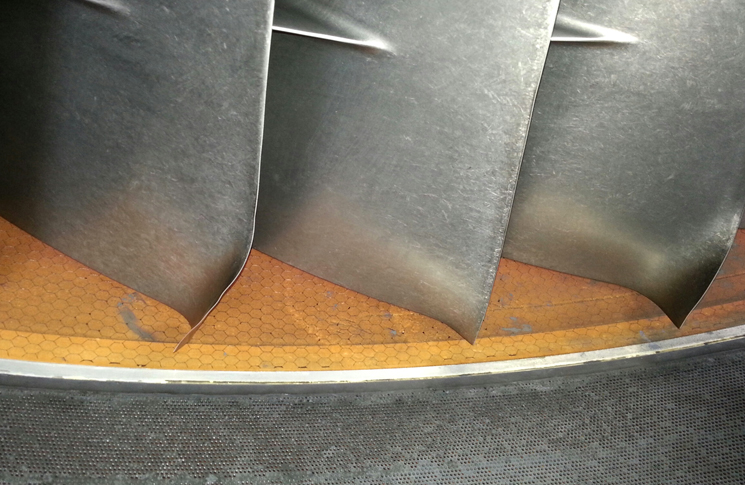 GE CF680C2 Turbine engine compressor fan blade damaged. SDR 510018159 (photo above)
No.1 engine flamed out on landing due to snow/ice on runway. No. 1 and No. 4 engines had several fan blades damaged beyond limits due to ice ingestion. No.1 engine thrust reverser deployed and jammed with ice. Minor damage to LH wing flaps.
GE CF680C2 Turbine engine compressor O ring failed. SDR 510017966
No. 2 engine shut down due to low oil pressure. Transfer gear box (TGB) contaminated by O ring material. The O ring (P/No: 9607M05P50) was from between the flange of the No. 1 air/oil seal and No. 1 bearing housing. P/No: 9607M05P50
GE CFM567B Turbine engine fumes. SDR 510018236
Fumes in cockpit during take-off. Engine ground runs carried out with no fumes present. Suspect fumes came from No. 2 engine which had been changed prior to flight.
PWA PT6A114A Turbine engine stator cracked. SDR 510017922
Large number of cracks found in the nozzle guide vane assembly. Large exit duct had buckling and a crack in the weld. P/No: 302905CLO621. TSN: 3619 hours TSO: 3619 hours
PWA PW118A Engine fuel flow indicator suspected illegal modification. SDR 510018129
A sticker over the original part number said that the indicator had been modified to read KG/H (kilograms/hour) instead of the correct PPH (pounds/hour). An unapproved dial face had also been fitted over the correct face, with no documentation to support the changes. P/No: 946441.
Rolls Royce BR700715A130 Turbine engine compressor blade failed. SDR 510017923
During take-off crew experienced LH engine surge. Boroscope inspection at the rear of the HPC found substantial damage due to failure of HPC stage 4 compressor blade.