Airbus A320-232 Filter odour. SDR 510017934
Mild/moderate odour in cockpit and cabin. Investigation found nil leaks but there was old residual oil in the APU compartment. Recirculation filter replaced. P/No: 424B2007
Airbus A320-232 APU oil system O rings suspect faulty. SDR 510018247
Strong oil smell in cabin. Investigation found APU oil filter pressure switch leaking oil into intake cowl suspect due to faulty O rings. P/No: 3043002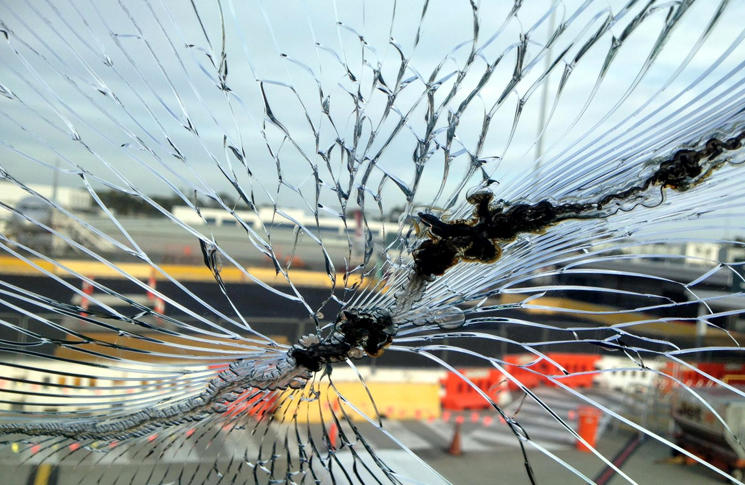 Airbus A320-232 Flight compartment windshield cracked. SDR 510018201 (photo above)
RH windshield arcing and cracking. Inner ply still intact. P/No: NP1653118. TSN: 13,337 hours/7746 cycles
Airbus A380-842 Emergency locator transmitter faulty. SDR 510018002
ELT battery wiring heat shrink damaged. Found during inspection iaw (in accordance with) SB 1152682-23-A22. P/No: 11526823.
BAC 146200A Fuselage wing attach fitting plate corroded. SDR 510018132
RH frame 29 wing lug plate corroded in No.11 bolt hole. Found during inspection iaw AD/BAE146/138, EASA-AD-2009-046 and SB53-213.
BAC 146RJ100 Flight compartment windshield cracked. SDR 510018222
First officer's B windshield cracked. No evidence of FOD. Windshield had only been fitted for approximately four weeks. P/No: NP1701024. TSN: 86 cycles/6 months
Boeing 717-200 Fuselage frames cracked. SDR 510018341
LH fuselage frames at Stn 674 and Stn 715 P/Nos: 9923404-503 and 9923407-503 cracked. Found during inspection iaw SB 717-53A0034 and FAA AD 2013-19-22. TSN: 28,059 hours/19,136 cycles
Boeing 737-838 Flight compartment window cracked. SDR510018014
No. 2 LH sliding window vinyl interlayer cracked at metal insert in forward upper corner. Found during inspection iaw AD/B737/334, FAA AD 2008-11-08 and Boeing ASB 737-56A1022. P/No: 58935577. TSN: 11,633 hours TSO: 11,633 hours.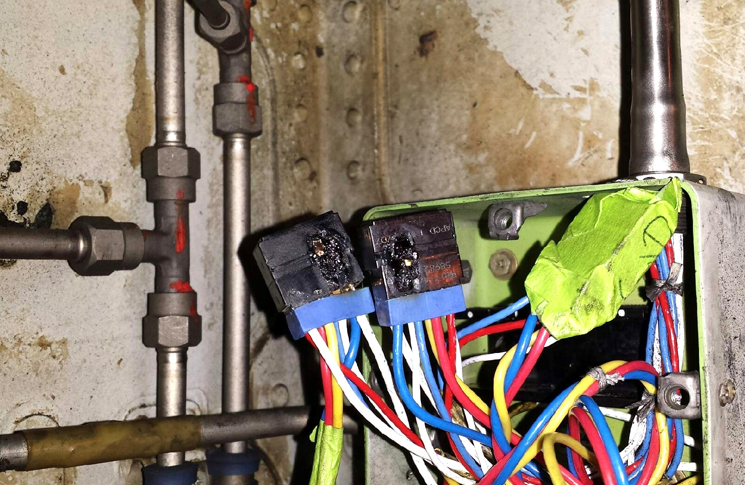 Boeing 737-838 Landing gear wiring terminal block damaged. SDR 510018111 (photo above)
Landing gear position indicating system terminal blocks (2off) TB040 in junction boxes on main landing gear strut damaged due to heat. P/No: M817143DD1
Boeing 737-838 Wheel bolt sheared. SDR 510017910
Main wheel tie bolt found sheared, portion of bolt and nut missing. P/No: 277A6000204
Boeing 737-8FE Brake bolt missing. SDR 510018183
No. 3 main landing gear wheel heat shield bolt missing, allowing heat shield to move out of position, interfere with brake assembly and cause scoring on brake housing.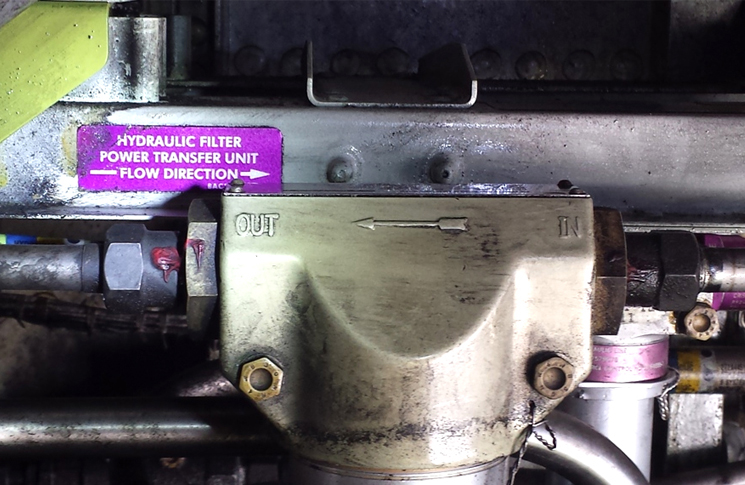 Boeing 737-8FE Hydraulic system auxiliary filter incorrect fit. SDR510018203 (photo above)
Hydraulic power transfer unit (PTU) filter module installed with incorrect orientation. Suspect occurred during aircraft manufacture. P/No: 7552355. TSN: 4454 hours/1784 cycles
Boeing 737-8FE Passenger door screw sheared. SDR 510018336
Main exit door L1 could not be fully opened. Upper guide arm radius link bolt attachment screw sheared, allowing the bottom radius link to jam against the aircraft structure. P/No: BACS12ER06K6
Boeing 737-8FE Pitot static system head contaminated. SDR 510018040
Captain's pitot probe contaminated with mud wasp nest. Aircraft had been parked without pitot covers fitted. P/No: 0851HT1
Boeing 747-438 Fuel wiring insulation failed test. SDR 510017891
During maintenance inspections two fuel system boost pumps failed insulation resistance checks. Found during inspection iaw AD/B747/173. P/No: 60989762
Boeing 757-236 Fuselage skin corroded. SDR 510018304
Rear fuselage skin at APU inlet cutout had level 2 corrosion between Stns 1787.45 and 1825, stringers 3R and 6R.
Boeing 767-381F Fuel boost pump eroded. SDR 510018325
Main fuel tank boost pump and shutoff sleeve/valve eroded in LH and RH main tank forward and LH and RH main tank aft positions. Found during inspection iaw AD 2008-11-01.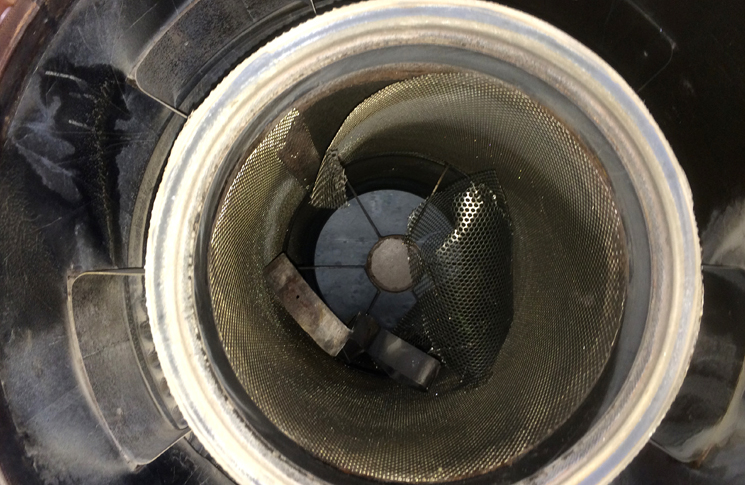 Boeing 777-3ZGER Cabin cooling system housing unserviceable. SDR 510017954 (photo above)
RH aircon pack fan inlet diffuser housing u/s. Bonded joints holding the centre tube in the fibreglass composite housing had weakened, resulting in joint failure and departure of the centre tube. P/No: 8102074. TSN: 22,510 hours/1843 cycles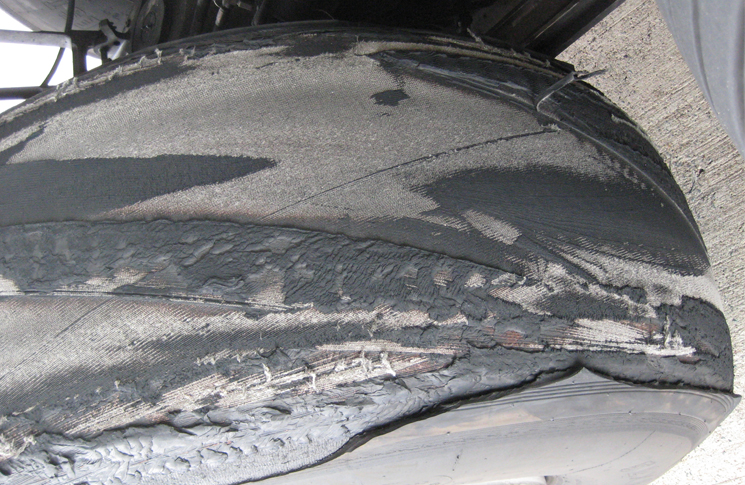 Boeing 777-3ZGER Tyre tread separation. SDR 510017955 (photo above)
No.12 main landing gear tyre tread separated, causing damage to RH engine fan liner and RH inboard flap assembly. P/No: APR06600R2. TSO: 484 hours/37 cycles
Boeing 7878 Electrical power system ram air turbine suspect faulty. SDR 510018225
Ram air turbine (RAT) deployed after take-off with no crew input. Investigation found no fault but RAT manual relay changed as a precaution. P/No: 7000011H07. TSN: 430 hours/191 cycles
Bombardier DHC8-102 Fuselage protection strip damaged. SDR 510018028
Gravel runway protection strip partially failed and was banging against the fuselage belly. P/No: 3MTAPE
Bombardier DHC8-315 Stall warning system stick shaker suspect faulty. SDR 510018331
Spurious stick shaker warning. Four other similar defects.
Embraer ERJ-190-100 Aileron control system cables worn. SDR 510017971
LH and RH aileron upper and lower cables P/Nos: 190-0551-401, 190-05550-401, 190-04212-401 and 190-05549-401 worn beyond limits in area of trailing edge pulleys.
Embraer ERJ-190-100 APU inlet silencer disbonded. SDR 510018138
APU inlet silencer diffuser vanes disbonding and breaking up. Several sections adrift and sitting in the bottom of the air intake screen. P/No: 4952354
Embraer ERJ-190-100 Wing skin cracked. SDR 510017989
LH wing upper skin plank cracked between ribs 13 and 14 approx. 90mm (3.5in) behind the rear spar aft rivet line. Crack approx. 46mm (1.18in) long.
Fokker F27MK50 Passenger seats cracked. SDR 510018179
Passenger seats 2DF and 5DF had cracked cross members. Found during inspection iaw AD/Seat/16 A1 and CSB 312/912-01 Rev 2.
Fokker F28 MK0100 Cabin pressure controller jet pump contaminated. SDR 510018103
Cabin pressurisation system would not depressurise. Pressurisation control system jet pumps contaminated.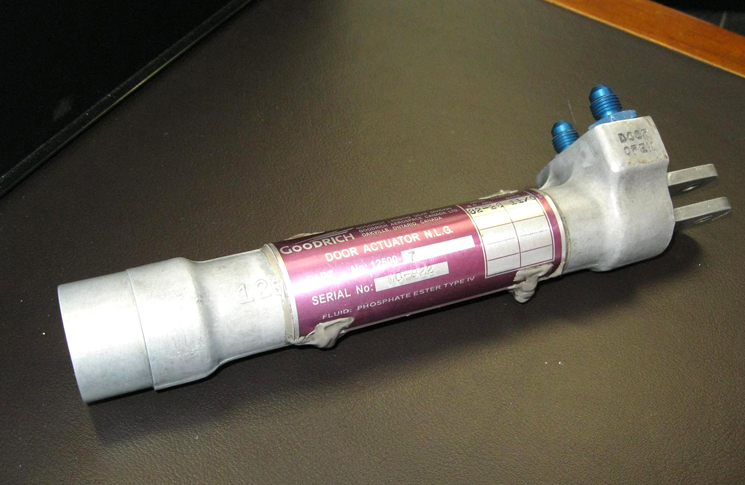 Fokker F28 MK0100 Landing gear actuator cylinder cracked and leaking. SDR 510018032 (photo above)
Nose landing gear actuator cylinder cracked and leaking in two areas next to transfer port. Found during NDI inspection at overhaul. P/No: 234701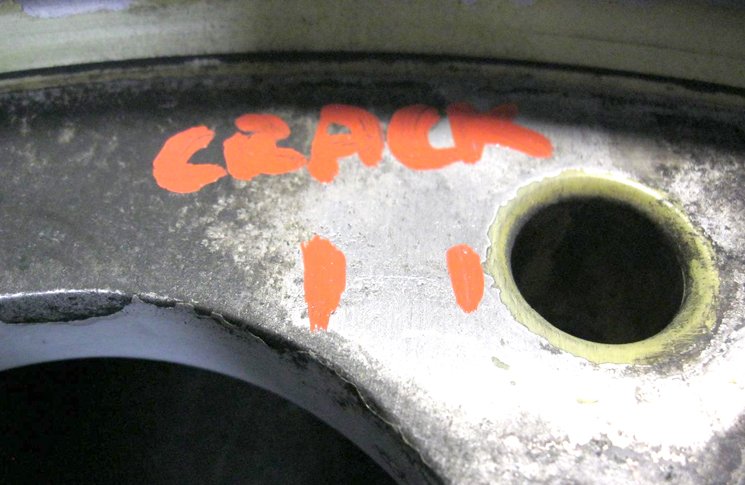 Fokker F28 MK0100 Tyre wheel cracked. SDR 510018156 (photo above)
Outboard wheel flange cracked in area of bolt hole. Found using eddy current inspection. Crack approx. 15mm (0.59in) long. Two other similar defects. P/No: 5010888
Saab SF340B Elevator control system cable out of adjustment SDR 510018137
Elevator stick pusher capstan cable tensions out of adjustment. Found during inspection iaw SB340-27-115.
Saab SF340B Elevator control system pushrod incorrectly marked. SDR 510017892
Elevator push rods had no readable part numbers as per EASA AD 2011-0078 (SAAB SB 340-27-100) Push rods replaced iaw SB.
Saab SF340B Hydraulic system main hose failed. SDR 510018119 (photo above)
LH main landing gear brake hose failed at elbow causing loss of hydraulic fluid. P/No: AE83011E. TSO: 7076 cycles/7076 landings/87 months