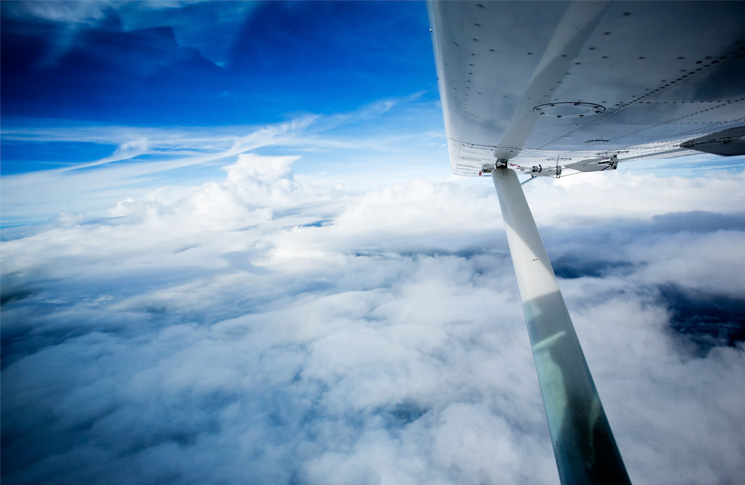 A young pilot discovers a sky full of difference between two abbreviations that are sometimes taken to mean the same thing.
CAVOK…thank goodness for that. It had been a long time since I'd seen that on a forecast. (For the uninitiated, it means ceiling and visibility are OK.) I had been hanging out on Groote Island for three wet and miserable days. This wasn't part of the plan, and what a meticulous plan it had been. We had left Bankstown seven days before on the trip of a lifetime: my mother, my best buddy's parents and I. My IFR instructor was supposed to come with us, but she had to pull out at the last minute with the comforting words… 'It's the dry season, you'll be lucky to see a cloud!'
I had pulled off a trifecta. I had planned an awesome trip around Australia in a Partenavia; my passengers were going to help pay for my trip, and a multitude of multi-command hours; and, at the last minute, I had been approached by the owner of an immaculately refurbished Cessna 310 who wanted some hours on it and had given me the most awesome rental rate. Until then I had only flown for 250 hours. I had to pinch myself at my luck.
I planned the trip thoroughly: every overnight, every tour, every fuel stop, every alternate. Nothing was left to chance.
I completed my C310 endorsement in good time, and was impressed that it was fitted with a Trimble 2000 GPS. I read the manual, but my instructor assured me that if I could use the direct-to (DTO) function, I would have it made.
At last, we departed Bankstown and settled back into the huge, newly leather-upholstered seats of the immaculate 310. Lunch at Bourke, overnight at a farmstay near Cunnamulla. Day two, lunch at Burke and Wills Roadhouse, refuel at Burketown, dodge a few clouds and up to Sweers Island for some fresh barra fishing.
Then the heavens opened.
We had planned three days on Sweers Island, but after 24 hours, the dirt strip was so waterlogged that I decided we had better leave while we could, make a fuel stop at Borroloola, then head up to Jabiru for the night.
It was pretty clear over water, but every attempt to cross the coast to Borroloola was met with a wall of cloud almost down to the ground. After several attempts I elected to divert to Groote Island. A sealed strip and fuel were what I needed right then.
Fuelled and watered, weather checked and several local pilots consulted; it was apparent that we would not be flying VFR to Jabiru any time soon. We found a hotel. Next morning was no better. By lunchtime, my tourists were getting a little frustrated, so I put them on an RPT flight to Darwin. At least I wouldn't have the peer pressure to contend with, but I was starting to feel like a goose.
Next day it was decided that I would fly directly to Kununurra, so my passengers could get an RPT flight to meet me there, after taking a few tours out of Darwin.
Day three on the island and bingo … Kununurra was finally CAVOK!
I set off into blue skies. The cloud had abated, but not disappeared, and was far more stratiform. A scattered layer at about 2000 feet thickened up and raised a little as I hit DTO Tindal, with clearance given at 8000 feet. I was making good time, and with no pax, I had heaps of fuel for my trip. I noticed that I was now over a solid layer of cloud. I was VFR on top, what could go wrong? I was on the radar, tracking direct to Tindal by GPS. I passed over Tindal and hit DTO Kununurra, thinking nothing of it when Tindal asked me if I was IFR capable. Tindal passed me over to Brisbane and when they asked me what my endurance was I felt a bit worried.
All of a sudden it dawned on me-CAVOK; who doesn't expect clear blue skies, light winds and perfect flying conditions? Thinking about it though, didn't it actually mean no cloud below 5000 feet, or the highest 25nm? Well, I was at 8000 feet, and there was a layer of cloud between both those altitudes and me. I also did not have an instrument rating.
The rest of that flight was a nightmare. As I sweated, it looked as though the cloud was thinning, but was this just a mirage? While I contemplated my options, and indeed my possible fate, the cloud thinned out and by the time I got to Kununurra, it was completely SKC (sky clear).
Three days in Kununurra and the dry season set in. We didn't see a cloud for the rest of our trip. It was awesome.
I learnt many things on that trip, and am now an airline pilot of 5000 hours, but I have never learnt a lesson as well as the difference between CAVOK and SKC. If just one person who reads this loses the fanciful vision of blue skies down to the ground when they see CAVOK on a forecast, it will have been worth me telling this tale.