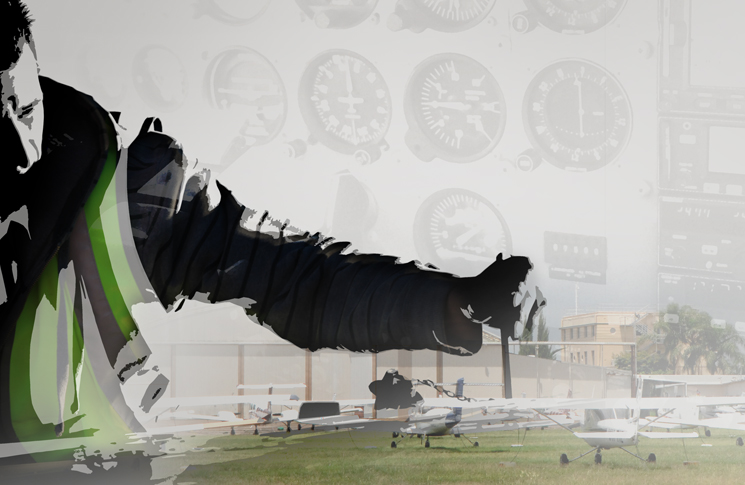 A cluster of small innocuous decisions can add up to an unexpected fright, as this private pilot now knows.
It was December 2004 and I'd just got my PPL(A). I'd organised for a bunch of friends to travel down to Kooralbyn for a skydive. I decided to take three of them with me in a Cessna 172 from Archerfield to the short strip at Kooralbyn. I conducted a basic plan for the return flight, leaving on Saturday and returning on Sunday, and worked out the max fuel, based on the weights of my friends, who aren't the smallest of people.
Forecast temperatures were in the mid to high 30s, so it was definitely one of those hot and heavy situations. With that in mind, I thought there's plenty of runway at Archerfield to take off and by the time I need to take off from Kooralbyn on Sunday morning the fuel load will be a little less and the temperature a bit lower. The flight to Kooralbyn was uneventful and the skydive was eye-opening. But what was even more eye-opening than jumping from 14,000 feet was the flight home.
The next day I completed all the usual checks and dipped the tanks. I had intended to leave early, but after some breakfast banter I didn't even make it to the aircraft until lunch, with the temperature well into the 30s. With some basic mental equations, I was cutting the fuel a little fine so I asked the locals if avgas was sold here. At that time, they had none. I'd make it to Archerfield but wouldn't want to run into any of the snap storms that Brisbane is renowned for and that were forecast for later that afternoon. It was hot and my three passengers were heavy so I thought maybe the extra fuel was probably not a good idea anyway.
Starting the engines and completing the run-ups, I taxied to the short and bumpy runway. Brakes on, full power, Ts and Ps in the green, static RPM, brakes release, and we were away. But not as fast as we should have been. The end of the runway was getting closer and closer and my speed was not where I wanted it. I thought to myself, 'those trees at the end are starting to get much too close for comfort'. Rotate speed couldn't come soon enough and as I pulled the stick back to get into the air the trees were still too close, so I pulled back some more.
BEEEEP, the stall warning blared and my temptation to pull back on the stick even more was absolutely overwhelming. I was grateful for all the stall training during my licence course and, even though those trees were perilously close, I lowered the stick and managed to clear them. All the while my passengers were blissfully unaware.
I was sweating more than a little as I tracked for the circuit back at Archerfield. My left tank was reading zero and the right didn't look much better. Looking at my mixture lever I noticed it was rich; I had forgotten to lean during the cruise and I gloomily thought 'this could cost me much more than fuel money'. As luck had it, I landed, taxied to park and shut down. I can't recall what level I dipped the tanks at after that flight but I clearly remember that the wooden dipstick wasn't gleaming in the sunlight.
Overall, this experience taught me the utter importance of doing as you were trained; planning, stall recovery, calling forward to your destination to request airport information, and denying passengers if the weight risk becomes too great.
This experience in my early flying life was invaluable, but hindsight makes me wish that I had simply planned and made decisions more effectively that day, rather than run the risk of becoming another entry in the chronicles of Swiss cheese.