Airbus A320-232 Engine exhaust gas temperature (EGT)/turbine inlet temperature (TIT) indicating system connector faulty. SDR 510019043
No.2 engine EGT fluctuating with nil other engine parameters affected. Investigation found resistance on thermocouple connectors faulty. Connectors cleaned and re-seated, resulting in resistance improvement.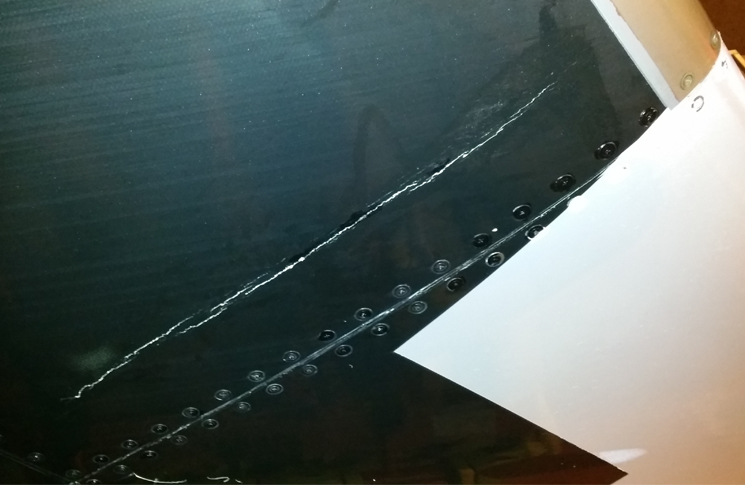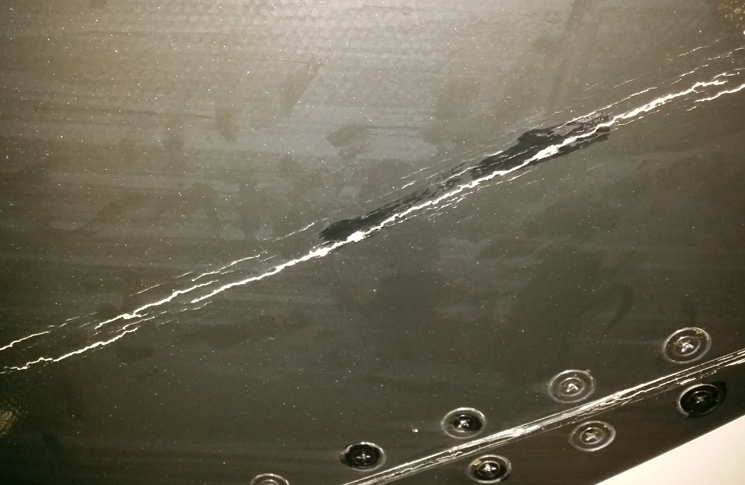 Airbus A320-232 Vertical stabiliser plates/skin panel cracked. SDR 510018853 (photo above)
Vertical stabiliser RH side panel 322AL cracked. P/No: D5537002501000.
Airbus A330-303 Audio/video monitoring ULB failed test. SDR 510018915
Cockpit voice recorder (CVR) underwater location beacon (ULB) failed test iaw AD/Rec/1 and AMM 23-71-00-710-804. P/No: 266E030500.
Airbus A380-842 Fuel boost pump failed. SDR 510018951
RH mid tank forward fuel pump failed. Approximately two minutes later RH mid tank aft fuel pump failed. Investigation continuing.
BAC 146-300 Trailing edge flap control system ball nut contaminated. SDR 510019021
Trailing edge flaps would not move from 18-degree setting when selected for 24 degrees, accompanied by error messages. LH and RH flap inboard ball nuts contaminated with water. Suspect water had frozen, preventing flap operation.
BAC 146RJ100 Elevator control system incorrect assembly. SDR 510019023
Elevator had restricted travel during post-maintenance control check. LH and RH servo arms transposed.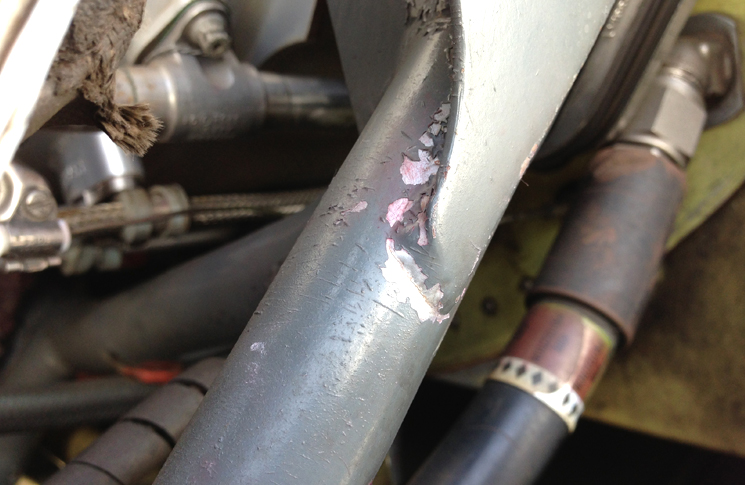 Beech 1900C Engine mount section truss cracked. SDR 510018919 (photo above)
LH engine isolator mount truss cracked at base of lower inboard gusset weld. P/No: 12921004717. TSN: 11932 hours  TSO: 3970 hours.
Boeing 737-838 Elevator tab control system spring broken. SDR 510019015
RH elevator tab control forward springs (2off) broken. One similar defect. P/No: 251A24391.
Boeing 737-838 Fuselage floor panel splice strap cracked. SDR 510019059
Cabin floor straps cracked at fastener holes. Found during inspection iaw AD 2013-23-04. Numerous similar defects.
Boeing 737-8FE RH aileron control system cable unserviceable. SDR 510019034
Investigation continuing.
Boeing 737-8FE LH Aileron tab control system trim tab out of limits. SDR 510018850
LH aileron tab free play out of limits. Found during inspection iaw AD/737/298 and SB 737-27-1273.
Boeing 737-8FE Brake unserviceable. SDR 510019036
No. 3 brake assembly failed. Pad separation and damage to heat shields. P/No: 26123121. TSN: 22809 hours/11405 cycles TSO: 9852 hours/5347 cycles. Similar defects reported.
Boeing 737-8FE Drag control system cable corroded and frayed. SDR 510018864
Spoiler cable WSB2-L2 had numerous broken and corroded strands. Broken strands found when cable unwound by hand. P/No: BACC2C3D04062FG.
Boeing 737-8FE Emergency locator beacon ELT unserviceable. SDR 510019027
Portable electronic location transmitter (ELT) switch in 'off' position and the factory-fitted 'remove before installation' sticker still in place. Numerous similar defects. P/No: 11534261M503.
Boeing 737-8FE Fuselage plates/skin cracked. SDR 510018999
LH and RH side fuselage skin cracked at FS 540 stringers 22 and 23. Found during inspection iaw SB 737-53-1294 Rev1. Similar defect reported.
Boeing 777-3ZGER Engine cowling system support beam cracked. SDR 510019051 (photo above)
Engine fan cowl support beam cracked at LH attachment. P/No: 314W16005. TSN: 20783 hours/2017 cycles.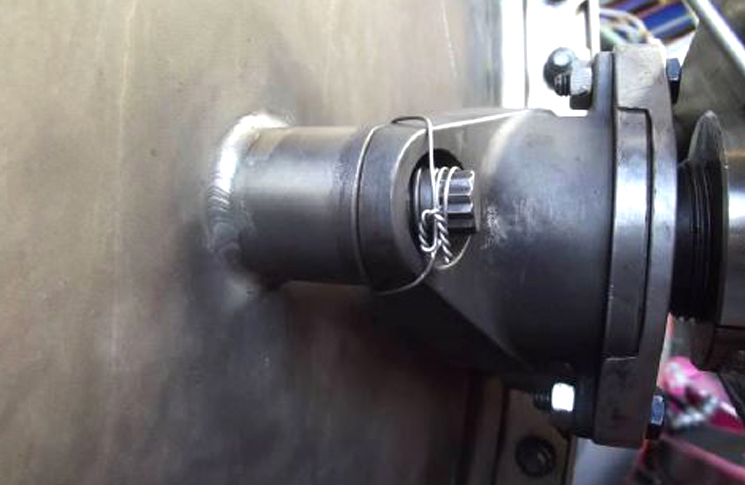 Boeing 777-3ZGER Engine mount section lug migrated. SDR 510019052 (photo above)
Engine RH lower ground handling mount lug insert migrated.
Bombardier DHC8-102 Hydraulic line ruptured. SDR 510019069
No.1 hydraulic system fluid spilled over LH engine causing smoke. Hydraulic pressure line between pressure manifold and LH engine firewall connection ruptured. P/No: 82970010149.
Bombardier DHC8-202 DME/TECAN system coaxial cable damaged. SDR 510019070
VHF navigation receiver coaxial cable heat damaged causing inner conductor to contact outer shield. Investigation also found a bleed air leak in the area. P/No: 83455436001.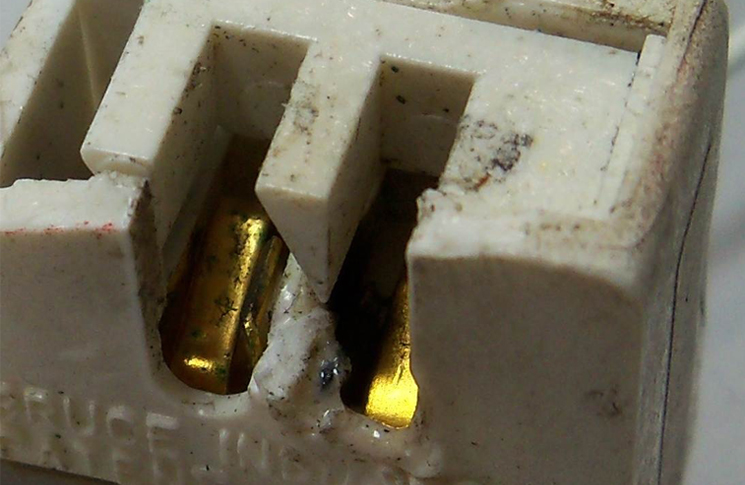 Bombardier DHC8-202 Passenger compartment lamp holder unserviceable. SDR 510018794 (photo above)
Burning smell in rear cabin area. LH overhead fluorescent light holder broken and slightly blackened. P/No: BV0330012150.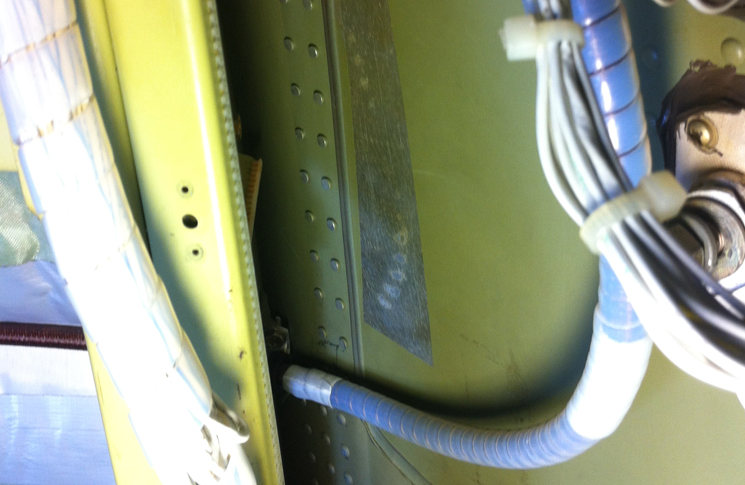 Bombardier DHC8-315 Auxiliary power unit cables burnt. SDR 510018793 (photo above)
APU feeder cables burnt at terminal block 2449 and area where they feed through bulkheads. During cable removal, heat damage found on the rear pressure bulkhead.
Bombardier DHC8-402 Cargo/baggage door seal failed. SDR 510018907
Cabin depressurised after a 'hissing' noise followed by a series of 'bangs' from the rear of the aircraft. Failed aft baggage door seal.
Dornier DO328100 Elevator tab control system actuator unserviceable. SDR 510018993
Elevator pitch trim actuator u/s. Trim actuator moisture indicators out of limits. P/No: 84093.
Embraer ERJ-190-100 Hydraulic pump main contaminated. SDR 510019063
No. 2 engine-driven hydraulic pump suspect faulty. Metal contamination of case drain filter. P/No: 5116404. TSN: 916 hours/621 cycles.
Embraer ERJ-190-100 Hydraulic system hose failed. SDR 510018821
No. 3 emergency/park brake assembly hydraulic supply hose separated from aft side of quick disconnect fitting. P/No: 2000A0529K01.
Embraer ERJ-190-100 Pneumatic distribution system PRSOV failed. SDR 510019037
LH engine pressure regulating and shutoff valve (PRSOV) failed internally. P/No: 10139521. TSN: 3111 hours/2328 cycles.
Embraer ERJ-190-100 Vertical stabiliser miscellaneous structure seal missing. SDR 510018842
Vertical stabiliser RH No. 2 trailing edge aerodynamic seal missing. Missing seal approximately 0.4 metre (1.3ft) in length. All attaching screws still present. Nil damage found to fin or rudder. Investigation continuing. P/No: 17063211903. TSN: 16028 hours/11067 cycles.
Fokker F27MK50 Passenger station equipment system seat cracked. SDR 510018817
Passenger seat central cross member cracked. Found during inspection iaw AD/Seat/14 A2. P/No: 312RM19A01C2.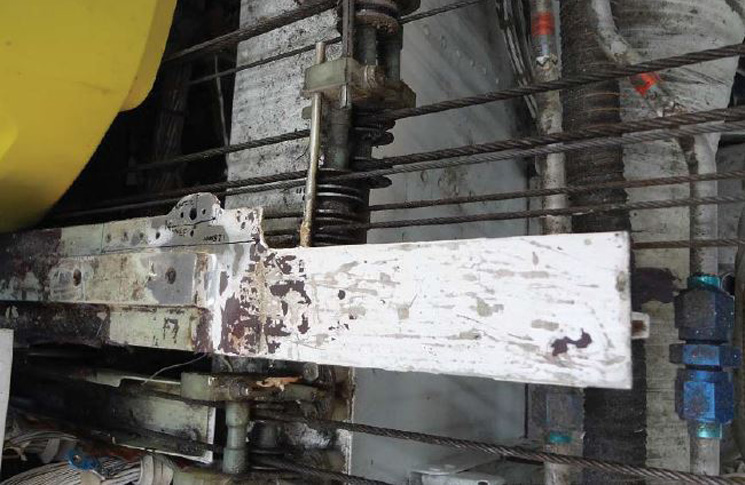 Fokker F28 MK0100 Fuselage floor beam corroded. SDR 510018881 (photo above)
Fuselage floor beam had level 2 corrosion at Stn 3845 BL306L. Doubler repair previously carried out in the area.
Fokker F28 MK0100 Fuselage floor beams corroded. SDR 510019012
LH, RH and centre fuselage floor beams P/Nos: D20583-001, D20586-001 and D20584-001 had level 2 corrosion in numerous areas.
Fokker F28 MK0100 Fuselage frames corroded. SDR 510018962
Numerous fuselage frames adjacent to cargo tie-down rails corroded.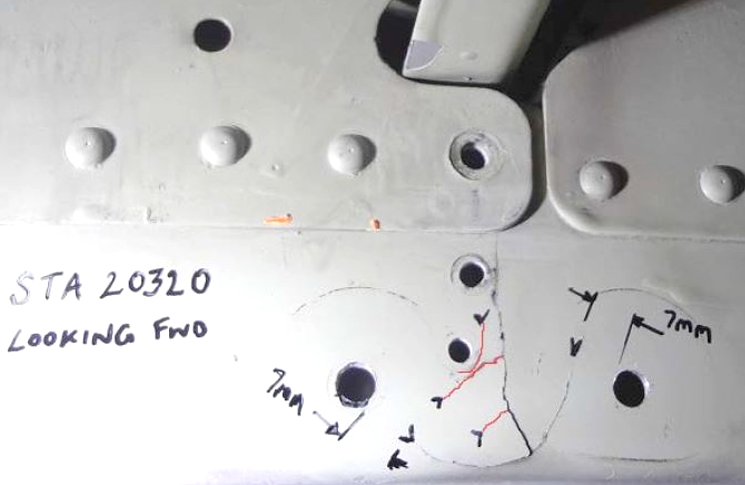 Fokker F28 MK0100 Fuselage frame cracked. SDR 510019035 (photo above)
Fuselage frame at Stn 20320 cracked beside the upper locker mount rail.
Fokker F28 MK0100 Landing gear retract/extension system uplock loose. SDR 510018893
Main landing gear failed to indicate up and locked. LH main landing gear inboard door uplock brackets loose and RH door stop missing its locking tab.
Saab SF340B Control column trunnion incorrect fit. SDR 510019001
Control column trunnion installed 180 degrees out. Found during inspection iaw SB 340-27-115 and EASA AD 2013-0253. P/No: 7227305287.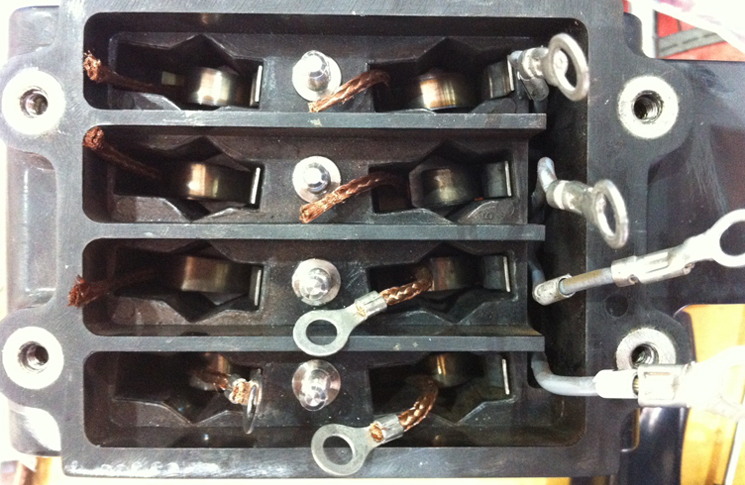 Saab SF340B Prop/rotor anti-ice/de-ice system contact assembly faulty. SDR 510018828 (photo above)
Propeller de-ice system brush block electrical contacts faulty. During inspection of a new item for fitment the crimped terminals could be separated from the leads with very little force. Fleet-wide inspection found numerous other contacts with the same problem. P/No: AEC7756882.
Saab SF340B Smoke detector unserviceable. SDR 510018834
Avionics compartment smoke detector light activated. Nil smoke visible or smelt in cabin. Smoke detector u/s. P/No: 72111211000.