Beech 200BEECH AC inverter faulty. SDR 510018815
RH No. 2 inverter failed. P/No: PC17.
Beech 58 Engine drain valve blocked. SDR 510018852
RH engine manifold drain valve blocked by suspected insect nest. Water collected in manifold and entered cylinders causing engine failure on start. Two lower engine mounts broken and water in three cylinders. P/No: 589200513.  TSO: 853 hours/104 months.
Beech B350 Crew station equipment system pin broken. SDR 510018885
Pilot's seat locator pin broken at split pin hole. P/No: MS203921C15.
Beech G58 Elevator tab control system universal joint seized. SDR 510018933
Elevator trim wheel stiff in operation. Trim drive LH and RH universal joints seized. P/No: 45526015.  TSN: 1142 hours/30 months.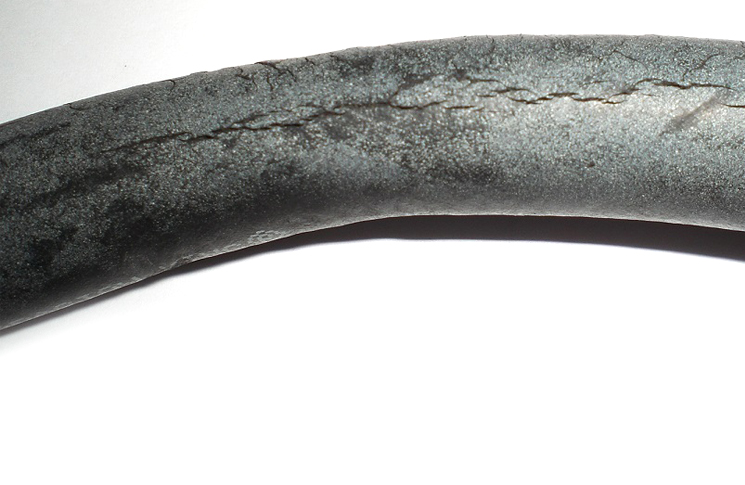 Cessna 172R Fuel storage hose deteriorated. SDR 510018784 (photo above)
Flexible fuel hoses perished. P/No: B706.  TSN: 526 hours/24 months.
Cessna 172S Elevator tab control system actuator unserviceable. SDR 510018848
Elevator trim actuator u/s. Actuator operated from neutral position towards nose-down position but seized from neutral position towards nose-up. P/No: 12600741.  TSN: 4868 hours.
Cessna 182H DC volt regulator incorrect part. SDR 510018975
Voltage regulator incorrect part. Identified as an Ingrams automotive-type regulator.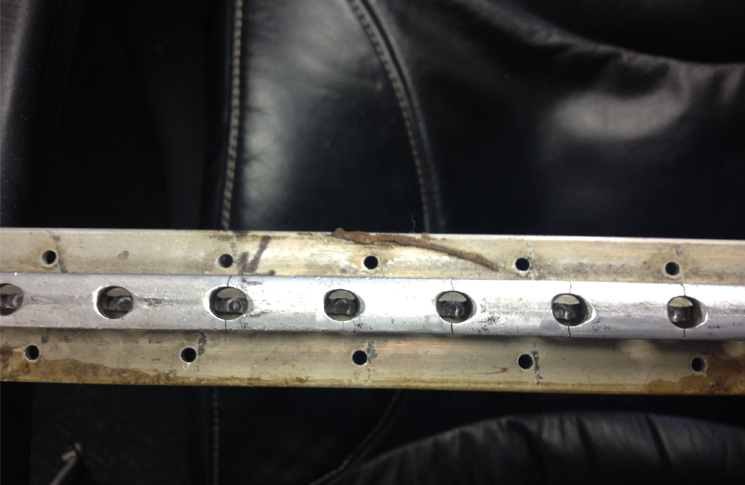 Cessna 182P Seat/cargo attach fittings seat track cracked. SDR 510018829 (photo above)
Seat tracks cracked beyond limits. Found during inspection iaw AD 2011-10-09. Similar defect reported. P/No: 07106582. TSN: 2427 hours.
Cessna 208B Exterior lighting switch failed. SDR 510018788
Smoke and burning smell from LH landing light switch. Suspect internal failure. P/No: MS25306222.
Cessna 208B HF communication system transceiver separated. SDR 510018927
HF transceiver box separated from mounting cradle. Servo bridle cable had also worn a hole on the transceiver box cover. P/No: 2004.
Cessna 210L Vertical stabiliser spar/ rib corroded. SDR 510018854
Vertical stabiliser rib P/No: 1231006-1 and doublers (2off) P/No: 1231014-6 corroded. Found during inspection iaw C.P.C.P. and SID 55-30-01. P/No: 1231014612310061. TSN: 6663 hours/492 months.
Cessna 402C Main landing gear strut/axle/truck torque link failed. SDR 510018932
RH main landing gear torque link snapped during landing causing aircraft to veer off runway. Investigation found torque link bolt safety washer failed allowing the bolt to pull through and the lower trunnion to turn sideways damaging the wheel.
Cessna 404CESSNA Hydraulic line unserviceable. SDR 510018832
Landing gear hydraulic pressure line in RH wing inboard leading edge ruptured, causing loss of fluid. P/No: 572710040.
Cessna 441 Main landing gear strut/axle/truck oleo strut contaminated. SDR 510018889
On first take-off following RH oleo strut replacement, the undercarriage failed to retract. Air trapped below the floating piston in the oleo prevented the squat switch from allowing the undercarriage to retract. P/No: 57411207.
Cessna 441 Pneumatic distribution system fitting broken. SDR 510018878 (photo above)
Bleed air fitting on RH rear firewall broken. P/No: 571531034.  TSN: 9795 hours.
Cessna 441 Rudder tab trim system transposed. SDR 510018840
Rudder trim working in opposite direction to normal. Aircraft on a post-maintenance test flight.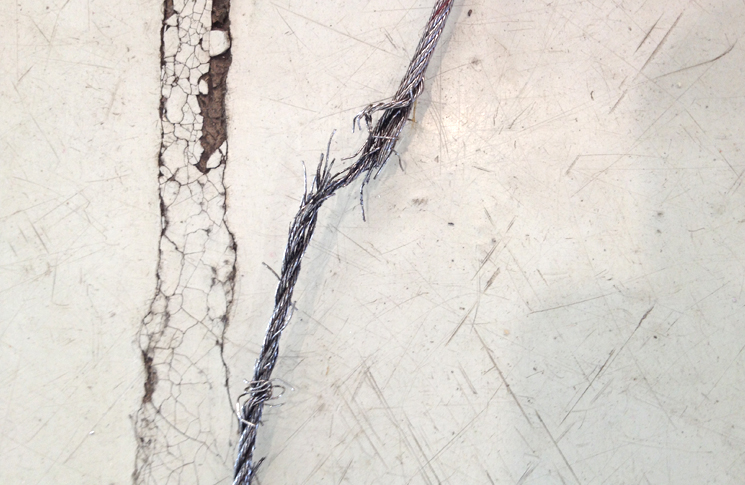 Cessna 551 Autopilot main servo cable worn and damaged. SDR 510019020 (photo above)
Autopilot rudder servo cable worn/frayed. Found during inspection iaw SB550-22-6. P/No: 656500737.
Cessna U206G Elevator plates/skin corroded. SDR 510018950
RH elevator inboard trailing edge skin corroded and holed. Found during Cessna SID iaw 55-10-02. P/No: 123462016.
Cessna U206G Rudder control system torque tube corroded. SDR 510018942 (photo above)
Pilot's rudder pedal torque tube internally corroded. Found during inspection iaw 27-20-01. P/No: 12604187.  TSN: 2689 hours.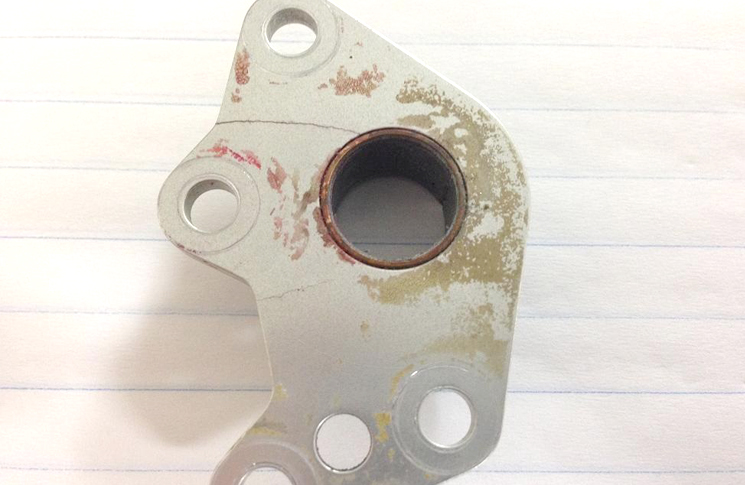 Diamond DA40 Nose landing gear attach section plate cracked. SDR 510018941 (photo above)
LH nose landing gear damper mounting plate cracked. P/No: D4132230053. TSN: 1262 hours.
Mooney M20J Wing spar cap corroded. SDR 510018897
LH and RH wing upper spar caps P/Nos: 210001-007(LH) and 21001-008(RH) corroded. Found during investigation of missing rivet tail from junction of LH main landing gear support P/No: 210140-013, and upper spar cap. TSN: 10,743 hours.
Pilatus PC12 Pressure regulator outflow valve unserviceable. SDR 510019040
Pressurisation system outflow valve failed to fully close. P/No: 1037841. TSN: 6075 hours/7797 landings/84 months.
Piper PA44180 Cabin door cracked. SDR 510018904
Cabin door cracked in area around lower hinge. P/No: 79545003. TSN: 5636 hours.
Reims F406 Cabin door unserviceable. SDR 510018994
Main cabin door popped open on take-off. Door latch mechanism adjusted. On the following flight the door again popped open approx.. 5mm (0.196in). Investigation continuing. P/No: 58116015.  TSN: 17,116 hours/6604 cycles.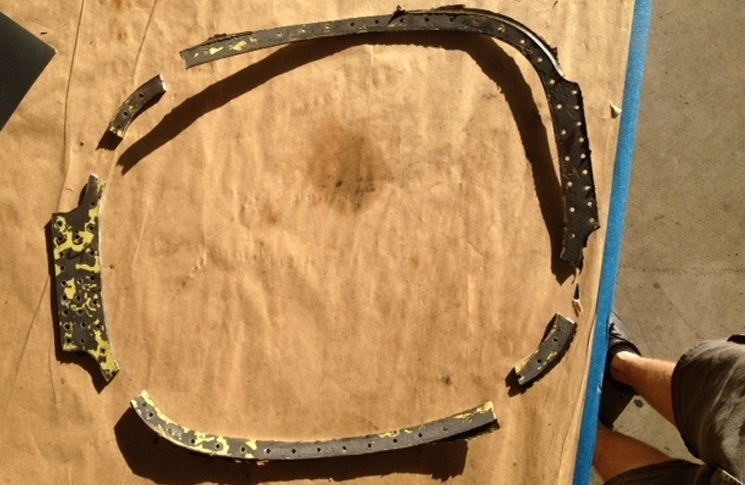 Swearingen SA227DC Fuselage plates/skin doubler broken. SDR 510018970 (photo above)
Cabin window surround doubler cracked in five areas. Doubler manufactured from magnesium and is a structural component. P/No: 2722178079. TSN: 33,528 hours/32250 cycles/32,250 landings.