Continental IO360HB Engine fuel pump liner moved. SDR 510018859
Engine-driven fuel pump leaking. Liner had moved internally. P/No: 6493642. TSO: 1437 hours.
Continental IO520C Reciprocating engine rear section gear incorrectly made. SDR 510018948 (photo above)
Engine tachometer drive bevel gear incorrectly manufactured. Teeth were 'too thick', preventing the oil pump from rotating when assembled. Found during engine assembly. P/No: AEC535908.
Continental IO550C Reciprocating engine cylinder piston rings delaminated. SDR 510018898
Top piston rings on all six cylinders delaminating. P/No: 648005. TSN: 571 hours.
Continental IO550G Engine fuel distribution injector line worn. SDR 510018871
No. 2 fuel injector line worn on inlet manifold clamp due to incorrect routing. Found during inspection iaw AD/Con/60 Amdt4. P/No: 646422. TSN: 653 hours.
Continental TSIO360L Reciprocating engine cylinder valve seat faulty. SDR 510018803
No. 5 cylinder exhaust valve seat faulty. Low cylinder compression and high temperatures. Engine only had approx. 24 operating hours.
Continental TSIO520M Exhaust turbocharger pressure controller leaking. SDR 510019061
Absolute pressure controller leaking, preventing waste gate from opening. P/No: 4706887. TSO: 639 hours.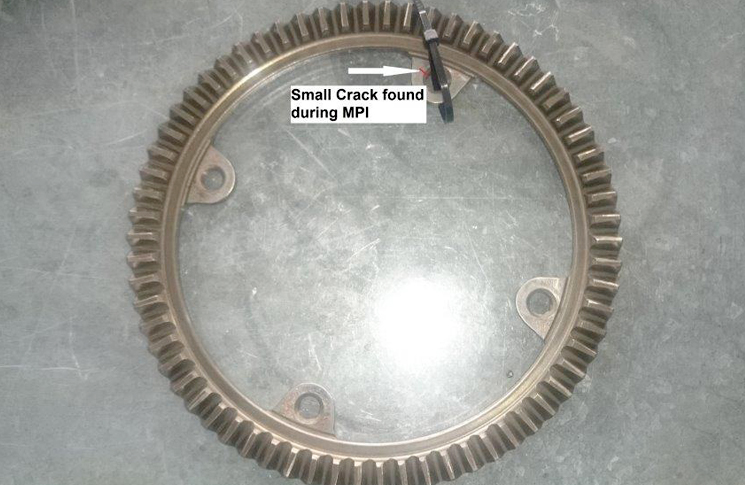 Continental TSIO520M Reciprocating engine drive gear cracked. SDR 510018982 (photo above)
Alternator drive gear cracked in mounting hole. Found using magnetic particle inspection (MPI). P/No: 632018.
Jabiru JABIRU3100 Reciprocating engine connecting rod failed. SDR 510018866
Catastrophic engine failure. No. 5 connecting rod punched several holes in the block.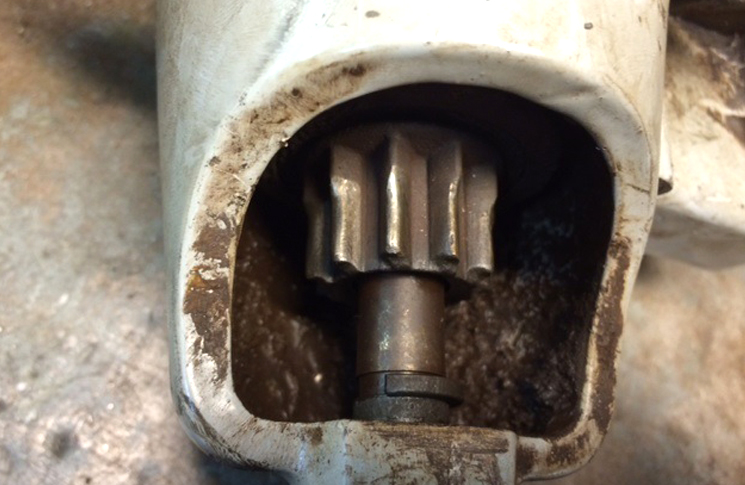 Lycoming IO360A1A Engine starter motor worn. SDR 510018984 (photo above)
Engine starter motor pinion gear worn, preventing starter from engaging on ring gear. P/No: 14912LS  TSN: 890 hours.
Lycoming IO540K1A5 Engine collector/tailpipe/nozzle tube incorrect fit. SDR 510018802 (photo above)
Engine exhaust ejector tube incorrectly fitted. Ejector tube rubbing against the LH nose landing gear brace P/No: GA8-713012-15 during flight, causing a hole to be worn into the brace.
Lycoming IO540K1A5 Engine fuel pump low pressure. SDR 510019038
Engine-driven fuel pump low pressure. Pump delivering 7psi at idle. Pump had only 87 hours TSO. P/No: RG17980DM.
Lycoming IO540K1A5 Engine fuel pump unserviceable. SDR 510019062
Engine-driven fuel pump u/s. Fuel pressure 12psi at idle. P/No: 201F5003. TSN: 896 hours.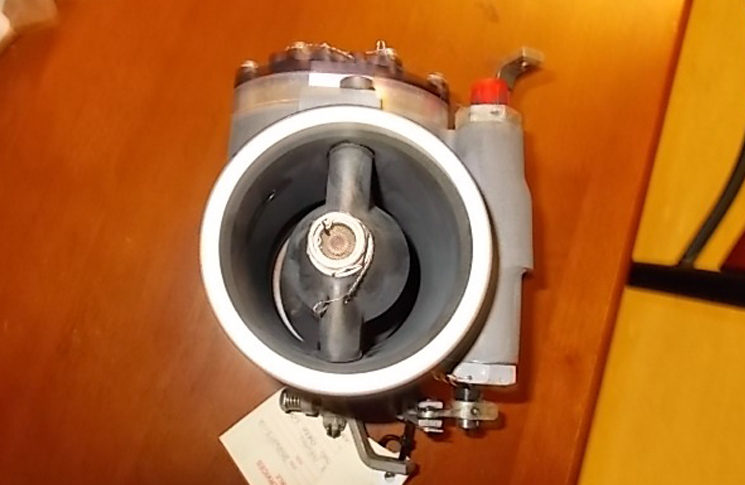 Lycoming IO540K1A5 Fuel control unit (FCU) unserviceable. SDR 510019073 (photo above)
Bullet in venturi loose. P/No: 252427312. TSN: 1376 hours.
Lycoming IO540K1A5 Magneto/distributor unserviceable. SDR 510019039
RH magneto timing 6 degrees advanced. Found during investigation iaw SB2-08B. P/No: 6350. TSN and TSO: 958 hours.
Lycoming O360A1F6 Induction vibrator magneto out of adjustment. SDR 510019009
RH magneto 3 degrees advanced, after only 34 hours TSN. P/No: 4373.
Lycoming O360A1F6 Reciprocating engine rear gear worn. SDR 510018800
Engine vacuum pump drive gear splines had abnormal wear. Found during inspection following propeller strike. P/No: 72970. TSN: 105 hours.
Lycoming O360J2A Reciprocating engine cylinder exhaust valve worn. SDR 510018883
No. 2 cylinder low compression. Exhaust valve and seal worn. P/No: LW19001. TSN: 306 hours.