Agusta Westland AW139 Main rotor gearbox transducer faulty. SDR 510018808
Main gearbox oil pressure transducer faulty. P/No: 3G6340V00451.
Eurocopter AS332L Landing gear actuator leaking. SDR 510018938
RH main landing gear actuator leaking. P/No: C23954105. TSO: 189 hours.
Eurocopter AS332L Passenger compartment window cracked. SDR 510018934
Rear LH cabin window cracked in top RH corner. Crack approx.. 350mm (13.7in) long. P/No: 3322561302.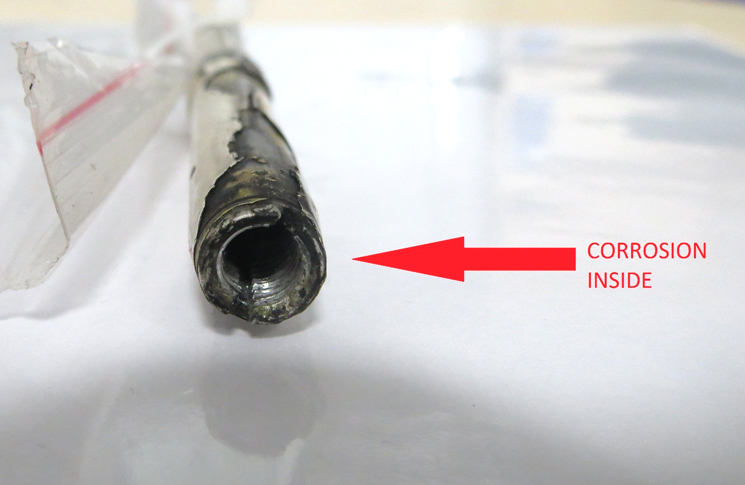 Eurocopter AS332L Tail rotor control system turnbuckle corroded. SDR 510019065 (photo above)
Tail rotor control cable turnbuckles (2off) corroded inside threaded area. Found during inspection iaw AD 2013-0081. P/No: 332A27503120.
Eurocopter AS350B2 Hydraulic system hose incorrect part. SDR 510018997
Supplied hydraulic hose incorrect part number. Hose pre-mod 074686, as referenced in Eurocopter 2506-1-29 and AWB 29-004.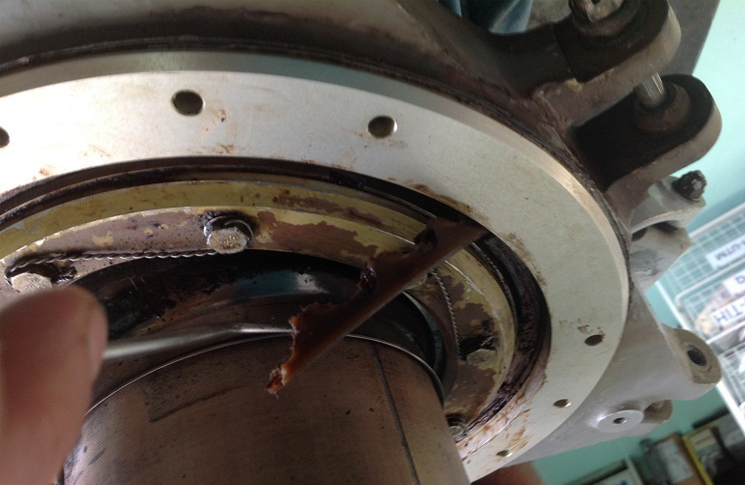 Eurocopter AS350BA Main rotor mast/swashplate bearing unserviceable. SDR 510018824 (photo above)
Main rotor swashplate bearing cage phenolic material had multiple hairline cracks, causing cage to separate at rollers. Rollers then contacted each other, overheated and pushed seal out of bearing allowing grease loss. P/No: 704A33651158. TSN: 301 hours/11 months.
Eurocopter EC120B Cabin cooling system drive belt failed. SDR 510018906
Air-conditioner drive belt failed. Investigation found damage to the cooler fan screen P/No: 7052A3632295. Hydraulic oil leaking onto transmission deck and cowl. Suspect hydraulic fluid from a leaking RH servo entered the cooler fan and was sprayed onto the V belt and pulleys, making the belt slip and burn out as well as causing deterioration of the belt rubber.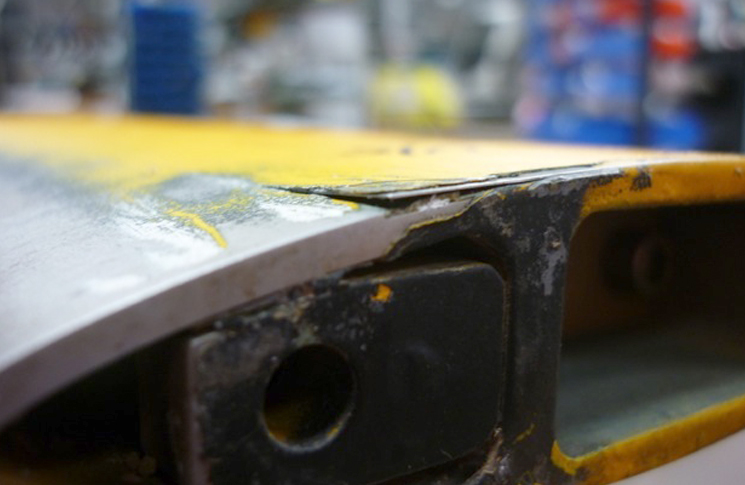 Robinson R22BETA Main rotor blade delaminated. SDR 510018939 (photo above)
Main rotor blade delaminated at tip. P/No: A0164SN5759E. TSN: 1371 hours/87 months.
Robinson R22BETA Tail rotor control system pitch link broken. SDR 510018967
Tail rotor pitch link cracked. When removed link found to be broken. P/No: B3453. TSN: 289 hours.
Robinson R44 Fuselage frame cracked. SDR 510018841
Fuselage upper frame tube cracked. Frame supports the main rotor transmission. P/No: C0201. TSN: 2200 hours.
Robinson R44 Hydraulic pump unserviceable. SDR 510019025
Metal contamination of hydraulic filter. P/No: D5001. TSN: 1842 hours.
Sikorsky S76A Main landing gear clip cracked. SDR 510019048
LH main landing gear float cable attaching clip cracked, allowing cable to foul landing gear door and door caution light to illuminate. P/No: 7625101108167.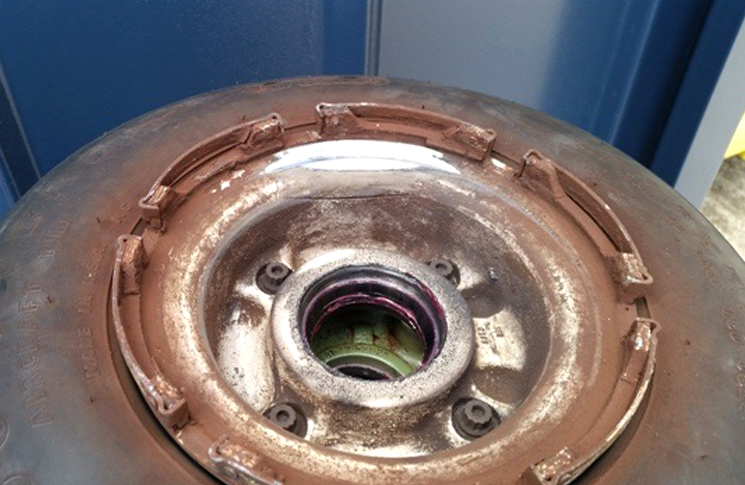 Sikorsky S76A Wheel cracked. SDR 510019044 (photo above)
RH main wheel cracked. Crack approx. 88.9mm (3.5in) long. Distorted inner rim also caused scraping. P/No: 50075542. TSN: /179 months.