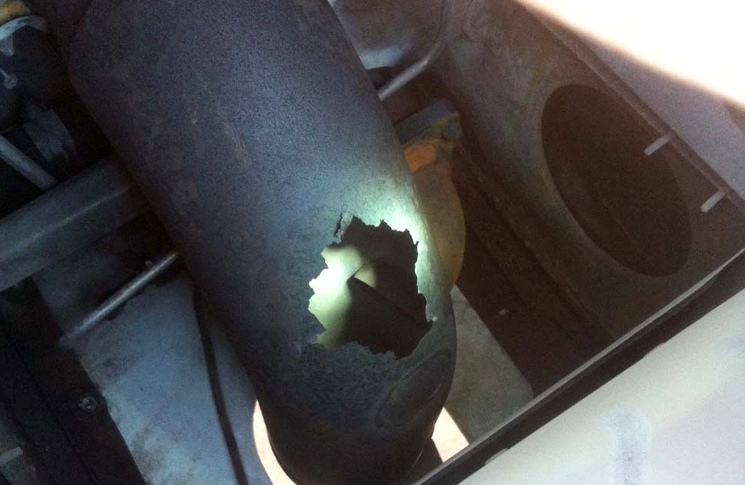 Continental GTSIO520M engine. Exhaust pipe worn and damaged. SDR 510019100 (photo above)
LH exhaust holed. P/No: 991029823.
Continental GTSIO520M Reciprocating engine cylinder section rocker cover loose and leaking. SDR 510019176
LH engine rocker covers (2off) loose and leaking oil due to loose screws, with oil spraying onto the hot turbocharger. Engine had been fitted only 22 operating hours previously.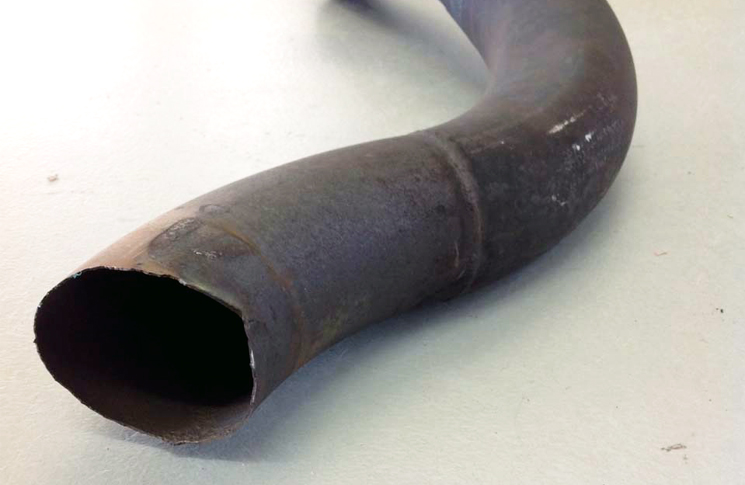 Continental IO470L Engine exhaust pipe cracked. SDR 510019290 (photo above)
LH engine inboard exhaust pipe cracked and broken around rear clamp. P/No: 963241011.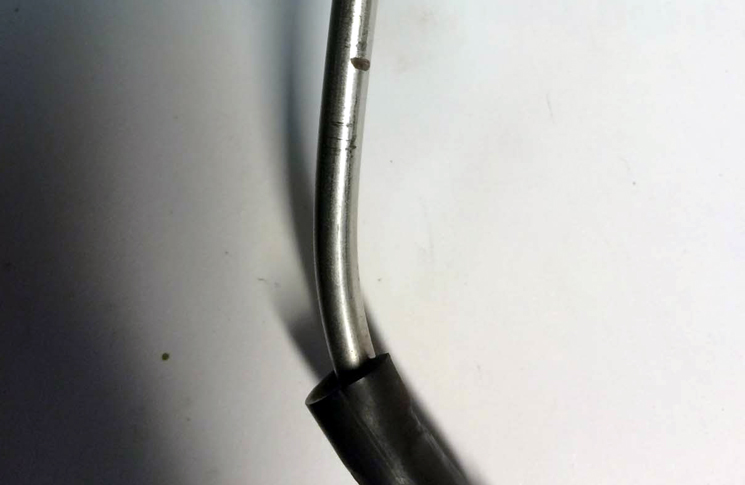 Continental IO550G Engine fuel injector line worn and damaged. SDR 510019224 (photo above)
No. 3 cylinder fuel injector line worn. Suspect due to contact with intake manifold clamp. Found during inspection iaw AD/Con/60 Amdt4. P/No: 646423. TSN: 1534 hours.
Continental IO550P Reciprocating piston engine in poor condition. SDR 510019134
Post-incident inspection of engine found the following: 1. Loose and missing cylinder hold-down nuts; 2. Engine burnt in post-incident fire. 3. Engine mount feet loose on crankcase. 4. No. 2 connecting rod failed and exited crankcase; 5. Crankshaft full of sludge.
Continental TSIO520M Exhaust turbocharger waste gate sticking. SDR 510019097
Engine turbocharger waste gate intermittently sticking in closed position. P/No: 47090811. TSO: 641 hours.
Jabiru 2200B Reciprocating engine cylinder cracked. SDR 510019410
Front RH engine cylinder cracked between two rear nuts. Crack then ran around cylinder barrel, causing front lower stud to fail.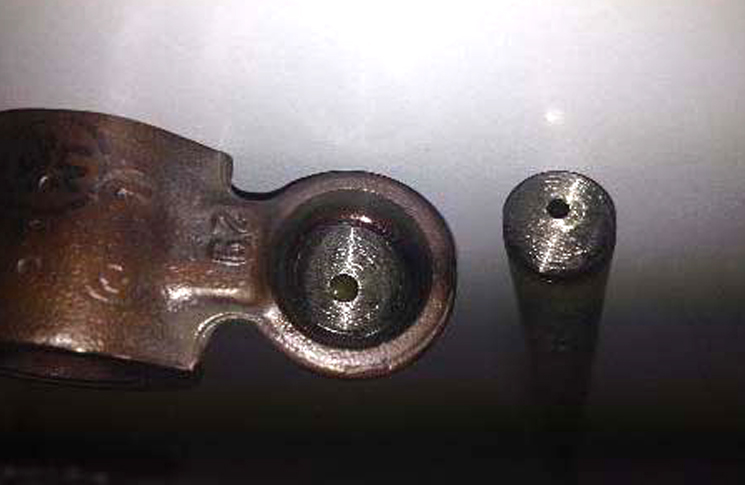 Lycoming IO360M1A Reciprocating engine cylinder section pushrod galled. SDR 510019438 (photo above)
Valve rockers P/No 17F19357 and pushrods P/No: 15F1995730 galled at mating surfaces.
Lycoming IO540AC1A5 Fuel injector nozzle blocked. SDR 510019507
No. 3 cylinder fuel injector nozzle blocked. Top spark plug insulation broken. P/No: LW18265. TSN: 362 hours/130 landings/3 months.
Lycoming IO540E1B5 Reciprocating engine crankcase cracked and leaking. SDR 510019305
RH engine crankcase cracked and leaking. Cracking from No. 2 cylinder base at 11 o'clock position towards CSU oil gallery.
Lycoming LTIO540J2BD Reciprocating engine crankshaft unserviceable. SDR 510019135
Crankshaft u/s due to crack indication in area of oil slinger found during NDT following propeller strike. P/No: LW12163.
Lycoming LTIO540J2BD Reciprocating engine power section tappet body delaminated. SDR 510019171
Tappet bodies delaminating. Metal contamination of oil system. P/No: 15B26064. TSN: 530 hours.
Lycoming O360A1F6 Magneto unserviceable. SDR 510019124
Magneto losing timing settings after a few hours of flight. Numerous similar defects reported. P/No: 4373.
Lycoming O540F1B5 Magneto distributor failed bearing. SDR 510019108
RH magneto distributor block bearing failed, causing internal misalignment. P/No: 10357426. TSN: 460 hours.
Lycoming O540F1B5 Magneto unserviceable. SDR 510019319
LH magneto u/s. One coil hold-down clamp screw loose and one not in position. P/No: 106006163. TSO: 39 hours.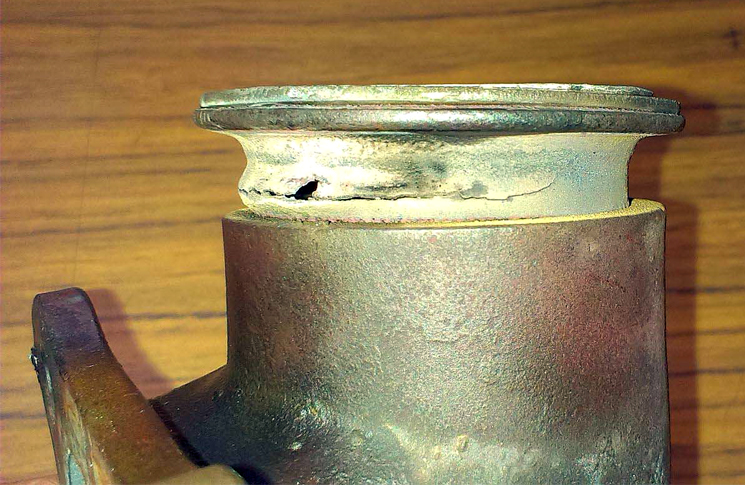 Lycoming TIO540AF1B Engine collector/tailpipe/nozzle flange cracked. SDR 510019349 (photo above)
Engine exhaust transition assembly flange cracked and bulging. P/No: 40C19819. TSN: 1940 hours.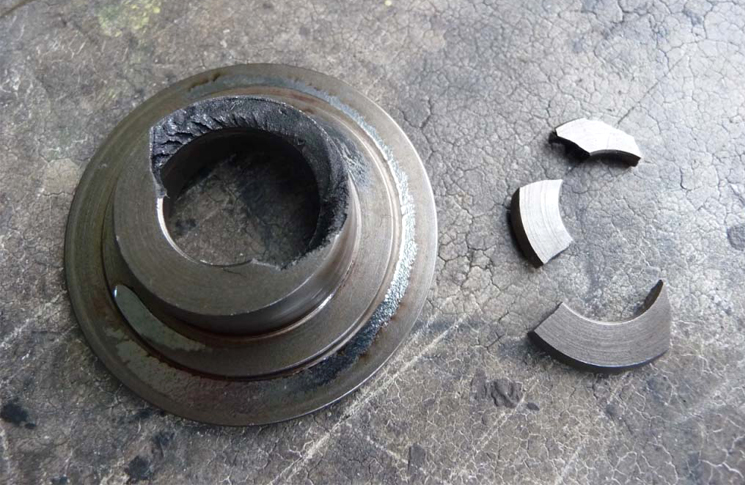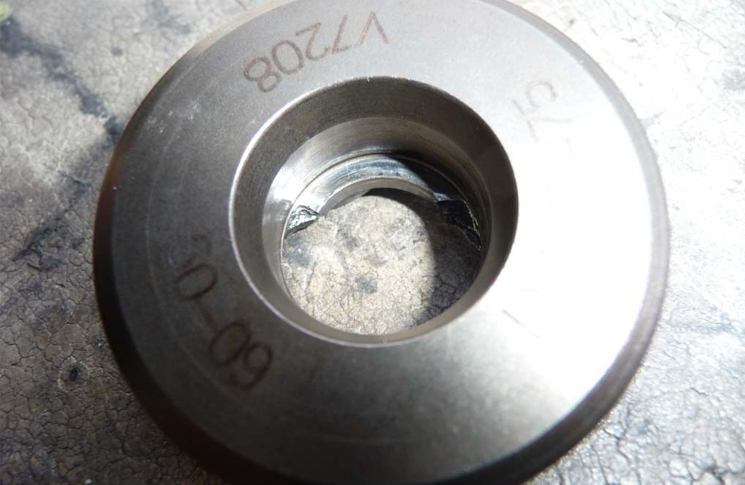 Lycoming TIO541E1C4 Reciprocating engine cylinder section retainer broken. SDR 510019399 (photos above)
No. 5 cylinder exhaust valve spring retainer broken into several pieces. Three pieces found in rocker box. P/No: LW16475. TSO: 1163 hours.
PWA R183092 Engine fuel pump jammed. SDR 510019389
RH engine-driven fuel pump low pressure. Investigation found pump vanes jammed.