Allison 250C20R Turbine engine compressor section stud sheared. SDR 510019180
Compressor bleed valve adapter stud sheared during torqueing. Recommended torque setting not reached. P/No: 23034116. TSN: 8245 hours/7388 cycles TSO: 1741 hours/860 cycles.
GE CF3410E Turbine engine compressor section segment missing. SDR 510019490
No. 1 engine fan frame flow path segment missing. Segment located at 3 o'clock position. Two other segments cracked, with the one at the 6 o'clock position cracked beyond limits. P/No: 2070M14G01.
GE CF680C2 Thrust reverser switch high resistance. SDR 510019114
No. 1 engine outboard thrust reverser centre drive unit (CDU) position switch had high resistance across pins 5 and 6. Found during inspection iaw AD/B767/183. P/No: 32828124. TSN: 17965 hours.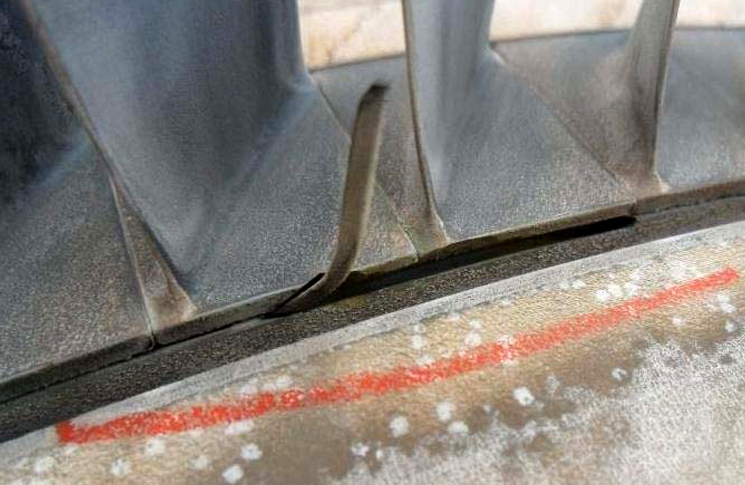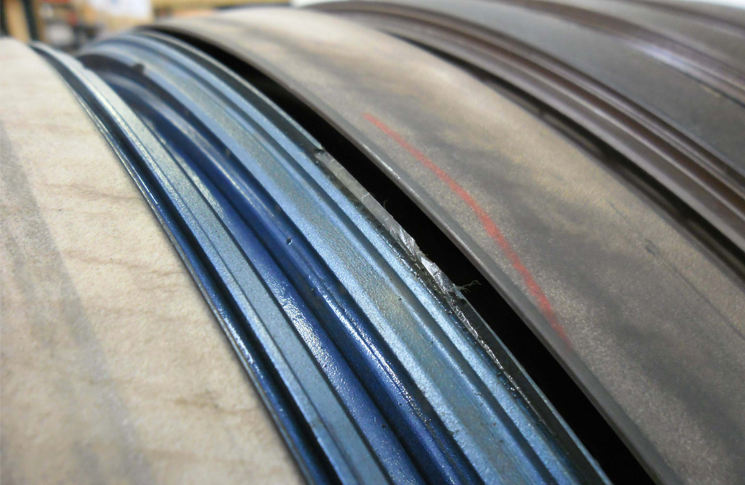 IAE V2527A5 Turbine engine compressor disc unserviceable. SDR 510019494 (photos above)
Compressor 8th stage sealing wire worn through rear damper wire slot, causing No. 3-8 compressor drum to be u/s. P/No: 6A8316.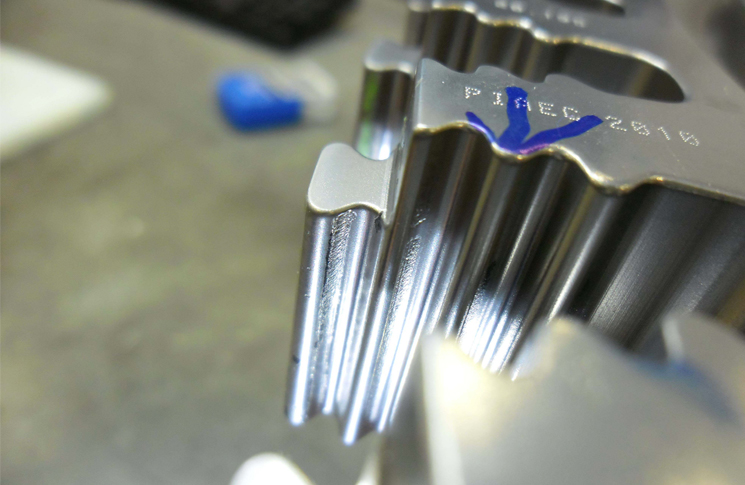 IAE V2533A5 Turbine engine turbine hub worn. SDR 510019244 (photo above)
First-stage high-pressure turbine hub worn beyond limits in fir tree. Found during inspection iaw FAA AD 2004-12-08 and AD/V2500/01. P/No: 2A5001. TSN: 17809 hours/8077 cycles.
PWA PT6A42 Engine fuel line loose and leaking. SDR 510019136
RH engine fuel leak. Fuel filter bowl drain line fitting loose. Suspect line incorrectly tightened during removal/refitment approx. 25 hours previously. P/No: 1019200019. TSN: 3932 hours/5817 cycles.
PWA PT6A42 Turbine engine compressor blade unserviceable. SDR 510019375
LH engine second-stage compressor blades damaged. Suspect due to contact with stator. P/No: 3023112. TSN: 11175 hours/13752 cycles.
PWA PT6A42 Turbine engine reduction gearbox case corroded. SDR 510019310 (photo above)
Engine reduction gearbox casing corroded. Found during inspection iaw AD/ENG/5. P/No: 311292301. TSN: 13990 hours/18250 cycles TSO: 1820 hours/36 months.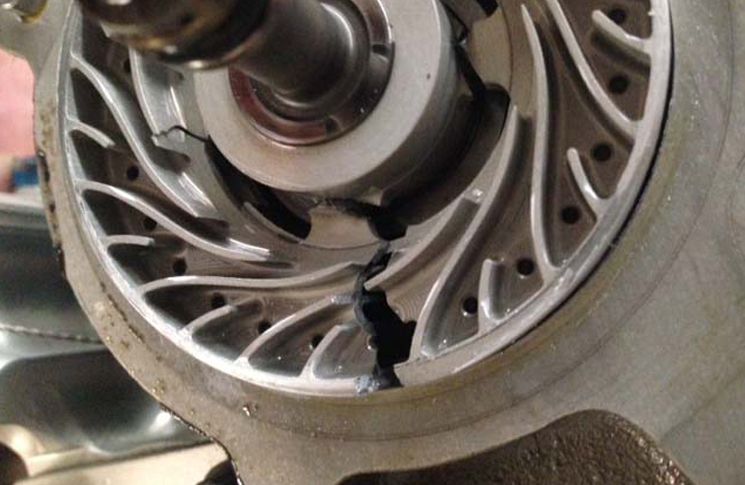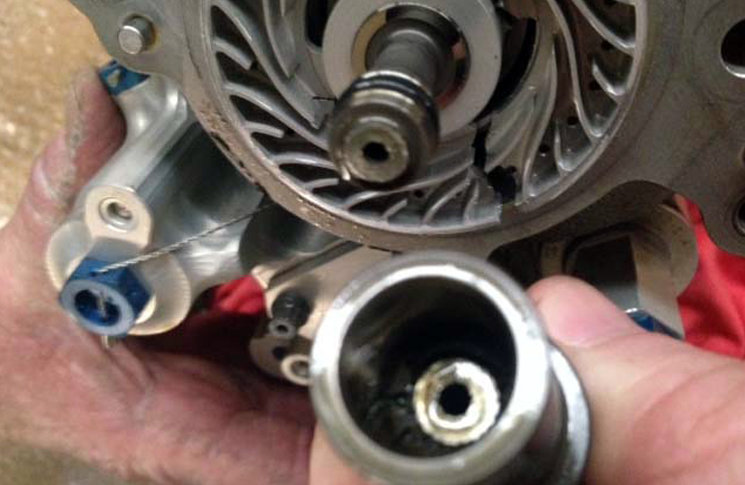 PWC PW535A Engine fuel pump failed. SDR 510019258 (photos above)
LH engine failed. Engine fuel filter contaminated. Fuel control unit (FCU) low- pressure fuel pump and driveshaft had failed, causing the contamination. Investigation continuing.
Rolls Royce TAY65015 Turbine engine compressor section bolt missing. SDR 510019314
Bolts on tarmac found to be from the engine LP compressor flange attachment. Compressor case had recently been replaced. Investigation continuing.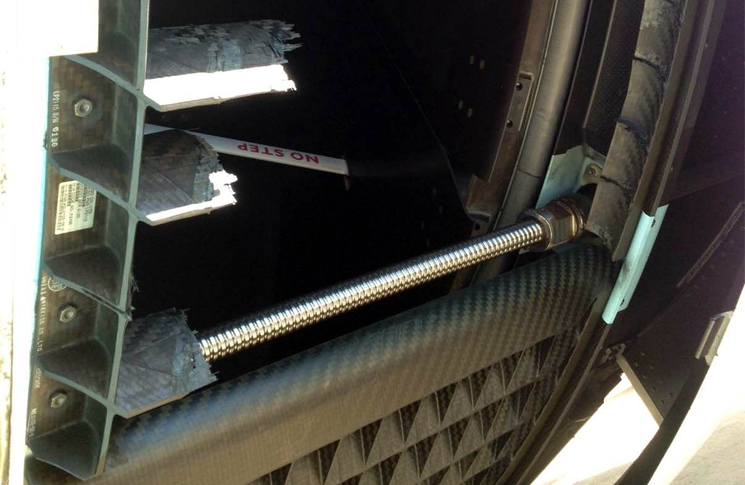 Rolls Royce Trent 97284 Thrust reverser cascade vane damaged. SDR 510019288 (photo above)
No. 2 engine LH thrust reverser No. 10 cascade vane damaged and partly missing. Investigation continuing. P/No: ASL0105000.
Rolls Royce Trent 97284 Thrust reverser hinge cover delaminated. SDR 510019336
No. 2 engine thrust reverser hinge cover panel bonded metal strip missing. Adjacent strips found to be delaminating/debonding from the panel. P/No: ASL0915560. TSN: 579 hours.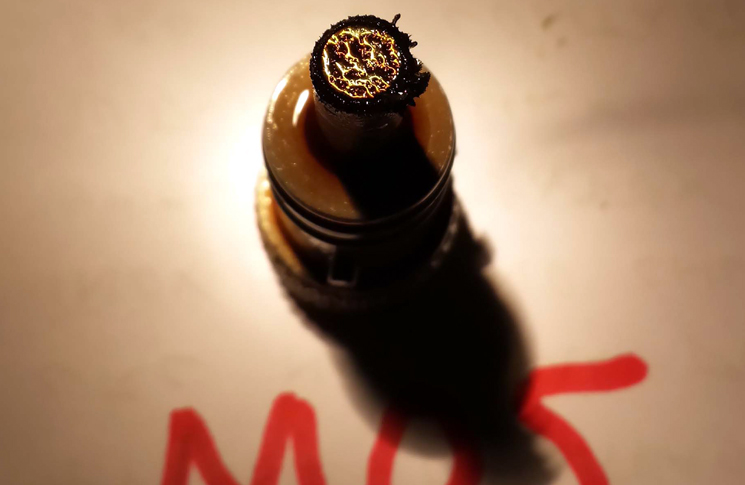 Turbomeca Arriel 1E Turbine engine turbine section bearing failed. SDR 510019104 (photo above)
RH engine made unusual noises during start-up. Metal contamination of chip detectors and oil filter. Initial investigation of metal deposits found debris suspected to be from Module 4 roller bearing. Investigation continuing.