Airbus A320-232 Air conditioning system odour. SDR 510019212
Oil smell on descent. Smell due to residual oil contamination from a previous oil leak. Numerous similar defects reported.
Airbus A330-202 Crew oxygen system smoke hood failed. SDR 510019245
Oxygen generator on personal breathing equipment (PBE) at door R2 failed to activate when pulled. Investigation continuing. P/No: 11900311.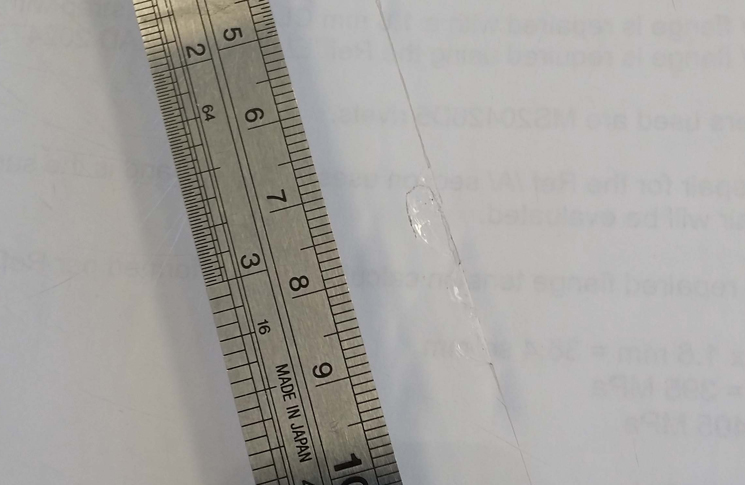 Airbus A330-202 Passenger compartment window damaged. SDR 510019326 (photo above)
Cabin window at seat 1AB crazed and chipped beyond limits. P/No: A5627000720400.
Airbus A330-202 PA and entertainment system SDU odour. SDR 510019238
Seat 32D seat display unit (SDU) video screen had a strong electrical smell and was hot to touch. Small flame seen in the corner of the screen but disappeared, along with the smell, when power removed. Investigation continuing. P/No: RDFE779003.
Airbus A330-243 Hydraulic system check valve rotated. SDR 510019402
Yellow hydraulic system pressure manifold check valve showed evidence of rotation, with check marks misaligned. Lockwire still intact. Found during inspection iaw EASA AD 2012-0244-part 2. One similar defect reported. P/No: CAR401.
Airbus A330-243 Insulation blanket burnt. SDR 510019242
Insulation blanket on the LH side of the aft galley aft wall burnt and damaged in area where the APU bleed duct passes through the rear pressure bulkhead due to contact with the bleed duct. One similar defect reported. P/No: F2587160600000.
Airbus A380-842 Potable water system fitting separated. SDR 510019397
Upper deck galley potable water supply line Wiggins fitting separated causing massive water leak throughout the aircraft. Investigation continuing.
Beech 300 Winglets burnt. SDR 510019270
LH and RH winglets P/Nos 130-170032-1 and 130-170032-2 had small dark burn marks on the trailing edges. Burn mark also found on radome. Suspect caused by lightning strike. TSN: 9427 hours.
Boeing 717-200 Batteries unserviceable. SDR 510019537
All three aircraft batteries extremely hot. Investigation continuing. P/No: 32364001QTY3.
Boeing 717-200 Brake anti-skid section BCU faulty. SDR 510019153
Brake control unit (BCU) internal fault. Card guides A1 and A2 too close together. P/No: 42977. TSN: 25257 hours/18426 cycles/121 months.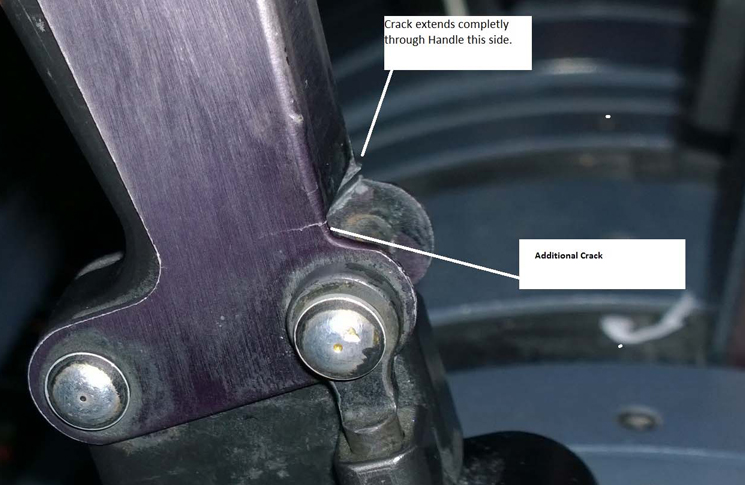 Boeing 717-200 Drag control actuator – module unserviceable. SDR 510019279 (photo above)
Spoiler/speed brake module u/s due to cracked arm mechanism. P/No: 3F2201F.
Boeing 717-200 Hydraulic pipe worn and leaking. SDR 510019225
Hydraulic pressure pipe in vertical stabiliser worn and leaking from under P clip. P/No: 7972155501.
Boeing 717-200 Spoiler delaminated. SDR 510019208
RH ground spoiler panel delaminating. P/No: 59409742.
Boeing 737-376 Main landing gear beam cracked. SDR 510019289
RH main landing gear actuator beam forward lug cracked. Found during NDT inspection iaw AD/B737/57 and EI 737-032-0015 issue B. P/No: 654610912.
Boeing 737-838 Brake disc failed. SDR 510019377
No. 2 brake assembly failed. Large amount of brake disc missing, with secondary damage on main wheel heat shield. P/No: 28123121. TSO: 960 hours.
Boeing 737-838 Brake failed. SDR 510019323
LH wheel inboard brake disintegrated. P/No: 26123121.
Boeing 737-838 Brake failed. SDR 510019495
No. 4 main landing gear brake grabbing. Brake had failed, with metal debris causing it to jam. Three similar defects reported. P/No: 26123121.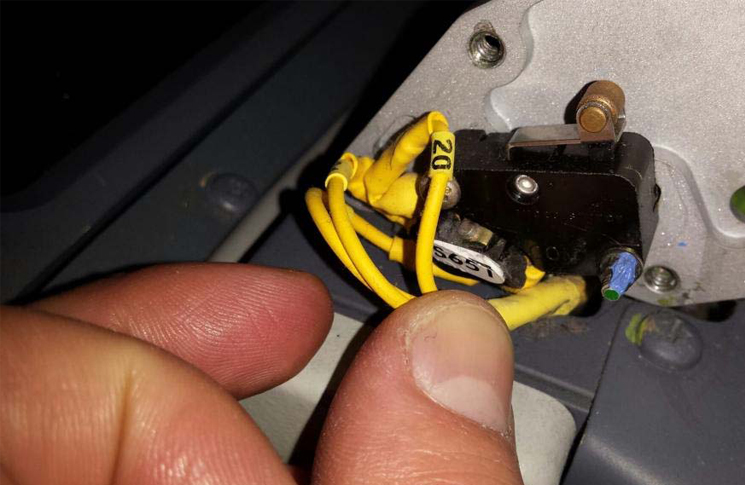 Boeing 737-838 Drag control system switch cracked. SDR 510019280 (photo above)
Speed brake lever take-off warning switch (S651) intermittent in operation due to cracked housing. P/No: V3L2228.
Boeing 737-838 Wheel-bolt broken. SDR 510019178
Main wheel tie bolt broken, with bolt head missing but washer still attached, Several similar defects reported. P/No: 277A6000204.
Boeing 737-8BK AC inverter unserviceable. SDR 510019246
Electrical system AC static inverter u/s. P/No: 100201022090. TSN: 4497 hours/2951 cycles. TSO: 668 hours/431 cycles.
Boeing 737-8BK Air intake anti-ice/de-ice system cannon plug loose. SDR 510019210
No. 2 engine inlet thermal anti-ice valve (TAI) cannon plug loose. P/No: 3205482. TSN: 24895 hours/17041 cycles.
Boeing 737-8BK Alternator-generator drive system power module unserviceable. SDR 510019521
No. 2 generator drive/standby power module suspect faulty. P/No: 233A32053. TSN: 36743 hours/17722 cycles.
Boeing 737-8FE Pneumatic indicating system sensor leaking. SDR 510019278
LH bleed air system pre-cooler control sensor leaking internally. Central pressure port also contaminated with grit. P/No: 1296663. TSN: 307 hours/181 cycles.
Boeing 737-8FE Rudder control system rod suspect faulty. SDR 510019088
Rudder pedal steering interconnect rod witness hole suspected missing from rod assembly. Investigation found rod to be as designed by manufacturer. P/No: 69204951.
Boeing 737-8FE Wing control surfaces Hi-Lok fastener faulty. SDR 510019214
No. 3 ballscrew gimbal attachment Hi-Lok fastener collar missing.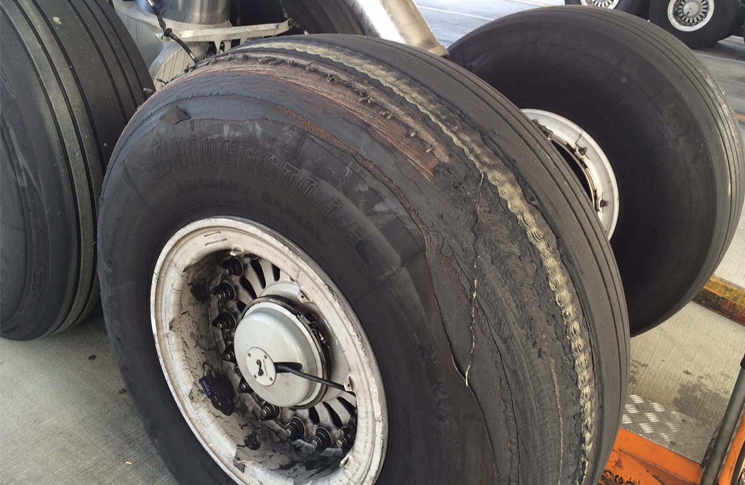 Boeing 777-3ZGER Tyre tread separation. SDR 510019360 (photo above)
No. 4 main wheel tyre tread separation. Tyre was new, not re-treaded. Suspect sidewall delamination caused by FOD. Investigation continuing. P/No: APR07700. TSN: 1390 hours/102 cycles.
Bombardier BD7001A10 Hydraulic system hose chafed wiring. SDR 510019441 (photo above)
Hydraulic pipes in RH pylon chafing. One hose failed, causing loss of No. 2 hydraulic system fluid. P/No: GD47811261. TSN: 1514 hours/401 cycles.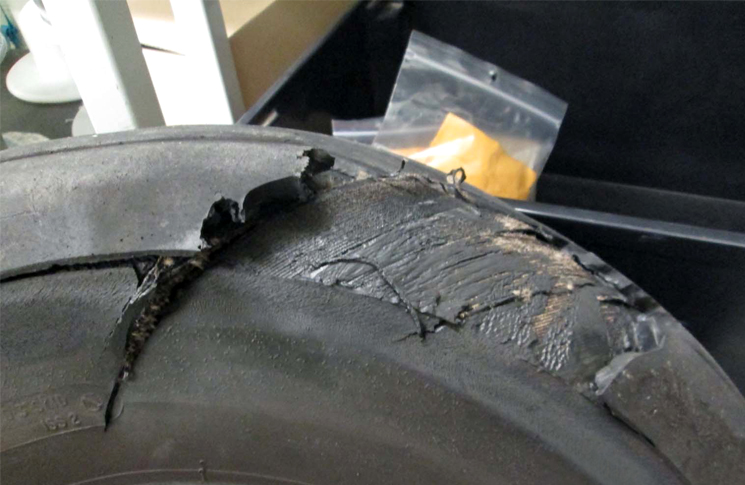 Bombardier DHC8-315 Tyre failed. SDR 510019295 (photo above)
RH main landing gear inboard tyre failed.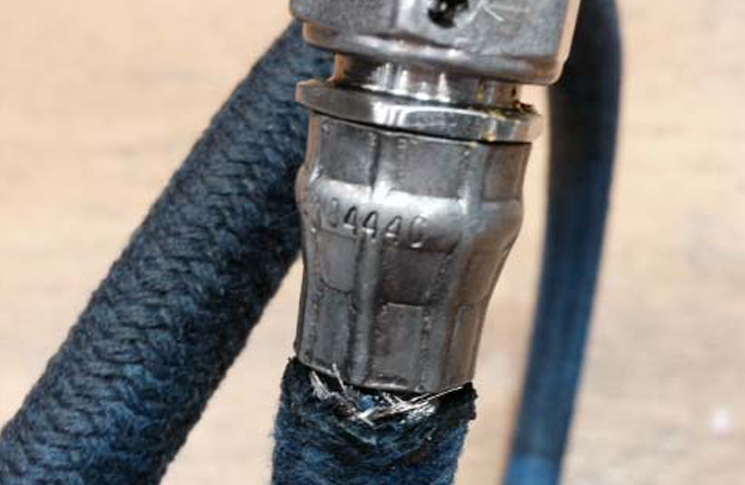 Bombardier DHC8-402 Hydraulic hose leaking. SDR 510019284 (photo above)
Loss of hydraulic fluid from No. 2 hydraulic system caused loss of numerous aircraft systems. White smoke coming from No. 1 hydraulic system vent during disembarkation. Flexible hose between main landing gear yoke and nacelle was leaking. P/No: 46455-117.
CASA C212200 Wing skin cracked. SDR 510019483 (photo above)
Lower wing centre section skin cracked in two places. Cracks approximately 6mm (0.23in) and 4mm (0.15in) long. Found during inspection iaw C-212-PV-02-SID. P/No: 21213104. TSN: 20045 hours/10215 cycles TSO: 20045 hours/10215 cycles.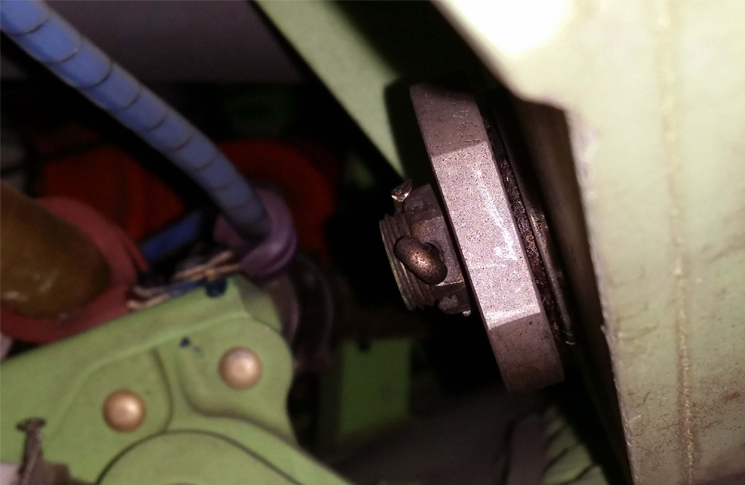 Embraer ERJ-190-100 Nacelle/pylon attach fittings shear pin loose. SDR 510019311 (photo above)
LH and RH pylon shear pins P/No: 190-15181-003 loose and migrating. LH aft inboard nut P/No: NAS509-14C loose and held on by only one thread (lockwire still attached). Bushing P/No: 190-33686-001 migrating. Gap found between RH bushing and shear pin. Found during inspection iaw SB 190-54-0013. Several similar defects reported. P/No: 19015181003. TSN: 15976 hours/10805 cycles.
Fokker F28 MK0100 Exterior taxi light SUP. SDR 510019400
Taxi light fitted to aircraft removed as suspect unapproved part. New taxi light in stores system had same part number and serial number as light fitted to aircraft. Newly received light similar in characteristics to all other lights, while the light fitted was distinctly different. Fitted light removed and quarantined. P/No: 4500685. TSO: 1543 hours/997 cycles.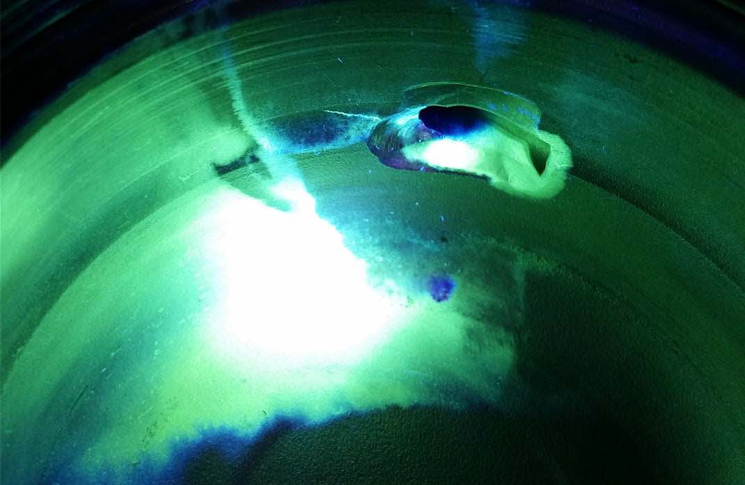 Fokker F28 MK0100 Master cylinder/brake valve housing cracked. SDR 510019433 (photo above)
Brake housing cracked in two places from oil gallery and piston bore. Cracks approximately 12mm and 9mm (0.47in and 0.35in) long. Found using eddy current inspection. P/No: 50099043.
Saab SF340B Landing gear steering system bolt incorrect fit. SDR 510019216
Nose wheel steering restricted operation. Nose wheel steering cable gearbox securing bolt had been fitted incorrectly causing the bolt head to interfere with the input lever. One similar defect reported.
Saab SF340B Passenger compartment light fitting overheated. SDR 510019160
Cabin fluorescent light fitting at seat 7A damaged due to overheating. P/No: BV033000250.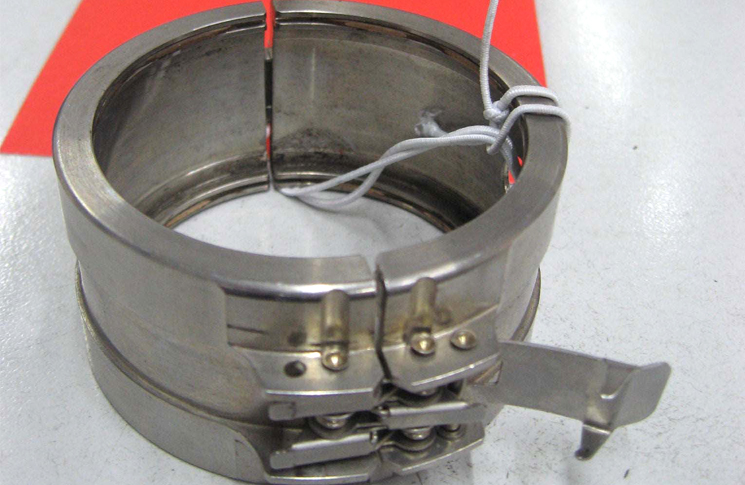 Saab SF340B Pneumatic distribution system clamp incorrect part. SDR 510019308 (photo above)
Suspect incorrect part clamp fitted to bleed duct system. P/No: CA3S120C.