The Australian Transport Safety Bureau (ATSB) has released its report into a lithium battery fire that ignited in the cargo hold of a Boeing 737 moments before passengers boarded a flight from Melbourne to Fiji.
As the captain of the flight was conducting an external inspection of the aircraft, a ground engineer alerted him to white smoke coming from the cargo hold. The captain instructed the first officer, who was in the cockpit doing pre-flight checks, to activate the fire suppression system, evacuate the aircraft and declare Mayday.
As Flight Safety Australia reported in June, the fire was confined to one case, which contained more than eight lithium batteries. The fire is believed to have ignited when one of the batteries short-circuited as the case was being loaded onto the aircraft.
Revealingly, the ATSB report said the 'passenger stated during check-in that there were no batteries in the checked bags, but declared eight lithium batteries being carried as hand luggage'.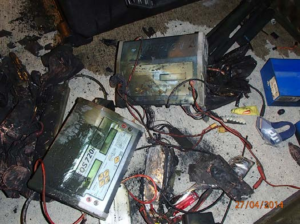 After the fire, the passenger, who was a certified remotely piloted aircraft (RPA) operator in Australia, was located and asked whether there were any batteries in his checked luggage. The passenger replied that there were none. Further inspection of the passenger's checked luggage by the Australian Federal Police revealed '19 batteries intact and additional 6-8 batteries that had been destroyed by fire'.
As a result of the incident, Fiji Airways now asks every passenger whether their baggage contains lithium batteries and is checking that batteries are carried in accordance with regulations. The airline also says that any passenger carrying undeclared lithium batteries that are discovered before departure will be offloaded and refused carriage.
The Civil Aviation Safety Authority (CASA) is producing an educational video to help the public travel safely with lithium batteries and has also developed the Can I pack that? – Dangerous Goods App to help travellers understand the important safety restrictions around various dangerous goods, including lithium batteries.
For more information you can download the app via the link above, or visit CASA's lithium battery web page for instructions on the different battery classifications and how to pack them safely.