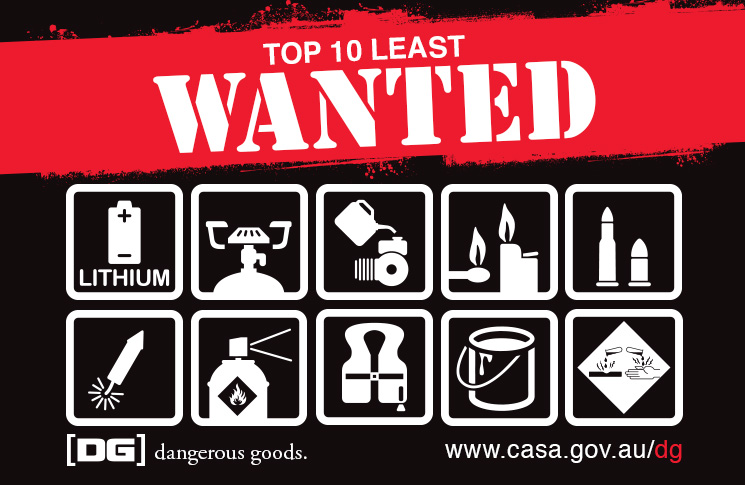 The Civil Aviation Safety Authority has launched its inaugural 'Least Wanted' dangerous goods list for 2014, with lithium batteries topping the list.
The list reflects the top ten dangerous goods passengers carry and present the biggest threat to travellers in Australian skies—with over 100 incidents reported on passenger aircraft in the last year.
Lithium batteries are Australian aviation's number one dangerous good and justifiably so. In April this year a lithium battery fire ignited inside the cargo hold of an aircraft—just moments before passengers boarded a flight from Melbourne to Fiji.
The 'Top Ten Least Wanted' for 2014 are:
Lithium batteries
Gas cylinders & camping stoves
Chainsaws & whipper snippers
Lighters & matches
Ammunition
Fireworks
Aerosol cans: flammable propellant
Lifejackets & flares
Paints
Household chemicals.
To help educate the travelling public about the dangers associated with these items, CASA has also produced the 'Can I pack that?' Dangerous Goods App available on desktop and mobile devices.  The app is designed to help inform passengers about what they can and can't pack in their luggage. And—if it can be brought aboard—guide them on how to do it safely.
CASA will promote the App and the list via its social media channels. Airports around Australia will receive other publicity material such as posters and pamphlets. All the products are also available at CASA's online store.
An informative video produced by CASA (below) further highlights exactly why lithium batteries are the number one least wanted dangerous good in Australia.