Whether you fly an A380 or a Jabiru J160, if you're in the air it's your responsibility to be medically certified.
You're just about to be issued with your pilot's licence but there's just one thing standing in the way between you and soaring through the bright blue sky—your aviation medical.
As a pilot (or aircrew member) it's your duty to truthfully self-report about any potential medical conditions—but we know many don't.
'Aeromedical decision making can be a difficult, emotive, controversial and exposed process,' says Pooshan Navathe, CASA's Principal Medical Officer.
'We have an honesty-based system. If pilots don't tell us about their medical conditions it's their lives—and possibly the lives of passengers—which are in potential danger.'
As outlined in Part 67 of the Civil Aviation Safety Regulations 1998 (CASR), CASA has the responsibility to ensure that it is making an informed decision and to ensure that the safety of air navigation is not jeopardised.
'Australia has got very different attitudes about a lot of things including occupational health and safety,' says Navathe.
'Any medical decisions made by CASA have to align with general Australian legal principles and we shouldn't necessarily compare ourselves to overseas safety laws which could be and often are, entirely different.'
Types of aviation medical certificates
CASA issues three types of medical certificates. Each class of medical certificate also has a medical standard set out in tables in Part 67 of the CASR, but here's a short summary:
Medical certificate-—Class 1
This medical standard applies to holders of an air transport pilot licence, commercial pilot licence (other than balloons), multi-crew pilot (aeroplane) licence, and flight engineer licence. Class 1 certificates are valid for one year.
Medical certificate—Class 2
This medical applies to holders of a private pilot licence, commercial pilot (balloon) licence and flight radio operator licence. A Class 2 medical certificate is valid for four years for applicants less than 40 years of age on the day of issue, and in all other cases for two years.
Medical certificate—Class 3
This medical standard applies to holders of an air traffic control licence or flight service officers. The Class 3 medical certificate is valid for two years.
Then there is the recreational aviation medical practitioner's certificate. This allows appropriately licensed pilots to hold a recreational pilot's licence (RPL) without needing to have a class 2 medical. The RPL is based on a modified unconditional driver's licence medical certificate for a private motor vheicle.
Who makes CASA's medical decisions?
CASA employs over 700 designated aviation medical examiners (DAMEs) spread throughout Australia and overseas to assist the medical staff of the CASA Office of Aviation Medicine with the Australian medical certification system.
DAMEs have a duty to CASA to carry out a focused examination, and provide information to CASA. CASA's medical officers review the information received from the DAMEs and make a regulatory decision as to whether—on the evidence available—an applicant is entitled to the issue of a medical certificate under Part 67 of the CASR.
CASA's medical certification system also utilises the opinions of a wide variety of clinical medical specialists such as psychiatrists, neurologists and cardiologists. CASA's aeromedical decision-making is collegial and evidence-based.
'Every decision is very individual and made on a case-by-case basis—we are completely transparent about what we do,' says Navathe.
But the temptation for a pilot to skip the necessary processes to gain medical certification is often evident.
According to a study into deceased pilots' medical history and medications1:
| | |
| --- | --- |
| 14/223 | using psychotropic medications declared a psychiatric problem |
| 1/14 | declared medications |
| 69/149 | using cardiovascular medications declared cardiovascular disease |
| 29/149 | declared medications |
| 1/15 | declared neurological medications |
Navathe admits that there are problems with non-disclosure in Australia too.
'In just six weeks we tracked 13 non-serious non-disclosures and 18 serious non-disclosures.
'The thing that a pilot or aircrew member may not realise is that if they have an undisclosed medical condition and an event occurs, it doesn't matter what the reason is for the event, their insurance pay out is at risk.
'However, once a condition is disclosed and a certificate issued, this is much less likely.'
Information about specific medical conditions and DAME Clinical Practical Guidelines is outlined on the CASA website.
Ageing aviation population
Just like Australia's general ageing population, aviation medicals become a more pointed issue as the aviation population ages.
'People are getting older in the aviation community. And as people get older medical conditions increase,' says Pooshan Navathe.
However, a serious medical condition doesn't necessarily mean you'll be grounded.
'We have people with cancer, metastatic cancer who are flying,' says Navathe. 'And we may say, "You need to get a PET scan every three months and a blood test every month," and there may be limitations, but it doesn't necessarily stop them from flying.
'Another example is pilots with depression. In America they are required to sit on the ground for nine months after they're in remission. In Australia, if you're in remission and on medication, you can go flying tomorrow morning.
'We understand it may not be cheap, as the pilot will still have to see their GP every three months and they'll get asked a whole stack of questions. But they can fly in the interim—even commercially.
'The only single condition that is a show stopper is epilepsy, but even then this is not necessarily permanent. If a pilot comes back to us in 10 years after they're off medication and they haven't had a fit, then we'll let them fly. But 10 years is a long time to wait for certification.'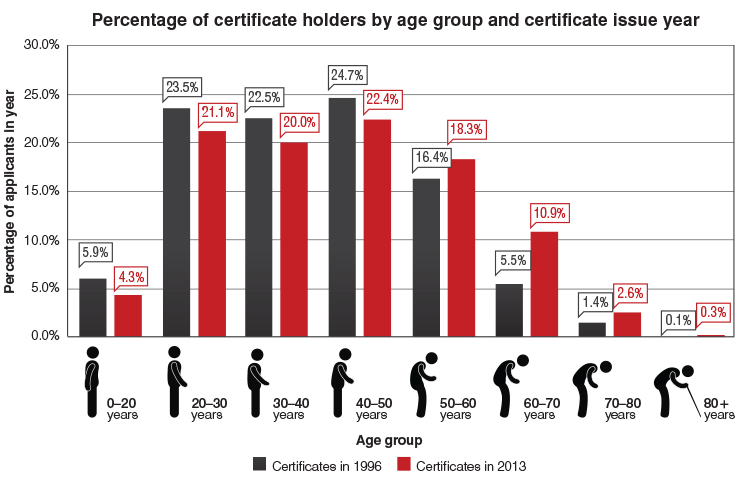 How CASA is evolving
The aviation medical can be a frustrating process, but CASA is invested in making this procedure easier.
'Just recently we have extended the period of certification for many conditions for an extra year (from one year to two years),' says Navathe.
'By next year a new system will be in place where pilots complete the medical questionnaire online. They submit that to their DAME, who then assesses it, carries out an examination, and hits the submit button.
'We expect about 10,000 medical certificates out of 26,000 will be issued on the spot. 'CASA's philosophy is that if you're truthful with us, we will do all we can to keep you in the air—if it is safe to do so.'
For more information about aviation medicals, call CASA's dedicated assessor helpline on 1300 4 AVMED (1300 4 28633), or go to the Aviation Medicals section on the CASA website.
1  Canfield DV, Salazar GJ, Lewis RJ, Whinnery JE.Pilot medical history and medications found in post mortem specimens from aviation accidents. Aviat Space Environ Med. 2006 Nov;77(11):1171-3.