A collision between a refuelling tanker and a student pilot has forced Jandakot Airport in Western Australia to revise its aircraft-taxiing plan.
The incident occurred in June this year, when the pilot taxied back to the southern apron of the airport to park after completing solo circuits.
As he approached the parking area, he saw the refuelling vehicle in the taxi path, and judged he had enough room to pass by. But moments later, his left wing struck the front grille of the tanker—rapidly swinging the aircraft left and towards the vehicle.
The student quickly applied the brakes and managed stop the aircraft with the propeller left spinning centimetres away from the vehicle's diesel fuel tank.
The diesel fuel tank was located directly beneath 8450 litres of Avgas.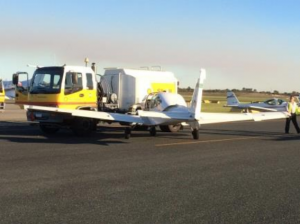 About 30 seconds later, the student (who later reported being in shock) shut down and then exited the aircraft. Luckily, he was not injured while the aircraft and refuelling vehicle sustained only minor damage.
Remarkably, this wasn't the first time the refuelling operator had been struck, with a similar incident occurring less than one year earlier in July 2013.
A resulting investigation from the Australian Transport Safety Bureau (ATSB) has found that the student pilot had not flown out of Jandakot for several months and was not familiar with all the taxiing procedures, including how close aircraft can get to refuelling tankers.
In hindsight, the student stated the importance of 'having a full understanding of all the relevant procedures at an unfamiliar airport.'
Encouragingly, there's been a collaborative safety effort from the airport operator, the flying school and the refuelling company to ensure there isn't a three-peat of this potentially explosive incident.
You can read the full report, including more about the resulting safety action at the ATSB's website.
Further information on Aircraft Safety Precautions during fuelling operations can be found in the CASA Civil Aviation Orders.