Agusta Bell AW109SP Vertical stabilizer structure—doubler cracked. SDR 510020058
Vertical stabiliser doubler cracked. Found during inspection iaw BT109SP-074 and AD 2014-0150. P/No: 109037253213. TSN: 99 hours/200 landings.
Eurocopter AS350B3 Main rotor mast/swashplate—scissor arm scored. SDR 510020062
During scheduled inspection found scoring on spacer & bush of main rotor swashplate scissor assembly upper & lower. This is not an isolated incident and has occurred on other aircraft in our fleet. Initial investigations show that the tight tolerance of the spacers within the shouldered bush of the scissor assembly seems to displace any grease that has been applied. This has not been found to be such an issue on single hydraulic systems on former AS350 B4 / B2 models. P/No: 350A37112602. TSN: 82 hours.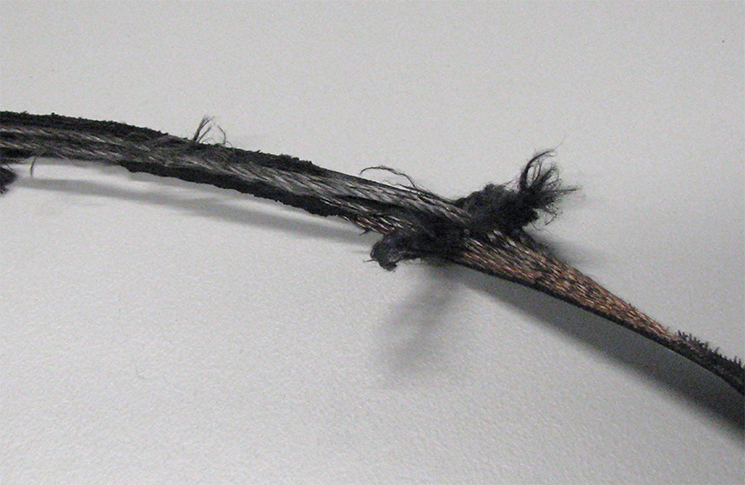 Eurocopter AS365N Air conditioning system—fan belt delaminated. SDR 510020109 (photo above)
During pre-flight inspection the air conditioning vee belt was found delaminated. Vee belt was replaced. P/No: 365A32286322. TSN: 908 hours.
Eurocopter EC225LP Air conditioning system—lock pin failed. SDR 510020141
Air conditioning system HP module locking pin failed and separated from module. Investigation found locking ball bearings were not in the fully locked position and were still partly withdrawn. P/No: 0023C06R18NW. TSN: 1306 hours/1697 cycles
Eurocopter EC225LP Cargo/baggage doors—handle missing. SDR 510020143
Baggage door handle missing. Investigation found handle securing rivet had fallen out. P/No: 332A2302120102. TSN: 602 hours/544 cycles.
Eurocopter EC225LP Detection system—fire detector faulty. SDR 510020060
Main gearbox and cargo compartment fire detectors suspect faulty. P/No:H352. TSN: 207 hours.
Eurocopter EC225LP Fire protection wiring—connector contaminated. SDR 510020142
Fire detection system gave intermittent warnings. Investigation found connectors 143VC and 73VCD contaminated.
Robinson R22BETA Engine oil temperature regulator—vernatherm seized. SDR 510020053
Pilot reported high oil temp. Removed vernatherm & tested. Found spring not actuating seized. Replaced with new item. Nil defects. P/No: 53E22144. TSN: 997 hours.
Robinson R44 Main rotor blades—main rotor blade debonded. SDR 510020048
A small debond was found on the M/R blade tip lower surface during a 100 hr scheduled maintenance task. Possible cause is due the coastal environment the blade has been in and possible lack of cleaning. The M/R blades was removed as a set and replaced with new matched set.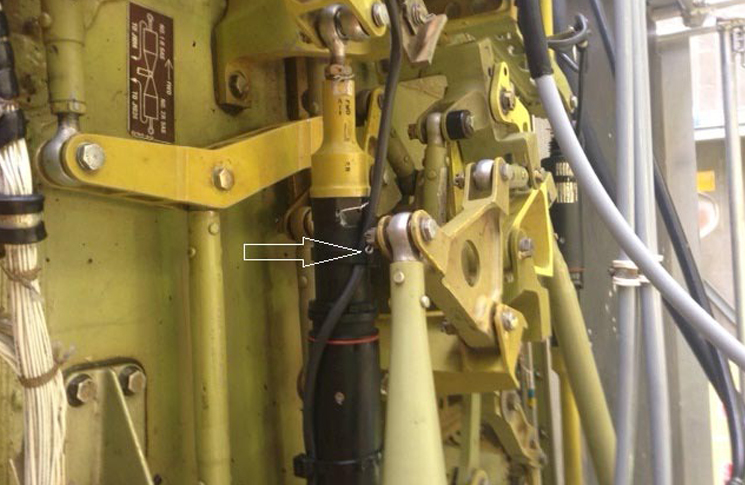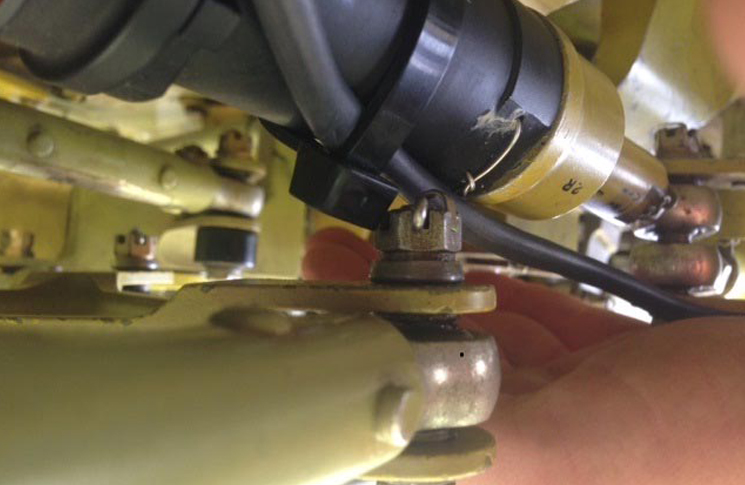 Sikorsky S76C Autoflight wiring—wiring rubbing. SDR 510020114 (photo above)
During a rigging check it was found that there was a jamming of the flight controls. Investigation found a cable tie was coming into contact with a flight control bellcrank bolt. P/No: 7690001802106ACTUATOR.