Engine collector/tailpipe/nozzle—exhaust pipe disconnected. SDR 510020092
After leaving Rabaul PNG the flight crew noted fire warning indications from the RH engine. It was found the exhaust tail pipe had separated leading to exhaust gases to enter the nacelle tail area.
Garrett TPE33110N Turbine engine combustion section—combustion case cracked. SDR 510020159
RH engine combustion chamber lower area cracked. Crack length approximately 200mm (7.87in). P/No: 31037009. TSN: 9133 hours TSO: 6850 hours.
GE CF3410E Engine (turbine/turboprop)—turbine engine bird strike. SDR 510020189
Birdstrike (Kestrel) on No1 engine. After removing debris, the engine was inspected with nil damage found. P/No: CF3410E5. TSN: 16872 hours/11726 cycles.
GE CF3410E Fuel controlling system—line contam-water. SDR 510020175
No1 engine PS3 line water contamination causing N1 fluctuations.
GE CF3410E Turbine engine compressor section—segment damaged. SDR 510020125
Number 2 engine fan frame flow path segment damaged. Broken section punctured transcowl inner skin.
GE CF680C2 Engine (turbine/turboprop)—turbine engine contam-metal. SDR 510020191
Number 2 engine experienced an abrupt spike in the level of vibration. Initial investigation found metal debris in the tailpipe. Engine removed for further investigation. P/No: CF680C2B6. TSN: 80886 hours. TSO: 9589 hours.
GE CF680E1 Turbine engine turbine section—guide vane missing. SDR 510020108 (photo above)
During troubleshooting a boroscope inspection of the engine revealed a 4th stage LPT nozzle guide vane missing with subsequent FOD damage downstream on the 4th and 5th stage LPT blades. The engine was replaced with a serviceable unit.
GE CFM567B Fuel pressure indicating system—pressure switch unserviceable. SDR 510020117
No1 engine fuel filter differential pressure switch unserviceable. P/No: QA07995. TSN: 11459 hours/5622 cycles.
PWA PT6A114A Turbine engine turbine section—turbine case unserviceable. SDR 510020074
Defect in PT6A-114A Engine. Bolts on the containment ring had come loose and caused FOD damage to the engine. It appears the bolts were not installed correctly. See attached report for details
PWA PT6A42 Engine (turbine/turboprop)—turbine engine low power. SDR 510020152
RH engine failed to make full power on take-off. Torque reached was 2050ftlbs instead of 2180ftlbs (bleed on). Engine also appeared to be slow in acceleration. Investigation continuing.
PWA PT6A60A Engine fuel pump—drive shaft worn and damaged. SDR 510020113 (photo above)
On climb LH FUEL LOW warning light came on. Electric Auxiliary Boost pump switched on and light extinguished. Aircraft returned and the fuel pump was replaced and found the square drive into the pump severely worn that it didn't rotate the pump sufficiently to provide adequate fuel pressure. P/No: Unknown. TSN: 9615 hours/5934 landings/252 months.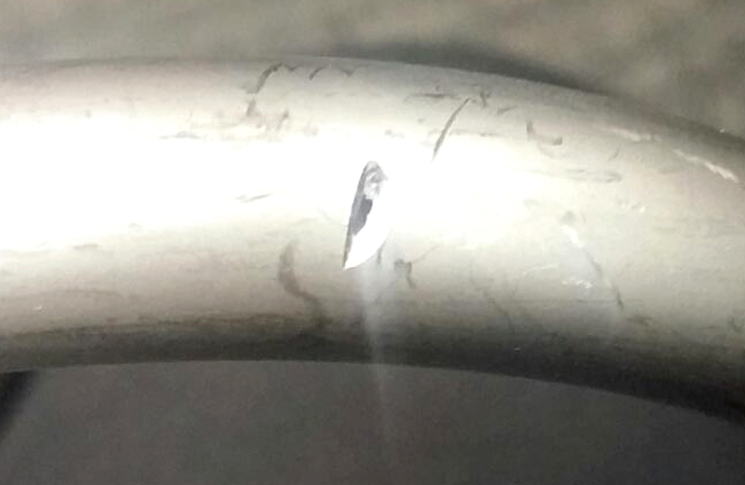 Rolls Royce AE3007A13 Turbine engine oil system—oil line worn and leaking. SDR 510020158 (photo above)
No2 engine oil pressure line to oil filter leaking due to chafing on start valve 'V' clamp. P/No: 23056413.