Airbus A320-232 APU cowlings/containment—APU leaking. SDR 510020095
Flight crew reported a 'dirty sock smell' in the cockpit and cabin areas. During troubleshooting it was found the APU load compressor and components had evidence of oil wetting and leaking. APU was replaced and the aircraft tested serviceable.
Airbus A320-232 Crew oxygen system—door faulty. SDR 510020144
Flight attendant oxygen container doors (3off) failed to open during functional checks. Doors could still be opened manually. Suspect faulty solenoid strikers.
Airbus A320-232 Pressure regulator valve—pressurisation valve suspect faulty. SDR 510020057
Flight crew experienced ECAM warning cabin pressurisation sys 1 fault. The system automatically transferred to system 2. Six minutes later ECAM warning for system 1 & 2 fault. Troubleshooting showed outflow valve fault. Outflow valve checked and cleaned, and test performed with smooth movement observed, nil faults. Fault suspected to be ice build-up due to environmental conditions.
Airbus A330-243 Fuel transfer valve—inlet valve open. SDR 510020075
Fuel trim tank inlet valve actuator failed in the open position. P/No: D97C000654. TSN: 9238 hours/2432 cycles.
Airbus A330-243 Windshield rain/ice removal—window suspect faulty. SDR 510020076
On number 1 engine start, 'Anti Ice R Wshld Heat' indication. Aircraft returned to gate and troubleshooting confirmed fault with Window Heat Computer #2. MEL applied and Window Heating System deactivated. AC released to service. Window Heat Computer number 2 replaced after subsequent troubleshooting. P/No: 77476711. TSN: 9078 hours/2383 cycles
ATR ATR72212A Elevator tab control system—elevator system suspect faulty. SDR 510020085
Elevator pitch disconnect during landing. Investigation found nil problems but the pitch uncoupling mechanism was operating at upper range of acceptable values. BAC 146-100 Air distribution fan—cooling fan failed. SDR 510020157Avionics cooling fan failed on fitment following replacement of previous unserviceable fan. Investigation found fan failed due to intermittent solder connection on back of connector. P/No: F183823.
Boeing 717-200 Stabilizer actuator—trim motor failed. SDR 510020081
Primary horizontal stabiliser not moving in down commanded direction from LHS and RHS control wheel positions. Up commanded direction is normal. Secondary horizontal stabiliser is normal. Investigation revealed the primary horizontal stabiliser trim motor brake not releasing when commanded in the down position. Trim motor replaced IAW AMM.
Boeing 737-838 Flight compartment windows—bolt stripped thread. SDR 510020167
First Officer's sliding window lower track roller attachment bolt threads stripped preventing window from correctly opening/closing.
Boeing 737-838 Galley station equipment system—galley odour. SDR 510020205
Strong bleach like smell from aft galley leading to headaches and nausea by some cabin crew. Investigation could find no definitive cause for the smell.
Boeing 737-8FE Air distribution system—bleed air contaminated. SDR 510020131
Unusual smelling fog/condensation on flight deck. Engines were not running. Investigation suspects that the air conditioning system was contaminated by excessive moisture due to the heavy wind and rain occurring at the time.
Boeing 737-8FE APU core engine—APU unserviceable. SDR 510020176
APU unserviceable. Two bangs were heard followed by black smoke and sparks from exhaust. Investigation continuing. P/No: 38007021. TSN: 32820 hours/23199 cycles.
Boeing 737-8FE Elevator control system—spring broken. SDR 510020077
During maintenance AD inspection RH elevator tab found broken when accomplishing FAA AD 2013-06-05. RH Elevator Tab Mechanism removed and replaced IAW SB. P/No: 251A243016 elevator tab mechanism assembly. TSN: 15568 hours/9698 cycles.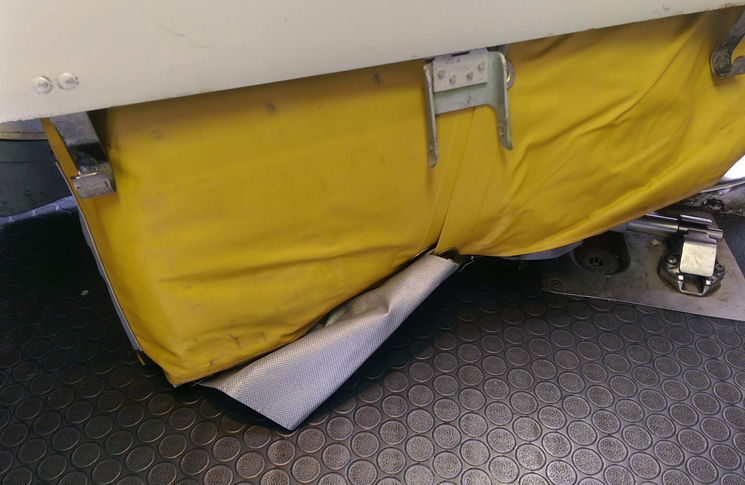 Boeing 737-8FE Escape slide—slide dislodged. SDR 510020133 (photo above)
R2 door escape slide assembly dislodged and adrift from the door bustle. Slide had dropped but not deployed with girt bar in armed position. P/No: 5A33077. TSN: 32070 hours/18996 cycles.
Boeing 737-8FE Flight compartment windows—window stuck. SDR 510020161
First Officer's No2 sliding window stuck and unable to be opened. Investigation found one of the screws on the aft frame that secures the window heat wiring clamps had been installed without a nut allowing it to migrate and jam on the structure preventing the window from opening.
Boeing 737-8FE Pneumatic distribution system—shut-off valve unserviceable. SDR 510020154
Bleed air system crossover manifold shutoff valve unserviceable. P/No: 2760000101. TSN: 7725 hours/4828 cycles.
Boeing 737-8FE Toilet station equipment system—plate missing. SDR 510020177
L2lavatory waste compartment door inner plate associated hardware missing compromising fire safety. Found during inspection iaw FAA AD 74-08-09. P/No: D72D70042111 plate.
Boeing 747-438 Escape slide—slideraft damaged. SDR 510020166
During workshop flat fire test, a tear/cut was found in the lower aspirator fill tube. Length of tear/cut approximately7.93mm (0.3125in). P/No: 7A146916. TSN: 1129 hours TSO: 1129 hours.
Boeing 777-3ZGER Galley station equipment system—oven unserviceable. SDR 510020050
Aft galley oven 2 overheated causing burning smell. P/No: 820216000001. TSN: 27214 hours/2249 cycles.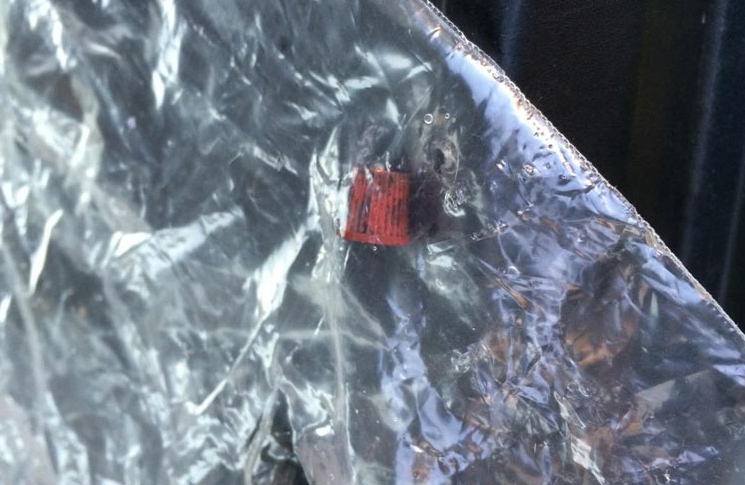 Boeing 777-3ZGER Waste disposal system—drain mast blocked. SDR 510020147 (photo above)
Toilet 3L and 3R wash basins backed up with grey water overflow soaking the surrounding carpet. Investigation found forward drain mast completely clogged by a red toothpaste tube cap and a black shaving cream tube cap. FOD.
Bombardier DHC8-315 Nose/tail landing gear—NLG slow response. SDR 510020087
Landing gear selected down. Nosewheel indication showed red unsafe and nose gear door open for approx. 30-40 seconds. Gear did eventually fully extend and lock down.
Embraer EMB-120 Fuselage structure—skin corroded. SDR 510020056
Mid fuselage skin damaged due to level 2 corrosion. Area of corrosion located between Stn 6462.6 and Stn 7257.6.
Embraer EMB-120 Starter-generator—starter/generator worn and damaged. SDR 510020169
LH engine starter-generator housing damaged. Further inspection found shaft bent and blades severely worn from rubbing on housing. Suspect caused by attachment screws (4off) being loose and not lock-wired. P/No: 23080013. TSO: 37310 hours/40100 cycles.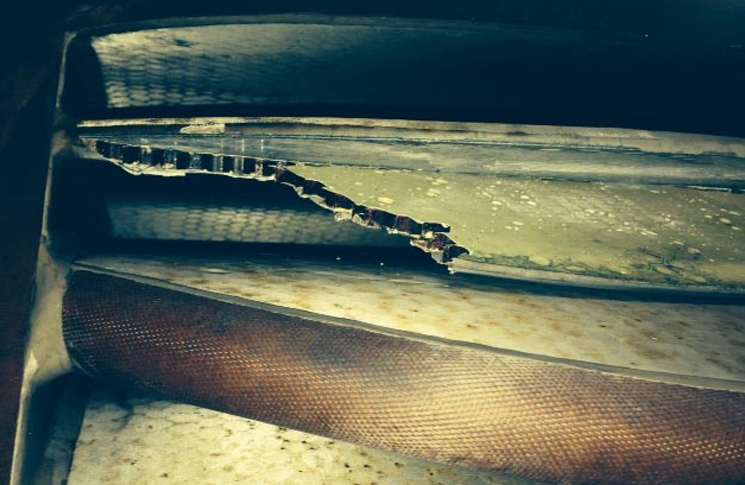 Embraer ERJ-190-100 APU cowlings/containment—inlet silencer disbonded. SDR 510020134 (photo above)
APU inlet silencer disbanded. Disband was approximately 130mm (5.1in) deep and full width. Edge sections missing and found in splitter assembly. P/No: 4952354. TSN: 3954 hours/2728 cycles.
Embraer ERJ-190-100 Fuselage floor panel—floor corroded. SDR 510020151
P/No: 17060259001.
Embraer ERJ-190-100 Fuselage miscellaneous structure—clip corroded. SDR 510020155
Fuselage shear clip located on frame 81 between stringer 27R and 28R corroded beyond repair. P/No: 17066885001.
Embraer ERJ-190-100 Fuselage miscellaneous structure—seal rest corroded. SDR 510020148
Forward cargo cut-out lower forward, mid and aft seal rests P/No 170-66803-401, P/No 170-66803-402 and P/No 170-66804-401 contained level 2 corrosion. P/No: 17066803401.
Embraer ERJ-190-100 Galley station equipment system—oven smoke. SDR 510020107
On climb cabin crew noted smoke coming out of the rear galley oven. Over turned off and smoke dissipated. Oven found to be contaminated internally causing smoke. Oven replaced, aircraft tested satisfactory and was released to service. P/No: 820111000001.
Embraer ERJ-190-100 Hydraulic system main—hose fitting ruptured. SDR 510020174
No1 brake emergency/park brake hydraulic hose ruptured at fitting on brake end. Aircraft was parked in hangar with nil hydraulic pumps on. Brakes were in parked condition. P/No: 2000A0592K01
Fokker F27MK50 Trailing edge flaps—panel damaged. SDR 510020044
Right hand outboard flap track panel attachment points cracked allowing panel to catch on flap during extension. Investigation found that two of the upper attachment points of the damaged panel had cracked, causing the panel to come adrift and catch on the flap during extension.
Fokker F28 MK0100 Air conditioning system—duct cracked. SDR 510020097
After take-off a loud squealing noise was heard. Air-Con Pack #1 was identified as the cause of the noise and subsequently shutdown. Later during the flight, a Cabin Altitude Alert presented on the MFDU due to the cabin altitude reaching above 10 000' (the altitude was climbing at 50-100 ft/min). Oxygen masks were deployed. The aircraft descended and Air-Con Pack #1 was turned on. There was no associated squealing and the cabin altitude returned to normal. The rest of the flight was uneventful. P/No: A73100429.
Fokker F28 MK0100 Cabin temperature sensor—temp system contaminated. SDR 510020084
Flight crew reported #2 Pack failed at site, MEL applied and aircraft operated at reduced altitude. Review of history showed various components had been changed for trouble shooting. It was found the ambient cabin temperature sensor resistance was low. Sensor was cleaned IAW AMM and system tested satisfactorily. MEL removed.
Fokker F28 MK0100 Landing gear doors—landing gear door damaged. SDR 510020065
During post-flight inspection damage was discovered on the R/H Main Landing Gear Door and #3 MLG Wheel. Inspection concluded that the damage was caused by the MLG Wheel making contact with the MLG Door during retraction. Maintenance activities performed to rectify the root cause included L/H and R/H MLG, Sequence Valves replaced.
Fokker F28 MK0100 Trailing edge flap control system—flap jammed. SDR 510020132
Trailing edge flap jammed. Initial investigation found some parts (bolts, bushing and nuts) missing from flap shroud. Investigation continuing.
Fokker F28 MK070 Autopilot system—autopilot unserviceable. SDR 510020086
During descent through 30,000 the auto-pilot arrested descent momentarily before continuing to descend. Flight Crew disengaged Auto-Pilot #2 and engaged Auto-Pilot #1. During descent through 12,000 the auto-pilot began oscillating. Auto-Pilot #1 was then disengaged and the first officer flew manually for the rest of the flight. During investigation no faults could be found. However it was noted that with the auto-pilot engaged, manual inputs to the elevator would only intermittently affect the stabiliser trim. The Flight Augmentation Computer was replaced and tested serviceable. Aircraft is being monitored.
Fokker F28 MK070 Emergency lighting—emergency lighting inoperative. SDR 510020135
Numerous emergency lights inoperative. Investigation found emergency light batteries #No5 and #No8 fully discharged and No5 battery connector pin was pushed back.
Saab SF340B Control column section—cable high tension. SDR 510020126
Stick pusher capstan cable tension high. Cable tension was measured at 80lbs. Found during inspection iaw SB 27-115 and EASA AD 2013-253.
Saab SF340B Passenger compartment lighting—light fitting FOD. SDR 510020116
Burning smell from overhead fluorescent lights. Investigation found a piece of foam lodged between the fluorescent tube and the sidewall at seat 7A but it is suspected not to be the cause of the fumes. Nil other faults found. P/No: 6500006.