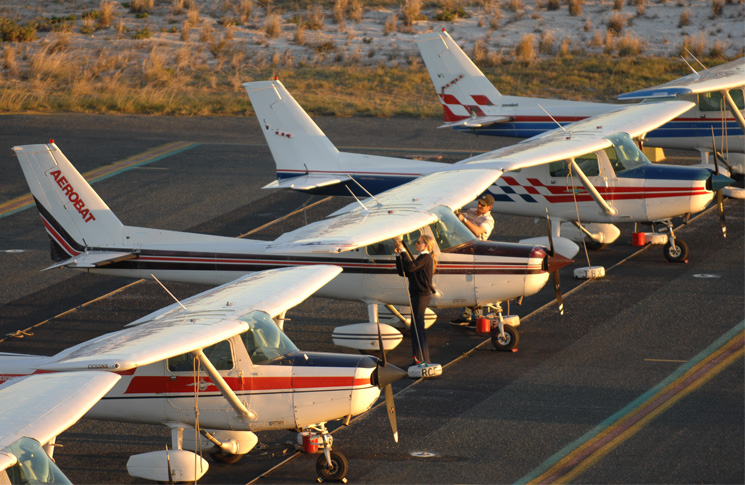 The Federal Aviation Administration (FAA) is being taken to court over a decision to shut down an 'Uber-styled' flight sharing service after the regulator deemed the site to be a conduit for illegal air travel.
Flytenow wants the decision to be overturned, claiming the practice of private pilots promoting upcoming travel that would-be travellers can then organise to ride along is not illegal, as it complies with a cost-sharing rule established by the FAA.
The company maintains that these rules, 'allows a private pilot to receive pro-rata reimbursement from his passengers for fuel, oil, airport expenditures, or rental fees, so long as the pilot and his passengers share a bona fide common purpose for conducting the flight.'
Flytenow, much like AirPooler, works as a platform where private pilots can create an 'adventure', with 'enthusiasts' able to search and request to join specific flights. Once the pilot has accepted the request, the passenger will be asked to pay their portion of the expenses.
After the flight, the pilot reconciles the Hobbs time (time the aircraft was in use), and Flytenow transfers through the funds.
The business model is similar to Uber, an app-based transportation and taxi network founded in 2009, now available in more than 200 cities worldwide. The commercial success of Uber sparked a prolific rise in companies emulating Uber's business model, a trend referred to as 'Uberification'.
However, Uber has been the subject of ongoing protests from approved operators and governments alike due to claims of unfair business practices, lack of regulation and compromising passenger safety.
Flytenow will also be challenging the ruling on constitutional grounds, claiming the FAA is imposing an, 'impermissible constraint' on free speech. 'We're now left in the strange conundrum of attempting to engage in expense sharing without being able to communicate the details of a planned flight to a passenger,' says Flytenow.
'The only thing that has changed is the means of communication. Rather than pilots sharing their travel plans via phone, email, or a bulletin board at a regional airport, they now communicate those plans via … the Internet' argues Flytenow. 'By requiring a Part 119 certificate for pilots to communicate their flight plans online, the ruling imposes an impermissible constraint on speech.'
Flytenow filled the appeal with the last week. You can read more here.