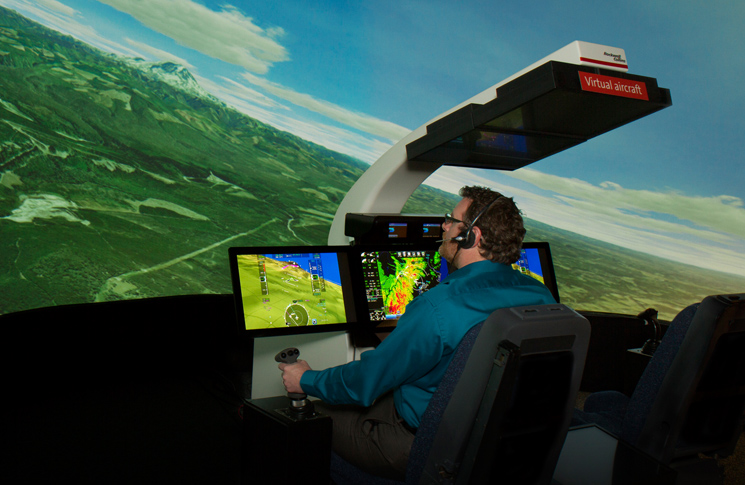 NASA is studying what some pilots will undoubtedly regard as the ultimate heresy in aviation—the single-pilot airline flight deck.
NASA and avionics maker Rockwell Collins are collaborating on research into concepts and technology for crew capacity, ground support and automation of commercial air transport.
The two organisations have already conducted one study into 'second human-in-the-loop' operations that combine a single pilot with a ground-based assistant.
This 'ground operator' could potentially serve more than one aircraft, the study says.
'As aircraft become more automated, there are typically long periods of time during which there are fewer piloting tasks and thus the workload can easily be handled by one pilot', the study says.
'An operator on the ground could potentially be allocated to aircraft only during higher workload periods, and could perform other useful work during lower workload periods (such as helping other aircraft or performing dispatch duties).'
The study's authors said ground operators could become specialists in certain phases of flight. 'Much as a harbour pilot steers a ship through a particular harbour, a ground operator could be selected based on experience with landing at a particular airport or troubleshooting a particular problem.'
The study conducted two experiments, one simple and the second more involved, in which pilots flying a full-motion simulator worked with another pilot connected to a ground station. These simulated flights were compared with others where both pilots were present on the flight deck.
While measured performance was similar in both scenarios, the study noted that 'most pilots preferred flying together, and they rated the separate condition more poorly for safety of flight, communication and coordination.'
'One area that seemed particularly challenging within the separate condition was simply understanding what the other pilot was doing,' the study says.
'Based on video reviews of the pilots' interactions, an analysis found many more incidences of confusion about what the other pilot was doing in the separated condition than in the together condition.'
The second, ongoing, experiment is using a series of 'collaborative tools' linking the ground-based and airborne pilots. These include a video link, shared charts, and CRM indicators showing who has responsibility for a range of aircraft systems.
The collaboration will run until 30 September this year, 'with potential follow-on awards for additional research,' Rockwell Collins said.
Further information: Toward Single Pilot Operations: Developing a Ground Station
Poll Question
[yop_poll id="5″]