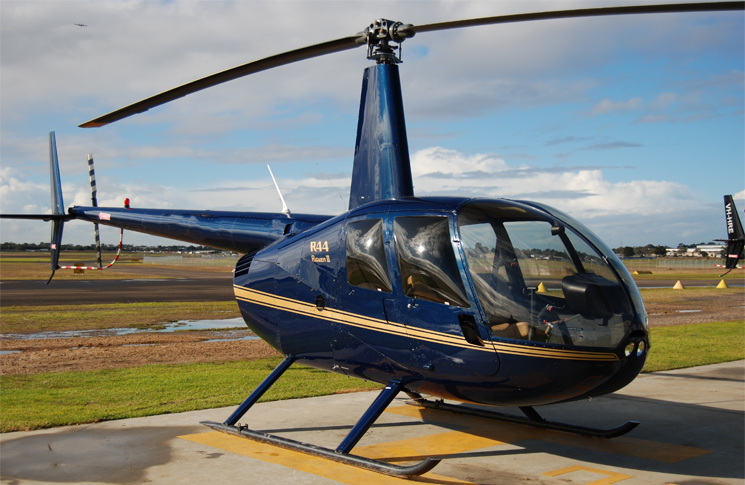 CASA has issued an emergency airworthiness directive grounding Robinson R44 helicopters over fears the main rotor blades may break off in flight.
CASA took the action after advice from investigators examining a fatal crash in New Zealand where initial examinations suggest a rotor blade failure might have led to the accident.
The accident, which killed two people near the city of Queenstown in the south island, came after a continuing airworthiness notice from New Zealand's Civil Aviation Authority (CAA) in January, reporting cracking on the trailing edge of the main rotor blades.
The CASA directive applies to R44s with the rotor blade part number of C016-7.
The directive from CASA states:
'To prevent the possibility of main rotor blade separation and consequent loss of the helicopter, further flight is prohibited. Aircraft in remote locations may complete one further flight to the nearest appropriate facility, provided that they are subject to a detailed visual inspection of the blade skin in the region of the outboard chord increase. NZ Continuing Airworthiness Notice CAN 62-003 refers. Ensure blade is clean and inspect upper and lower surface paying attention to defects in paint which may signify cracking.'
There are 485 R44 helicopters registered in Australia. It is not known how many have C016-7 blades installed. The directive is unusual, as it requires the rotor blades to be inspected 'before further flight'.
The New Zealand CAA issued an advisory notice earlier in January after a separate incident forced a pilot into an emergency landing following severe vibration from the main rotor blades.
Closer inspection revealed significant cracking on the trailing edge of the blade, detailed in the pictures below taken after the flight.