The crash of a Boeing 747 cargo aircraft in Afghanistan 'most likely' occurred after a military vehicle it was carrying broke free from restraints, unbalancing the aircraft beyond recovery.
The latest information made public last week by the US National Transportation Safety Board (NTSB) will help investigators explain why the National Airlines 747-400 pitched nose-up sharply after take-off, before hitting the ground and killing all seven crewmembers in April 2013.
Video of the accident (above) was captured from the dashcam of a passing car, clearly showing the aircraft in a steep nose-up attitude before an apparent wing drop and plunge to earth.
Newly released documents show that the aircraft was carrying five large mine-resistant ambush protected vehicles (MRAPs), which had a combined weight of 78 tonnes.
As reported by Flightglobal, investigators believe that the 'data and physical evidence…indicate that the most likely scenario involved at least one MRAP breaking loose of its restraints shortly after take-off rotation.'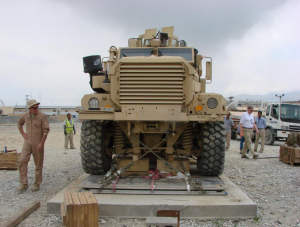 Unfortunately, the loose vehicle also smashed into the fight data recorder (FDR) and the cockpit voice recorder (CVR) located at the rear of the aircraft, rendering the equipment and the crucial information it was recording— useless.
Streaks of the FDR's bright orange paint were discovered on the rear of one of the vehicles, along with an imprint of that vehicle's spare tyre on the aft pressure bulkhead, indicating that the vehicle impacted heavily with the aircraft's interior cargo wall.
As Flight Safety Australia reported in March last year, within a month of the crash, the FAA had issued a safety alert warning operators of 'the potential safety impact of carrying and restraining heavy vehicle special cargo loads' regarding the 'weight and balance control procedures, cargo loading procedures, loading schedules and loading instructions'.
The NTSB is yet to release the full investigative report into the accident.
You can read more about how the availability of small, highly portable video cameras is capturing aviation accidents and affecting aviation safety, in Everything has eyes.