Bell 206L1 Tail rotor control system—PCL unserviceable. SDR 510020283
Tail rotor Pitch Control Links (PCL) contacting safety stop. Investigation found spherical ball joint separated from sleeve. P/No: 2AA010795105. TSN: 193 hours. TSO: 193 hours.
Bell 429 Main rotor mast/swashplate—bearing unserviceable. SDR 510020332
Main rotor swashplate tilt ball bearing dislodged and moved. One of two roll pins also moved outwards and protrudes approximately 2 mm (0.078in) from seated position. P/No: 429310407101. TSN: 963 hours.
Eurocopter AS332L Fuel storage—hose leaking. SDR 510020226
Fuel leak and smell in cabin. Investigation found the auxiliary fuel tank filler hose leaking. P/No: HP381.
Eurocopter AS350B3 Rotorcraft tail boom—support cracked. SDR 510020255
No 5 tail rotor driveshaft bearing support cracked. P/No: 350A2310642051. TSN: 533 hours.
Eurocopter AS350B3 Tail rotor control system—bellcrank unserviceable. SDR 510020361
Tail rotor pitch control bellcrank unserviceable. Investigation found bellcrank bushing loose and expanding pin seized in bellcrank. P/No: 350A33153500. TSN: 214 hours.
Eurocopter EC225LP Landing gear position and warning system—circuit board suspect faulty. SDR 510020225
Landing gear logic Printed circuit Board (PCB) faulty. P/No: SE02082. TSN: 600 hours.
Eurocopter EC225LP Non standard equipment system—rescue hoist failed test. SDR 510020221
Hoist failed slip load test. Average slip load was below required value. Found during inspection iaw Goodrich ASB 44301-10-18 and AD 2014-0201. P/No: 42325164. TSN: 103 hours/214 cycles.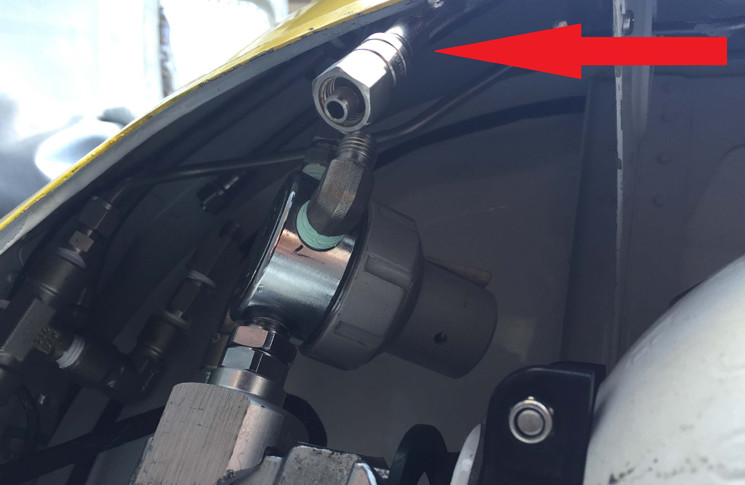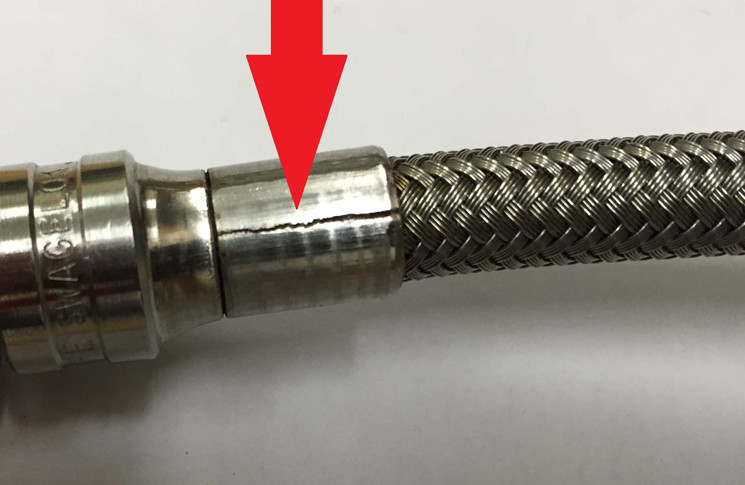 Kawasaki BK117B2 Oxygen system—hose cracked. SDR 510020519 (photos above)
Medical oxygen system flexible braided Teflon hose swaged fitting cracked. P/No: SS4BHT12. TSN: 851 hours/46 months.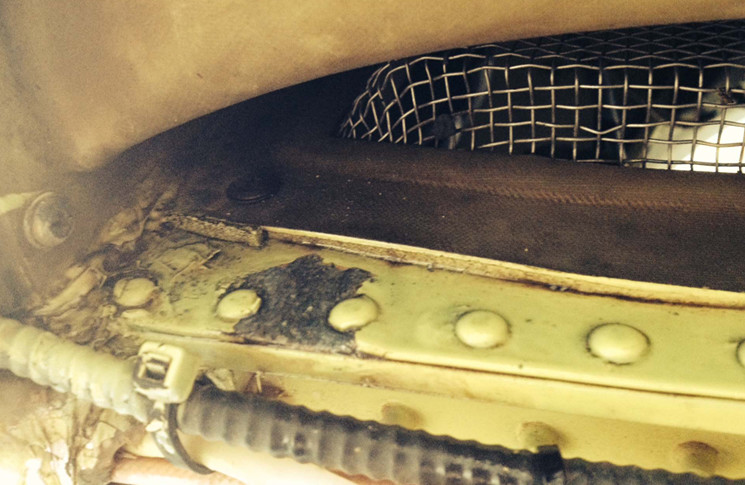 MDH 369D Fuselage plates/skin—panel corroded. SDR 510020281 (photo above)
Main rotor mast support structure panel corroded. P/No: 369D2301113. TSN: 15617 hours.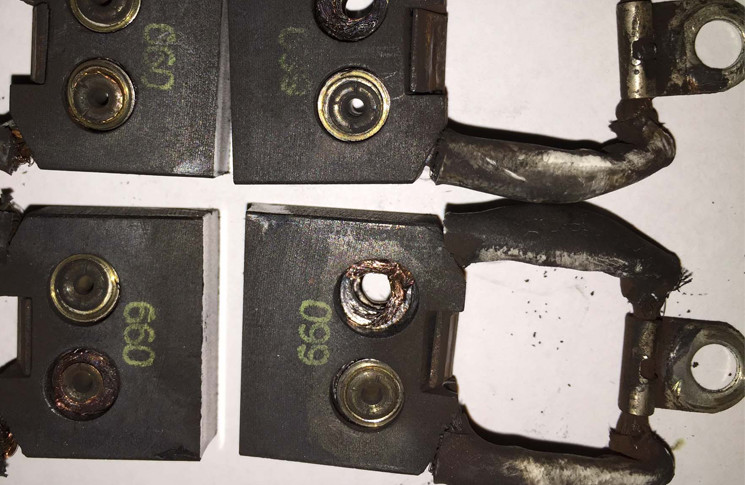 MDH 369D Starter-generator—brush block unserviceable. SDR 510020278 (photo above)
Engine starter/generator brushes unserviceable due to loose rivets on pigtails. Suspect commutator out of round. P/No: 128002. TSN: 580 hours.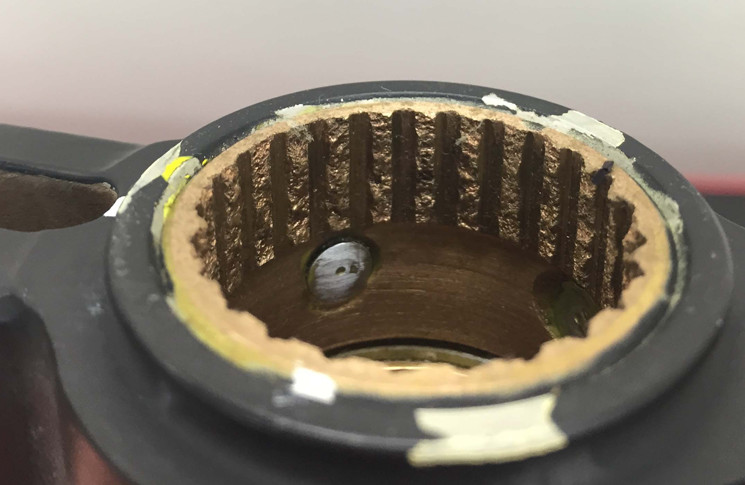 MDH 369D Tail rotor control system—swashplate unserviceable. SDR 510020287 (photo above)
Tail rotor pitch control swashplate assembly splines worn. P/No: 369D2180111.
Robinson R22BETA DC generator-alternator—bearing rough running. SDR 510020498
Alternator bearings rough in operation causing excessive noise through headsets.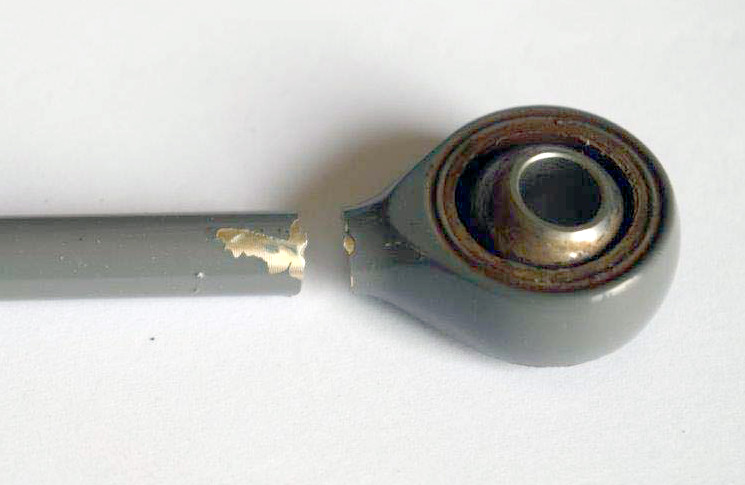 Robinson R22BETA Tail rotor control system—pitch link failed. SDR 510020475 (photo above)
Tail rotor pitch link failed. Investigation found both pitch link worn excessively. aircraft damaged during heavy landing. P/No: B3453. TSN: 444 hours.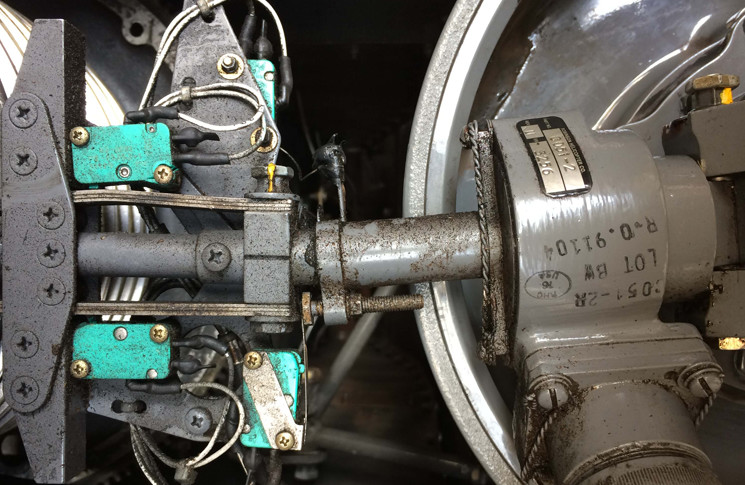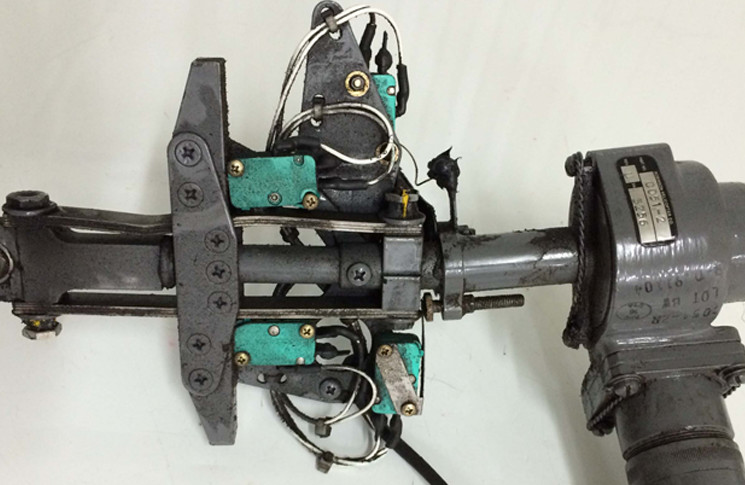 Robinson R44 Engine/transmission coupling—actuator unserviceable. SDR 510020227 (photos above)
Engine to transmission clutch belt tension actuator shaft bent. P/No: C0512. TSN: 939 hours. TSO: 939 hours.
Robinson R44 Engine/transmission coupling—clutch failed. SDR 510020380
Investigation of vibrations found cooling fan misaligned by approximately 10 degrees. Further investigation found sprag clutch assembly made strange internal noises. Suspect internal failure of clutch assembly. P/No: C1883SNO309. TSN: 1888 hours/76 months.
Sikorsky S76A Fire detection system—fire detector faulty. SDR 510020521
No 2 engine fire warning on startup. Investigation could find no evidence of fire. When engine start was again attempted there was another fire warning indication. Investigation found No 2 engine flame detector faulty. P/No: 61423473205.