Airbus A320-232 Tire—tyre tread separation. SDR 510020433
LH nose landing gear tyre tread separation. Investigation continuing. P/No: 31531RADIALM. TSN: 12420 hours/7255 cycles TSO: 12410 hours/7249 cycles.
Airbus A330-202 Crew oxygen system—smoke hood fire. SDR 510020511 (photo above)
During discharge and disposal of smoke hood, a loud explosion was heard when the activation pin was released followed by fire from the outlet side of the canister. The rubber duct and mask plastic tubing burnt before the fire self-extinguished after approximately 30 seconds. P/No: 11900311.
Airbus A380-842 Horizontal stabiliser structure—bushing migrated. SDR 510020443
Horizontal stabiliser LH outboard hinge support bushing migrated and liberated from fitting/hinge structure. Found during unrelated inspection in area. Investigation continuing.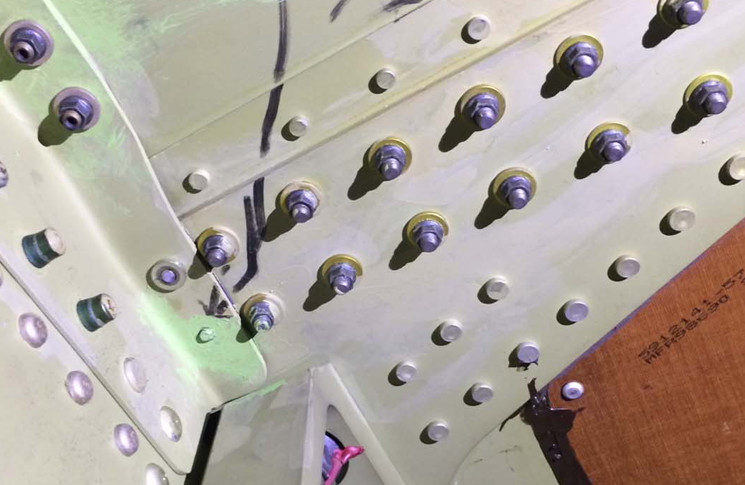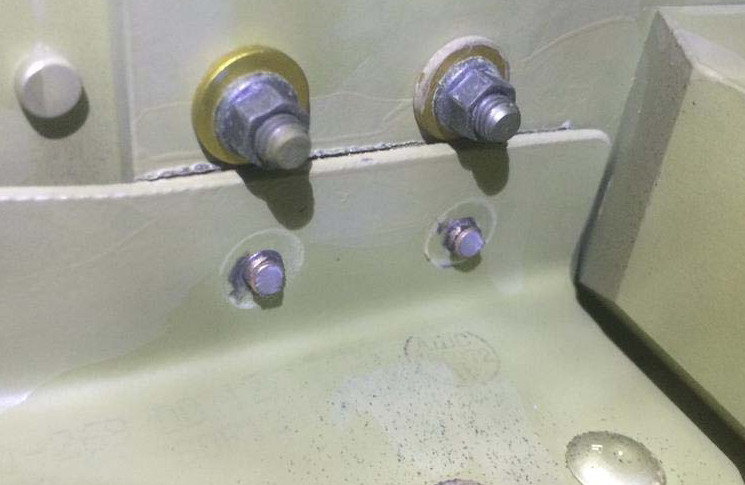 Boeing 717-200 Fuselage longeron/stringer—shear clip cracked. SDR 510020357 (photos above)
RH side upper fuselage shear clip located at Stn 1152 cracked between two fasteners with one fastener also missing. LH side shear clip had two missing fasteners. P/No: 9911840166. TSN: 20400 hours/12585 cycles. Two similar defects reported.
Boeing 717-200 Landing gear position and warning system—proximity sensor out of adjust. SDR 510020490
LH main landing gear unsafe indications. LH main landing gear proximity sensor out of adjustment. LH landing gear door latch also out of adjustment.
Boeing 737-81D Fuel selector/shutoff valve—actuator motor failed. SDR 510020430
No 1 engine fuel supply spar valve failed to open due to a faulty actuator. P/No: MA30A1001. TSN: 10931 hours/6728 cycles.
Boeing 737-838 Detection system—fire detection panel contaminated. SDR 510020215
Cargo fire warning and fire bottle discharge indications. Visual inspection found nil fire or smoke in hold. Investigation found the cargo fire detection panel contaminated by spilt coffee. P/No: 4739551. TSN: 26624 hours TSO: 26624 hours.
Boeing 737-838 Extinguishing system—fire control module faulty. SDR 510020271
Engine and APU fire control module connector D578 pins 30 and 31 had high electrical resistance preventing correct No2 engine shutdown. Investigation continuing. P/No: 6937307300. TSO: 1134 hours.
Boeing 737-838 Passenger station equipment system—seat incorrect fit. SDR 510020445
Seat 11E incorrectly secured. Forward and aft outboard feet sitting on seat track. Nil damage found to track or feet.
Boeing 737-838 Toilet station equipment system—fitting missing. SDR 510020467
RH rear lavatory waste flapper door seal plate fastener fittings missing. Found during inspection iaw FAA AD 74-08-09.
Boeing 737-8BK Aircraft structures—skin damaged. SDR 510020306
Numerous areas of skin contained scribe marks consistent with condition described in FAA AD 2010-26-06 and Boeing SB 737-53A1289. Suspect caused by metal blades used during masking/unmasking during painting. Several similar defects reported.
Boeing 737-8FE Brake—brake damaged. SDR 510020346
Main landing gear No3 brake had several pads damaged and one wear pin bent. Some damage also found on wheel heat shield. P/No: 26123121. TSN: 14225 hours/8526 cycles TSO: 3262 hours/2030 cycles. Several similar defects reported.
Boeing 737-8FE Fuselage plates/skin—chord cracked. SDR 510020507
LH and RH fuselage skin lower bulkhead chords located at Stn 540 cracked. Two Hi-Lok fastener heads found sheared. Found during inspection iaw AD 2013-19-04 and SB 737-53-1294.
Boeing 737-8FE Pitot/static system—pitot tube blocked. SDR 510020428
First Officer's pitot probe blocked. Investigation continuing. P/No: 0851HT1. TSN: 5332 hours/3131 cycles. One similar defect reported.
Boeing 747-438 Vertical stabiliser plates/skin—skin cracked. SDR 510020444
Vertical stabiliser skin cracked on RH side at Stn 2618 running circumferentially from fin/fuselage interface to RH stringer No4. Crack length approximately 508mm (20in). Found during inspection iaw Boing SB 747-53A2478 and AD 2013-26-12. Eddy current inspection found nil cracking in panel.
Boeing 757-236 Trailing edge flaps—flap corroded. SDR 510020492
LH wing outboard trailing edge flap contained level 2 corrosion in numerous areas. Two similar defects reported. P/No: 113N300319H. TSN: 54291 hours/17127 cycles.
Boeing 777-3ZGER Tire—tyre damaged. SDR 510020466
No 7 main landing gear tyre inner bead cut in area near rim. P/No: 294W5110565. TSN: 14740 hours/1119 cycles.
Boeing 7878 Engine oil storage (airframe)—filler cap loose and leaking. SDR 510020340
No 1 engine low oil level message. Investigation found oil tank cap incorrectly fitted allowing oil loss. P/No: 2349M62G01.
Bombardier BD7001A10 Elevator tab control system—trim motor unserviceable. SDR 510020285
Stabiliser pitch trim Motor Drive Unit (MDU) unserviceable.
Bombardier BD7001A10 Hydraulic system main—hydraulic line chafing. SDR 510020406
No 2 engine hydraulic lines PNo AE71103829 and P/No: AE71103831 chafing. P/No: AE71103829.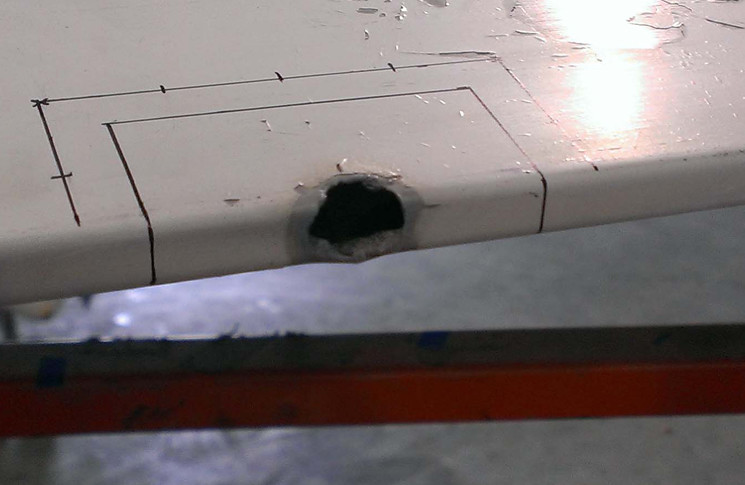 Bombardier DHC8-102 Aircraft structures—aircraft lightning strike. SDR 510020330 (photo above)
Aircraft suffered a lightning strike. Lightning entry point was a small hole on the radome with exit points on the lower aft fuselage and significant damage on the RH elevator tab.
Bombardier DHC8-315 Hydraulic system main—tube failed. SDR 510020517
No 2 hydraulic system losing fluid. Investigation found brake system hydraulic pressure tube failed. Investigation continuing. P/No: 82920010331.
Embraer EMB-120 Airfoil anti-ice/de-ice system—de-ice boot suspect faulty. SDR 510020458
Airfoil leading edge de-ice boots suspect faulty. Investigation continuing. P/No: Various.
Embraer EMB-120 Trailing edge flap actuator—actuator unserviceable. SDR 510020419
RH nacelle flap actuator unserviceable. Actuator failed on the first flight following replacement. P/No: 3082001007.
Embraer EMB-120 Wing plates/skin—rivet loose and leaking. SDR 510020248
Fuel leaking from top of RH wing. Investigation found five loose rivets on the RH wing outboard of the nacelle. Rivets replaced with nil leaks now evident.
Embraer ERJ-170-100 AC power distribution system—SPDA suspect faulty. SDR 510020216
Secondary Power Distribution Assembly (SPDA) suspect faulty. Following reset the SPDA was found to be serviceable.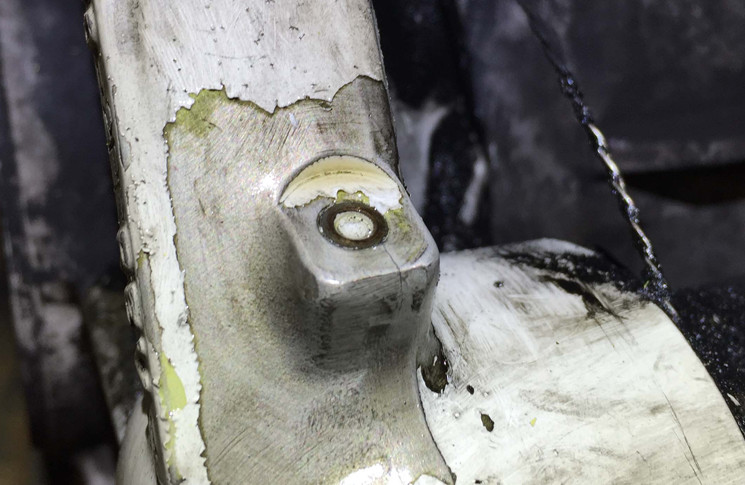 Embraer ERJ-190-100 Brake—housing cracked and leaking. SDR 510020329 (photo above)
LH main landing gear No1 brake assembly leaking. Investigation found a crack in the brake housing. Further investigation found slight deformation in the outer face of the piston housing adjacent to the crack. Suspect caused by an unknown object impacting the housing. P/No: 90002341. TSN: 9874 hours/6804 cycles.
Embraer ERJ-190-100 Flight compartment windows—windshield shattered. SDR 510020335 (photo above)
First Officer's windshield outer pane shattered. Nil signs of impact.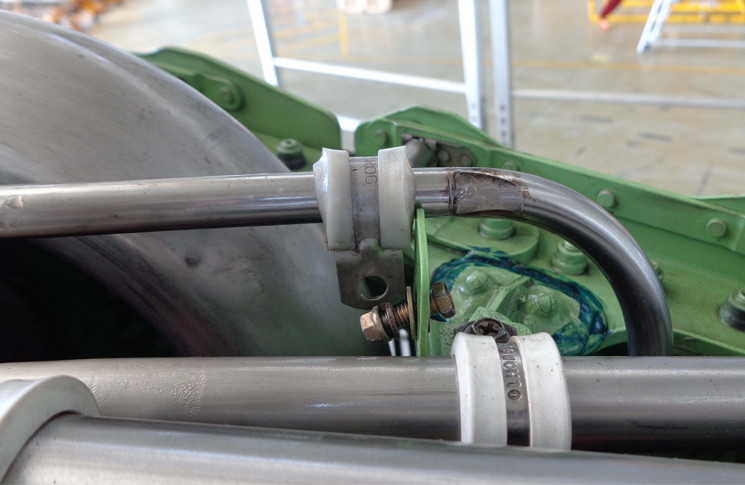 Embraer ERJ-190-100 Hydraulic system main—pipe worn and leaking. SDR 510020334 (photo above)
No 1 engine driven hydraulic pump case drain line worn through and leaking at forward clamp position.
Embraer ERJ-190-100 Nacelle/pylon attach fittings—washer cracked. SDR 510020506
LH and RH engine pylon forward attachment link serrated washers P/No: NAS1193K20C cracked. RH pylon outboard upper link bushes P/No: 190-13687 corroded. P/No: NAS1193K20C.
Fokker F28 MK0100 Trailing edge flaps—plate corroded. SDR 510020373
RH wing flap track tie plate contained level 2 corrosion located at WSTA 8200.
Fokker F28 MK0100 Wing frame structure—leading edge corroded. SDR 510020372
LH wing leading edge structure contained level 3 exfoliation corrosion in area located between WSTSA 12975 and WSTA 13550.
Fokker F28 MK0100 Wing spar—spar corroded. SDR 510020495
LH wing forward spar corroded beneath spar splice plate at WSTA 4700.
Gulfstream GIV Wing plates/skin—winglet corroded. SDR 510020409
LH winglet contained numerous areas of corrosion. During winglet replacement, winglet attachment bolt holes No11 and No12 were found to contain surface corrosion. P/No: 1159W407011. TSN: 14092 hours/6756 landings.
IAI 1124 Wing plates/skin—skin cracked. SDR 510020354 (photo above)
RH top wing skin cracked at WS 95in. Crack is also evident in stringer below.
Lear Jet 35A Pressure control system—circuit board unserviceable. SDR 510020309
Pressurisation system squat switch relay panel Printed Circuit Board (PCB) unserviceable. P/No: 26182339.
Saab SF340B Prop/rotor anti-ice/de-ice system—support incorrect part. SDR 510020316 (photo above)
Propeller blade de-ice lead support holder had and altered part number with the part number suffix being ground of and a "-3" engraved in its place. Upon inspection the holder was found to conform to the Hamilton SB14RF-19-61-60 with the exception of the part number. The SB states the new part number should be stencilled on to the part with paint rather than engraving it into it. It is reasonable to assume the holder had been modified IAW the Service Bulletin during its life. Investigation found the holder was from a batch stating the parts were "new". Supplier suggested that the modified parts had been accidentally mixed with new items. P/No: 7860573.