Beech 200BEECH Flight controller—controller unserviceable. SDR 510020391
Autopilot controller unserviceable. Burning smell coming from controller as well as a visual burn mark on the unit. Investigation found unit suffered liquid ingress due causing a short circuit. Suspect moisture ingress was due to high humidity in operating areas (Darwin). P/No: 4018639902.
Beech 200BEECH Trailing edge flap actuator—electric motor unserviceable. SDR 510020269
Trailing edge flap motor and gearbox unserviceable. P/No: 1005240741.
Beech 35C33 Fuel storage—fuel cell deteriorated. SDR 510020251
RH fuel cell cracked and leaking at vent tube outlets. Investigation found fuel cell deteriorated and age hardened. P/No: 359212426. TSN: 1000 hours.
Beech 58 Wing spar—spar cracked. SDR 510020298
Wing forward carry through spar cracked in previous repair located at RH aft position. Similar repairs carried out on LH side. Nil evidence of repairs in log books.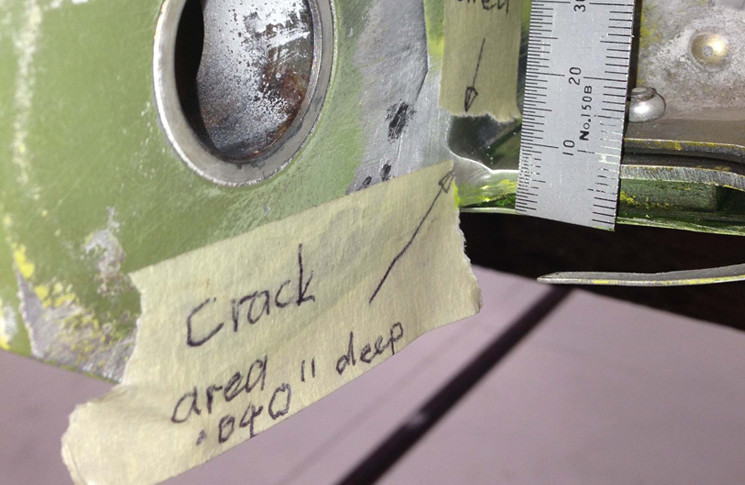 Beech B200C Wing spar—spar web cracked. SDR 510020206 (photo above)
Wing LH lower forward spar lug web cracked. Crack length approximately 7mm (0.275in). Depth of crack approximately 1.016mm (0.040in). Found during eddy current inspection iaw AD/B200/35 Amdt6. P/No: 10111007413. TSN: 14993 hours/14218 cycles TSO: 14993 hours/14218 cycles.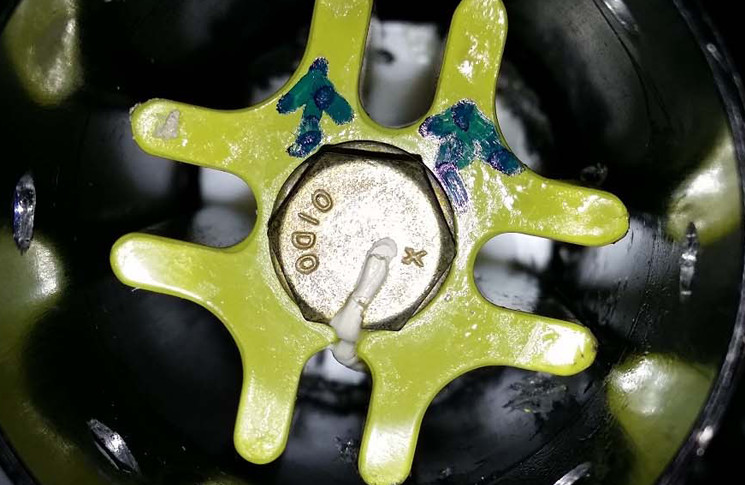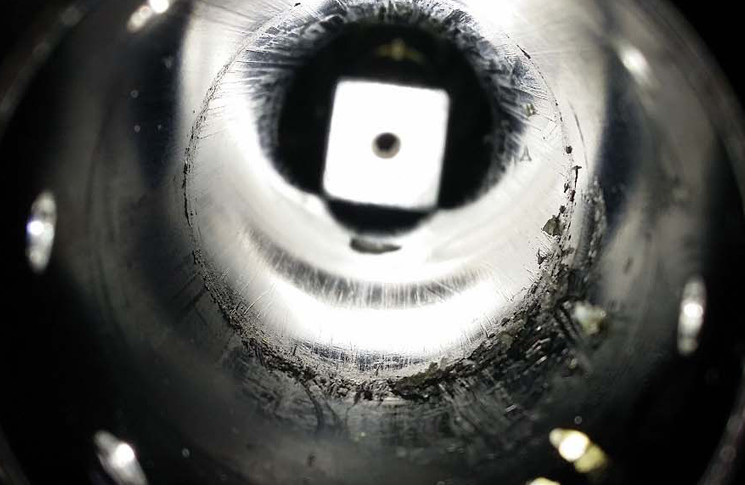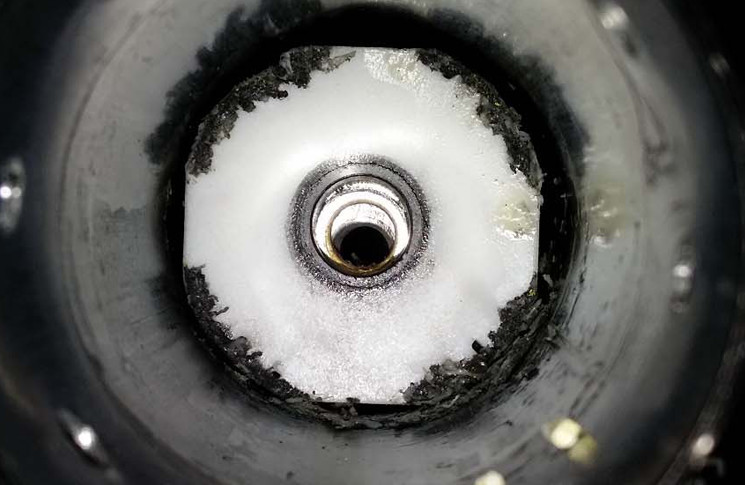 Beech G58 Control column section—guide worn. SDR 510020524 (photos above)
Control column Teflon guide worn allowing it to rotate. Inner control column tube had a lip in area of gust lock hole causing wear and catching on the Teflon guide. Found during inspection iaw SB 27-4136. P/No: 605241015. TSN: 1294 hours/32 months.
Beech G58 Control column section—guide worn. SDR 510020526
Control column Teflon guide worn allowing it to rotate. Inner control column tube had a lip in area of gust lock hole causing wear and catching on the Teflon guide. Found during inspection iaw SB 27-4136. P/No: 605241015. TSN: 1294 hours/30 months.
Cessna 177 Wing spar—spar corroded. SDR 510020321
Skins located adjacent to main carry through spar removed to facilitate removal of minor corrosion. Following skin removal, the main spar was found to contain exfoliation corrosion requiring spar replacement. Found during SID's inspection. P/No: 17107033. TSN: 2039 hours.
Cessna 182A Flight control system—bellcrank hole worn elongated. SDR 510020395
Bellcrank control cable attachment holes elongated/worn. P/No: 07123091. TSN: 1717 hours.
Cessna 182M Landing gear attach fittings—bolt broken. SDR 510020480
Main landing gear leg attachment bolt snapped during reinstallation of main landing gear leg. P/No: NAS14734.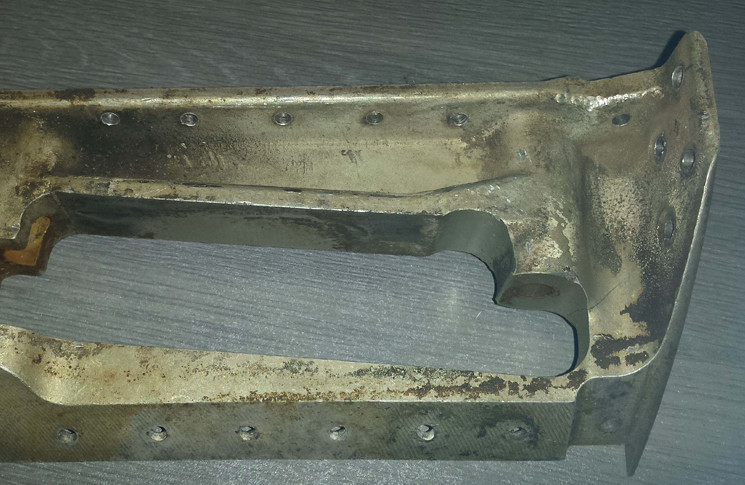 Cessna 182M Landing gear attach fittings—support cracked. SDR 510020479 (photo above)
Landing gear support fitting cracked. P/No: 07416031LH.
Cessna 208B Fire detection system—connector contaminated. SDR 510020379
Following engine fire warning, the fire wire connectors were cleaned. Nil warnings now evident.
Cessna 210M DC regulator—wire broken. SDR 510020233
Alternator failed due to a broken wire on the voltage regulator. Wire broke due to being overcrimped. Following the alternator failure, the engine started to run rough during landing approach. Because of the rough running engine, the pilot was distracted and failed to notice that the landing gear had not extended. The aircraft then landed with the landing gear and flaps retracted.
Cessna 402B Wing fuselage attach fittings—fitting corroded. SDR 510020344
RH lower forward wing attachment fitting corroded on inner side. Found during SIDs inspection. P/No: 08113502. TSN: 8854 hours/15482 cycles.
Cessna 441 Elevator tab control system—stop block incorrect fit. SDR 510020393
Elevator trim tab stuck in take-off position. Investigation found nose down stop block incorrectly positioned.
Cessna 525 Autopilot main servo—servo unserviceable. SDR 510020407
Elevator autopilot servo assembly unserviceable. P/No: 4006719914SPEX. TSN: 2449 hours/245 months.
De Havilland DH82A Altimeter barometric/encoder—altimeter faulty documentation. SDR 510020325
Altimeter barometric scale installed backwards. No record of AD/Inst/8 being carried out since 2009 and no record of altimeter being fitted.
Gippsland Aeronautics GA8 Cargo/baggage doors—slide worn. SDR 510020264
Cawrgo door slide worn beyond limits. Found during inspection iaw AD/GA8/3. P/No: GA8521022149.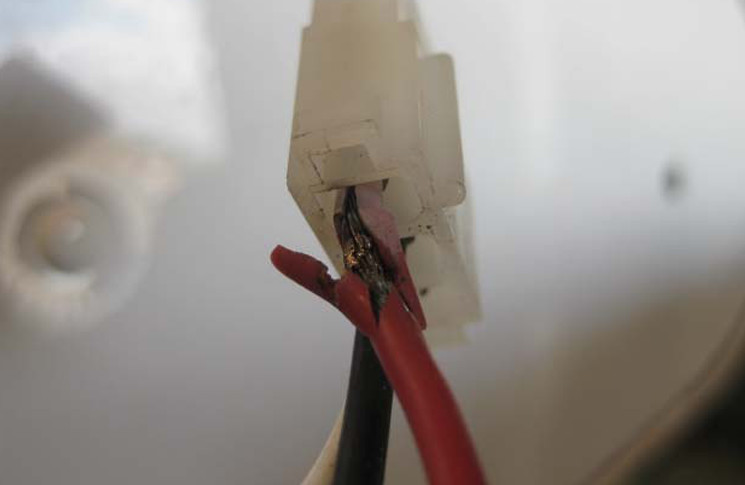 Gippsland Aeronautics GA8 Lights wiring—wire chafing. SDR 510020413 (photo above)
LH wingtip strobe light wire chafed through on lightening hole in wingtip rib causing arcing on structure.
Kavanagh G450 Balloon reports—load frame cracked. SDR 510020296
Balloon load frame contained minor hairline cracking along welded joints. P/No: KLF201088SNLF239. TSN: 368 hours/22 months.
Pilatus PC12 Fuselage longeron/stringer—stringer cracked. SDR 510020401
Stringers 16 LH and 17 Rh located between frame 36 and frame 37 cracked. Similar cracking found on stringers in a second aircraft in the fleet. P/No: 553261252.
Pilatus PC12 Hydraulic system main—relay failed. SDR 510020284
Landing gear hydraulic relay K601 failed. P/No: 9740926112.
Piper PA28161 Wing fuselage attach fittings—bolt loose. SDR 510020376
RH wing rear top spar outboard bolt not fully inserted with nut only held on by approximately two threads.
Piper PA28181 Stabiliser control system—cable unserviceable. SDR 510020318
Forward stabilator control cable unserviceable. Cable was worn excessively with multiple broken strands and a slight bend in the cable. Suspect cable had been sprayed with oil, which eventually collected dirt.
Reims F406 Dependent position determining system—adsb suspect faulty. SDR 510020532
Automatic Dependent Surveillance – Broadcast (ADS-B) system suspect faulty. System transmitting non-compliant data. Suspect configuration issue between No1 and No2 GNS430W units. P/No: GNS430W.
Swearingen SA227AC Passenger/crew doors—doubler cracked. SDR 510020230
Forward passenger door upper doubler cracked. Crack length approximately 12.7mm (0.5in). Crack found visually and confirmed using NDT. Found during inspection iaw AD 2014-15-01 and SB 227-53-009. P/No: Various. TSN: 38267 hours/51633 cycles.
Swearingen SA227DC Engine oil wiring—wiring deteriorated. SDR 510020422
LH engine oil temperature sensor wiring degraded at splice points SP1009 and SP1010. P/No: Various.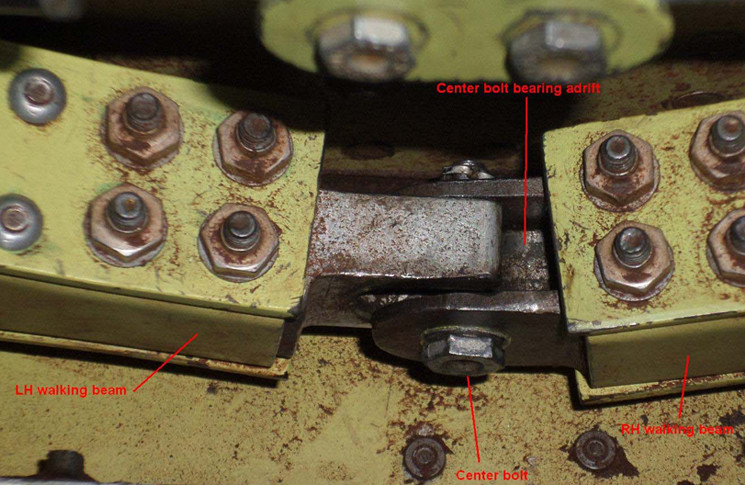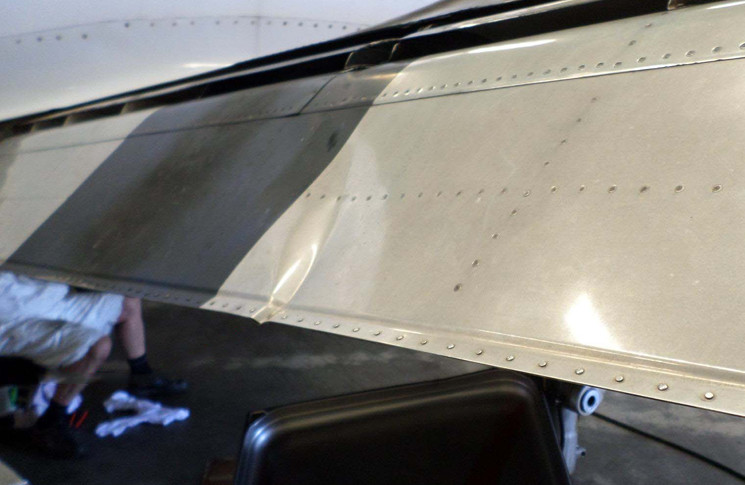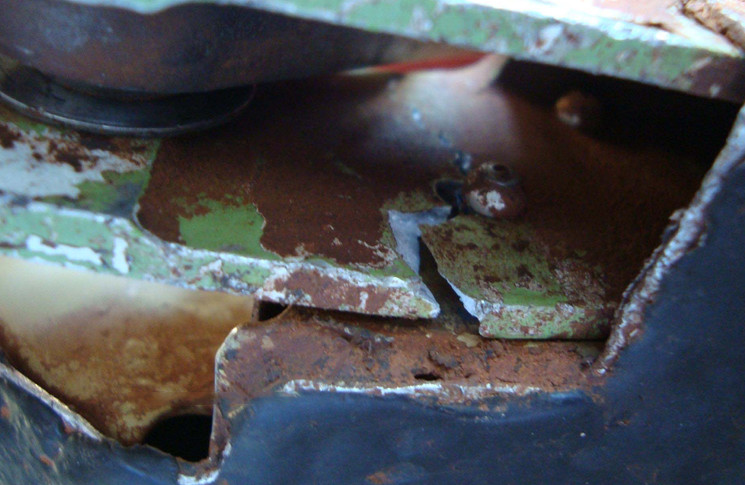 Swearingen SA227DC Trailing edge flaps—flap damaged. SDR 510020411 (photos above)
RH flap skin creased in area of attachment bracket during flap testing. RH inboard flap attachment bracket also cracked. LH lockout valve unserviceable and LH flap actuator jammed. Initial investigation revealed the flap walking beam centre bolt bearing adrift of the bolt (to the right). The bolt and bearing had been removed and replaced several times during recent maintenance for an unrelated aileron defect. Investigation continuing.