The Australian Transport Safety Bureau (ATSB) is encouraging all pilots unsure of their position when they're flying to contact air traffic control (ATC) services.
The call from the ATSB comes as a pilot was seriously injured after he tried to land his plane in a paddock. He was attempting to regain his bearings after becoming lost in New South Wales last year.
The pilot of the Cessna 172 was flying under visual flight rules from Temora to Luskintyre and was due to track over Rylestone, Denman and Jerrys Plains en route.
However, just before reaching Rylestone the pilot decided to track directly towards Luskintyre and encountered heavily treed and undulating terrain, making it difficult to visually fix his position.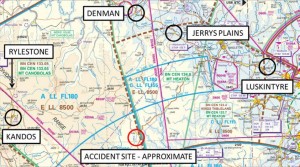 As he continued in an easterly direction, the pilot grew concerned of infringing controlled airspace, but rather than contacting ATC for navigational assistance he decided to land into an adjacent valley.
Unfortunately, the landing didn't go according to plan. The pilot overshot his aim point, before an attempted go-around failed to provide enough time for the aircraft to clear a row of nearby trees.
The collision substantially damaged the aircraft and the pilot was seriously injured.
Luckily for the pilot, the aircraft was fitted with an emergency locator transmitter (ELT) that was activated by the impact. An aircraft flying near-by detected the signal and search and rescue authorities were alerted.
In its investigative report into the incident, the ATSB said:
Where available, pilots unsure of their position or requiring navigational assistance are encouraged to seek Flight Following services from ATC. In this case, contact with ATC may have allayed the pilot's concerns about the prospect of infringing controlled airspace, and negated the need to consider a precautionary landing.
The report also highlighted the importance of conducting early go-arounds—or as soon as there is any doubt about the safety of an attempted landing—to give the pilot the most amount of time possible to clear rising terrain or obstacles.
You can read the full report into the incident on the ATSB website.