Beech 200 AC inverter—inverter fire. SDR 510020751
Electrical/fuel fire in L/H wing #1 AC inverter compartment. Investigation ongoing.
Beech 200 Doors—emergency exit cracked. SDR 510020821
Lower aft corner found cracked during inspection iaw AWB 52-001. P/No: 115430100235. TSN: 10733 hours/14970 cycles.
Beech 200 Fire protection system—extinguisher faulty. SDR 510020792
On climb, PIC received a fire warning for the L/H engine. L/H engine shut down and extinguishing system activated. Engineering inspection revealed a detector of the fire detection system pointing down at the hot section of the engine (fault corrected). It was also noted that the fire extinguisher bottle had not discharged. This was due to a broken wire on the back of the extinguisher switch. Wire reconnected and aircraft tested serviceable. P/No: 1015700211.
Beech 200 Flight control system—aileron control incorrect rigged. SDR 510020725
Aileron trim system found rigged incorrectly (attach bolt missing, cable keeper not secured). System reassembled iaw AMM.
Beech 200 Landing gear retract/extension system—terminal burnt. SDR 510020572
Undercarriage failed to extend during scheduled maintenance. Burnt terminal found inside motor assembly.
Beech 200 Wing spar—spar cap incorrect assy. SDR 510020556
During scheduled NDT inspection, damage found to LH, outboard upper wing bold barrel nut bore. Caused by incorrect assembly. P/No: 1011100315. TSN: 4893 hours/6312 cycles
Beech B200C Exterior lighting—beacon switch loose wiring. SDR 510020858
Electrical burning/rubber odour in cabin and cockpit. Found loose terminal on strobe switch. Evidence of overhead terminal and insulation. Tightened screw/terminal.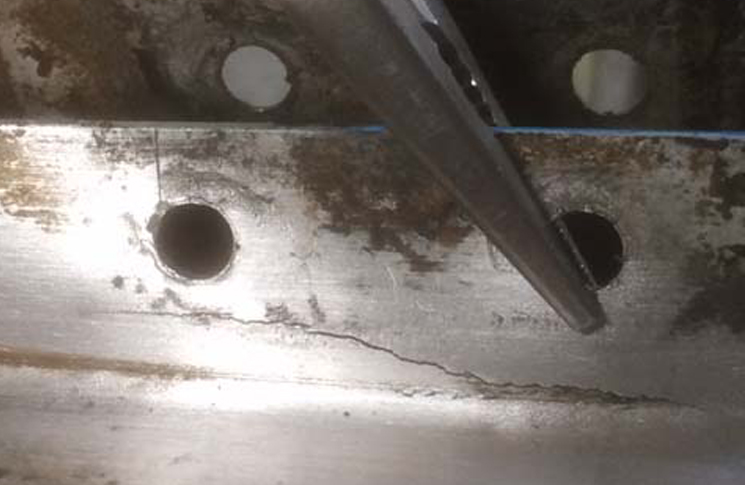 Cessna 150G Horizontal stabiliser structure—tailplane unserviceable. SDR 510020839 (photo above)
While carrying out a SIDs inspection, the bracket (0432004-1) was removed as per inspection was found to be cracked. Reinforcement (0432001-15) was then removed as per SIDs and was found to be cracked. Upon inspection spars (0432001-56) were found to be cracked. P/No: 043200150. TSN: 6436 hours.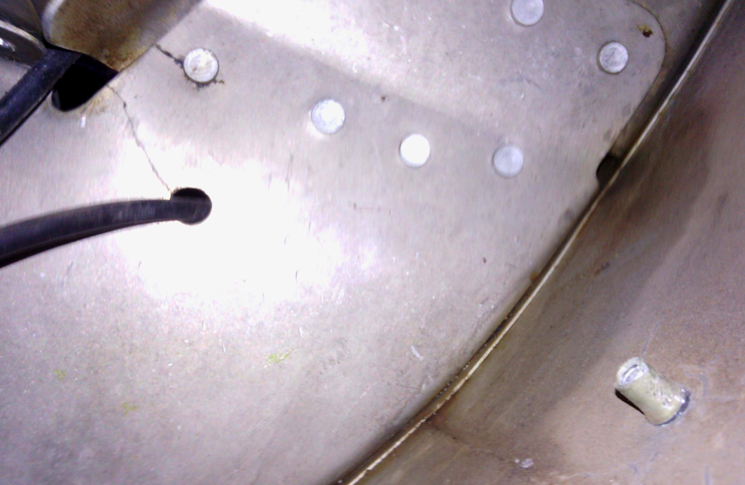 Cessna 172 Fuselage bulkhead—bulkhead cracked. SDR 510020813 (photo above)
During SIDs 53-12-01 inspection, two cracks found in the doorpost bulkhead on the R/H side. Engineering order obtained to repair cracks. P/No: 05133741. TSN: 11130 hours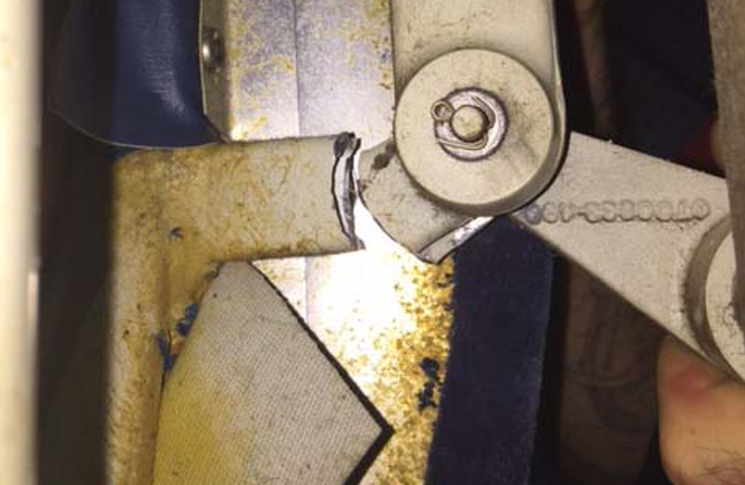 Cessna 177RG Equipment/furnishing system—seat cracked. SDR 510020728 (photo above)
Pilot seat frame found cracked through above fwd L/H attach point. P/No: 201401212. TSN: 7018 hours/456 months.
Cessna 180A Wing structure—strut cracked. SDR 510020767
During SIDS inspection (57-40-01), defect found in L/H wing strut attachment. New part fitted.
Cessna 182 Aircraft fuel system—fuel cell disbonded. SDR 510020731
Front inboard end outlet of fuel cell inadequately bonded, resulting in a massive fuel leak whilst the aircraft was parked in the hangar. P/No: 303023. TSN: 43 hours/6 months.
Cessna 182H Crew station equipment system— seat track cracked. SDR 510020634
Pilot's L/H seat rail found cracked while carrying out Cessna SID 53-47-01—seat rails and seat rail structure corrosion inspection. Seat rail removed and new rail ordered and fitted. P/No: 7106582. TSN: 8127 hours.
Cessna 182H Fuselage wing attach fittings—spar cap corroded. SDR 510020633
Corrosion found between top fuselage skins and read spar carry through flanges. Found iaw Cessna SID 53-11-01.
Cessna 182H Main landing gear strut/axle/truck—axle corroded. SDR 510020635
Light corrosion found on both left-hand and right-hand main landing gear axles while carrying out Cessna SID 32-13-03—main landing gear axle inspection. The landing gear legs were removed from the aircraft (while jacked up), axles were then removed from the legs. The corrosion was removed iaw the SID and axles were also checked for cracking (none evident). Axles treated, painted and refitted to the landing gear legs. P/No: 05411241. TSN: 8127 hours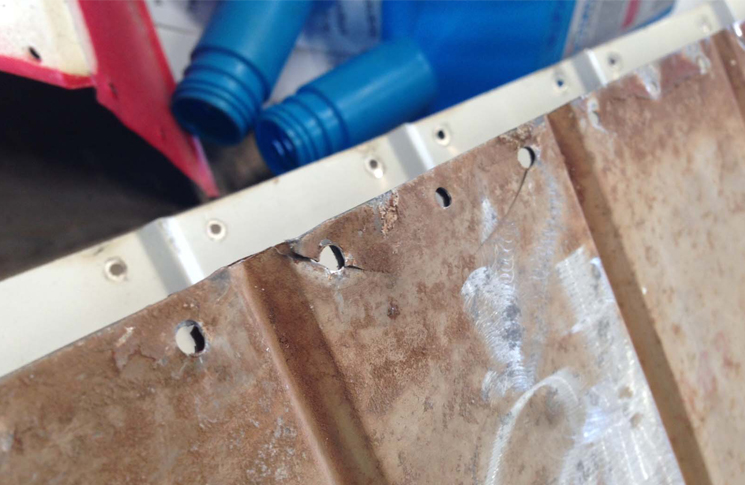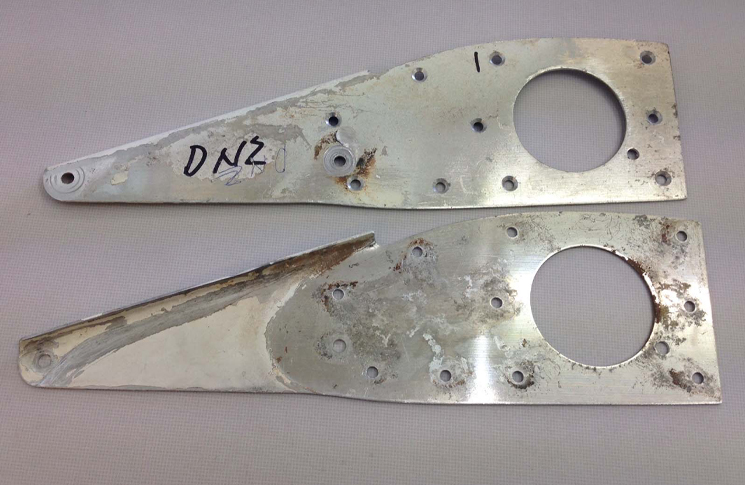 Cessna 182H Trailing edge flaps—flap track cracked and corroded. SDR 510020679 (photos above)
While carrying out SID 57-53-01—flap tracks corrosion Inspection, two flap support arms were found to be worn on the LH flap, skins on the LH flap were found to be corroded and cracked in several places on the trailing edge both on the upper and lower skins. Flap was removed, upper and lower skins removed and replaced, two support arms replaced. All inhibited and painted. SEB95-03 complied with.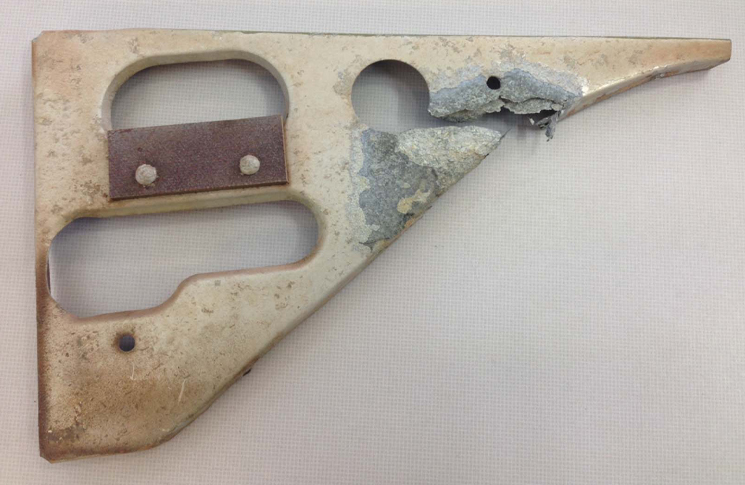 Cessna 182H Trailing edge flaps—rib corroded. SDR 510020636 (photo above)
One trailing edge rib in the right hand wing flap well found to be severely corroded while carrying out SID 57-11-02 – wing structure corrosion inspection. Bottom flap well skin de-riveted and removed, light surface corrosion on inner side removed and treated. Rib removed, new rib P/No 05232337 ordered and fitted. Skins re-riveted. TSN: 8127 hours.
Cessna 182H Vertical stabiliser structure— vertical fin corroded. SDR 510020678
While carrying out SID 55-30-0—Vertical Stabiliser, Rudder and Attachments Inspection, corrosion was found throughout the vertical stabiliser on skins, spars and ribs. Vertical stab. was removed and skins de-riveted. Light corrosion removed from skins and treated. Corrosion removed from spars and ribs and treated. Eddy Current c/out iaw SID 55-30-01. All re-riveted and vertical stab reattached.
Cessna 182H Wing spar—rib cracked. SDR 510020673
While carrying out SID 57-11-01 – Wing Structure Inspection, cracking was found on the inboard trailing edge of the LH+RH wing ribs at WS 190.00″. Both ribs were repaired iaw EO: ESE-C182-57-002 Issue 1 using a patch repair. Very similar cracking has been found in the same places on another Cessna 182, VH-DQG while carrying out SID 57-11-01. The engineering order ESE-C182-57-002 Issue 1 also applies to this aircraft and has been repaired accordingly.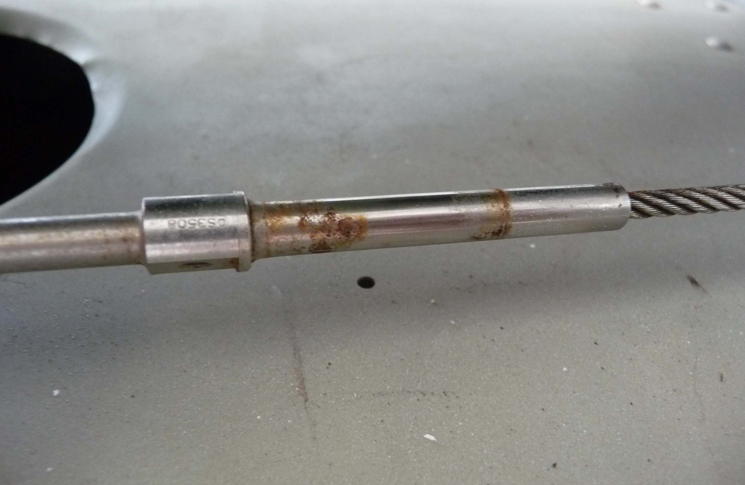 Cessna 182T Flight control system—cable corroded. SDR 510020669 (photo above)
Aircraft was in for a 100-hourly. iaw AWB 27-001, all flight cable rubber sleeves removed. 11 cable terminals found corroded with various degrees of pitting. Replaced with new cables. P/No: 1260105109. TSN: 1467 hours/120 months.
Cessna 182T Rudder control system—clevis pin disengaged. SDR 510020604
During a daily inspection the pilot noted abnormal free play with respect to rudder deflection. Investigation found that the fwd R/H rudder cable to rudder bar attachment clevis bolt had become detached.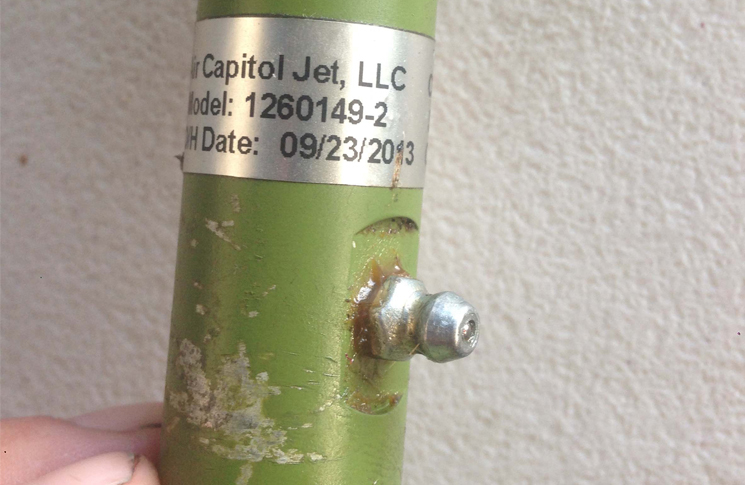 Cessna 206H Elevator tab control system—sprocket sheared. SDR 510020867 (photo above)
During flight, pilot noticed the aircraft had lost the Elevator trim tab actuator shaft had sheared. Actuator assembly replaced. P/No: 12601131.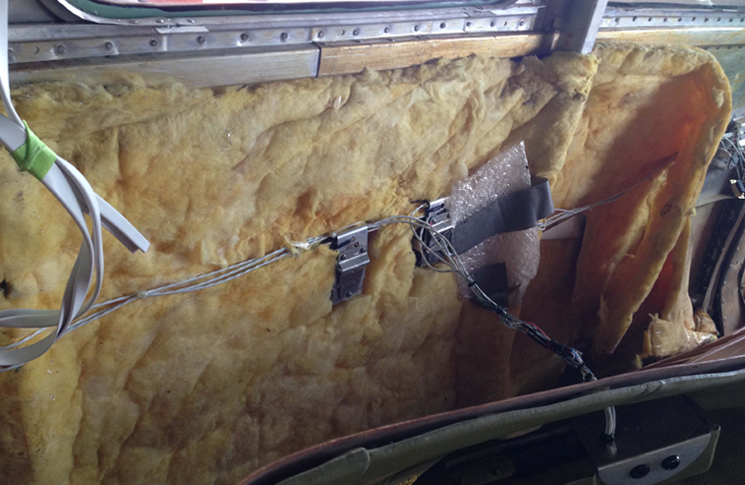 Cessna 207 Fuselage plates/skin—skin corroded. SDR 510020701 (photo above)
During wiring rectification, A/C original insulation still found glued to the fuselage wall skins (A/C had been signed off for SID 53-30-01, which requires the insulation to be removed). Upon further inspection light corrosion found. Corrosion currently being removed iaw AMM. P/No: Various. TSN: 8420 hours.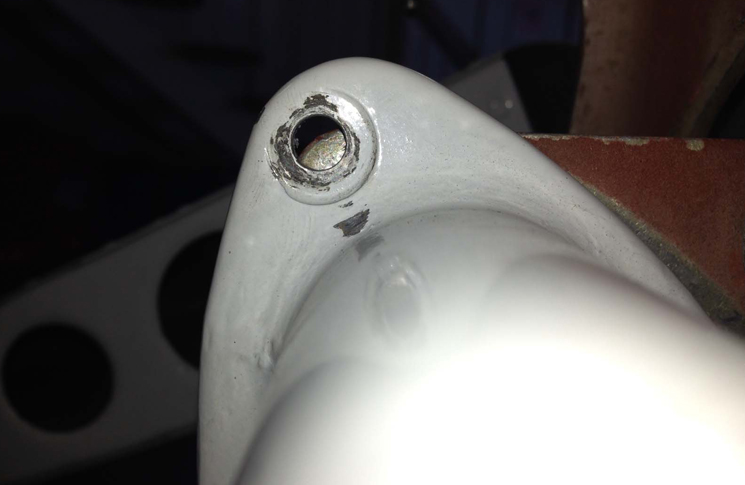 Cessna 207 Horizontal stabiliser structure— tailplane incorrect repair. SDR 510020845 (photo above)
While carrying out SID 55-10-01 discovered previous repairs which appear to have been made without jigs resulting in excessive stress in elevator torque tube. P/No: Various. TSN: 8420 hours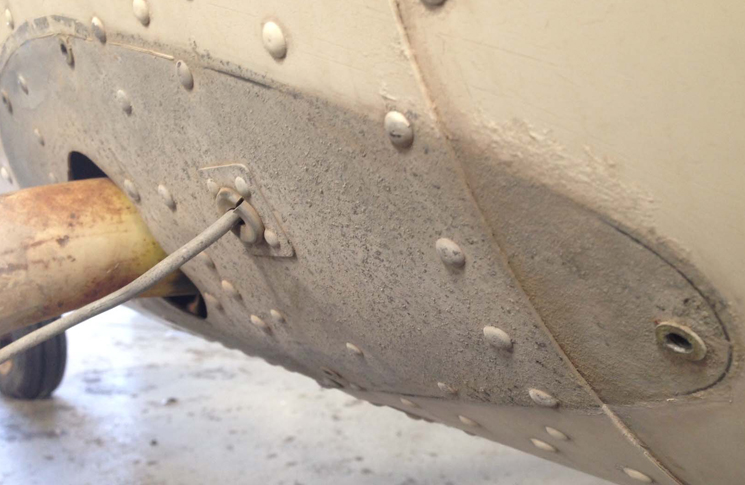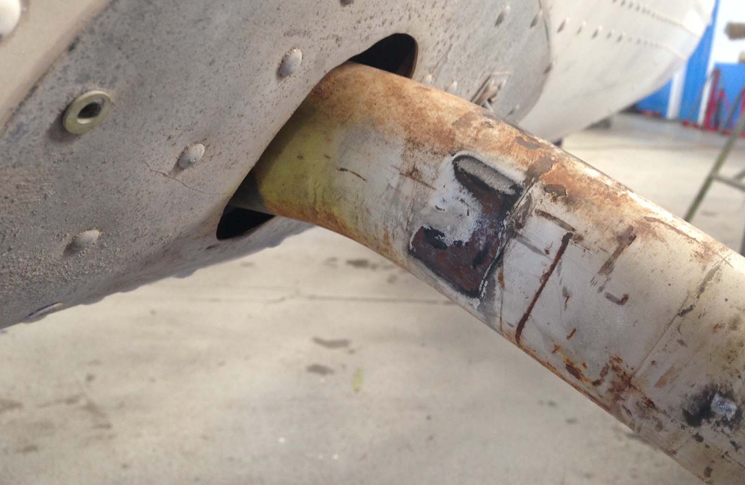 Cessna 207 Main landing gear strut/axle/truck—landing gear corroded. SDR 510020709 (photos above)
SID 32-13-01 redone on aircraft (having previously been done two years ago). Light corrosion found on fuselage skins beneath cuffs, surface rust found on landing gear springs, light corrosion and a couple of cracks found on fairings. Corrosion to be removed iaw manufacturer's data. P/No: Various. TSN: 8420 hours.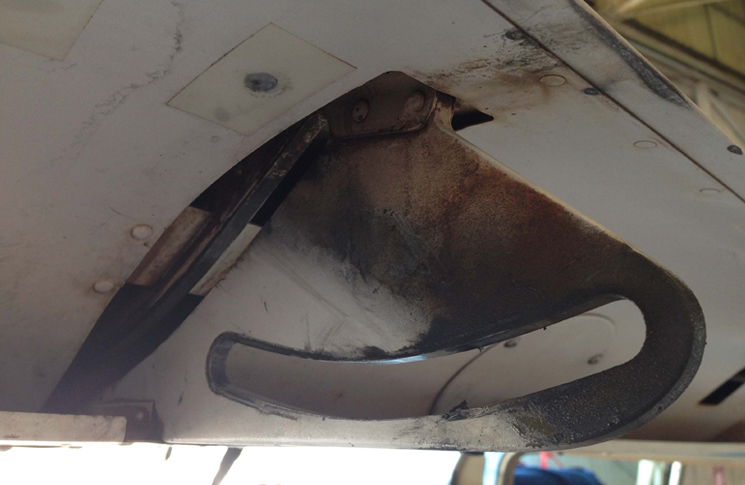 Cessna 207 Trailing edge flap control system— flap worn. SDR 510020708 (photo above)
SID 57-53-01 carried out again (had been done previously two years ago). Obvious that the first SID was not done properly. Worn flap support arms found on each flap. Worn items replaced. SEB 95-3 incorporated. P/No: various. TSN: 8420 hours.
Cessna 207 Vertical stabiliser structure—vertical fin corroded. SDR 510020712
SID 55-30-01 undertaken two years after originally being signed off at request of owner. Rudder removed, two bearings found unserviceable. Had SID inspection been undertaken correctly, the bearings would not be worn. P/No: Various. TSN: 8420 hours.
Cessna 208B Nose/tail landing gear—drag brace cracked and corroded. SDR 510020739
NLG drag link spring failed during landing/taxi. Suspect failure due to cyclic stress and SCC. Little evidence of corrosion around the area of failure. The OEM has released an optional modification that will address the issue. P/No: 26430623. TSN: 11148 hours/12162 landings.
Cessna 210G Electrical power system—wiring suspect faulty. SDR 510020566
Very poor wiring in engine bay and under instrument panel. All suspect wiring to be replaced.
Cessna 210L Electrical power system—RCCB open circuit. SDR 510020713
Alternator output circuit breaker had open circuit. Smoke was present for a short period of time. Aircraft landed without incident. P/No: S159660L. TSN: 2405 hours.
Cessna 404CESSNA Wing spar—spar web delaminated. SDR 510020836
NDT inspection carried out IAW AD/CESSNA/103. Delamination found in previously grown area. OEM contacted for advice.
Cessna 441 Fuselage structure—rivet sheared rivets. SDR 510020834
On external inspection, 4 sheared rivets found in zone 141. 3 rivets on frame FS 108.8 and 1 rivet on frame FS 118.55. Investigation continuing.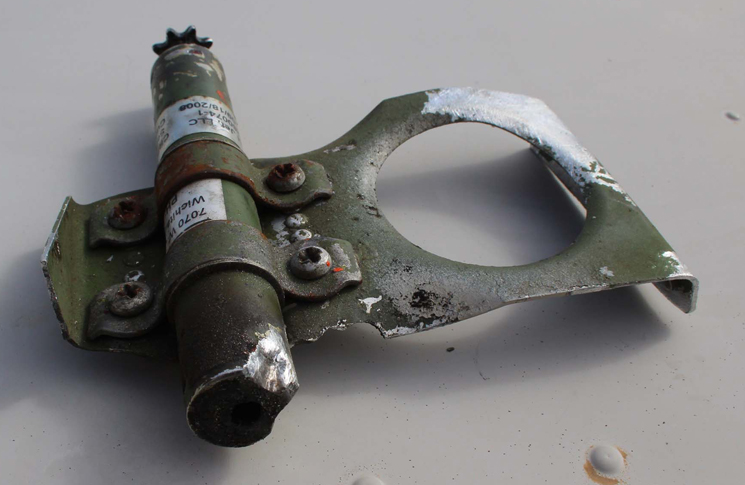 Cessna TU206CA1 Horizontal stabiliser tab structure—trim tab unserviceable. SDR 510020688 (photo above)
Crew experienced severe vibration in the elevator on descent through FL140. Post flight inspection found horizontal elevator trim tab loose. Further inspection revealed the bracket had fractured at the attachment to the rear spar. R/H elevator also found damaged. Aircraft has history of tail/empennage incidents. P/No: 12321391. TSN: 8975 hours.
Gippsland Aeronautics GA8 Fuel boost pump—pump inoperative. SDR 510020854
New pump fitted to new engine. Suffering fuel pressure fluctuations. Investigation continuing. P/No: 201F5003.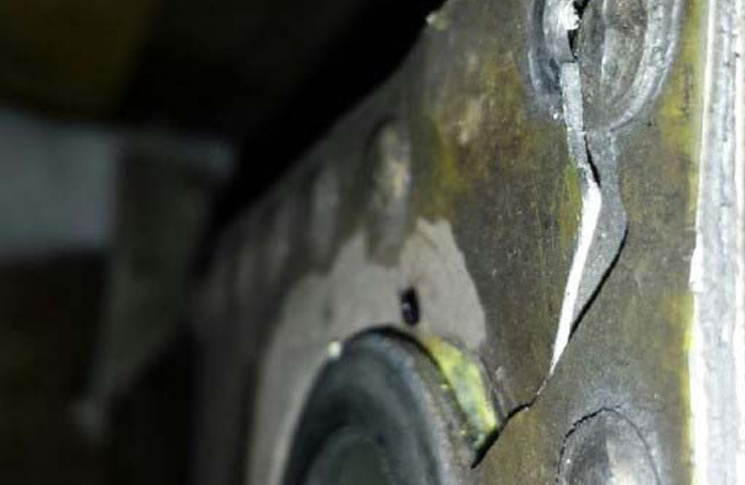 Gulfstream 500S Nose landing gear attach section—drag brace collapsed. SDR 510020758 (photo above)
As A/C touched down, nose landing gear collapsed. Inspection found the NLG drag brace support bracket attach fitting cracked, which caused the outer support box assembly to crack. Note: the fitting was not able to be visually inspected in-situ, an inspection port had to be drilled through the skin. P/No: 310053. TSN: 25460 hours.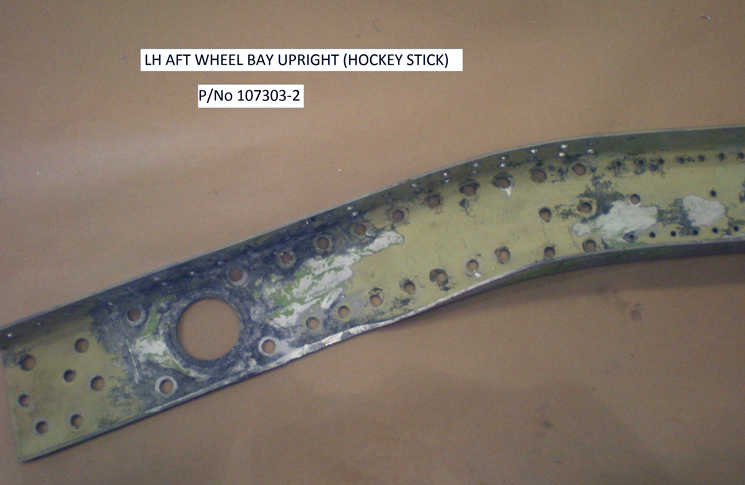 Gulfstream G73AT Landing gear attach fittings—drag brace corroded. SDR 510020779 (photo above)
During scheduled maintenance, exfoliation corrosion detected on R/H MLG drag brace, FWD bush and LH rear upright. Upright replaced with new part. Operator suggesting introducing corrosion inspection to alleviated the issue in future. P/No: 1073032.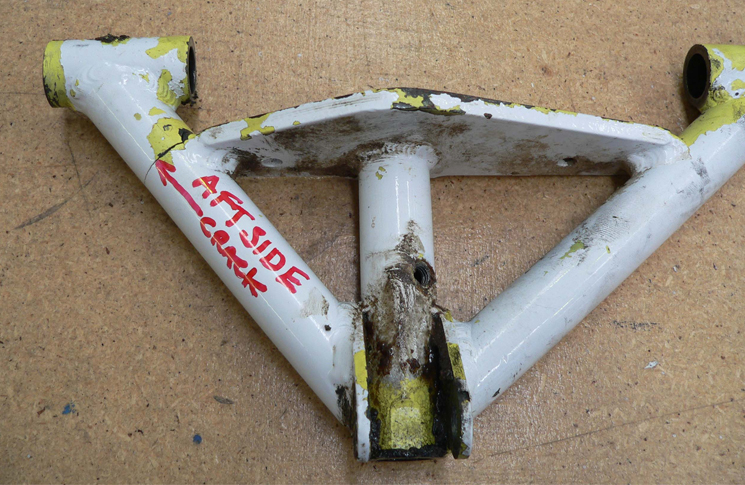 Mooney M20C Nose/tail landing gear—truss cracked. SDR 510020683 (photo above)
During an annual inspection the NLG truss support PN 540001-5 was found badly cracked through its L/H side diagonal member at the horizontal member upper weld connection point. We noted the new replacement trunnion PN 540001-503 was of a slightly different design that would be less prone to cracking in this area. P/No: 5400015.TSN: 4144 hours.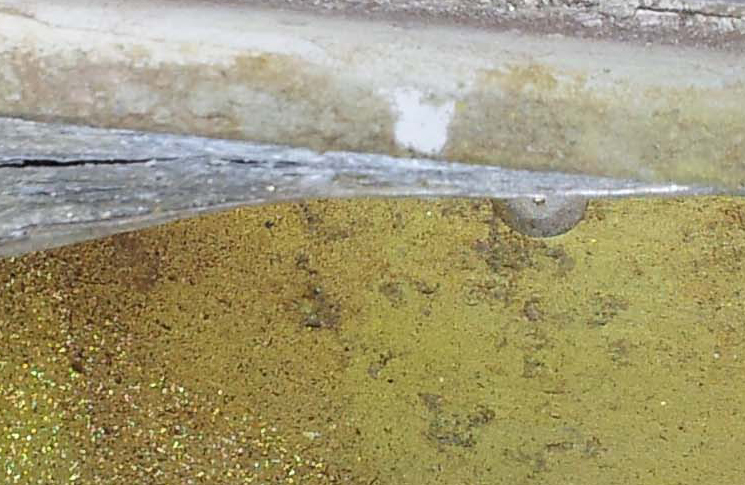 Piper PA28235 Wing spar—spar corroded. SDR 510020663 (photo above)
Whilst carrying out OEM-scheduled removal of inboard fuel tanks to inspect spar, spar was found corroded. P/No: 62070007. TSN: 7694 hours/588 months
Piper PA31350 Landing gear system—capacitor faulty. SDR 510020638
On approach, pilot selected gear down and all three green lights illuminated. Landing gear selector did not return to neutral. Landing gear CB had popped and would not reset during flight. Fault traced to faulty capacitor on the power pack. Capacitor replaced and AC tested serviceable. P/No: TE1306.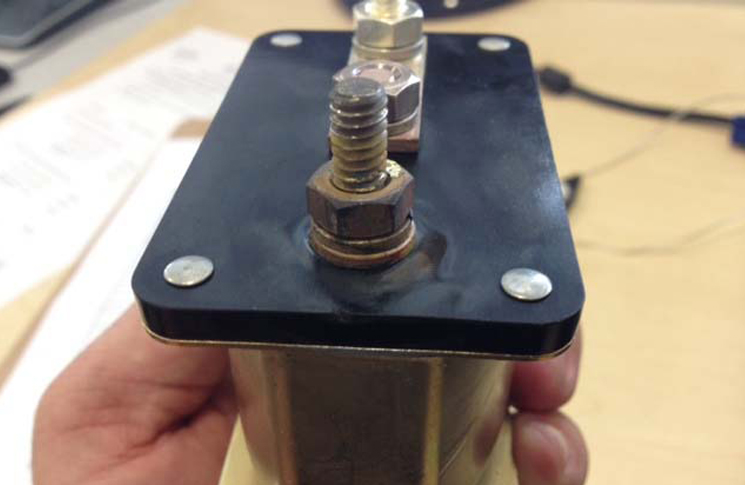 Swearingen SA227DC Electrical power system—switch unserviceable. SDR 510020662 (photo above)
During investigation into 'burnt electrical smell', L/H was found with an overheated terminal. This had burnt the Bakelite and the switch insulator and caused damaged to the terminal boot. Terminals and leads inspected iaw OEM inspection in December 2014 (2 months ago) showed no defects. P/No: 8787K11. TSN: 2471 hours/20 months.
Swearingen SA227DC Electrical power system—terminal unserviceable. SDR 510020623
Shortly after take-off, landing gear retracted, R/H MLG failed to retract. Crew elected to return to departure airport. Troubleshooting revealed R/H MLG uplock wiring terminal had been poorly crimped. Terminal replaced and system tested normal. P/No: 31880.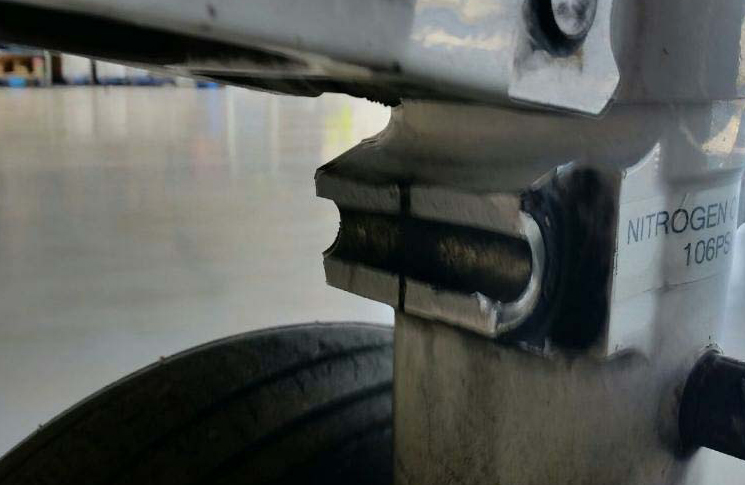 Swearingen SA227DC Main landing gear strut/axle/truck—landing gear unserviceable. SDR 510020571 (photo above)
After heavy landing, during the end of landing roll, R/H MLG lug on the yoke failed, causing the R/H MLG to turn 90 degrees to the direction of the aircraft. P/No: 2751505011.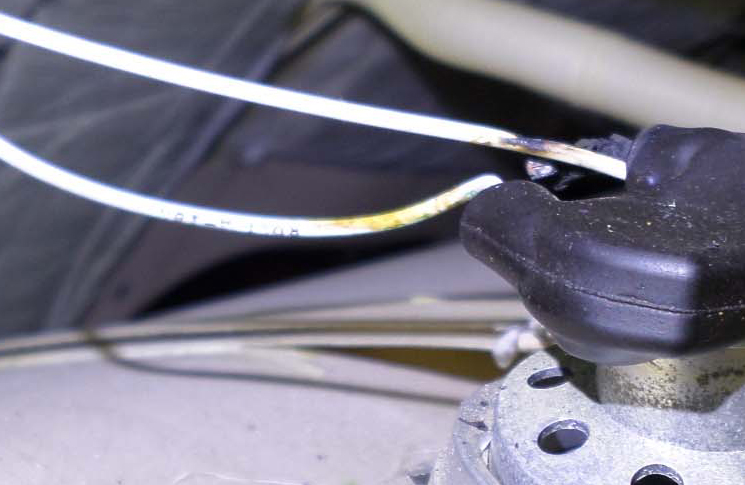 Swearingen SA227DC Passenger compartment lighting—diode unserviceable. SDR 510020730 (photo above)
Cabin aisle light (seat 8C) diode failed, causing electrical arcing and local burn damage. P/No: 1N4005.
Tecnam P2006 Elevator control system—control tube worn. SDR 510020782
Push/Pull tube found rubbing on airframe due to misalignment. P/No: 2695400000. TSN: 644 hours.