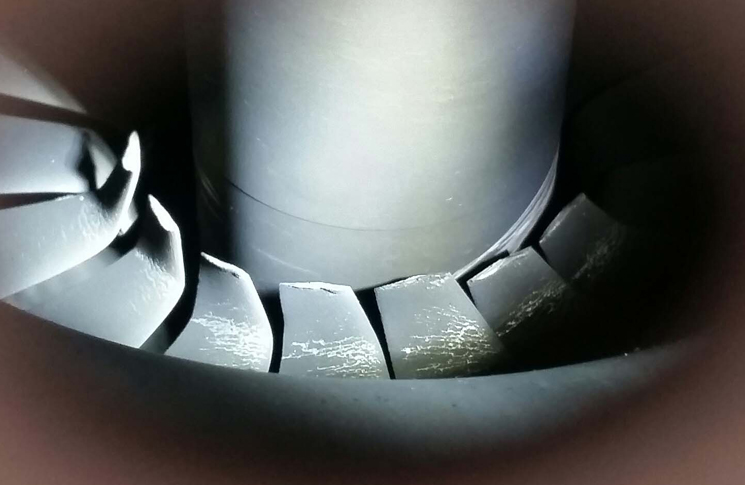 Airbus A320-232 APU failed. SDR 510020639 (photo above)
After pushback, APU auto shutdown caution appeared. Cairns ground advised ground crew had observed smoke and flames emanating from rear of aircraft. Fire commander arrived and advised no signs of smoke, fire or damage to aircraft. Investigation revealed the APU had failed. GVI of APU and APU compartment carried out with nil defects evident or evidence of fire within compartment. APU change being planned to rectify the defect. P/No: 38007081. TSN: 8044 hours/7324 cycles.
Airbus A320-232 Stabiliser control system—actuator undertorqued. SDR 510020737
During two occasions on descent, a noticeable chemical smell was noticed in the flight deck and cabin. Troubleshooting revealed hydraulic fluid on top of the APU inlet door and the fault was traced to an undertorqued "B" nut on the THS actuator. "B" nut retorqued and APU supply air duct cleaned and re-installed. Nil odours evident.
Airbus A330-202 Hydraulic system main— manifold leaking. SDR 510020602 (photo above)
'HYD G SYS LO QTY' ECAM during cruise. Flight crew performed manual extension of landing gear and tow to gate required. One of the blanking plugs from the ground service manifold was found as the source of the leak. During rectification it was found the plug was not lockwired and was loose. O-ring also damaged. P/No: 709024. TSN: 50304 hours TSO: 50304 hours.
ATR ATR72212A Equipment/furnishing system—seat belt cracked. SDR 510020690
During inspection of seat belts iaw EASA AD 2014-0187, 6 seat belt retaining covers found cracked and broken preventing performance as per design. P/No: GSP02129B169ANDGSP02130B169.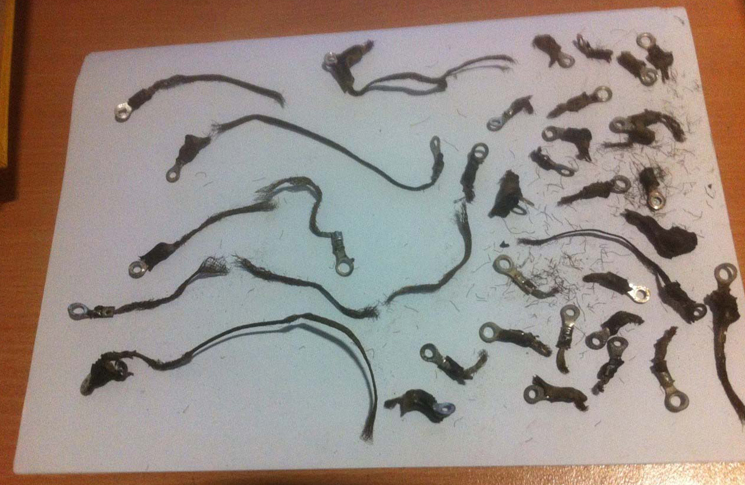 BAC 146-200 Aircraft fuel system—bonding lead corroded and frayed. SDR 510020770 (photo above)
Bonding leads found corroded during C-Check inspection. Operator contacted OEM and in response the OEM issued All Operator Message 13-014V-1. All damaged leads were replaced.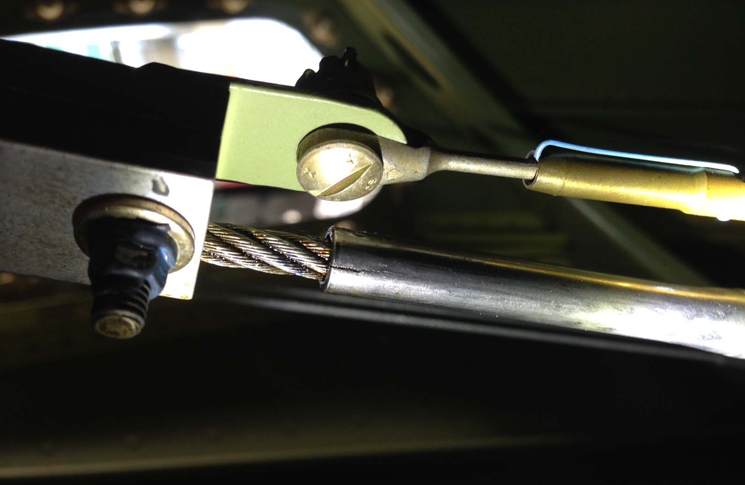 Beech 350 Rudder control system—cable cracked. SDR 510020615 (photo above)
During scheduled maintenance, AD/GEN/87 was being applied on primary flight controls. Four cracks found around MS21260 terminal of RH aft rudder cable. New cable sourced from Hawker Pacific Spares. HBC field support representative notified. P/No: 1155240659. TSN: 1990 hours/2154 cycles TSO: 1990 hours/2154 cycles.
Boeing 717-200 Landing gear system—landing gear door faulty. SDR 510020722
After gear retract selected, the L/H MLG unsafe light illuminated. Crew tried to cycle gear but got same error. Air return performed. Investigation revealed L/H MLG door latch cylinder to be the cause of the issue. Item replaced and A/C tested serviceable. P/No: 39397125505.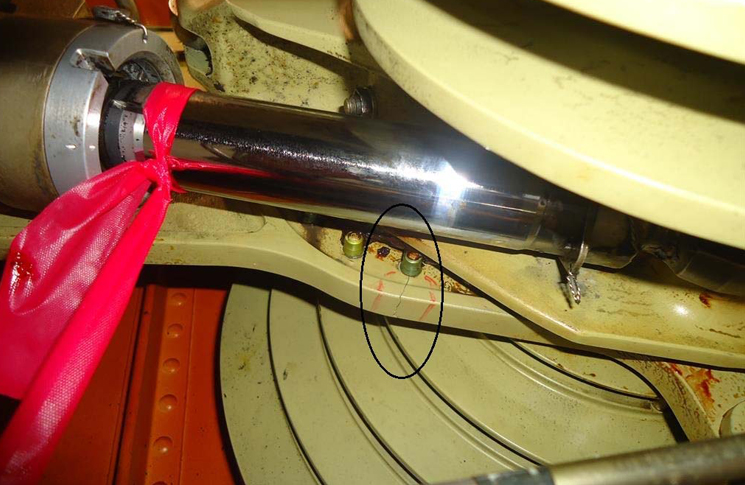 Boeing 717-200 Leading edge slat actuator—slat cracked. SDR 510020847 (photo above)
L/H Slat drive unit has a cracked backing plate. P/No: 59717241. TSN: 32205 hours/21510 cycles.
Boeing 737-838 Pitot/static system—pitot tube blocked. SDR 510020616
During pushback, #2 Eng Start crew had #2 EEC fault annunciation. MEL applied.On take-off roll, "Indicate Airspeed Disagree" message. IAS mismatch up to 40 kt. Air turn back performed Obstruction in Captain's pitot tube found to be cause of the problem. Investigation into source of blockage continuing. P/No: 0851HT1.
Boeing 737-8FE Landing gear brake system—brake lining delined. SDR 510020644
Crew report – F/O discovered small piece of brake lining material resting on brake unit body near hydraulic fitting. When wheel removed, #3 Brake unit found in initial stages of deline of friction pad material. No damage to mainwheel, pads still attached to backing, no binding or other flight deck effect. Rectification action—brake assembly replaced and tested nil defect. OEM is currently investigating the recurring issue. Aircraft released to service. P/No: 26123121.TSN: 11720 hours/7317 cycles TSO: 1189 hours/686 cycles.
Boeing 737-8FE Leading edge slat control system—proximity sensor out of limits. SDR 510020825
On approach, #6 slat in transit light illuminated when slats were set to fully extend. Slat was physically inspected to be in the correct position. #6 slat outboard sensor found to be out of limits. Part replaced, aircraft tested serviceable. P/No: 189929.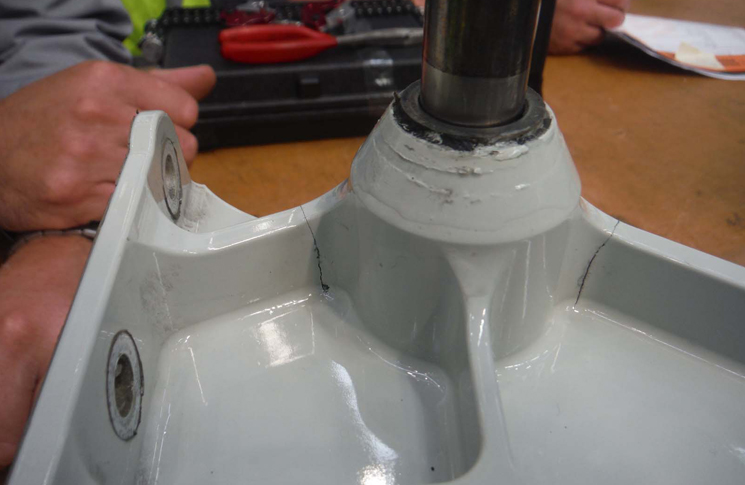 Boeing 737-8FE Trailing edge flap control system—gearbox cracked. SDR 510020816 (photo above)
Visual inspection of flap #6 during heavy maintenance revealed cracked flap gearbox transmission support frame #6 (R/H side). Replacement in progress. P/No: 113A13212. TSN: 25152 hours/14785 cycles.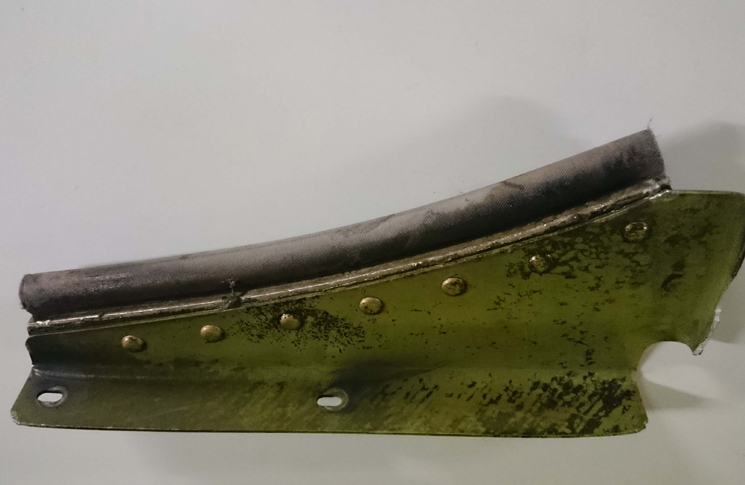 Boeing 737-8FE Wing control surfaces—web separated. SDR 510020809 (photo above)
Aircraft duty manager notified OEM that an aircraft part was found on the runway during check. Part identified as a R/H training edge seal web assembly. Web fractured at the FWD end, while the upper attach fasteners sheared. Detailed visual inspection carried out to the surrounding structure and nil damage found. Aircraft released to service under EO authority for the missing web to be installed within 10 days. P/No: 115A298210.
Boeing 747-438 Drag control actuator—housing cracked. SDR 510020795
Spoiler housing cracked (1.5 inches long). Resulted in total loss of system 2 hydraulics. P/No: 33205505. TSN: 53444 hours TSO: 53444 hours.
Boeing 747-438 Emergency equipment system—smoke hood exploded. SDR 510020798
During routine smoke hood pre-disposal workshop procedures, smoke hood experienced an explosion and fire. Upon release of the activation pin, a loud explosion was heard, leading to fire. Dense smoke from the canister during the fire. The fire self extinguished. P/No: 11900311. TSN: 43634 hours TSO: 43634 hours.
Boeing 747-48E Equipment/furnishings wiring—harness damaged. SDR 510020791
Sparks and smoke reported coming from the captain's chair assembly during pushback. Investigation revealed damage to the LHS of the seat's electrical harness. Chair assembly replaced with serviceable unit. P/No: 3A2580041011. TSO: 41039 hours.
Bombardier BD7001A10 Electrical power system—generator unserviceable. SDR 510020569
#1 generator failed, sump had blown off the generator, exiting through the lower cowl door P/No: GL51111035.
British Aerospace JETSTM3201 Wing frame structure—wing corroded. SDR 510020860
Internal area of powerplant fire zone 3— Corrosion Inspection for compliance with AD 2012-0036. Jetstream CPCP. This area is known to have this problem hence the CPCP programme is appropriate. Repairs/rectifications are being made. P/No: NA. TSN: 30665 hours/40617 cycles.
CASA C212EE Engine oil cooler—vernatherm unserviceable. SDR 510020674
LH engine indicating high oil temperature. Suspect vernatherm failure. LH engine oil cooler assy changed iaw AMM CASA C212-400 EE-88 Rev 17 Chapter 79-21-01. The aircraft has operated 6 cycles with no abnormal indications. The Vernatherm has a history of premature failures and a redesigned Vernatherm has been recently released by Airbus Military for SB upgrades. SDR considered closed. P/No: D1834100A.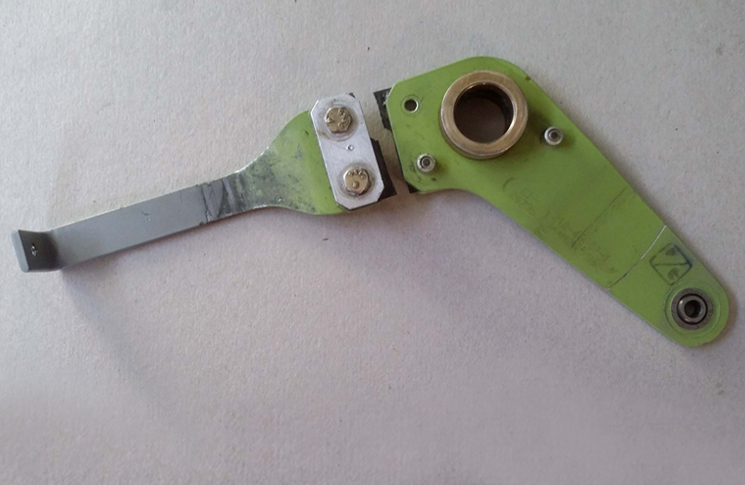 CASA C212EE Trailing edge flap control system—flap system fractured. SDR 510020880 (photo above)
Failure of the wing flap control level strap. The flap lever has been temporarily repaired. It seems that the failure is consistent with the incorrect rigging of the control rod, however the aircraft appeared to be rigged correctly before the incident. P/No: 21246608031.TSN: 2083 hours/1869 cycles/1869 landings/132 months.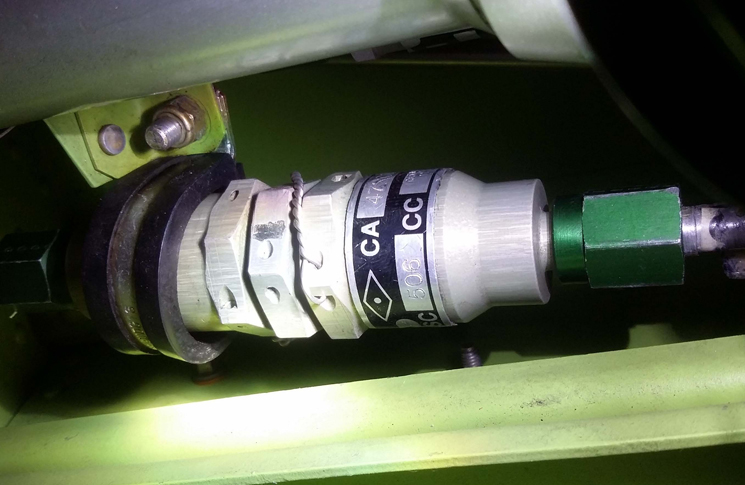 CASA C212EE Trailing edge flap control system—relief valve incorrect fit. SDR 510020815 (photo above)
Flaps would not fully extend during flight. Operation normal on ground. Troubleshooting revealed pressure relief valve orientated wrongly. PRV orientated correctly, aircraft tested serviceable. OEM is currently drafting engineering memo to notify engineers. P/No: CA472001.
Embraer EMB-120 Landing gear position and warning system—proximity switch suspect faulty. SDR 510020781
Landing gear selected up. System B showed disagreement on NLG. Air return conducted. NLG B downlock proximity switch replaced. Aircraft tested serviceable.
Embraer ERJ-190-100 Crew oxygen system—oxygen system failed test. SDR 510020632
Crew oxygen cyan. Observer oxy low press. Captain's oxy mask not testing. Difficult to reset with doors closed causing slow oxygen pressure to drop and crew unable to transmit on normal radio intermittently. Rectification action—Confirmed captain's oxygen box intermittently not resetting causing leakage. Captain's oxygen box replaced. Leak and ops check carried out now Nil Defect. Oxy system replenished. P/No: 1187A623.
Embraer ERJ-190-100 Extinguishing system— extinguisher empty. SDR 510020726
Low hissing sound in flight deck. Portable fire extinguisher found partially discharged. Extinguisher removed from flight deck. Unit replaced upon landing. This is the 8th incident on Embraer E190-100 aircraft. Operator has introduced task cards for proper installation of the extinguisher, as well as a notice to pilots informing them about the issue. P/No: 898052. TSN: 15802 hours/11016 cycles
Embraer ERJ-190-100 Fuselage miscellaneous structure—beam corroded. SDR 510020790
During C check, Level 2 Corrosion found on Pax Door Cutout Lower Beam Assy. Beam replaced. P/No: 17065703005. Several similar defects reported.
Embraer ERJ-190-100 Galley station equipment system—potable water odour. SDR 510020716
Cabin crew reported musty odour in rear galley. Investigation revealed suspect boiler. Boiler replaced and tested serviceable. A/C released to service. P/No: 4360004850018. TSN: 13385 hours/9857 cycles.
Embraer ERJ-190-100 Hydraulic system main—pump low pressure. SDR 510020692
On ENG start-up, CAS message (HYD 3 LO PRESS) appeared. A/C returned to gate as pump 3A failed to produce pressure. Electric Hydraulic Pump replaced and tested serviceable. Case drain filter replaced as a precautionary measure. P/No: 5116604. TSN: 13336 hours/9259 cycles. TSO: 9884 hours/6809 cycles.
Embraer ERJ-190-100 Landing gear brake system—brake suspect faulty. SDR 510020799
Crew found unusually high power setting required to taxi. #3 brake temp showing 85 degrees (twice other brakes). On return to stand, #3 brake temp rose to 280 degrees. Root cause could not be identified, brakes function checked and high speed ground runs carried out, nil faults evident. Suspected one off brake binding. Aircraft being monitored. P/No: 900023402PR. TSN: 12009 hours/7952 cycles.
Embraer ERJ-190-100 Landing gear retract/extension system—solenoid damaged. SDR 510020581
During inspection of landing shutoff valve, the wire connector from the valve solenoid was found damaged.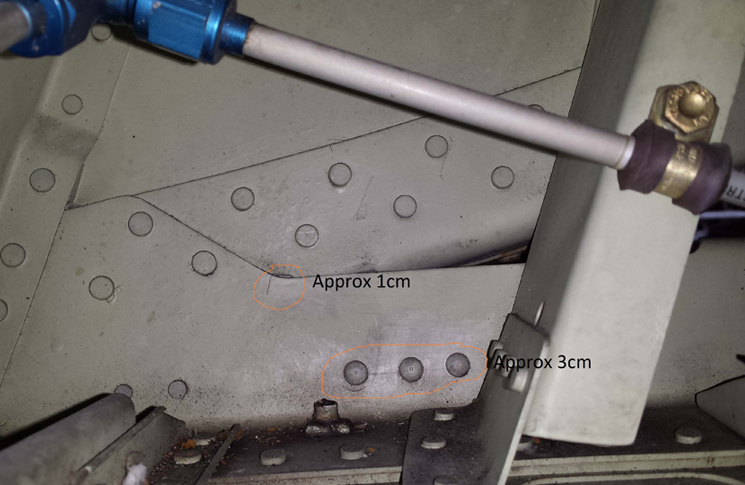 Fokker F27 MK100 Fuselage structure—fuselage frame cracked. SDR 510020848 (photo above)
While carrying out SB F100-53-128, a crack was discovered on support angle frame 14908. Cracks repaired AIW F100 SRM 53-80-02 repair #7.
Fokker F27MK50 Ice/rain protection system—brush block unserviceable. SDR 510020873
During flight, aircraft encountered #2 engine anti-ice fault. Aircraft performed air turnback due to weather conditions. Brush block assembly removed and replaced with serviceable assembly. Operator identified decreased reliability of the fleet's brush block assemblies and has introduces inspection and cleaning tasks to prevent further decrease in reliability. OEM has also released service literature to deal with the issue.
Fokker F28 MK0100 Nacelle/pylon plates/skin—skin corroded. SDR 510020666
Corrosion found on skin around VHF #2 and DME #1. Corrosion was classified as Lvl 3 corrosion and the OEM was contacted for proper instruction for removal. A/C repaired iaw with OEM instruction.
Fokker F28 MK0100 Wing spar—spar corroded. SDR 510020686
L/H FWD wing spar found corroded underneath spar splice plate at wing station 4700. Lvl 2 corrosion, OEM accepted the blended area and repair work done. Several similar defect reported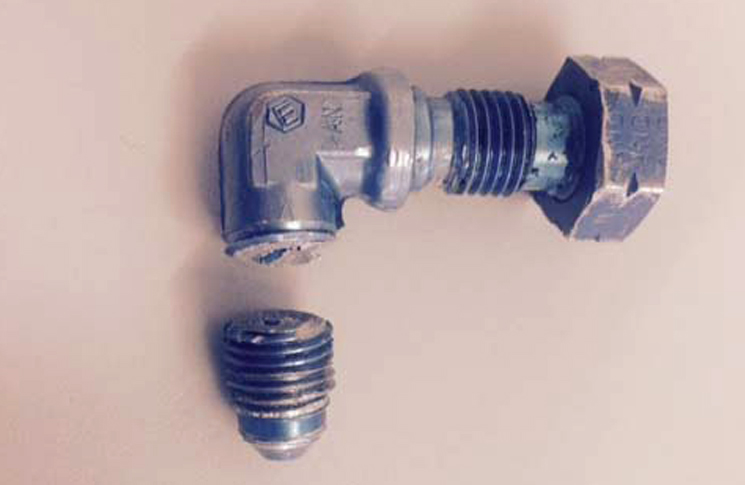 IAI 1124 Landing gear steering system—steering system unserviceable. SDR 510020720 (photo above)
While exiting the runway after landing the crew experienced a total hydraulic failure. Failure found to be the result of failed fitting in the nose wheel steering actuator. Aircraft was repaired and returned to service. P/No: AN8334D.
Saab SF340B Aileron control system—microswitch faulty. SDR 510020695
During operational testing of flight control disconnect system, unable to disconnect system. Micro switch found to be faulty. Item was replaced and A/C tested serviceable. P/No: MS253481.
Saab SF340B Landing gear retract/extension system—hose failed. SDR 510020628
On approach, crew extended landing gear. Upon gear down selection, "HYDR" master CWP illuminated. Aircraft landed safely. Maintenance investigation revealed the NLG extend hose had ruptured. Investigation continuing. P/No: AE7064585. TSN: /9294 cycles.
Saab SF340B Pneumatic distribution system—duct unknown. SDR 510020626
As landing gear selected up, immediate R/H bleed air leak caution illuminated for 30-60 seconds and then went out. Only change was reducing engine power from T/O power. Rubber elbow duct in aft wing root area was found with a loose and shifted lower clamp. Clamp retaining shoulder torn. Item replaced, AC tested serviceable and released to service. P/No: 9303688100.