Is this electric 10-engined remotely piloted aircraft (RPA) a glimpse into aviation's future?
Researchers at NASA's Langley Research Centre in the United States have successfully conducted the first transition flight of a battery-powered RPA prototype dubbed 'Greased Lightning'.
Similar in principle to the crewed Bell Boeing V-22 Osprey, the GL-10 can take-off like a helicopter, hovering vertically into the air; before its swept wing rotates, transitioning from vertical to forward wing-borne flight.
While the video makes the transition in the test-flight look easy, the engineers who have designed tilt-rotors will tell you that flying, particularly via remote control, is no easy task because of the challenging aerodynamics.
'During the flight tests we successfully transitioned from hover to wing-borne flight like a conventional airplane then back to hover again. So far we have done this on five flights', says Bill Fredericks, an aerospace engineer with NASA.
'We were ecstatic. Now we're working on our second goal—to demonstrate that this concept is four times more aerodynamically efficient in cruise than a helicopter.'
The GL-10 has a three-metre wingspan with eight electric motors, with another two motors on the tall; and a combined take-off weight of 28.1 kilograms.
Zack Johns, the primary pilot of the GL-10, says that while flying the ten-engine aircraft has its ups and downs, the RPA flies more like a three-engine plane from a control perspective.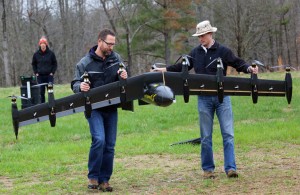 'All four engines on the left wing are given the same command,' says Johns. 'The four engines on the right wing also work in concert. Then the two on the tail receive the same command,' he says.
Another advantage of the GL-10 is the noise, or lack of it. 'It's pretty quiet,' says Fredericks. 'The current prototype is quieter than a neighbour mowing the lawn with a (petrol-powered) motor.'
The next step for the NASA team and its GL-10 is to be centrepiece at the Association for Unmanned Vehicles Systems International 2015 conference currently being held in Atlanta.
NASA sees this research project as part of a wider effort to 'reduce the technical barriers associated with integrating unmanned aerial vehicles into the skies'.
Last year, Flight Safety Australia reported on another electric multi-rotor aircraft, the Volocopter, a German invention with 18 rotors capable of carrying two people.
You can read more about 'Greased Lighting' on NASA's website.