Amateur-built Neico LANCAIRIV AC generator-alternator—alternator unserviceable. SDR 510020990
Alternator loose on engine. Further inspection found the attachment bolts loose. Long screws holding alternator together also loose. Front alternator bearing was noisy. The alternator was pulled apart, found internals generally OK, rear needle bearing probably damaged, minor marks of rotor touching stator, some possible heat damage on rotor where brushes seat on contact rings. Crankshaft drive gear and alternator gear carefully inspected, found in pristine condition, slight polish on gear teeth. P/No: ALX9524R. TSN: 350 hours.
Beech 200BEECH fuselage stabiliser attach fittings—bracket cracked. SDR 510021135
Upper aft horizontal stabiliser attachment bracket cracked on LH and RH sides. Minor corrosion also present. P/No: 1016200191. TSN: 10131 hours.
Beech 35B33 brake—brake disc failed. SDR 510020987
RH main landing gear brake disc failed. P/No: 16400700.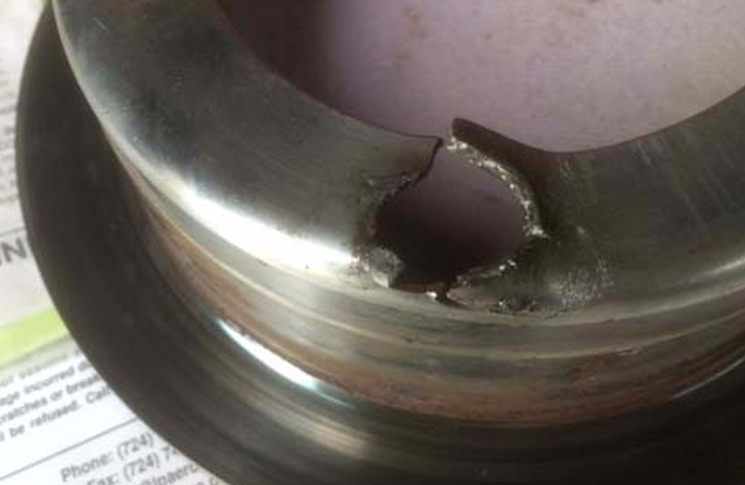 Beech 35B33 brake—brake disc unserviceable. SDR 510021033 (photo above)
RH main landing gear brake disc separated from attachment points. P/No: 16400700.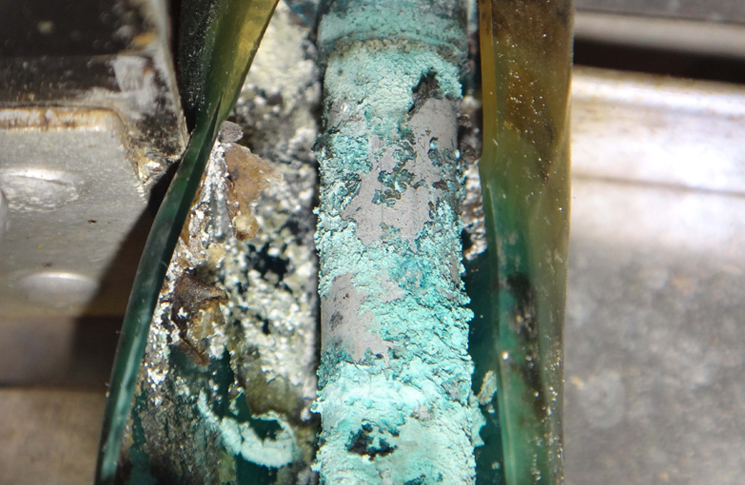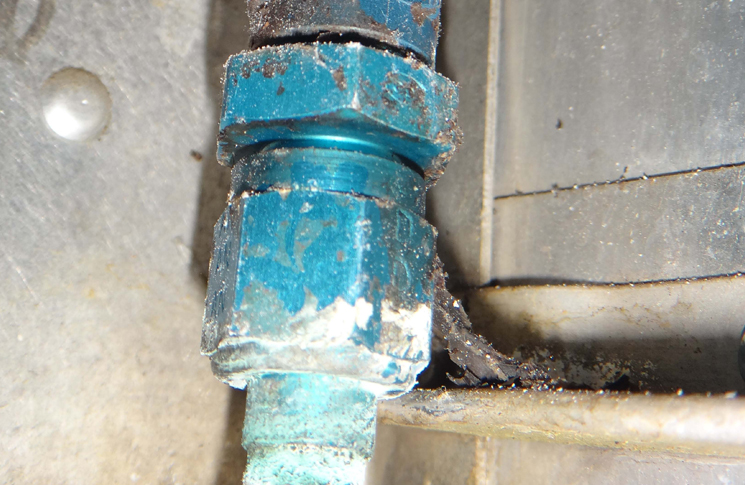 Cessna 152 aircraft fuel distribution system—fuel line corroded and leaking. SDR 510021064 (photos above)
Aluminium fuel line P/No 0400343-3 and union fitting P/No AN815-6D corroded and leaking beneath sleeving insulation P/No S292-18. Suspect corrosion exacerbated by sleeving due to trapping of contamination and moisture. P/No: 04003433. TSN: 10971 hours.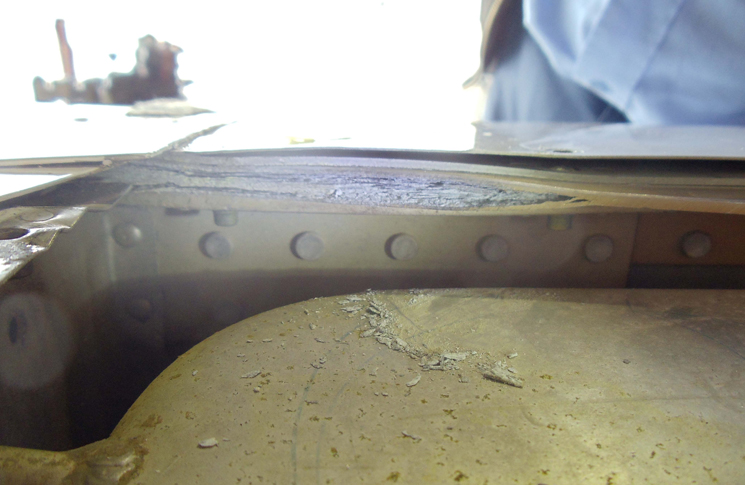 Cessna 152 wing spar—spar cap corroded. SDR 510021092 (photo above)
RH wing spar cap and spar doubler corroded. Found following tank removal during SIDs. Suspect paint stripper a contributing factor. P/No: 04263071. TSN: 13694 hours/444 months.
Cessna 162 fuselage wing attach fittings—fitting incorrect fit. SDR 510020900
Pilot reported slight clicking noise at top of L/H wing strut attach area. Loose bolt found in bolt hole (.499 inch bolt, bolt hole diameter is .520 +/- .010 inch). P/No: 091171029.
Cessna 172N fuselage frame—spar corroded. SDR 510021110
Wing carry through spar corroded beyond limits. Found during SIDs 53-11-01. P/No: 051116211. TSN: 11791 hours/432 months.
Cessna 172N fuselage plates/skin—skin corroded. SDR 510021119
Numerous fuselage skins corroded requiring replacement. Skins affected were:
1. top skin P/No 0511809-1
2. rear window bulkhead P/No 0512012-2
3. rear window retainer P/No 0512040-4
4. lower fuselage skins P/No 0511295-3 and P/No 0512100-49. Found during SIDs inspection 53-30-01. P/No: 05120122. TSN: 11791 hours.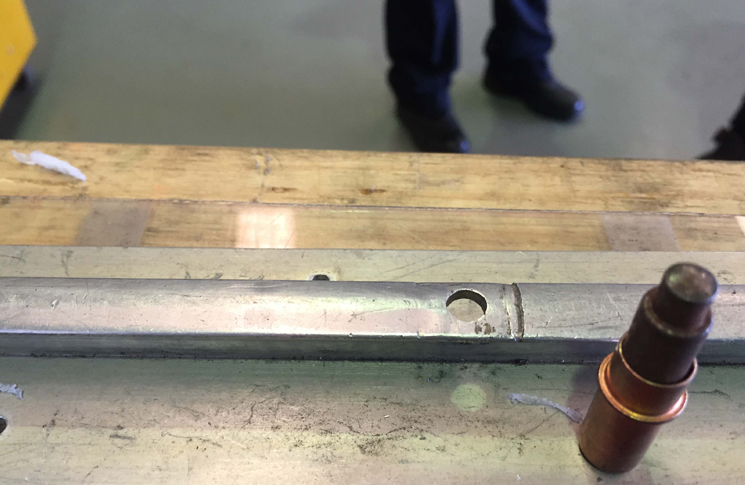 Cessna 172N seat/cargo attach fittings—seat track worn and damaged. SDR 510021115 (photo above)
Inboard seat tracks (2-off) damaged beyond limits. Found during SIDs 53-47-01. P/No: 05112434.
Cessna 172R flight control system—aileron system worn. SDR 510020908
During Phase 3 inspection cable fairlead found worn at aft overhead spar. P/No: 0510105360. TSN: 964 hours/41 months. Four other similar reports received.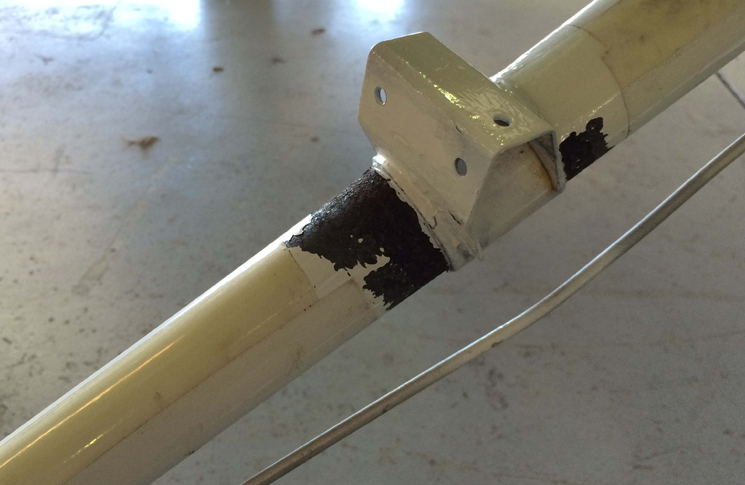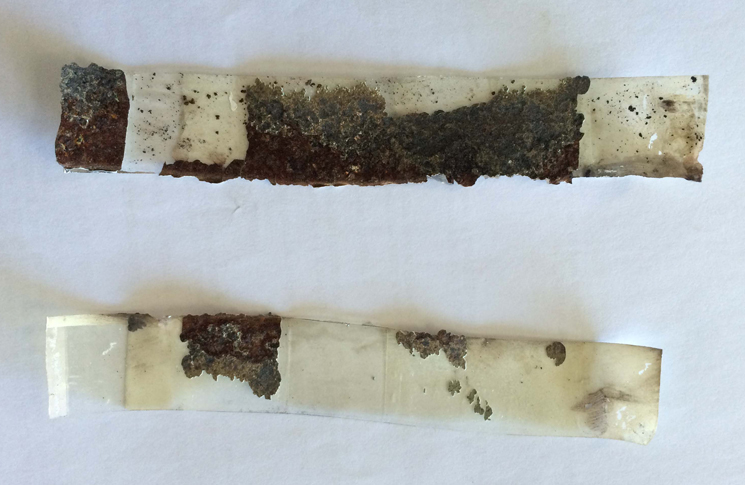 Cessna 172R main landing gear strut/axle/truck—strut corroded. SDR 510020970 (photos above)
LH main landing gear corroded beyond limits in area adjacent to step. Corrosion was found under anti-chafe Teflon tape. One similar defect reported. P/No: 05411989. TSN: 765 hours/45 months.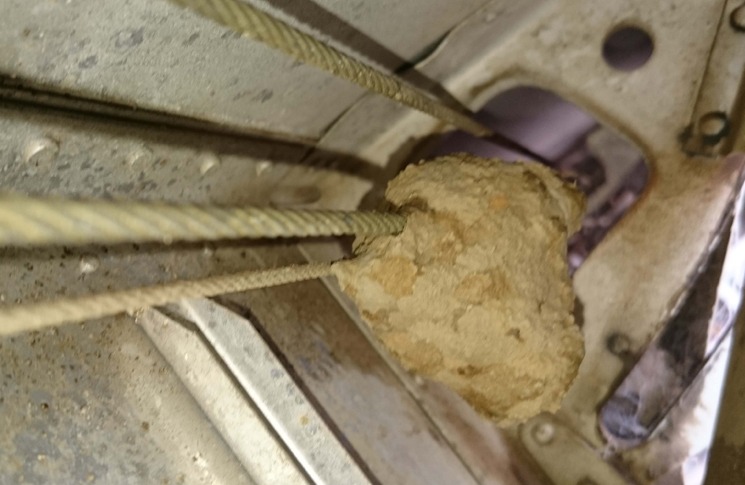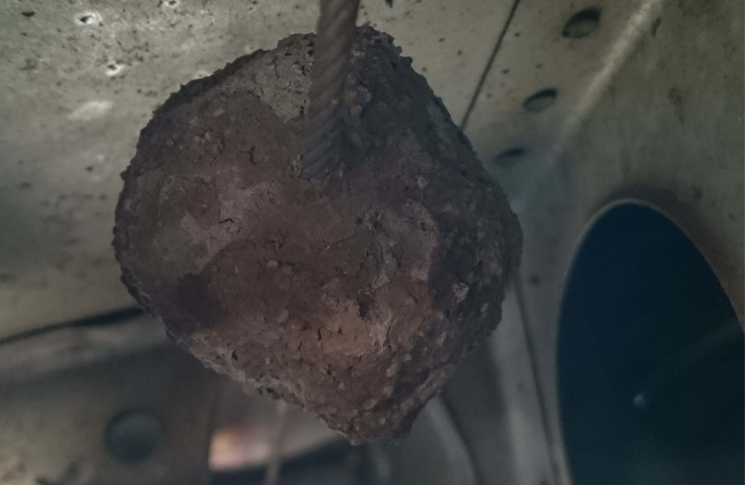 Cessna 182Q fuselage structure—fuselage FOD. SDR 510021065 (photos above)
Rear fuselage contained a number of large mud wasp nests. Some nests were wrapped around control cables with potential to restrict or jam controls. Corrosion was also found in areas beneath the nests.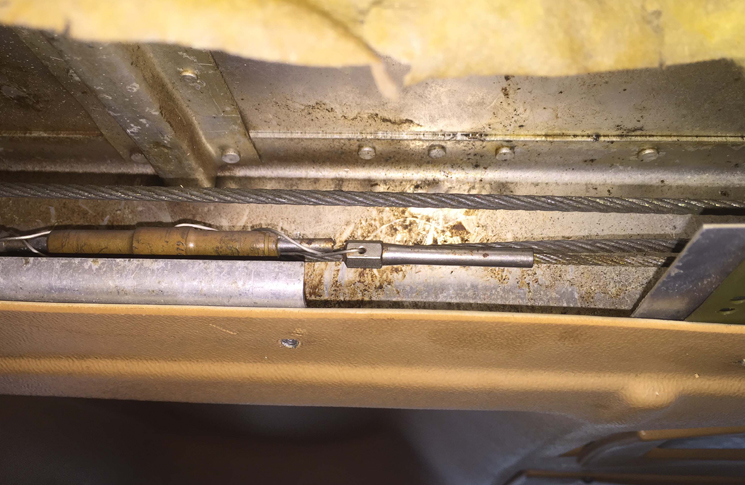 Cessna 182Q trailing edge flap control system—terminal failed. SDR 510020988 (photo above)
LH flap retraction cable failed at stainless steel turnbuckle terminal located in roof lining. Cable was only held together by turnbuckle lockwire. Found due to fault finding for low cable tension. P/No: 051010594. TSN: 6656 hours
Cessna 208B cabin compressor system—compressor seized. SDR 510020984
Smoke from area of instrument panel. Investigation found air conditioning compressor had seized and drive belt was slipping on pulley. P/No: 26011885.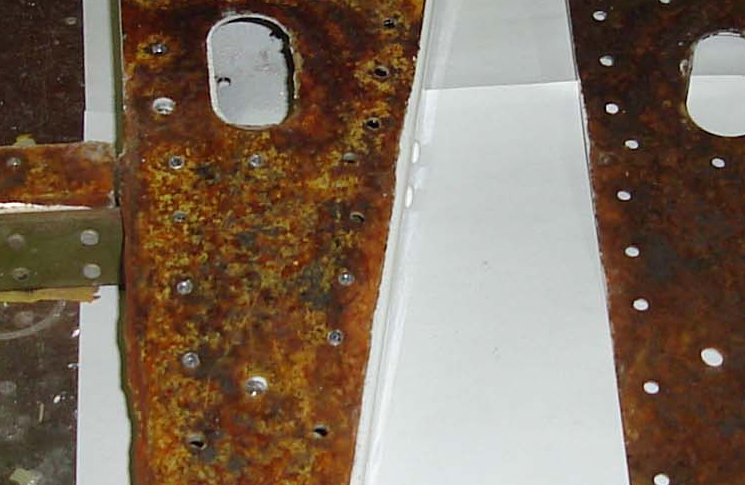 Cessna 340A elevator spar/rib—elevator corroded. SDR 510020995 (photo above)
Elevator plates P/No 5334150-200 and P/No 5334150-201corroded. Found when elevator skins removed due to hail damage. P/No: 5334150200. TSN: 4172 hours. TSO: 4172 hours.
Cessna 402C wing fuselage attach fittings—fitting cracked. SDR 510020942
LH wing upper forward attachment fitting cracked. Found during inspection AD/CESSNA 400/92 Amdt 1. One similar defect reported. P/No: JRA4992. TSN: 5191 hours/5743 cycles.
Cessna 404 CESSNA rudder control system—torque tube cracked. SDR 510020999
RH rudder pedal torque tube assembly cracked. P/No: 51152604.
Cessna 560 trailing edge flap control system—cable broken. SDR 510021079
Flap control system RH groove cable P/No 6560141-32 failed at lower pulley wraparound point in the centre control pedestal. LH groove cable P/No 5565175-16 also changed as a precaution. P/No: 656014132. TSN: 2865 hours/3879 cycles.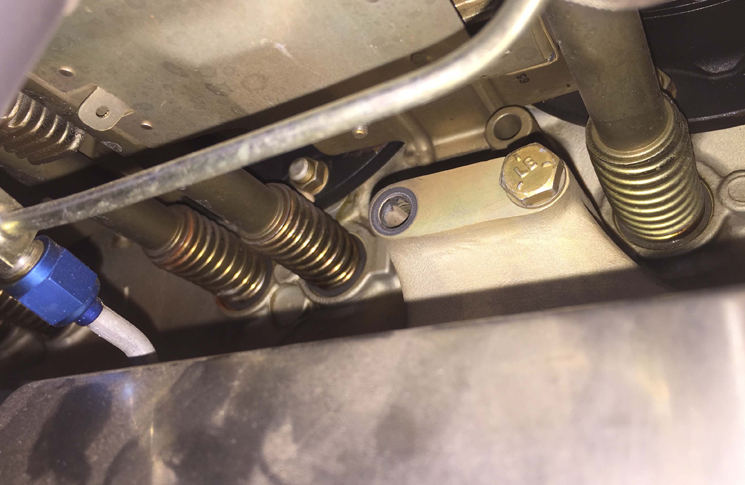 Cessna TU206G engine mount section—bolt missing. SDR 510020986 (photo above)
Forward RH engine mount bolts (2-off) missing. All other engine mount bolts loose (backed out). Aircraft is fitted with an IO-550 engine under an STC. The engine was fitted with a 'smooth ride six point engine mount kit' under STC SA00796AT.
Jabiru J160C wing attach fittings—bolt broken. SDR 510020901
During inspection (5000 hrs) free play found in wing attachment. Broken wing attach bolt found.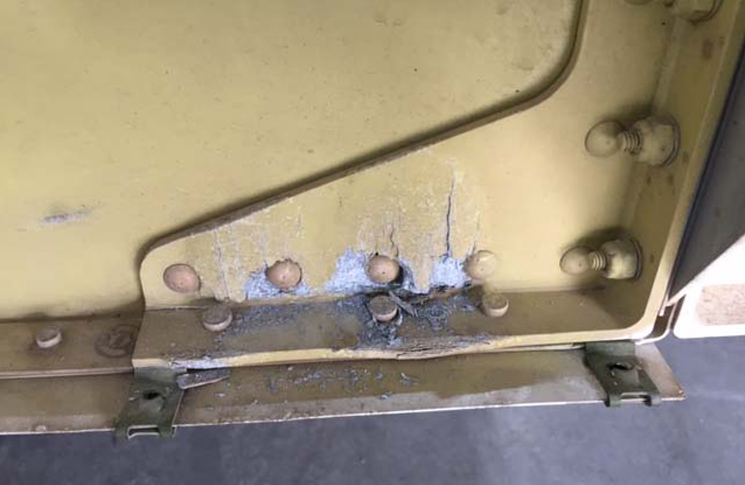 Pacific Aerospace 750XL wing control surface attach fittings—stiffener corroded. SDR 510020976 (photo above)
LH and RH wing aileron hinge stiffeners PNo 11-20555-1 and PNo 11-20556-1 contained exfoliation corrosion. P/No: 11205561. TSN: 3427 hours.
Pilatus PC12 drag control system—flap system cracked. SDR 510020889
R/H inboard flap drive arm found cracked. part replaced  AMM. P/No: 5275212154. TSN: 13490 hours/17850 landings/176 months.
Piper PA23250 wing spar—spar cracked. SDR 510020923
Left forward auxiliary spar found cracked. P/No: 1601000. TSN: 3664 hours.
Piper PA32R301T wing spar—spar corroded. SDR 510020989
LH wing inboard main spar contains exfoliation corrosion. Nil signs of damage. P/No: 38493802. TSN: 1901 hours.
Piper PA42 flight compartment windows—windshield cracked. SDR 510020997
LH windshield cracked. P/No: 562022. TSN: 3218 hours/3963 cycles.
Piper PA44180 fuel selector/shutoff valve—selector seized. SDR 510021080
RH fuel selector seized. Suspect caused by normal wear and tear due to frequent use. Two similar reports received. P/No: 461737. TSN: 1749 hours/31 months.
Reims F406 landing gear position and warning system—switch unserviceable. SDR 510020977
Nose landing gear uplock microswitch wire broken. P/No: 602EN556B. TSN: 11048 hours.
Tecnam P2006 fuel quantity indicator—indicator unserviceable. SDR 510021099
Fuel quantity indicator reading three quarters full with full tanks. Two similar reports received. P/No: T18112FLF10C10.
Vulcanair P68C Wing miscellaneous structure— angle corroded. SDR 510021130
LH wing top web angle corroded. P/No: 68140111. TSN: 4108 hours TSO: 4108 hours.