Airbus A320-232 APU core engine—APU failed. SDR 510020953
Smoke and flames from APU. Investigation found internal APU failure. P/No: 38007081. TSN: 16435 hours/14751 cycles.
Airbus A320-232 door warning system—sensor incorrect fit. SDR 510021129
RH aft off-wing escape door proximity sensor incorrectly mounted preventing the cover from being refitted.
Airbus A320-232 passenger station equipment system—seat separated. SDR 510020998
Passenger seat 2 ABC had the forward inboard floor mount separated from the seat frame due to thread failure. P/No: 1004334001. TSN: 26394 hours/15047 cycles.
Airbus A320-232 pneumatic distribution system—bleed air failed. SDR 510020955
Both engine bleed systems failed. System components checked and cleaned with systems then operating normally.
Airbus A320-232 pneumatic distribution system—PRV unserviceable. SDR 510021044
No 1 and No 2 engine bleed air system Pressure Regulating Valves (PRV) unserviceable. P/No: 6774G010000.
Airbus A330-202 Hydraulic pump main—pump failed. SDR 510021125
No 2 engine driven yellow system hydraulic pump failed. Loss of hydraulic fluid. Initial investigation found a failed driveshaft seal. Investigation continuing. P/No: 3022053001. TSN: 37513 hours TSO: 37513 hours
Airbus A330-202 Landing gear system—axle misaligned. SDR 510020921
Axle sleeve had rotated out of position on No 5 brake assembly. Sleeve was removed using hammer and drift which caused damage to the axle sleeve and rendered it unserviceable. Further investigation revealed the retaining clip failed to retain the sleeve.
Airbus A330-243 APU core engine—control box suspect faulty. SDR 510021078
APU electronic control box suspect faulty. P/No: 3888394210103. TSN: 2215 hours/574 cycles.
Airbus A330-243 hydraulic system main—check valve rotated. SDR 510020951
Green, blue and yellow hydraulic system pressure manifold check valves showed evidence of rotation with check marks misaligned. Lockwire was still intact. Found during inspection EASA 2015-0009 REPT and Airbus SB A330-29-3125 . P/No: CAR401.
Airbus A330-243 hydraulic system main—check valve rotated. SDR 510021012
Blue, yellow and green hydraulic system manifold check valves rotated. Witness marks misaligned. Nil leakage found. Investigation carried out EASA AD 2012-0244 rev1 and AOT A29i001-12. P/No: CAR401.
Airbus A330-303 escape slide—harness incorrect routed. SDR 510021007
Door 1R escape slide electrical harness incorrectly routed. Harness was routed for fitment to a LH door instead of to a RH door. P/No: 7A1508125. TSN: 16206 hours TSO: 7475 hours.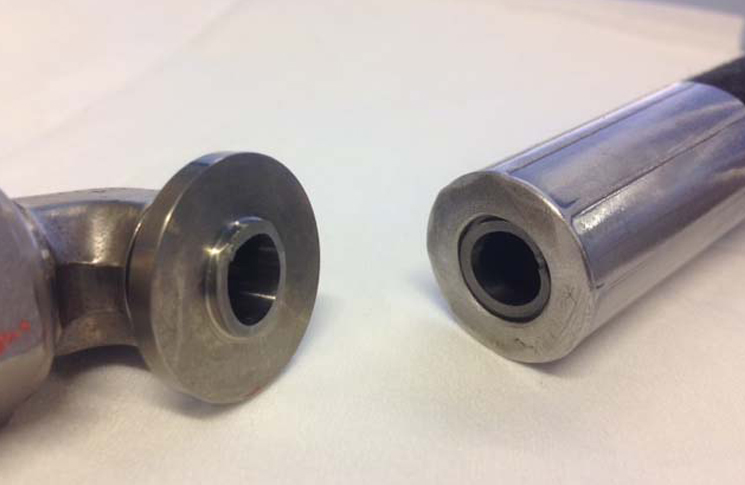 Airbus A380-842 hydraulic system main—pipe failed. SDR 510021153 (photo above)
Green hydraulic system pipe from electrical plug fractured/failed at swaged fitting. Loss of approximately 100 litres of hydraulic fluid. Investigation continuing. P/No: L2901007900000.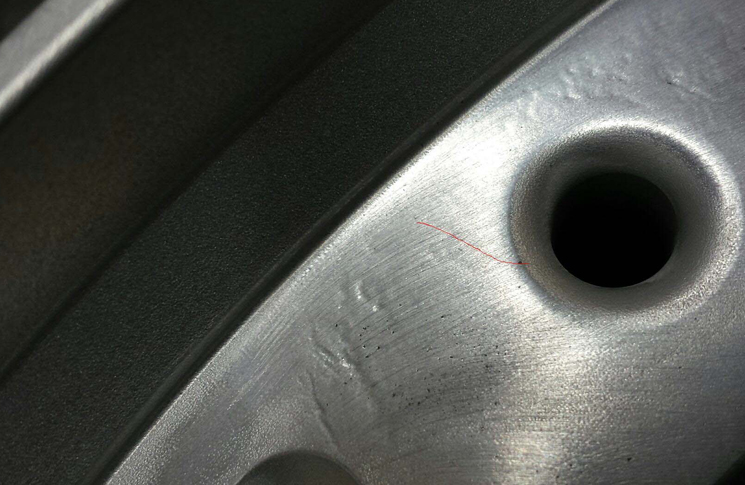 ATR ATR72212A wheel—wheel cracked. SDR 510020962 (photo above)
Main wheel outer half cracked between shoulder of tiebolt hole bore, across mating face and towards wheel flange. Found during eddy current inspection CMM 32-49-42 Rev 3 and confirmed using due penetrant inspection. Crack length approximately 20.32mm (0.8in). P/No: A365593. TSN: 5333 hours/4805 cycles TSO: 2398 hours/2064 cycles.
Boeing 717-200 trailing edge flaps—flap damaged. SDR 510021127
LH wing flap lower skin contained a large dent located between XFLS 127.438 and XFLS 187.406. The dent measured approximately 355.6mm by 292.1mm (14in by 11.5in) with a depth of 0.3302mm (0.013in) and extended over two ribs causing deformation to the ribs. P/No: 5912992503. TSN: 32255 hours/22011 cycles.
Boeing 737-838 crew station equipment system—inertia reel incorrect fit. SDR 510021155
Captain's seat harness reel assembly not attached to rear of seat structure. Found during harness replacement due to fraying. Investigation continuing. P/No: 5000101A2396.
Boeing 737-838 seat/cargo attach fittings—seat track loose. SDR 510021151
Passenger seat inboard floor mount at 29D disengaged from floor track. Passenger seats 22C and 28C loose in tracks.
Boeing 737-8FE cabin temperature controller—TC valve failed. SDR 510021100
RH air conditioning system temperature control valve (TCV) and RH zone temperature controller unserviceable. Two similar defects reported. P/No: 39890836228145.
Boeing 737-8FE drag control system—spoiler out of adjust. SDR 510021016
No 3 spoiler out of rig. SBA and SBB cable tension low.
Boeing 737-8FE fuselage plates/skin—skin corroded. SDR 510021067
Fuselage skin contained filiform corrosion in numerous areas. Found during lightning strike inspection.
Boeing 737-8FE leading edge slat control system—actuator unserviceable. SDR 510020949
Leading edge standby shutoff valve electrical actuator unserviceable. P/No: 106788A131.
Boeing 737-8FE trailing edge flap control system—bushing missing. SDR 510020933
During lubrication of L/H wing flap balls crew actuators, No 3 gimbal lower bushing was found missing. Bushing located sitting inside the fairing. Nil wear noted. Similar occurrence reported on this aircraft on the 23 January 2015. OEM and Operator are currently investigating this issue. P/No: HJ18DU106. TSN: 8515 hours/5302 cycles.
Boeing 737-8FE trailing edge flap position indicating system—arm cracked. SDR 510021141
No 3 position flap outboard skew detection sensor crank arm cracked through splined eye end. The arm was still in place. P/No: 256A39322. TSN: 5186 hours/2467 cycles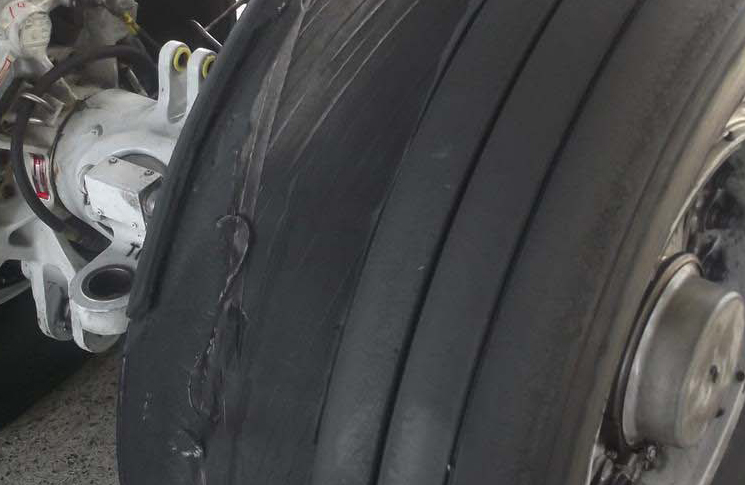 Boeing 747-438 tyre—tyre failed. SDR 510021000 (photo above)
No 13 main landing gear tyre blown and tread separated. Investigation continuing. P/No: 161U00011. TSN: 89804 hours. TSO: 6658 hours.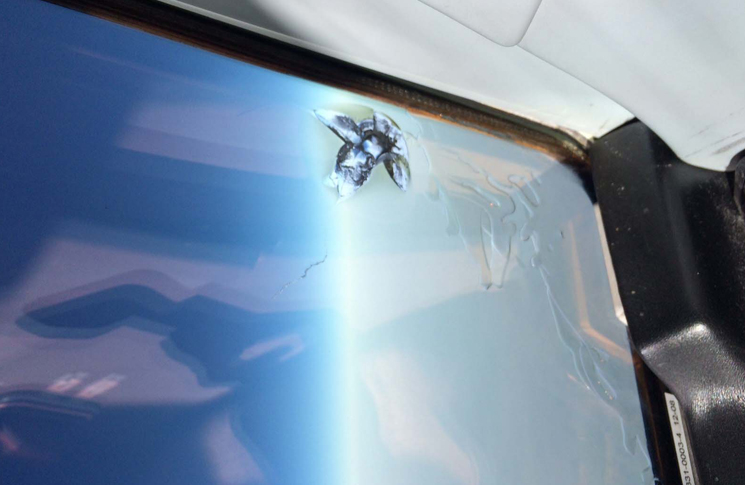 Bombardier BD7001A10 flight compartment windows— window unserviceable. SDR 510021046 (photo above)
RH side cockpit window delaminated followed by the window heat failing. A large burn mark was evident within the panes. P/No: GC33100034. TSN: 3454 hours/1258 cycles/1258 landings/73 months.
Bombardier DHC8-402 passenger/crew doors—shutoff valve contaminated. SDR 510021003
Forward passenger door unable to be opened. Investigation found the passenger door seal electro-pneumatic shutoff valve contaminated by silica-gel due to failure of the desiccant filter.
Convair 340 landing gear position and warning system—micro switch suspect faulty. SDR 510020930
On approach as gear was lowered, the unlock light came on with no green for the nose gear. Gear was recycled and the normal three green lights came on. P/No: BZE7RNT1.
Embraer EMB-120 crew oxygen system—oxygen mask leaking. SDR 510021008
RH crew oxygen mask leaking from inflatable head strap. P/No: MC1002106.
Fokker F27MK50 passenger station equipment system—cross member cracked. SDR 510020932
While carrying out AD/SEATS/16 and AD/SEATS/14, cross members at seat L12 and R11 were found cracked. One similar defect reported.
Fokker F28 MK0100 aileron control system—cable loose. SDR 510020958
LH lower aileron input control cable adrift and contacting the engine fuel shutoff valve sense line, sense line outlet union/nipple, and main landing gear hydraulic supply line. The cable was found to be loose which caused it to come adrift. The RH aileron control cable was also found to be below tension.
Fokker F28 MK0100 fuel selector/shutoff valve—actuator unserviceable. SDR 510021073
No 1 engine fuel/fire shut-off valve failed to fully open. Further investigation found No 2 engine fuel/fire shut-off valve was also failing to fully open. Both valves replaced.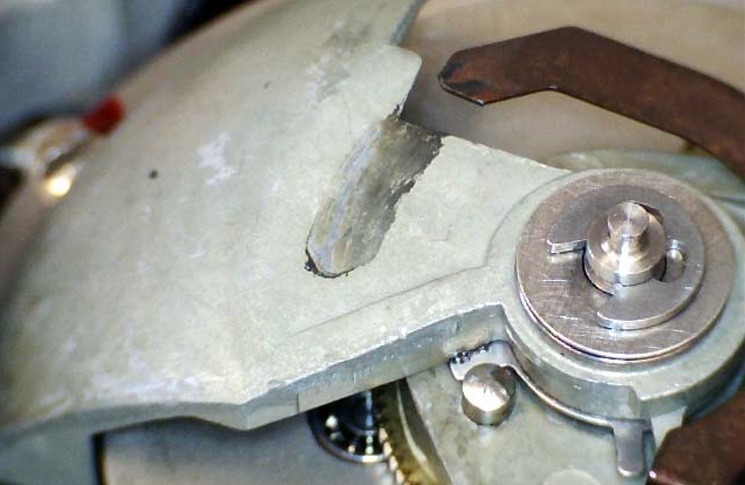 Fokker F28 MK070 attitude gyro and indicating system—gyro incorrect mod. SDR 510021015 (photo above)
Gyro horizon erector pendulum modification status marked on case amendment label but not incorporated into the unit. Modification is indicated in SB H301-34-003. P/No: H150AK39.
Fokker F28 MK1000 fuel boost pump—plug contaminated. SDR 510020996
Fuel boost pump canister connector contaminated with fuel. Rubber plug also damaged. Found during inspection AWB 28-014. P/No: FON94991B6SNL.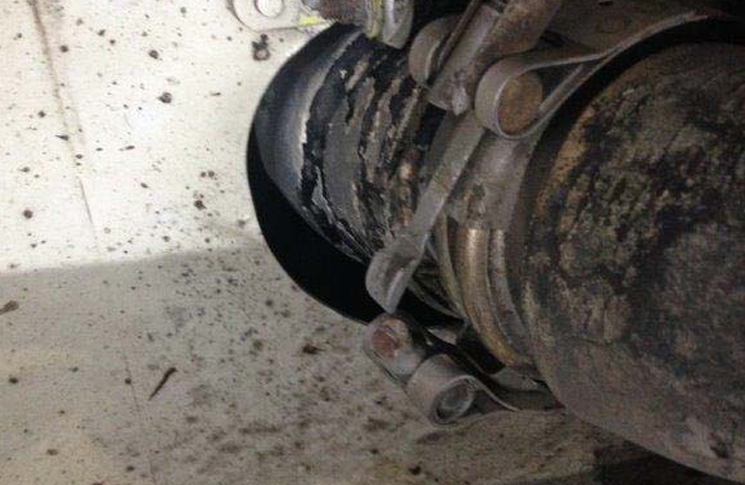 Saab SF340B pneumatic distribution system—clamp failed. SDR 510021083 (photo above)
RH engine bleed duct clamp failed due to 'T' bolt shearing. Hot air leak caused damage under the afterbody between WS 114.6 and WS 150. Damage also to wing trailing edge composite material as well as areas of the flap top skin. P/No: A40C60.