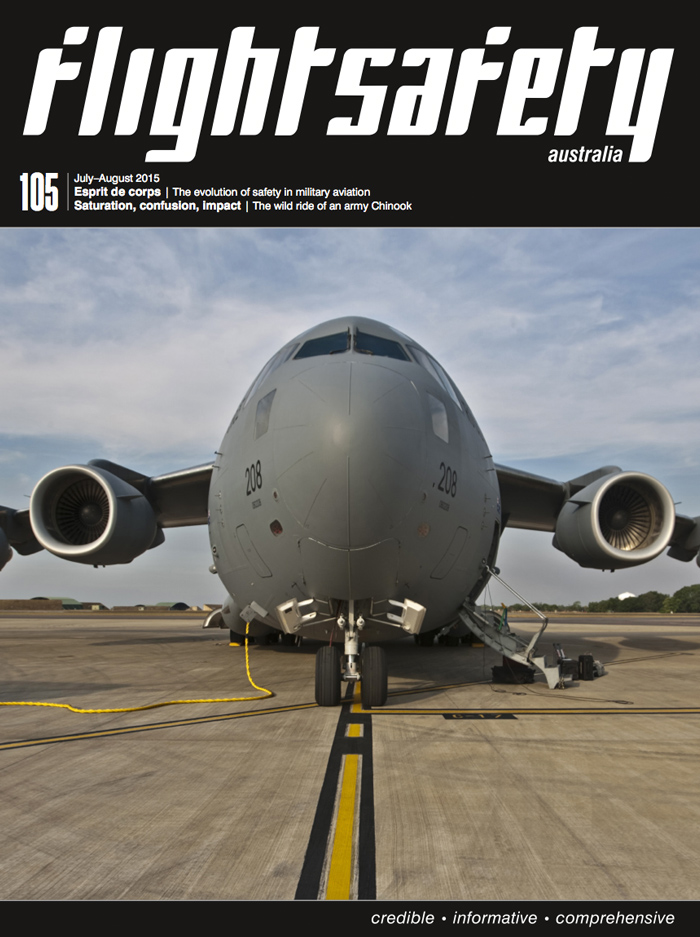 For July–August Flight Safety Australia looks at military aviation and how air forces, armies and navies have revolutionised their safety culture and slashed accident rates over the past 30 years. We investigate how they did it and ask what civil aviation can learn. We also speak to RAAF Squadron Leader Steve Ferguson, who discusses aviation safety management, and why it is essential to 36 Squadron's role of sending C-17 transport aircraft safely anywhere in the world where they are required.
Nine months after the launch of CASA's Dangerous Goods app we take a closer look at our number one dangerous good—lithium batteries. We ask if prohibiting them as airline cargo will improve aviation safety or merely lead to mislabelling and batteries being sent undeclared.
Small but dangerous examines the humble wasp and how its nest can block pitot tubes, fuel tank vents and drains.
Contributor Kreisha Ballantyne looks at some of the tired, well-used phrases in aviation, and their dangerous implications in The clichés that can kill you. There is nothing harmful in deploying catchphrases and idioms in aviation as long as one avoids clichés like the plague!
In this issue our US contributor, Thomas P. Turner, looks the harsh facts of general aviation crashworthiness.
In It was almost all over: the destruction of China Airlines flight 120 contributor Adrian Park investigates how an incorrectly installed bolt in a slat track caused a devastating fuel fire after the plane had taxied to the gate in Naha Airport, Okinawa.
Without warning: the startle factor examines the startle response, and the need for training in non-technical skills to recognise and manage these sudden events.
Think you've got what it takes to be Top Gun? Our Flying ops, Maintenance and IFR quizzes are now live! Take the quiz, test your knowledge, share your results and challenge your friends.
The popular SDR section and close calls—including an audio story about a pilot and LAME's lack of crew resource management as they fly into an approaching storm front—complete the issue.
Flight Safety Australia's July-August edition is live on the App Store and Google Play. Stories will also appear, over the life of the issue, on this site. You can subscribe to be notified via email when new stories are published online.