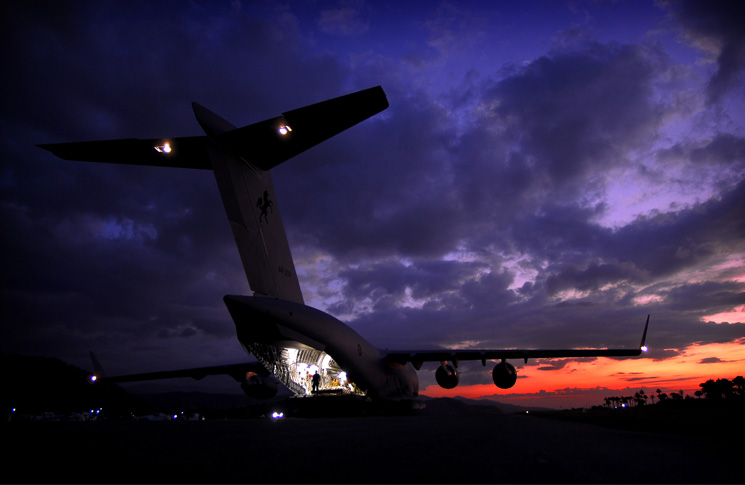 For Squadron Leader Steve Ferguson, a far-away disaster on the late news provokes more than a feeling of detached sadness. As the executive officer of the RAAF's 36 Squadron, part of his role includes managing the safety of C-17 transport aircraft deployed anywhere in the world.
The 25 April earthquake in Nepal was a typical operational challenge for 36 Squadron. 'We had been planning and assessing the risks even before the phone rang for us to go to Kathmandu,' Ferguson says of the relief mission.
Planning had uncovered some awkward and potentially dangerous aspects of the airlift. Kathmandu's Tribhuvan airport sits in a steep-sided natural bowl, out of which a heavily loaded aircraft flying low and slow may not be able to climb. The missed approach procedure for the main runway 02 requires a 270-degree climbing turn to line up with a gap in the surrounding mountains. 'It's a very steep missed-approach gradient, and to maintain terrain clearance at the missed-approach point we had to balance payload with fuel load, prevailing weather and available navigation aids, while factoring in up to an hour of holding due to the congestion of air traffic trying to get into the airfield,' Ferguson says.
Ferguson says the Kathmandu mission was typical of the collective effort that is always behind the newsreader's phrase, 'a "raff" C-17 is on its way'.
'We analysed it in depth and there was a thorough and deliberate risk management process before we let any of our crews make the approach to Kathmandu. We had experts back at 36 Squadron, doing a lot of mathematics, crunching the numbers for crew who were en route at the time to Kathmandu so we could identify the right decision points.'
The Kathmandu relief mission demonstrated how military aviation is about assessing risk, rather than ignoring it Ferguson says. 'There is a broad cross-section of risks we have to balance including capability, safety and mission.'
Risks are to be managed, not ignored, Ferguson says. 'There are times when even extreme risks will be accepted, at the appropriate level, if required for an operational result. That's a place that civil aviation will probably never have to go.'
Ferguson is also the unit aviation safety officer, responsible for aviation safety in 36 Squadron. In the last three years or so, there have been significant changes in the unit's aviation safety management system (ASMS). These changes are evolutionary, in the SMS spirit of continuous improvement, and reflect the necessity for the unit, because of the risky business they are in, to balance risk with capability, safety, PR considerations and morale.
Ferguson says that while the ASMS of three or four years ago was ostensibly functional, there was a sameness about the aviation safety occurrence reports (ASORs)—investigations were coming up with the same systemic factors for generic occurrences. 'Our legacy safety policy', he says, 'was somewhat reactive, and the same type of incidents were recurring'. Consequently, 'we re-wrote the ASMS policy based on contemporary best-practice and introduced a tailored Investigation Officers course' delivered to all squadrons, focusing on the basics of what squadron investigators needed. 'We're better now at identifying the root causes of incidents, and implementing meaningful and enduring controls to prevent recurrence,' Ferguson says. Ideally, 'we're not just swatting mosquitoes, but draining the swamp'.
Over this time there has been significant cultural change too. There is staff buy-in now, Ferguson says. 'We're very conscious of walking the fine line of just and fair culture. We've moved a long way—three years ago there was a large backlog of safety reports getting older and perishing in their usefulness by the day; now there are roughly ten ASORs in the system at any given time, which are processed within a couple of weeks as opposed to months.'
The unit is very conscious of the need for consistency; for the 300–400 ASORs submitted across 86 Wing to be handled fairly. 'You can apply just and fair outcomes 100 times, but if you get it wrong once, you lose support,' he says. 'Where an individual or group is involved in error or violation; the following week, month or year you must ensure the same just and fair outcome applies for the next individual or group in the same situation.'
An initiative developed by University of NSW researcher, Sue Burdekin, exemplifies the success of this cultural change, and the squadron's faith in the ASMS. Based on extensive research and development conducted by Burdekin over a number of years across both civil and military operations, the squadron's mission operations safety audit (MOSA) relies on pilot self-reporting for collecting operational safety data. MOSA, Ferguson says, is 'underpinned by the willingness of a group of pilots to critically evaluate their own performance. Full credit must go to Sue for developing MOSA', he acknowledges. As part of the research, Burdekin correlated MOSA performance data against LOSA (line operations safety audit) data on the same test crews and found, Ferguson says, that in the 'self-assessed results, crews are slightly more critical of their own performance than an external auditor, and show a willingness to provide a balanced critical analysis of their own performance'.
He has just received the first MOSA report, and it is valuable, he says, because 'it provides a mechanism to compare collated empirical data against anecdotal data we receive from our crews in the normal course of business'. Fatigue was one of a number of factors considered in MOSA, along with metrics including contingency management, cross checking, problem solving and communication. The report had some valuable results Ferguson says. 'It showed contingency management (being prepared for the unexpected); as an area for improvement', and while it did not necessarily reflect a weakness, it did correlate with some recent pilot competency check results. 'We have directed our training experts to make targeted changes to our junior pilot development program as a result.'
Aware that there are some in the civilian world who may dismiss the applicability of such programs to commercial aviation because of perceptions of unlimited funding available to the military, Ferguson dismisses this as a fallacy. 'Part of the attractiveness of implementing MOSA was that it cost us very little for significant benefit.' He says it cost only 'the time for development of the MOSA protocols with Sue and development of an iPad interface to collect the data from crews.'
Not only does the ASMS bring safety benefits, but the emphasis on identifying root cause and data based analysis has also influenced process improvement in other areas according to Ferguson. 'Other business improvements made within 36 Squadron including changes to fuel and training policies, and improvements in medium level maintenance checks, have resulted in millions of dollars saved and significant improvement to average aircraft availability. What gets measured, gets managed', leading to both capability and safety improvements.