Airbus A321-231 Wing plates/skin—skin corroded. SDR 510021308
RH wing top skin trailing edge overwing lower surface corroded at rear spar between ribs 15 and 16 and ribs 16 and 17. Investigation continuing.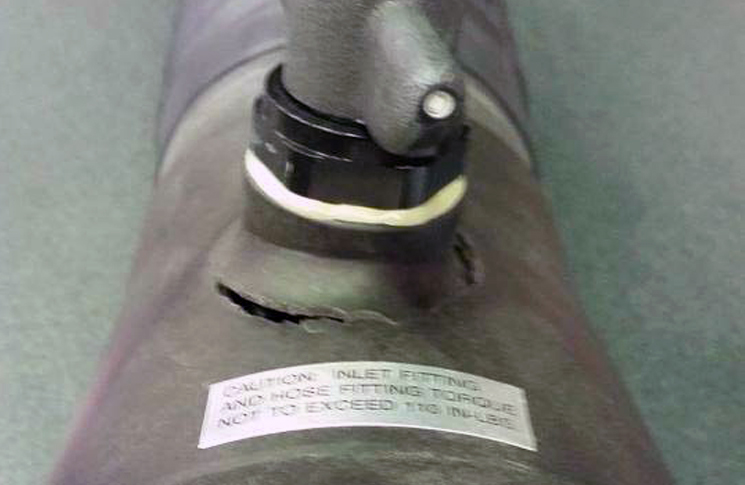 Airbus A330-202 Escape slide—aspirator damaged. SDR 510021322 (photo above)
Door 4R escape slide failed to fully inflate during workshop testing. Investigation found the lower tube aspirator extensively damaged. P/No: 5A326514. TSN: 43597 hours TSO: 11525 hours.
Airbus A330-202 Escape slide—harness incorrect routed. SDR 510021211
Door 4 RH escape slide harness incorrectly routed. Found during inspection iaw AD/A330/51. P/No: 7A1508125.
Airbus A330-243 Hydraulic pressure sensor— pressure switch failed. SDR 510021299
Yellow hydraulic system low pressure switch failed. Numerous switches have failed in the last few months on this aircraft. Suspect caused by manufacturing quality deviation. P/No: 42F0022B131602202. TSN: 6426 hours/1635 cycles.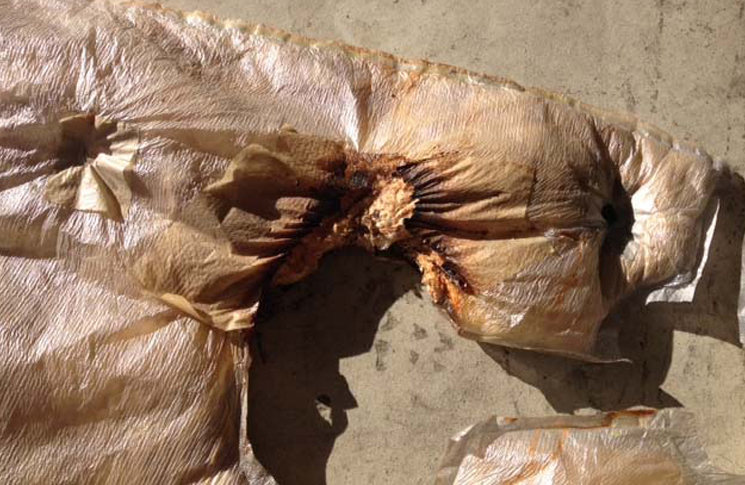 Airbus A330-303 Cargo station equipment section—insulation blanket burnt. SDR 510021178 (photo above)
Rear pressure bulkhead insulation blanket burnt around cut-out due to contact with bleed air duct. P/No: F2587160600200.
Air Tractor AT802 Horizontal stabiliser plates/skin—plate cracked. SDR 510021275
Horizontal stabiliser auxiliary fin attachment plate cracked. Found during incorporation of SL 232. P/No: 306531. TSN: 4781 hours.
ATR ATR72212A Pitot/static system—pitot tube contaminated. SDR 510021182
No. 2 pitot blocked by wasp.
BAC 146-300 Trailing edge flaps—flap system overspeed. SDR 510021237
Suspect flap overspeed. Investigation could find no defects.
Boeing 737-838 Drag control system—warning switch contaminated. SDR 510021315
Take-off configuration warning. Investigation found speed brake take-off warning switch heavily contaminated with dust and grime.
Boeing 737-8FE AC generator-alternator—IDG faulty. SDR 510021350
No. 1 Integrated Drive Generator (IDG) disconnected. Suspect Generator Control Breaker/Auxiliary Power Breaker fault. Investigation continuing.
Boeing 737-8FE Airfoil anti-ice/de-ice system —solenoid valve failed. SDR 510021193
Wing anti-ice system solenoid valve M1236 failed. P/No: 3205482. TSN: 28612 hours/10206 cycles.
Boeing 737-8FE Brake—brake failed. SDR 510021234
Main landing gear No. 1 brake assembly failed and fused with wheel. Investigation continuing. P/No: 26123121. TSN: 26875 hours/15196 cycle.
Boeing 737-8FE Brake—brake lining failed. SDR 510021257
No. 3 main landing gear brake lining separating. P/No: 26123121. TSN: 18192 hours/9832 cycles.
Boeing 737-8FE Pneumatic distribution system—control valve broken. SDR 510021271
No. 2 engine pre-cooler control valve flange broken. Broken piece found lodged on bleed stage duct.
Boeing 737-8FE Trailing edge flap position indicating system—arm cracked. SDR 510021372
No. 3 flap outboard skew detection sensor crank arm cracked through at forward attachment point. Investigation continuing. P/No: 256A39322. TSN: 5186 hours/2467 cycles.
Boeing 747-438 Escape slide—slideraft failed test. SDR 510021344
Slideraft lower tube ruptured during pressure testing. Pressure was approximately 4.15psi at the time it ruptured. Found during inspection iaw Goodrich SNL 25-163. DOM was Apr 1991. Investigation continuing. P/No: 7A146723.
Boeing 747-438 Escape slide—slideraft leaking. SDR 510021345
Slideraft upper tube leaking from multiple holes/leaks on seam tape. Found during annual inspection and leakage test. P/No: 7A146723.
Boeing 747-438 Public address and entertainment system— iPad smoke/fumes. SDR 510021168
Passenger's iPad caught in seat 6E operating mechanism, crushing the iPad and causing smoke and fumes from damaged unit. Some smoke staining on seat and crushed glass particles in seat mechanism.
Bombardier DHC8-102 Engine temperature indicating system—probe short circuit. SDR 510021273
No.2 engine temperature indications fluctuating. Investigation found two ITT probe leads short circuiting inside protective sheath.
Bombardier DHC8-202 Airspeed/mach indicator—ASI leaking. SDR 510021223
Captain's air speed indicator (ASI) large static leak. P/No: 2114011342.
CASA C212200 Horizontal stabiliser miscellaneous structure—finlet missing. SDR 510021269
RH horizontal stabiliser top finlet missing. Attachment screws still fitted with small pieces of the attachment structure beneath them. Front LH mounting point failed suspect due to corrosion. Finlets are fitted as part of an STC. P/No: 1001501. TSN: 11077 hours TSO: 19412 hours/38 months.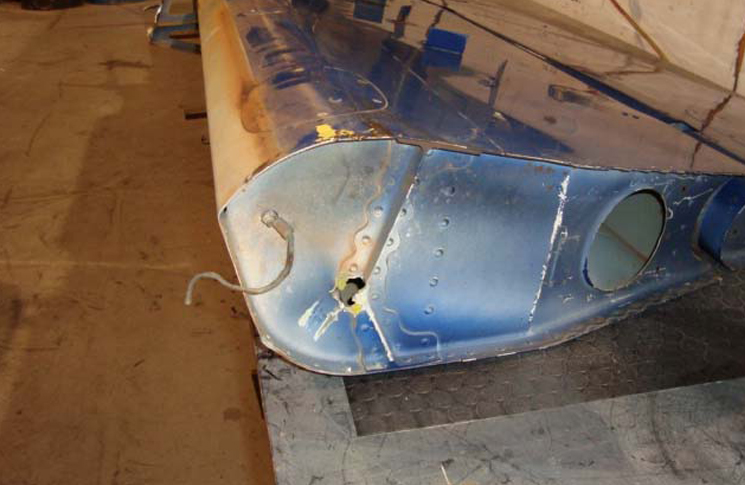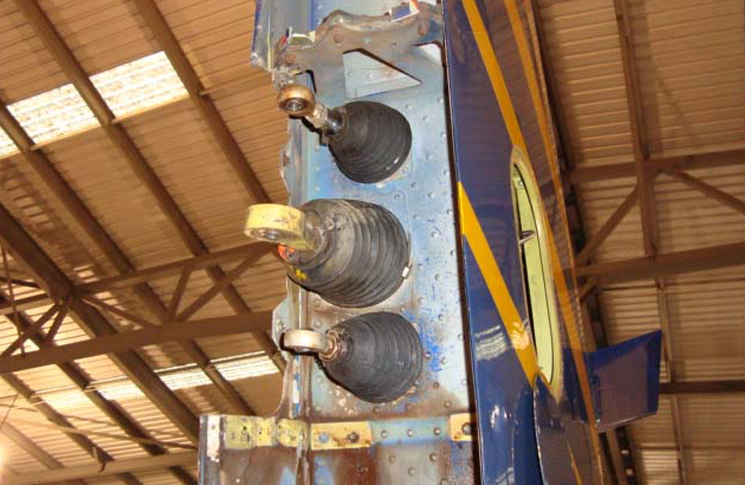 Embraer EMB-120 Rudder structure—rudder damaged. SDR 510021202 (photos above)
Rudder sustained major damage during towing accident when it was contacted by the RH wing tip of another aircraft being towed.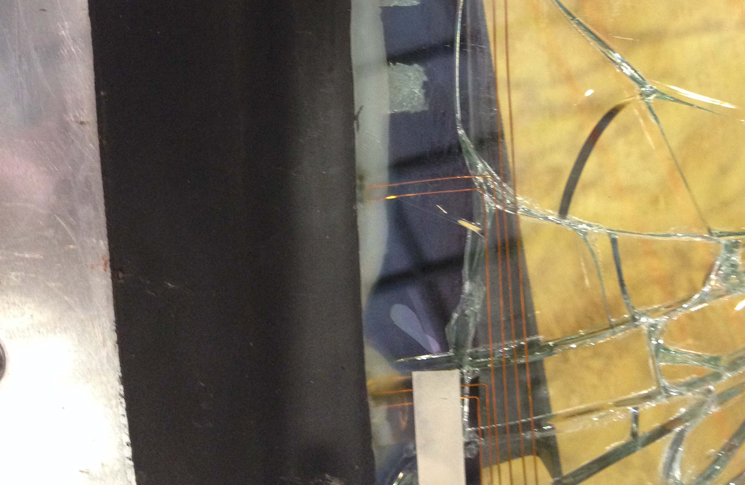 Embraer ERJ-170-100 Airfoil anti-ice/de-ice system—windshield shattered. SDR 510021172 (photo above)
LH windshield heat failed with accompanied by smoke and sparks. Shortly after No.1 windshield shattered. P/No: NP18730115.
Embraer ERJ-190-100 Battery/charger system—battery failed. SDR 510021342
No. 1 battery failed with a loud bang when turned on. Investigation found the case deformed and the battery lid ajar. One of the battery lid latches had also come away from the lid. Connector P0231 separated from the receptacle and the connector locking mechanism was found sheared with the remaining section stuck in the receptacle. Nil damage to area around the battery. Investigation continuing. P/No: 591285501. TSN: 9384 hours/7273 cycles
Embraer ERJ-190-100 Flight compartment windows—windshield shattered. SDR 510021266
RH windshield heating system arced followed by windshield outer pane shattering. Suspect caused by moisture entering along the windshield lower edge. P/No: NP18730114. TSN: 5929 hours/4269 cycles.
Fokker F28 MK0100 Airfoil anti-ice/de-ice system—shutoff valve corroded. SDR 510021274
Wing anti-ice modulating and shutoff valve (MODSOV) contaminated and corroded internally.
Fokker F28 MK0100 Elevator control system—elevator system suspect faulty. SDR 510021230
Elevator controls felt heavier than usual when autopilot disconnected. Investigation could find no definitive cause for the problem and the stiffness has not reoccurred. Suspect caused by icing.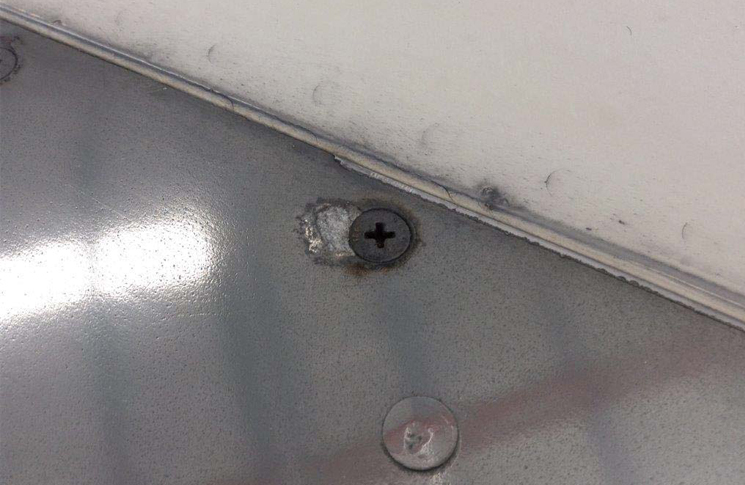 Fokker F28 MK0100 Horizontal stabiliser plates/skin—screw corroded. SDR 510021336 (photo above)
Horizontal stabiliser leading edge attachment screws corroded. Steel screws P/No NAS517 were fitted instead of the correct titanium screws P/No NAS5030. Suspect screws had been fitted by a previous operator. P/No: NAS517.
Fokker F28 MK0100 Landing gear attach fittings—bracket corroded. SDR 510021166
RH main landing gear side stay and rear spar side stay brackets corroded. Four similar defects reported.
Fokker F28 MK0100 Landing gear retract/extension system—landing gear failed-retract. SDR 510021374.
Landing gear failed to retract. Investigation is  continuing.
Fokker F28 MK0100 Passenger station equipment system—seat belt separated. SDR 510021289
Flight attendant's seat inboard lap seatbelt detached from seat assembly. Investigation found the securing latch had been bent allowing the belt to separate from the seat.
Fokker F28 MK0100 Windshield rain/ice removal—heating system faulty. SDR 510021360
RH windshield cracked following heating fault.
Fokker F28 MK0100 Wing spar—spar corroded. SDR 510021179
LH wing rear spar lower girder corroded in area located between WSTA 11794 and WSTA 11994. Found during inspection iaw SBF100-57-049. One similar defect reported.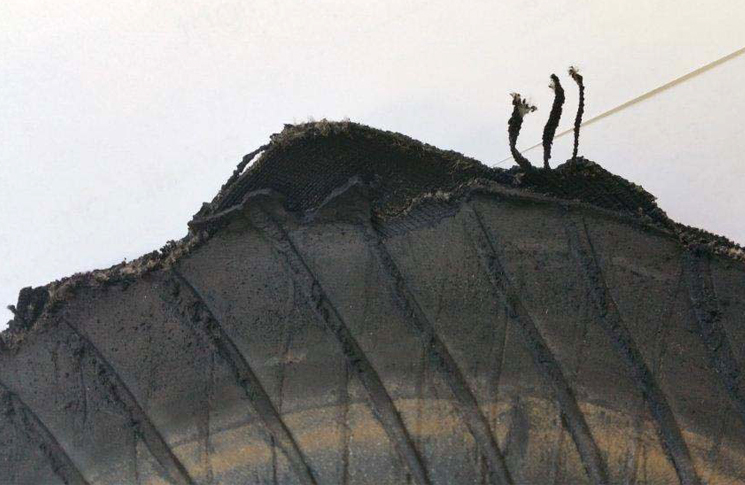 Lear Jet 35A Tyre—tyre unserviceable. SDR 510021280 (photo above)
RH main landing gear inboard tyre shredded. Suspect caused by under inflation. P/No: 178K235. TSN: 63 hours/40 cycles.