Meet Pete Wells: television presenter, adventurer and your new Out-N-Back 2 host. In 2015, you can follow Wells and the rest of the CASA crew in the filming of our visual flight rules (VFR) flight through northeastern Australia. We are covering the remote interior of Queensland, up to Cape York Peninsula and returning via the coastline and eastern regional areas of Queensland looking at the issues VFR pilots face when flying this part of the great Australian outback.
To say that the Sydney Weekender presenter is excited is an understatement.
'My head is buzzing with everything aviation adventure right now … I am so excited about taking this expedition up in the air,' Wells says. 'Normally the expeditions I am involved with are ground-based expeditions, such as the one to Mount Everest, but to take this adventure up in the air and to meet people who are so passionate about doing these types of long-distance journeys; I just can't wait!
'I really want to know what makes them tick—how they prepare, how they fly.
'As someone who doesn't really have much aviation experience—I'm not a pilot—I hope I can bring a fresh perspective. I've never been on a trip like this in outback Australia.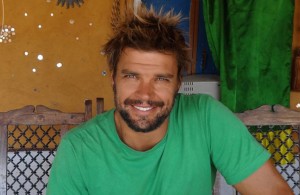 'I'm excited to bring to Out-N-Back 2 I guess an innocence … I am genuinely interested in aviation. I would like to think that one day I might be a pilot, so it's with a lot of authenticity that I'm going to be asking these questions, and hopefully absorbing some of their knowledge and soaking it up.
'Despite the fact that I am not a pilot I have always been interested in aviation. I'm always the guy that gets into a plane and looks left straightaway, every time.
As someone who has faced the ominous task of climbing to the top of the world and lasting in that rarefied atmosphere for 22 minutes, Wells doesn't doubt that the three-week, 6200 kilometre journey will not be without its own unique challenges.
'It's going to be sensory or information overload possibly for me,' he says. 'These people we are interviewing are already at a completely different level to me, so to have some of that information rub off, I think it's going to blow my mind a little bit.
'Possibly one of the biggest challenges for me is not to annoy people too much because I am going to be chewing their ear off.'
Wells, who also operates a surf school, knows he will be a fish out of water.
'I am intrigued by Longreach. I have never been to the middle of Queensland, so I am really looking forward to seeing what it looks like and meeting the characters out there. In the flight from Rocky [Rockhampton] out through to Emerald to Longreach, I'm expecting limited landmarks and barren terrain, so I'm interested in seeing how the pilot navigates and approaches that flight. Is she in her comfort zone? Or is she out of her comfort zone? I think that will be a unique leg of the trip. I've never been further north of Karumba or Cairns, so that's really new territory for me.
And finally, one of the most challenging parts of the trip for Wells is possibly the seven- kilogram luggage limit that all the crew must strictly adhere to.
'It's an interesting one … I've had to do it before when I was trekking through Nepal. But one thing I can't do without is beef jerky. It's just my thing.'