The world's largest aircraft manufacturer is predicting the Asia-Pacific will need almost half a million new pilots and technicians by 2034.
In its market outlook for 2015, Boeing estimates the region will require 226,000 new commercial pilots and 238,000 new technicians over the next 20 years, accounting for 40 per cent of global demand—more than North America, Europe and Africa combined.
Unsurprisingly a large portion of the expected demand will be in China where it's anticipated 100,000 new pilots and 106,000 new technicians will be required.
The heighten demand is closely tied to projections for new aircraft deliveries in the region, with Boeing forecasting 14,330 new airplanes will be needed in the Asia Pacific region by 2034.
'As global economies expand and airlines take delivery of tens of thousands of new commercial jetliners over the next 20 years, there will be unprecedented demand for people to pilot and maintain these airplanes,' a Boeing spokesperson said.
'The demand for 464,000 new pilots and maintenance technicians is a large number, and it translates into challenging, high-tech career opportunities for those who are interested in aerospace.'
While Boeing has earmarked Asia Pacific as the region with the highest overall demand, the number of skilled resources required in the Middle East and Latin America has also increased.
Globally, Boeing estimated the aviation industry would need to supply over one million new personnel—558,000 commercial airline pilots and 609,000 maintenance technicians.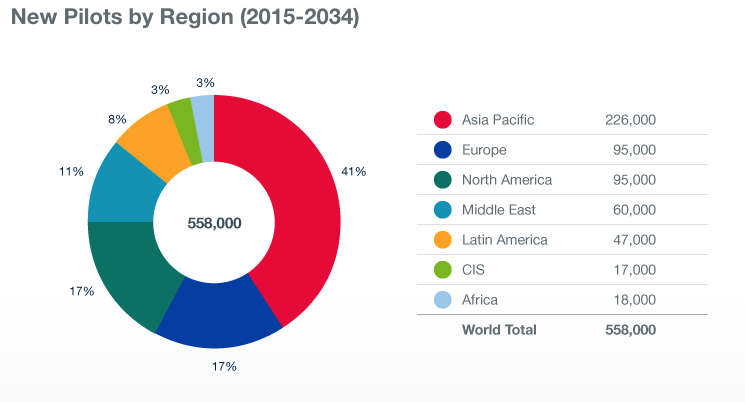 'Meeting this exponential demand for personnel will require innovative solutions that rely on the latest digital technology to match the learning requirements of a new generation,' says Boeing. 'Instructors will need to have cross-cultural and cross-generational skills to engage tomorrow's increasingly diverse aviation workforce.'
The aircraft manufacturer also warned regional markets that currently depend on recruiting pilots from abroad would need to become self-sufficient in meeting the growing demand in aviation personnel.
'Regional markets that have relied heavily on recruiting pilots from outside their home locations will increasingly require a strong foundation for developing and training qualified pilots locally.'
More information on the 2015 Boeing Pilot & Technician Outlook is available on Boeing's website.