Beech 200BEECH Aerodynamic fairing—latch failed. SDR 510021849
Flight crew returned to base after noticing the rear section of left engine cowl lifting/moving in flight. Left hand engine cowl removed and inspected—nil damage noted. All cowling latches inspected and found rear inner latch mechanism not operating on its cam properly. Latch exercised several times and ops now normal. Upper cowl re-fitted and inspected, all latches made and secure.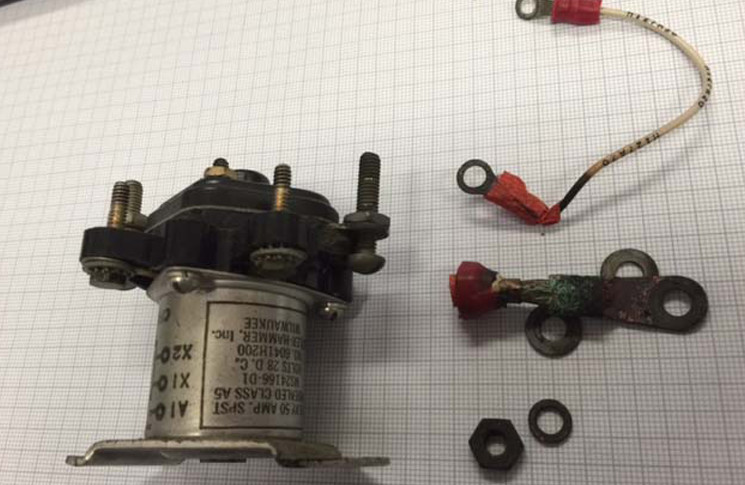 Beech 200BEECH Air conditioning wiring—terminal loose. SDR 510021746 (photo above)
During routine fault finding for an intermittent air conditioning system it was found that the main terminal post attachment screw and nut had loosened causing localised heating and material failure of the support structure of the contactor terminal support post. P/No: MS24166D1.
Beech 200BEECH air distribution system—blower failed. SDR 510021471
Report status: Closed. Pilot reports a burning odour & some smoke from overhead vents—stopped when RH bleed air selected off. Investigation results: AFT cabin blower motor failed. P/No: 30002711. TSO: 38042 hours
Beech 200BEECH engine oil distribution (airframe) system—hose chafing. SDR 510021609
Oil cooler inlet hose found chafed into heat/fire protection sleeve. Hose replaced & clamp repositioned. P/No: 330997F120280.
Beech 200BEECH Flight compartment windows—window cracked. SDR 510021520
Pilot windscreen found cracked in flight. P/No: 10138402523.
Beech 200BEECH flight compartment windows—window delaminated. SDR 510021722
Storm window delaminated and cracked, the window appears to have failed at hinge line. P/No: 10142012260.
Beech 200BEECH flight compartment windows—windshield cracked. SDR 510021614
Cracked co-pilot outer windscreen. R/H windscreen replaced IAW B200 maintenance manual Chapter 56-10-01 and installation instruction kit 101-5034. P/No: 10138402524.
Beech 200BEECH fuselage longeron/stringer—stringer cracked. SDR 510021717
During inspect of fuselage stringers, crack evident on stringer No. 8 aft of rear pressure bulkhead right side. Stringer cracking repaired IAW B200 AMM & SB 53-2472 using internal reinforcement kit.
Beech 200BEECH wing plates/skin—skin debonded. SDR 510021773
While carrying out scheduled 'tap test' for debond as required by B200 MM Chapter 5-20-05-39 at Phase Inspection, an area of debond was detected in the L/H upper inboard wing skin just aft of the aux fuel tank access panel.
Beech 58 Elevator control system—bearing damaged. SDR 510021482
During the pre-flight inspection, RH Elevator found sloppy and outboard bearing found unserviceable. New bearing P/N MS27645-3A fitted. Aircraft return to service. P/No: MS276453A.
Beech 58 rudder tab control system—cable incorrect rigged. SDR 510021528
Rudder trim tab incorrectly rigged. Pilot needed to move wheel in the opposite direction to achieve desired trim. P/No: 965240005.
Beech B200C landing gear system—undercarriage failed-retract. SDR 510021566
Landing gear failed to retract fully after take-off. R/H O/B MLG door actuator cam support found damaged, bent and misaligned.
Beech B200T Pressure control system—solenoid worn. SDR 510021581
Pressurisation solenoid valve plunget showed signs of wear. Aircraft did not pressure after take-off. P/No: 1013800213.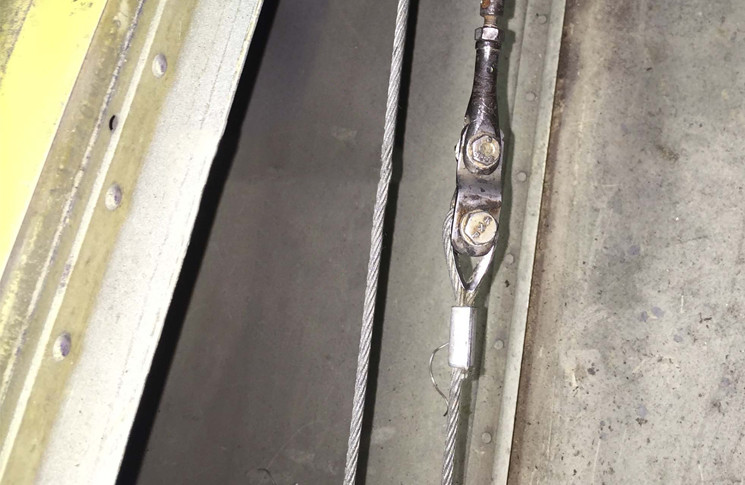 Britton Norman BN2A20 Flight control system—clevis pin SUP. SDR 510021571 (photo above)
SUP found connecting LH rudder cable to turnbuckle . Nil record found in log book. P/No: Unknown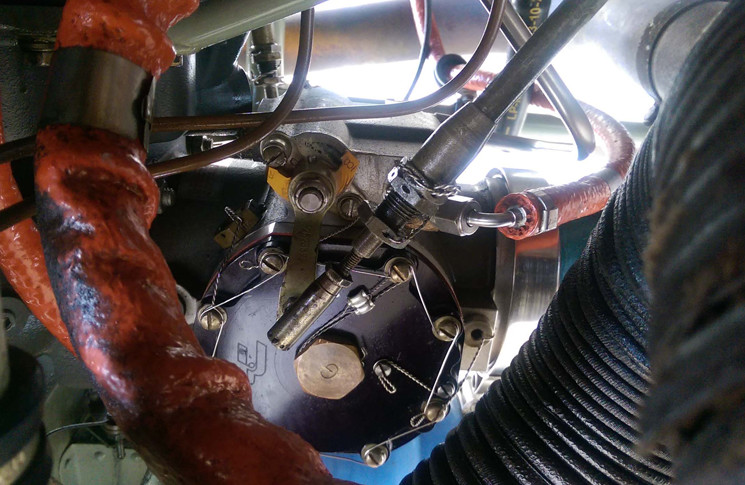 Britton Norman BN2B20 Aircraft fuel system—rod end failed. SDR 510021648 (photo above)
Left engine jammed in full rich position due to failed mixture control rod end. P/No: 353020108. TSN: 1311 hours/2340 cycles.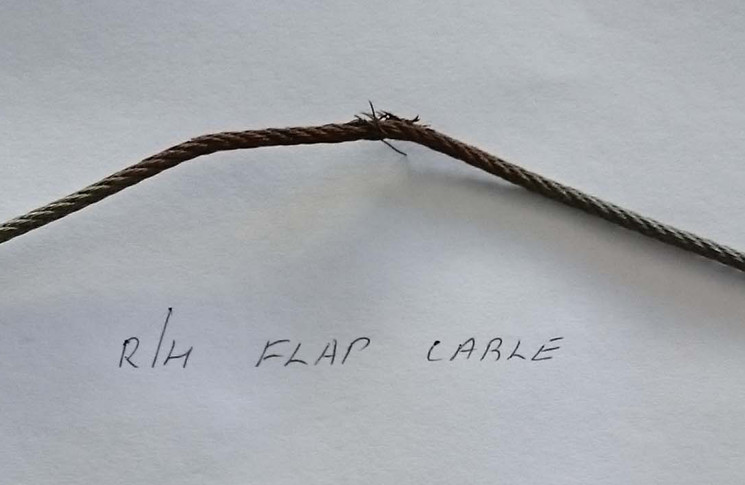 Cessna 150L trailing edge flap control system—cable failed. SDR 510021507 (photo above)
Defective cables found during periodic maintenance. SIDs inspection carried out prior and should have found this fault. P/No: 040010745. TSN: 5799 hours.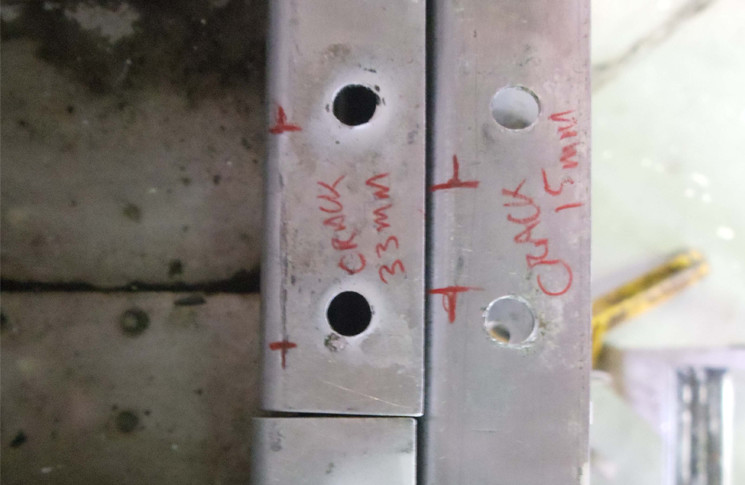 Cessna 152 horizontal stabiliser spar/rib—spar cracked. SDR 510021490 (photo above)
Horizontal stabiliser spar found cracked at outboard hinge location. P/No: 043200156. TSN: 7877 hours.
Cessna 152 landing gear/wheel fairing—spring worn. SDR 510021488
Screw point damage found due to contact with retaining screw of leg fairings. Found during SID inspection. P/No: 04412125AND6. TSN: 7877 hours
Cessna 152 Landing gear/wheel fairing—spring worn. SDR 510021497
Pitting found in landing gear leg. Screw used to retain landing gear to wheel cover fairing. P/No: 04412125. TSN: 13694 hours
Cessna 152 Vertical stabiliser spar/rib—spar cracked. SDR 510021494
Vertical stabiliser spar reinforcement found cracked at attach location. Both the LH and RH spars were cracked at the same location (see attachment for images). P/No: 043200115. TSN: 7877 hours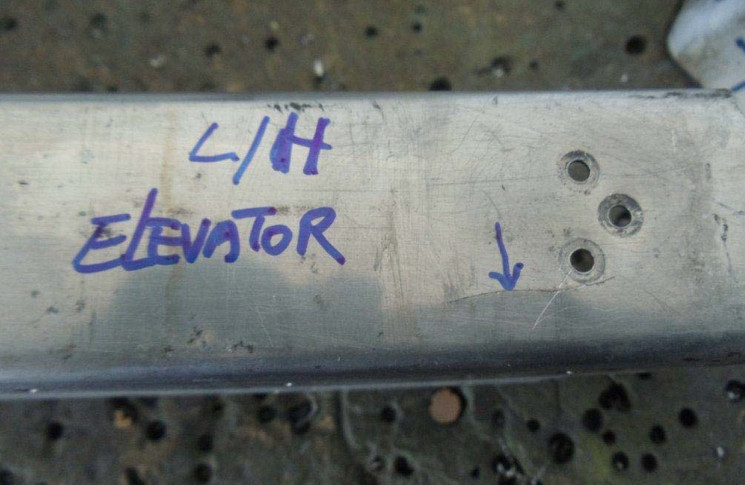 Cessna 152 wing control surface attach fittings—spar cracked. SDR 510021489 (photo above)
Spar cracked at O/B hinge location, found during SIDs inspection (see attached). P/No: 043200121. TSN: 7877 hours.
Cessna 172B elevator control system—torque tube cracked and corroded. SDR 510021685
Corroded adaptor for elevator torque tube attachment found during Cessna Supplemental Inspection Documents. Identical defect found on both LH & RH elevators. P/No: 07341024. TSN: 6259 hours/660 months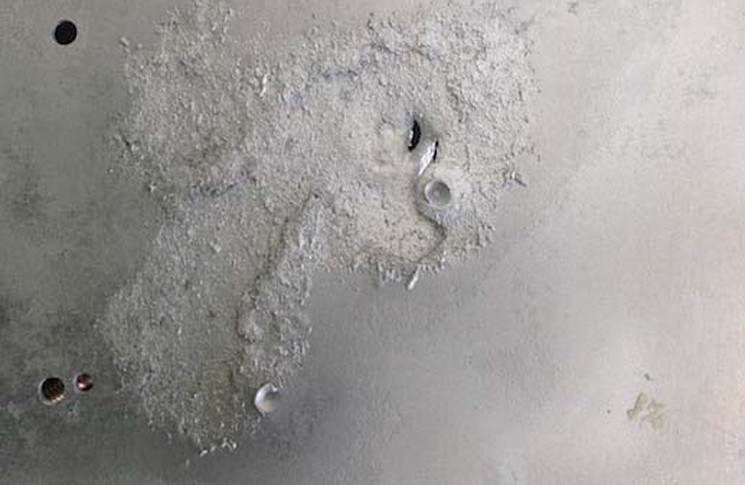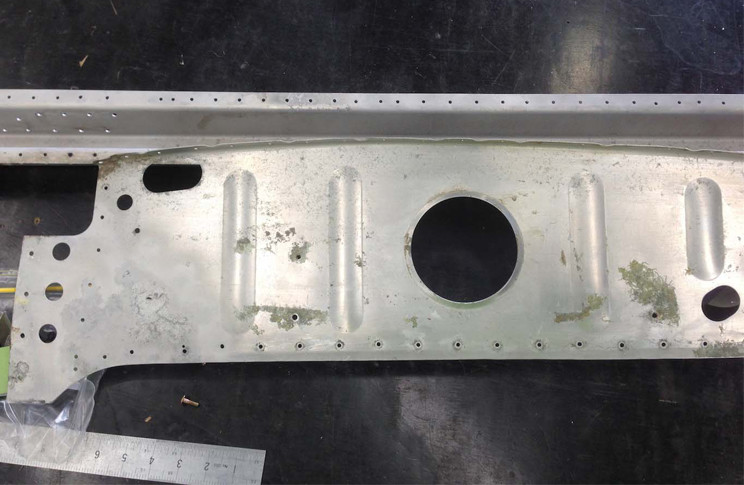 Cessna 172P fuselage frame—rib corroded. SDR 510021500 (photos above)
During SIDs inspection, LH door fuselage rib was found corroded. Closer inspection found corrosion through over 50 % of the material. P/No: 05110373. TSN: 7123 hours
Cessna 172P fuselage wing attach fittings—spar corroded. SDR 510021501
During SIDs inspection forward fuselage carry through spar was corroded inside the channel between spar and fuselage skin. Spar was corroded more than 50 per cent through. P/No: 05111629. TSN: 7123 hours
Cessna 172P horizontal stabiliser spar/rib—spar corroded. SDR 510021502
During SIDs inspection horizontal stabiliser forward spar was found corroded at the outboard radius between spar and skin. P/No: 053200198. TSN: 7123 hours
Cessna 172P landing gear/wheel fairing—spring worn and damaged. SDR 510021498
Pitting found on undercarriage leg as a result of screw retaining undercarriage leg to fairing. P/No: 05411989AND10. TSN: 25280 hours
Cessna 172R DC generation system—alternator faulty. SDR 510021788
Pilot noted low voltage, attempted alternator reset which didn't work. Investigation revealed that the reset procedure wasn't followed correctly.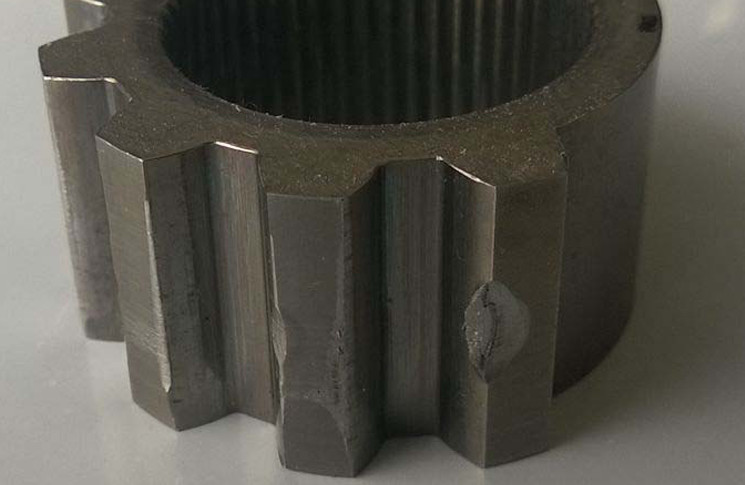 Cessna 172RG landing gear retract/extension system—actuator cracked. SDR 510021776 (photo above)
L/H main gear failed to fully retract. Investigation showed that a foreign object (possible a washer) has jammed the gear drive causing the actuator housing to crack and damaged the gear sector (part number 9882002-2). P/No: 12810012. TSN: 7258 hours
Cessna 172R landing gear/wheel fairing—fairing cracked. SDR 510021771
Aircraft landed and experienced nose wheel shimmy to such an extent that the plastic nose wheel fairing was extensively damaged. The defective fairing was removed, the wheel and nose gear steering system inspected with nil fault noted. The wheel was replaced with a serviceable spare assembly. and the aircraft was released to service. It is assumed that the fairing may have sustained damage to the scraper part of the fairing which reduced the rigidity of the fairing which then initiated the shimmy and the shimmy progressed rapidly causing the fairing to contact the tyre and break up, with the scraper part of the fairing dropping onto the runway where it was found during the runway inspection by the airport safety officer as part of his daily routine. P/No: 054307915.
Cessna 172R tire tube—tyre tube punctured. SDR 510021800
Pilot stated he may have hit a rock at on take-off. The nose tube was found punctured. P/No: 302013400. TSN: 588 hours/11 months
Cessna 172S emergency equipment system—restraint locked. SDR 510021620
RH front seat passenger seat belt unable to extend. Inertia reel mechanism locking as soon as belt in moved. P/No: 5045164018087. TSN: 1416 hours
Cessna 172S emergency equipment system—restraint locked. SDR 510021627
New belts fitted, both LH and RH belts unable to extend. P/No: 50451640180787.
Cessna 180C wing frame structure—block corroded. SDR 510021599
Rear fuselage to wing attach block found corroded (exfoliation). Defect found during SIDs inspection 53-11-01. This defect would not have been detected without removal of the wings P/No: 0512122. TSN: 7085 hours
Cessna 208B engine oil distribution (airframe) system—elbow cracked and leaking. SDR 510021607 (photo above)
Front oil pressure transfer tube PN 3103655-01 broken at the mounting allowing it to fall away and break the seal between transfer tube PN 3103654-01. P/No: 310365501.
Cessna 208B rudder structure—hinge corroded. SDR 510021570
Upper rudder hinge found with exfoliation corrosion on the upper of two plates that locate the bearing. P/No: 26310481. TSN: 1857 hours/2024 landings
Cessna 208B servicing—maintenance program incomplete entry. SDR 510021619
A service bulletin was overflown on the aircraft because it was not scheduled by CAMP systems on Cescom report which was issued as a part of the maintenance release.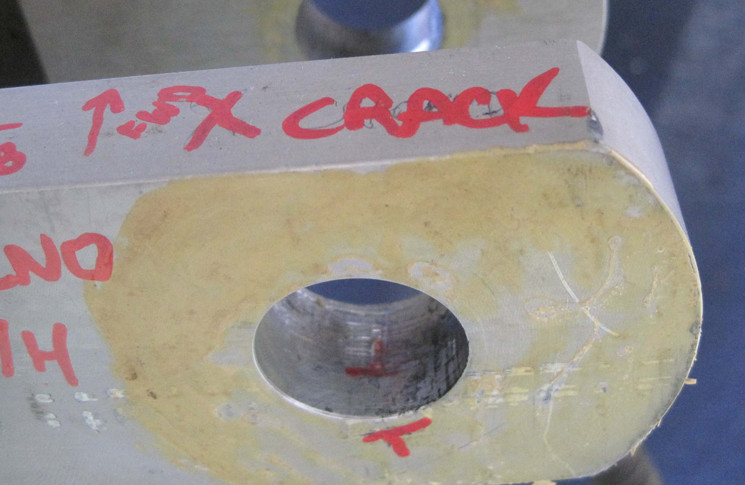 Cessna 208B Wing spar—fitting cracked. SDR 510021676 (photo above)
Crack found on rear upper attachment of R/H wing strut. This is the second time this inspection has been carried out on this fitting, the first being at approximately 5000 hours with nil defects evident. P/No: 26210082. TSN: 8395 hours/11508 cycles/13927 landings/164 months
Cessna 208 wing structure—wing damaged. SDR 510021511
Ground vehicle collided with aircraft. Starboard outer flap track, weather radar radome and lower wing skin damaged. Currently under repair.
Cessna 210 AC regulator—volt regulator unserviceable. SDR 510021485
During cruise, ammeter spontaneously indicated high charge coinciding with a smell. Voltage regulator found unserviceable. Item replaced. P/No: C6110040101. TSN: 1006 hours/1014 landings/25 months
Cessna 210L wing attach fittings—wing strap cracked. SDR 510021639
Wing FWD attach fitting found cracked sids inspection 57-30-01. P/No: 12210302. TSN: 7091 hours
Cessna 210N nose/tail landing gear—trunnion unserviceable. SDR 510021564
Crack found in NLG trunnion fitting, in both left and right hand sides. Found IAW SID 32-20-02. P/No: 124340215. TSN: 5924 hours
Cessna 210 wing spar—spar cracked. SDR 510021625
NDI Indication detected in LH Wing Front Spar (SID 57-30-01). Indication location in hole; approx. 3 o'clock looking aft, approx. Half way through.
Cessna 310R landing gear door retract section—torque tube cracked. SDR 510021750
The main landing gear torque tubes were paint stripped and magnetic particle inspected IAW the requirements of Cessna Supplemental Inspection Document 32-10-02. P/No: 504501024LHAND504501025RH. TSN: 8113 hours
Cessna 402C fire detection system—fire detector failed. SDR 510021473
Aircraft had a fire warning on the R/H engine. The aircraft landed safely with no evidence of fire. Upon inspection it was found that the clamp holding the fire detector had broken putting stress upon the detector. The detector broke in two causing the indication fault.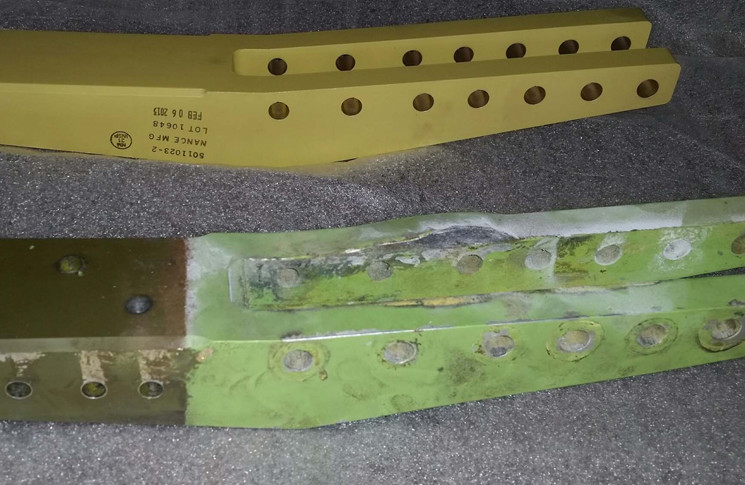 Cessna 402C wing frame structure—fitting corroded. SDR 510021862 (photo above)
The R/H upper wing fitting found corroded at the wing type B inspection, this is a 1200 hr inspection. (R/H upper rear wing fitting). This was caused by exfoliation corrosion. The corrosion had started on the inner top surface, this surface butts up with the top spar cap and is not visible at normal inspection. The corrosion then progressed to the front top surface where it was visible. P/No: 50110232. TSN: 16268 hours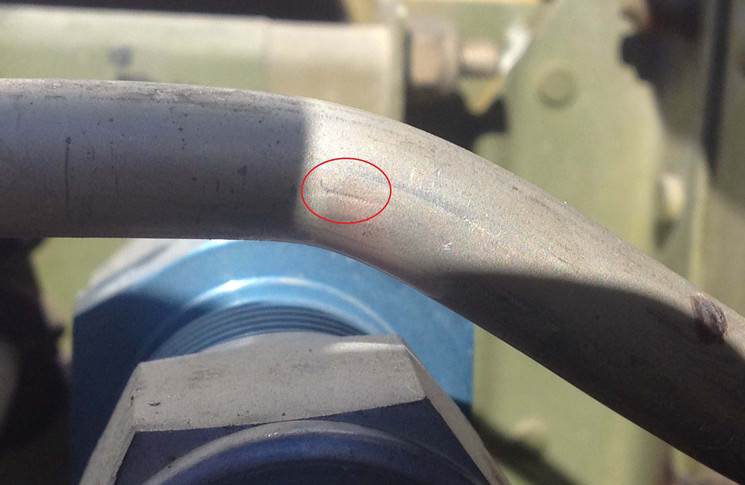 Cessna 441 hydraulic power system—hydraulic line cracked and leaking. SDR 510021653 (photo above)
Hydraulic leak observed on left hand wing in post flight inspection. Rigid hydraulic line from tee to reservoir found cracked. Line repaired. P/No: 572700241.
Cessna 441 hydraulic power system—hydraulic line split. SDR 510021756
Upon selection of gear down the gear did not extend, both low flow lights illuminated and the hydraulic pressure light didn't illuminate. The gear was extended using the emergency blowdown. The hydraulic pressure line (Cessna 441 IPC 29-10-00-01-121/077A) from the RH wing root canted rib to RH nacelle was found split on the corner at the outboard (nacelle) end. The line was replaced, post emergency extension checks carried out & the aircraft returned to service. The hydraulic line has accrued 347 hours since the last Phase 8 (600 hourly hydraulic system pressure test). P/No: 572700223.
Cessna 441 passenger/crew doors—door frame cracked. SDR 510021472
During routine maintenance an inspection was carried out on the passenger door. Inspection revealed two significant cracks on the main structural beam of the door. Part 21 provider suspects cause to be foot loads during airstair door usage. Approved repair is being carried out. P/No: 57111685.
Cessna 441 rudder control system—pin worn. SDR 510021603
The rudder trim had slid down about an inch and Stopped the lock being fitted. Further inspection showed that the pin had worked past the locking pin which was still in place but showed significant wear. P/No: 513301515.
Cessna 441 wheel—wheel cracked. SDR 510021578
Eddy current inspection detected crack in the outboard wheel half. P/No: 40169.
Cessna 501 horizontal stabilizer plates/skin—skin disbonded. SDR 510021598
Bondcheck carried out on suspected disbonded areas on LH & RH lower horizontal stabiliser skins. Disbonds exceeding requirements of NDTM Pt 4 55-10-01 C (3) found on both LH & RH lower skins.
Cessna A152 fuselage structure—rib cracked. SDR 510021633
RH wing inboard nose rib found cracked in upper corner. P/No: 0523107. TSN: 22876 hours.
Cessna A152 horizontal stabiliser spar/rib—spar cracked. SDR 510021562
LH Spar found cracked adjacent to vert stab attach bracket. Found IAW SID 55-11-02. P/No: 043200156. TSN: 22876 hours.
Cessna A152 Horizontal stabiliser spar/rib—spar cracked. SDR 510021803
RH spar upper flange cracked adjacent to vertical stab RH attach bracket. Crack length approx. 22mm. P/No: 043200156. TSN: 21708 hours.
Cessna A152 horizontal stabiliser spar/rib—spar strap cracked. SDR 510021839
Spar reinforcement cracked adjacent to vertical stab. Attach bracket bolt holes. Crack length 8 mm. P/No: 043200115. TSN: 21708 hours.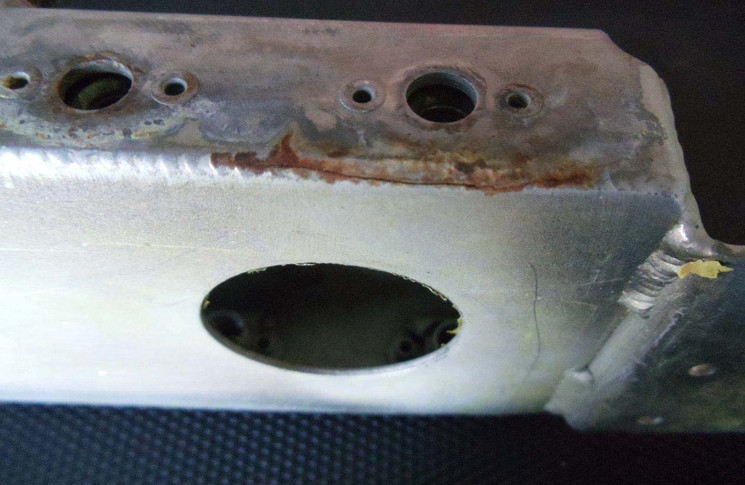 Cessna A152 horizontal stabiliser structure—bracket cracked. SDR 510021804 (photo above)
Upper surface cracked at two locations adjacent to o/b vertical fin attach bracket anchor nuts. Cracks approx. 25mm long. P/No: 04320049. TSN: 21708 hours
Cessna A152 main landing gear—MLG leg worn. SDR 510021565
Screw tip used to attach to fairings caused pitting in spring leg (RH and LH side). Found IAW Cessna SIDs. P/No: 0412125AND6. TSN: 22876 hours.
Cessna TU206G fuselage structure—aircraft damaged. SDR 510021546
Pilot reduced power too early on short causing aircraft to stall and impact runway heavily. NLG collapse followed by propeller strike. Engine, propeller and airframe significantly damaged.
Cessna U206F elevator control system—link rod corroded. SDR 510021666
Corrosion hole found in elevator trim tab link rod. P/No: 12600658. TSN: 17850 hours.
Cessna U206G landing gear steering system—steering system broken. SDR 510021735
Steering bungee rod end that attaches to the rudder bar and the rudder trim sprocket, snapped off 1/4″ rear of the bungee end. P/No: 12606311.
De Havilland DH82A wing spar—spar deteriorated. SDR 510021637
Dis-bonding of the grain structure adjacent to the inter-plane strut attach point. Spar removed and new spar fitted IAW DH82A maintenance and repair manual. P/No: H34357. TSN: 2957 hours
De Havilland DHC6300 brake—brake caliper cracked. SDR 510021719
Utilising fluorescent penetrant inspection a 4 mm crack was detected in one of the piston housing cylinder bores. P/No: 266230.
Diamond DA40 rudder control system—rudder system incorrect part. SDR 510021860
Two Diamond DA40 aircraft were released to service with the incorrect part number rudder pedal 'S' tubes installed due to incorrect information supplied by the OEM Illustrated Parts Catalogue. Aircraft manufacturer confirmed that the DA40 Illustrated parts catalogue does not contain the correct part number for the rudder pedals being requested. Diamond Aircraft have advised that a manual change request was submitted through their Airworthiness Department to amend the DA40 IPC. Aircraft rudder pedal 'S' tubes have been changed. P/No: 2227231100AND2227231200.
Diamond DA42 Landing gear retract/extension system—hose leaking. SDR 510021749
Small hole in NLG retract hose. P/No: 12404GG3700. TSN: 4040 hours/101 months
Diamond DA42 Landing gear wiring—microswitch failed. SDR 510021573
No nose gear green light after gear extension. Down position microswitch failed internally. P/No: 1SE1. TSN: 4509 hours
Diamond DA42 Landing gear wiring—microswitch faulty. SDR 510021747
NLG Green down light coming on before gear down and locked. Investigation revealed short circuited microswitch. P/No: 1SE1. TSN: 4307 hours
Diamond DA42 landing gear wiring—microswitch faulty. SDR 510021748
No NLG down light on approach. Found faulty NLG microswitch which was fitted new only 34 hrs before. P/No: 1SE1. TSN: 34 hours.
Embraer EMB-500 trailing edge flap actuator—actuator unserviceable. SDR 510021487
L/H flap inner actuator found stuck in the fully extended position. L/H flap actuator replaced. P/No: 6094A000105. TSN: 1476 hours/1425 landings
Grob G115C2 power lever—arm cracked. SDR 510021683
Throttle pump arm found cracked at base of lever. P/No: 155160.
Grob G115C2 power lever—arm cracked. SDR 510021684
Throttle pump arm found cracked at base of lever. P/No: 155160.
Gulfstream G73AT auxiliary gear (tail skid)—float corroded. SDR 510021741
During scheduled maintenance the float was separated from the pylon and the corrosion on the float spine was evident. This area is not visible with the float attached to the pylon. The spine is being replaced with a new item and the 800 hour inspection being carried out as scheduled. P/No: 108205. TSO: 790 hours/21 months
Gulfstream G73AT wing structure—fuel tank corroded and leaking. SDR 510021720
Fuel seep from LH inboard wing area was traced to internal corrosion. Suspect microbial infection (Cladosporium Resinae) as the cause.
Kavanagh B400 miscellaneous hardware—load frame cracked. SDR 510021737
Small crack found at front right hand inner T-section of load frame. P/No: LF115. TSN: 2661 hours.
Pacific Aerospace 750XL aileron control system—bracket corroded. SDR 510021655
Aileron control lever bracket P/N 11-24046-1 contained inter-granular corrosion to approximately 1/2 material thickness. Bracket replaced with new part. P/No: 11240461. TSN: 6300 hours/108 months.
Pacific Aerospace 750XL wing control surface attach fittings—fitting corroded. SDR 510021656
R/H wing aileron attachment bracket had inter-granular corrosion around aileron bearing. Bracket replaced with new part. P/No: 11205861. TSN: 6300 hours/108 months.
Pilatus PC12 indicating/recording system—sensor cracked. SDR 510021765
Fluctuating current indications on GEN2 display of E.I.S. Fault rectified after current sensor change. P/No: 5245212720.
Piper PA28160 wing rib/bulkhead—bulkhead cracked. SDR 510021651
Pilot step was found to be flexing. Investigation revealed the step bulkhead just aft of the baggage door had a crack approximately three inches long.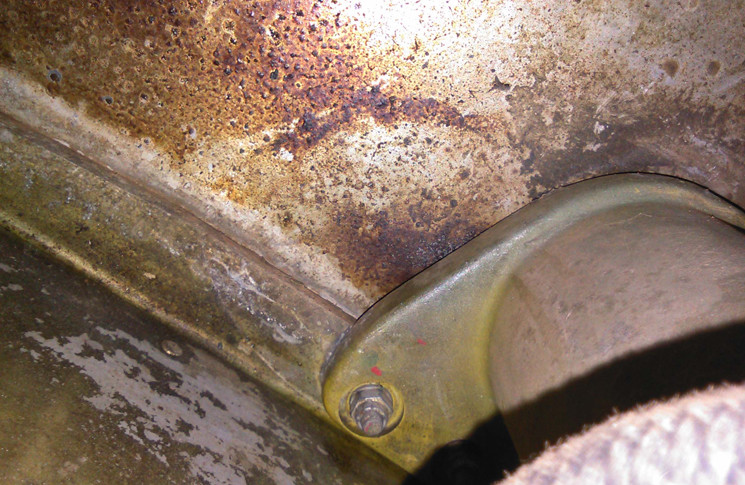 Piper PA28160 wing spar—spar corroded. SDR 510021650 (photo above)
Exfoliation corrosion found in both wing spars just outboard of the MLG upper bracket.
Piper PA28R180 landing gear system—landing gear corroded. SDR 510021837
Aircraft descending to land, pilot selected gear down and undercarriage failed to deploy. Emergency gear down system selected and failed to operate also. Whilst in the circuit area the undercarriage deployed to the down and locked position and the pilot was able to land safely. Aircraft placed on jacks and inspected. Hydraulic reservoir found empty, reservoir filled and retractions carried out. L/H MLG hydraulic actuator found leaking, flexible hoses at actuator also found leaking. On closer examination the actuator shaft found pitted. The emergency gear down handle found extremely difficult to operate. System inspected and pitot head for bellows found to be blocked with insects and insect nests. Contamination removed from pitot head. Operation of emergency gear down handle now satisfactory and bellows responding correctly. P/No: SFA2321AND63901216390130.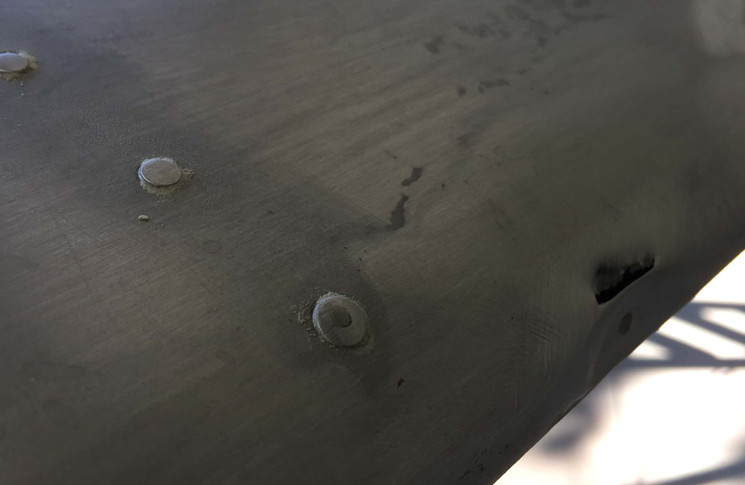 Piper PA31350 horizontal stabiliser plates/skin—skin damaged. SDR 510021736 (photo above)
Left and right horizontal stabilizer leading edge skins had several large dents and holes/splits. Damage had not been repaired, just filled over with body filler and leading edge tape. Larger holes had fiberglass mat repairs. P/No: 4015514AND4015515. TSN: 19923 hours/450 months
Piper PA31 electrical power system—connector loose wiring. SDR 510021587
Both alternators failed in flight, traced to a loose connector toward the bottom of the circuit breaker panel. The loose connector showed signs of arcing as suggested in AC 21-99 section 2, chapter 17—Aged Aircraft Wiring.
Piper PA31 leading edge devices—stall strip missing. SDR 510021822
R/H wing outboard Stall Strip P/N 44275-004 was found missing, mounting holes in wing looked like strip had not been fitted for considerable time. P/No: 44275004.
Piper PA44180 fuel selector/shutoff valve—selector switch seized. SDR 510021499
Right fuel selector found stuck on landing. Detents were found seized. Item replaced. This is the fourth selector to become defective at 2000 +/- 200 hours TSN. P/No: 461737. TSN: 2159 hours TSO: 2159 hours.
Piper PA44180 fuselage structure—skin cracked. SDR 510021611
During a routine 100 hourly inspection it was noted that the hydraulic pump could be moved by hand with little force. An inspection found the structure that the pump attached to (fuselage skin) was cracked. It is an extremely difficult area to inspect even with a torch and mirror therefore pump removal is required to be sure. P/No: 86480003. TSN: 6530 hours/7598 landings.
Piper PA44180 fuselage structure—skin cracked. SDR 510021612
During a routine 100 Hourly Inspection it was noted that the hydraulic pump could be moved by hand with little force. An inspection found the structure that the pump attached to (fuselage skin) was cracked. It is an extremely difficult area to inspect even with a torch and mirror therefore pump removal is required to be sure. P/No: 86480003. TSN: 8885 hours/13913 landings.
Piper PA44180 wing attach fittings—aileron corroded and frayed. SDR 510021510
During 100 hour inspection, RH OB aileron attach bracket found exfoliating. Bracket replaced. P/No: 86557003. TSN: 2135 hours
Swearingen SA227DC aileron tab structure—trim tab damaged. SDR 510021663
LH wing stuck by wing of another aircraft , approximately 30 cm inwards from wing tip. Damage observed on trailing edge trim tab. Small bent section.
Swearingen SA227DC hydraulic system main—hose unserviceable. SDR 510021514
RH Hydraulic system failed. Main hydraulic pressure line from RH engine pump failed causing loss of fluid. Suspect chafing of hose on another hose fitting. LH engine was found with the same hose arrangement and potential chafing. Cushion clamp installed to prevent chafing in future. P/No: BT171F0016CR0441.
WACO YMF wing structure—wire broken. SDR 510021807
Flying wire broke in flight. P/No: C119625. TSN: 25 hours
WSK PZLM18A wing attach fittings—fitting cracked. SDR 510021626
During inspection IAW AD/PZL/5 noticed indication of cracking on R/H wing rear fitting.