Continental GTSIO520M engine fuel distribution—injector line unserviceable. SDR 510021617
During inspection in accordance with AD/CON/60, two injector lines were discovered rubbing against each other. Replacement lines are required. P/No: 5100108124.
Continental GTSIO520M reciprocating engine internal oil system—oil filter contam-metal. SDR 510021669
Engineers tasked with carrying out an oil changes @ 25 hours post installation on a brand new engine reported abnormal amounts of metal in the oil filter. It was further found the end play in the propeller shaft of 0.070″ of an inch. The inservice limit is 0.020″.
Continental TSIO360KB engine fuel and control—linkage incorrect rigged. SDR 510021694
During annual inspection following serious defects noted: 1) Throttle cable clamp moving instead of inner cable. 2) Exhaust gas large, leak direct on fuel lines. 3) Fuel pressure line leaking
Continental TSIO520E reciprocating engine internal oil system—oil filter contaminated-metal. SDR 510021527
Take-off aborted due to low power output. Metal contamination found in the oil filter. Investigation continuing.
Engine starter—starter motor unserviceable. SDR 510021679
During an engine change, it was noticed that the starter motor was loose on its housing. The motor is bolted onto the housing with two small bolts that are perhaps not adequate, or have been over torqued/stretched at manufacture. P/No: 149NL. TSN: 289 hours.
Engine starter—starter motor unserviceable. SDR 510021680
During a 100 hourly inspection, it was noticed that the starter motor was loose on its housing. The motor is bolted onto the housing with two small bolts that are perhaps not adequate, or have been over torqued/stretched at manufacture. P/No: 149NL. TSN: 104 hours.
Lycoming IGSO480A1B6 engine fuel and control—rod end broken. SDR 510021841
Ram air control rod end found to have been 'repaired' with silicone rubber.
Lycoming IO360L2A engine reciprocating—unknown unknown. SDR 510021526
Pilot reported power loss on take-off. Multiple attempts to replicate fault unsuccessful. Aircraft tested serviceable.
Lycoming IO540AC1A5 engine fuel pump—pump unserviceable. SDR 510021548
During climb, aircraft experienced rough running. Engine driven fuel pump found unserviceable. P/No: AF15473. TSN: 831 hours/258 landings/4 months.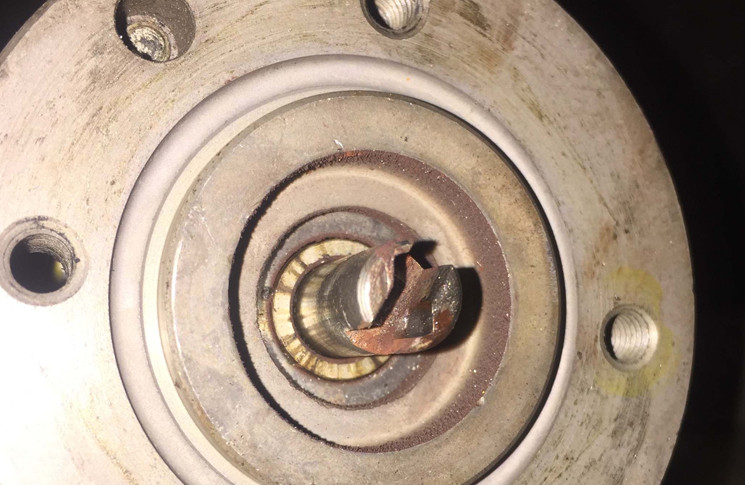 Lycoming IO540 engine fuel pump—pump worn. SDR 510021819 (photo above)
Inspection on aircraft fuel boost pump, when removed for 10 Year inspection, heavy wear found on boost pump drive shaft with possible imminent failure. P/No: A8120C.
Lycoming IO540K1A5 reciprocating engine cylinder section—bolt sheared. SDR 510021577
No. 1 Cylinder thru bolt sheared. Bolt retained for any investigation required. P/No: 76220. TSN: 1252 hours.
Lycoming IO540K1B5 reciprocating engine power section—piston burnt. SDR 510021698
Oil leak noticed after landing, engine oil level low. Engine inspection revealed No. 4 piston burned and holed. Suspect No. 4 injector partially blocked causing lean condition.
Lycoming LTIO540V2AD fuel controlling system—rod end released. SDR 510021652
Rod end for throttle cable attach to Fuel Control Unit found separated. Investigation revealed that the rotational locking collar had become enlarged allowing the collar to rotate. P/No: 469153.
Lycoming O360 engine fuel distribution—hose loose. SDR 510021478
During flight, engine began to run rough. As the pilot began to retard the throttle the engine cut out. Pilot was able to land the aircraft without incident. Engineering investigation revealed the flow divider was loose. All engine hoses were checked and tightened as necessary as a precaution. Submitter is introducing a secondary inspection for flexible hoses and engine controls to prevent further occurrences.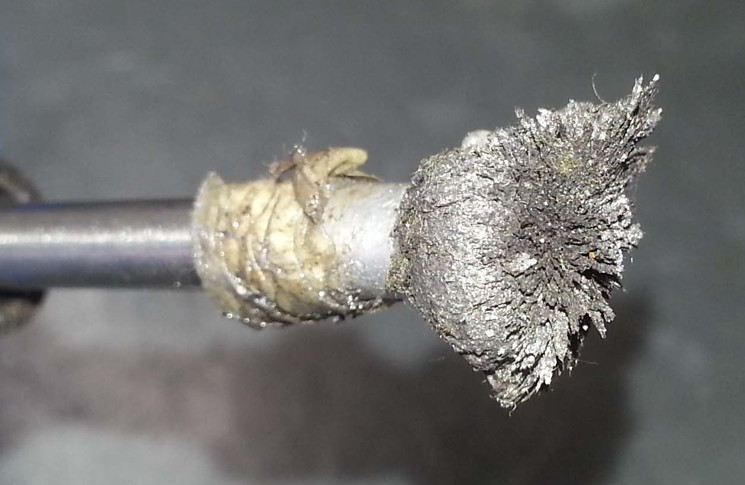 Lycoming O360 engine reciprocating—piston engine worn. SDR 510021820 (photo above)
At scheduled four month oil change ferrous metal was found in the pressure filter in quantity sufficient to ground the aircraft.
Lycoming O540B4B5 engine reciprocating—bearing cap unserviceable. SDR 510021567
During annual inspection, metal found in oil pick up screed. Bearing found failed (see attachment). P/No: 67542. TSN: 5572 hours TSO: 1688 hours
Lycoming O540F1B5 engine reciprocating—idler gear worn. SDR 510021793
Excessive amount of metal contaminants found in engine oil filter during 50 hourly/four monthly engine oil filter inspection. The LH accessory idler gear post had been working loose in the crankcase. This had led to wear on the idler post hold down stud and bolt and wear on the crankcase where the idler post sits. The associated idler gear, mag drive gear and crankshaft gear also had wear on their gear teeth due to the idler post not being rigidly located. P/No: O540F1B5. TSN: 3500 hours TSO: 1417 hours
Lycoming O540F1B5 magneto/distributor—bearing collapsed. SDR 510021623
On removal of magnetos and during magneto drive cushion replacement found LW-19096 gear retainer assembly had excessive play. On further investigation found 67542 Magneto drive coupling bearing had collapsed. Drive coupling bearing was removed and found ball bearing cages had broken allowing bearing to collapse. P/No: 67542.
Lycoming O540F1B5 magneto/distributor—washer worn. SDR 510021554
Shim washer found worn during routine inspection of magneto.
Lycoming TIO540J2BD reciprocating engine cylinder section—exhaust valve worn. SDR 510021799
During LH engine periodic all valve train components were checked for integrity. Exhaust valve was noted as having a clicking sound. All six cylinders removed and repaired, new exhaust valve were fitted as well as collets. P/No: 17B23935. TSN: 482 hours
Lycoming TIO540J2BD reciprocating engine cylinder section—inlet valve failed. SDR 510021809
Vibrations from L/H engine, normal oil temp and press, with rapidly decreasing CHT and lower EGT. A preliminary investigation noted the catastrophic failure of intake valve of cylinder No. 6 of L/H engine. Dis of the affected cylinder revealed a failure of the intake valve stem originating from the valve key groove resulting in the valve remaining in the valve guide with piston to valve contact. P/No: 05K21108. TSN: 313 hours
Rotax ROTAX912 Engine fuel and control—fuel contaminated water. SDR 510021708
On climb, engine ran rough momentarily, On ground extended runs unable to replicate. Inspection found water droplets in fuel bowls. Suspect extended ground operation prior to take-off due to location of operations base coupled with poor quality fuel leading to carburettor ice formation.
Unknown—unknown model—fuel injector nozzle—fuel injection system faulty manufacturer. SDR 510021711
On removal of strainer a frayed filter strand was found at the filter mesh overlap. Precision Fuel Servo strainers are soldered along the mesh overlap but Avstar strainers are not. P/No: AV2537608.