Bell 412 rotorcraft tail boom—tail rotor corroded. SDR 510021524
During major inspection, tail rotor drive-shaft cover found corroded. Part replaced. P/No: 212030137015. TSN: 3265 hours/7509 cycles.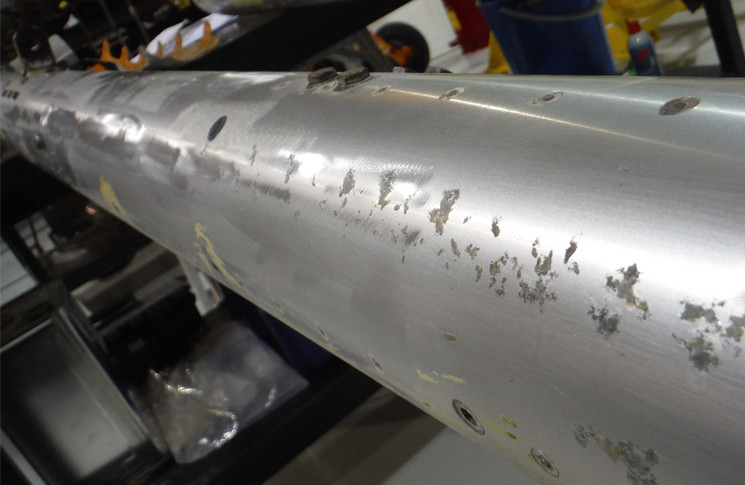 Bell 412 wheel—skid tube corroded. SDR 510021523 (photo above)
During inspection, pitting corrosion was found in the skid tube. Part replaced. P/No: 412320124. TSN: 3248 hours/13785 cycles
Bell 429 tail rotor control system—pitch link worn and damaged. SDR 510021585
Green tail rotor pitch change link found worn. It appears that the Teflon liner had disintegrated. Bearing failure also damaged blade's pitch change horn. During repair work, radial bearing play was discovered on the other pitch link which was unable to be discovered while the link was installed. P/No: 429012112103. TSN: 334 hours
Eurocopter AS350B2 hydraulic power system—hose leaking. SDR 510021745
Hydraulic fluid leak was found by pilot on pre-flight. Upon investigation it was found that fluid was leaking from a hose coming off the filter assembly. Eurocopter Information Notice 2506-I-29 talks about the possibility of these hoses leaking. The leaking hose was replaced with a Gen 3 type (post mod 074686). P/No: 704A34412271. TSN: 544 hours/26 months.
Eurocopter AS355N fuselage plates/skin—skin corroded. SDR 510021513
During compliance with Airbus Helicopters SB AS355-05.00.72 Rev 0 level 2 corrosion was found between the stainless steel plate and the LH and RH skin panels of rear structure. OEM approached for corrosion repair. P/No: 350A211022127350A211022128. TSN: 8670 hours/12444 cycles.
Eurocopter AS355N fuselage plates/skin—skin corroded. SDR 510021521
Corrosion found in LH and RH rear structure skins IAW SB AS355-05.00.72 Rev 0. OEM to replace skin. P/No: Not available level repair. TSN: 8670 hours/12444 cycles.
Eurocopter BK117C1 tail rotor gearbox—gearbox contaminated. SDR 510021859
IGB/TGB chip light illuminated in flight. Debris confirmed, plug cleaned, oil drained/replaced. P/No: 4639003007. TSN: 3540 hours TSO: 3540 hours.
Eurocopter EC225LP DC rectifier/converter—capacitor failed. SDR 510021543
TRU failed emitting heavy smoke. Internal capcitor was found ruptured. Operator is undertaking a fleet check and removing all affected TRUs from service. P/No: Unknown.
Eurocopter EC225LP pitot/static system—pitot head blocked. SDR 510021690
During the pre-flight walk-around the aircrew noticed a foreign object in the right-hand pitot tube. P/No: C14168BA. TSN: 2880 hours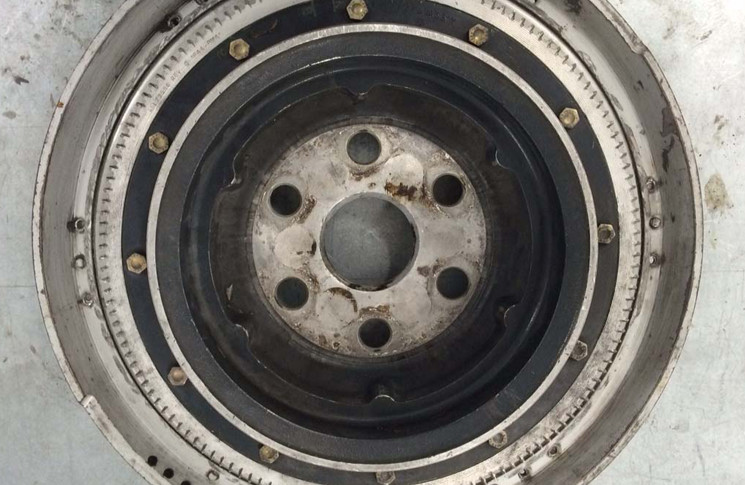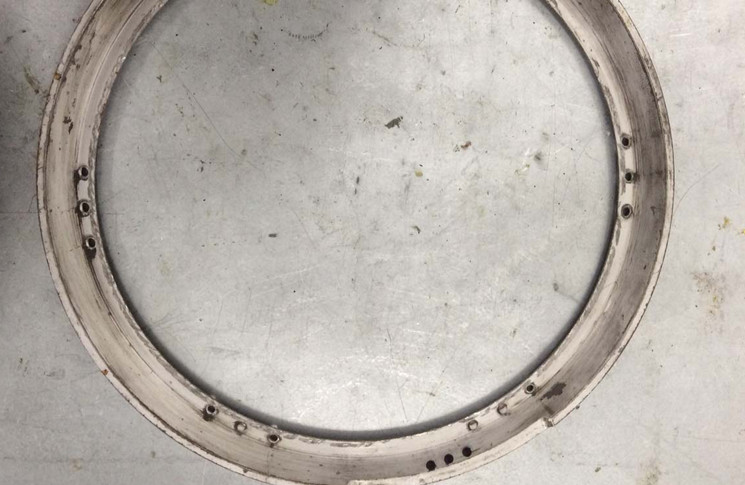 Hughes 269C Rotorcraft cooling fan system—impeller failed. SDR 510021824 (photos above)
Impeller fly weight detached from the impeller. All rivets had sheared and ring was loose in scroll assembly. P/No: 269A8527.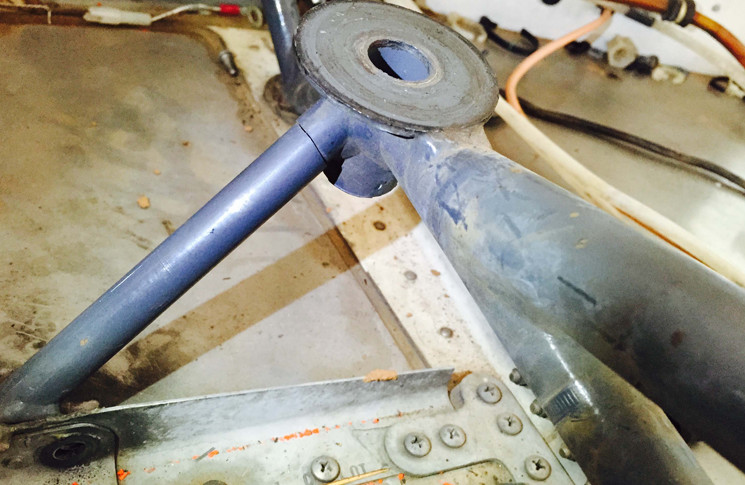 Robinson R22BETA fuselage structure—frame cracked. SDR 510021821 (photo above)
While disassembling the aircraft in accordance with Robinson R22 2200 hourly inspection, the upper welded frame was found to be cracked/broken all the way through in one place. The break was located on the central support for the aft right hand main rotor transmission mount. It was found that the location of the wiring loom may have increased the difficulty to inspect this part of the frame during scheduled inspections. P/No: A0202. TSN: 4399 hours TSO: 2200 hours.
Robinson R22 rotorcraft cooling fan system—fan unserviceable. SDR 510021606
Pilot reported loud bang followed by increased vibration. Pilot inspection found fan wheel disconnected from engine. P/No: A0075. TSO: 400 hours
Robinson R44 engine air intake system—filter unserviceable. SDR 510021486
During scheduled maintenance, air filter cover was found cracked around circumference. P/No: D7373. TSN: 361 hours.
Robinson R44 engine collector/tailpipe/nozzle—collector damaged. SDR 510021576
During 100 hourly, hole found in RH collector at the muffler to collector join. P/No: C1696. TSN: 828 hours.
Sikorsky S76A main rotor control—collective stick binding. SDR 510021710
Taking off the pilot noticed that the collective was binding. Take-off rejected.
Sikorsky S76C main rotor control—bolt unserviceable. SDR 510021649
Main rotor servo stop pin found loose due to wear on retaining bolt. P/No: MS958314. TSN: 13027 hours/67689 cycles TSO: 2195 hours