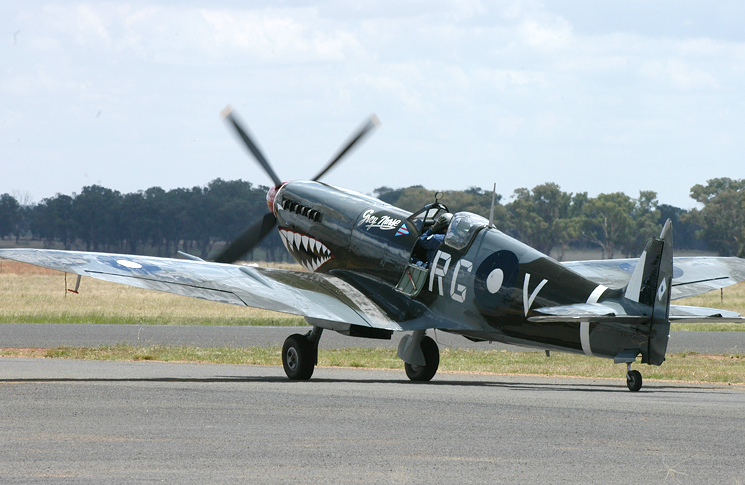 There will be plenty of aerial action at Warbirds Downunder 2015, with most of the Temora Aviation Museum's aircraft collection taking to the skies, along with many visiting aircraft.
The show has expanded this year to include an evening air show on Friday 20 November as well as a full day air show on Saturday 21 November.
The RAAF have confirmed major support for the event with a wide selection of aircraft from one of the earliest forms of aviation—a hot air balloon— to the most advanced and cutting edge technology in the world, the E-7A Wedgetail.  The RAAF will also send two F/A 18 Hornets, a CT4, Winjeel, C130J transport, C-17 Transport, a King Air VIP aircraft and of course the famous Roulettes precision aerobatic team.  Also flying this year will be a number of aircraft from World War II such as the CAC Wirraway, Mark XVI and VIII Spitfires, P40 Kittyhawks, the Boomerang and a Harvard.  Topping it off will be a variety of ex-military and antique aircraft from around Australia.
As the Australian Warbirds Association Limited (AWAL) explains, the major difference between civil and an ex-military aircraft is that very few of the latter have full certification, meaning they cannot be used for normal civil operations, privately or commercially.
The majority of ex-military aircraft it must be placed in the Limited Category. This category is designed to allow the aircraft to be displayed at air shows, to transit between them, to conduct training and currency flights and in some cases to conduct paid adventure flights where you can pay for a flight in one of these ex-military aircraft.
Many visitors to Temora will be flying in for the event—especially with AWAL holding their annual fly-in and annual general meeting from 18-20 November, immediately before Warbirds Downunder.  To cater for the influx of visiting aircraft as well as the arrival of those that are part of the air show program, special arrival, departure and parking procedures will be implemented.
Anyone intending to fly to Temora for the event should download details of the special arrangements and also visit the Temora Aviation Museum or the AWAL website.