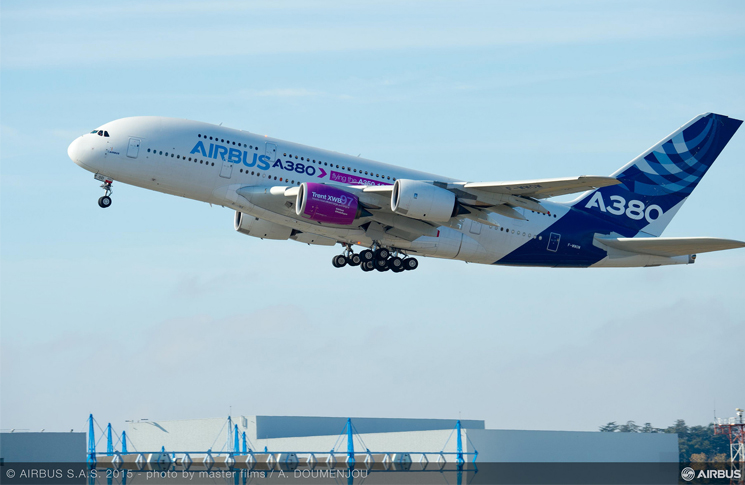 Rolls-Royce has used 3D printing to create the latest version of the massive Trent turbofan engine. The Trent XWB97 took to the air for the first time last week on the wing of an Airbus A380, test flown from Toulouse, France.
The British engine maker said the test flight on 5 November, 'marked the first flight of the world's largest 3D printed aero engine structure.'
The Trent XWB-97 uses several 3D printed aerofoils in the engine's front bearing housing. Rolls-Royce says these aerofoils are the largest 3D printed parts ever incorporated into a jet engine and were manufactured with a process co-developed with the University of Sheffield.
Rolls-Royce says 3D printing offers the ability to make development and design faster and less expensive, and allows for more experimentation and prototyping. It says using 3D printed components in the Trent XWB-97 reduced the time required to produce the aerofoils by a third.
The Trent XWB-97 engine is named for its thrust—97,000 pounds (44,000 kg). It was developed as the powerplant for the Airbus A350-1000, a stretched version of the A350 that is planned to carry 366 passengers over 8000 nm (14,800 km). The next milestone for the engine will be flight on an A350-1000, before that aircraft enters service in 2017.
Flight Safety Australia analysed and explained 3D printing in its March-April 2015 issue.