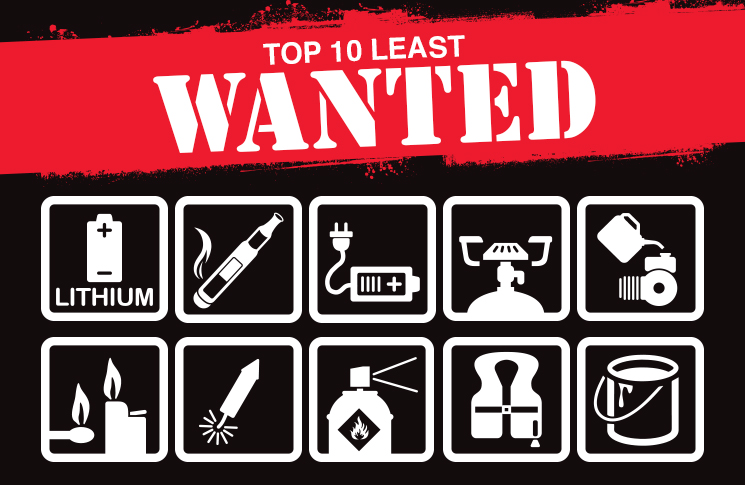 Australia's aviation safety regulator has named lithium batteries as the 'Least Wanted' dangerous good for the second consecutive year.
The list, released annually by the Civil Aviation Safety Authority (CASA), reflects the top ten most dangerous goods carried by passengers in Australian skies.
Lithium batteries remain the most problematic dangerous good due to their common use in electrical goods and for their propensity to short-circuit and catch fire if damaged or not carried correctly.
Numerous occurrences of undeclared spare batteries igniting on both passenger and cargo flights have led to serious accidents, including this one, as reported by Flight Safety Australia last year.
It's for this reason that all spare batteries not contained within equipment must be in carry-on luggage with their terminals protected. CASA stresses at no point are spare batteries—regardless of size—allowed in checked luggage.
Shippers of cargo are also required to declare all dangerous goods, including lithium batteries, so they can be handled and shipped accordingly.
Electronic cigarettes and portable power packs—both powered by lithium batteries—made the list for the first time, being named at second and third respectively.
The inclusion of e-cigarettes follows multiple international incidents over the last year, including a fire inside the luggage hold of a passenger jet at Boston airport. It's believed an e-cigarette packed in the side pocket of a passenger's bag activated when it was pressed against another bag.
Another incident resulted in a passenger's handbag melting as she walked through an airport terminal after a domestic flight in the United States.
For this reason that the International Civil Aviation Organization (ICAO) modified its technical instructions in June, prohibiting passengers and crew from carrying e-cigarettes and other battery-powered portable electronic smoking devices in checked luggage.
The amendment also prohibited recharging these devices in aircraft cabins as a significant number of e-cigarette fires—not necessarily on aircraft—occurred whilst the devices were being recharged.
Portable power packs and power storage devices also made the list for the first time due to their often unregulated and dubious manufacturing standards. These devices can range in power from being able to recharge mobile phones through to packing enough power to jump-start a car.
The full 'Top Ten Least Wanted' dangerous goods list for 2015, as released by CASA yesterday are:
To help educate the travelling public about the dangers associated with these items, CASA released the 'Can I pack that?' Dangerous Goods App last year, helping inform passengers on what they can and can't pack in their luggage. And—if it can be brought aboard—guide them on how to do it safely.
CASA has also created a 'Battery Safety' webpage detailing the different safety issues that batteries can pose to aviation safety, covering issues such as battery health and what to look out for when buying batteries online.
Lithium batteries were named 'Least Wanted' in 2014, with CASA producing the below informative video to help inform travellers how to carry lithium batteries safely in their luggage.