Wheel bolt sheared. SDR 510021877
Main wheel and tyre assembly was inducted for maintenance as a routine tyre exchange, during inspection it was observed that the head of a tie bolt located in the 3 o'clock position had sheared off. A visual inspection of the inboard wheel half hub revealed that no damage had been caused by the missing piece of the tie bolt. The tie bolts adjacent the damaged tie bolt were removed, cleaned, visually and NDT (MPI) inspected. No defects detected. Both tie bolts to be discarded as per Honeywell CMM 32-40-14. P/No: 277A6000204.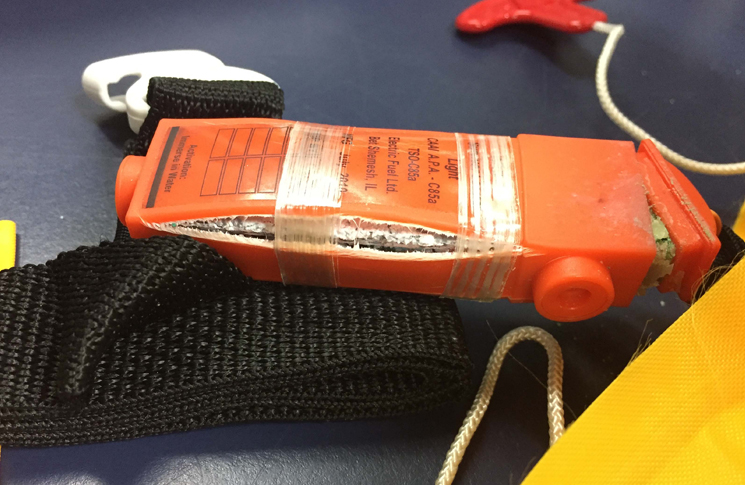 Eastern Aero Marine KSE35L8 strobe light unserviceable. SDR 510022034 (photo above)
Battery has expanded rendering the light unserviceable. This has occurred in all of the life jackets from this aircraft, which were inspected on reaching their expiry date. P/No: WABH18.
Vacuum fitting leaking. SDR 510021899
During testing of escape slide, the R/H side lower vacuum fitting failed. P/No: 7A146914.
Life jacket damaged. SDR 510021915
Life jacket failure occurred while donning the jacket in a normal manner, the wires on the battery pack pulled out of the battery pack, rendering the light fitted to the jacket inoperative. Investigation ongoing. P/No: SMA2150.
Life raft incorrect rigged. SDR 510021927
During induction into maintenance organisation it was noted that the life raft was packed incorrectly. After consultation it was concluded that it would probably not have inflated in an emergency situation. P/No: 69FASA6311702.