An Australian company is working with Boeing and America's Delta Airlines to develop a vacuum-based structural health monitoring system.
Delta has received approval for an in-flight commercial test program of comparative vacuum monitoring technology (CVM), developed by Perth-based Structural Monitoring Systems (SMS).
The company says CVM is the world's only commercially approved technology for on-aircraft application involving cracking, and related structural fatigue. It uses sensors consisting of tubes, which are alternately vacuum filled or filled with air at ambient pressure. If a crack develops, air will flow through the passage created from the atmosphere to the vacuum galleries. Sensors may either take the form of self-adhesive polymer sensors or may form part of an aircraft component.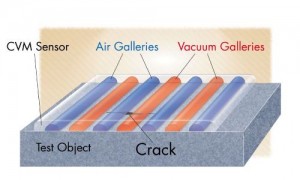 In December, the US Federal Aviation Administration and Boeing granted SMS and Delta approval to use CVM as 'an alternate maintenance program to conventional inspections'. The airline had held a trial with CVM on a Boeing 737-NG.
SMS says it looking at licensing CVM technology to aircraft manufacturers for 'future integration into aircraft structures.'
'The long-term iteration for our technology will be to have the [manufacturers] delivering new aircraft with structural health monitoring systems installed at the point of sale,' SMS managing director Toby Chandler told The Sydney Morning Herald.
More information is available on the SMS website.