Agusta Bell 412 attitude and direction data system—ADF suspect faulty. SDR 510022496
After start up, a small amount of smoke was observed emanating from the ADF control box. ADF circuit breaker popped and the smoke ceased.
Agusta Westland AW139 nose/tail landing gear—NLG faulty. SDR 510022472
During climb the landing gear failed to retract on demand. After landing the aircraft nose landing gear was inspected. The nose landing gear scissors were found secured a blue nylon strap. Preliminary investigations with the maintenance organisation at which the aircraft was located identified that the nose gear was secured in a compressed manner to expedite the reweigh process. The strap was not removed on completion of the reweigh. No damage was observed as a result. Due to the strap the nose gear would not extend and centre, thereby prohibiting the retraction process.
Bell 206B fuselage bulkhead—bulkhead cracked. SDR 510022335
During a scheduled inspection, some corrosion and a crack were noted on the bulkhead behind the rear hat rack, RHS. The paint around the corrosion and crack was removed. Bell were consulted for a suitable repair scheme. They do not have a repair in their SRM for this situation. Bell's suggestion was to change the entire bulkhead assembly. Hawker Pacific were consulted to assess for an EO to repair the crack and corrosion. This is ongoing. P/No: 206031107117H. TSN: 18668 hours
Bell 412 equipment/furnishing system—rescue hoist faulty. SDR 510022554
During testing of the hoist in accordance with SB 44301-10-18 and EASA AD 2015-0226, the hoist failed to reach the minimum clutch slip load. Hoist removed and sent to manufacturer for replacement. P/No: 42325121. TSN: 2371 hours/4398 cycles
Bell 412 fuselage structure—cap cracked. SDR 510022271
During daily inspection a crack was noticed around the tailboom attachment bolt located in the rear of fuselage. The crack was approx. 15 cm in length. Aircraft grounded and OEM consulted. P/No: 212030191001. TSN: 9423 hours/18667 cycles
Eurocopter BK117C2 equipment/furnishings wiring—wiring chafing. SDR 510022435
The hoist intermittently stopped working in either direction. This only occurred in flight and could not be replicated on the ground. After extensive troubleshooting and re-wiring, the problem was located and was 3 x 20g wires chaffing together. The location of the wires was between the hoist pendant control box located between the cockpit and cabin upper roof area and the circuit breaker panel. P/No: M227591620. TSN: 3975 hours/174 months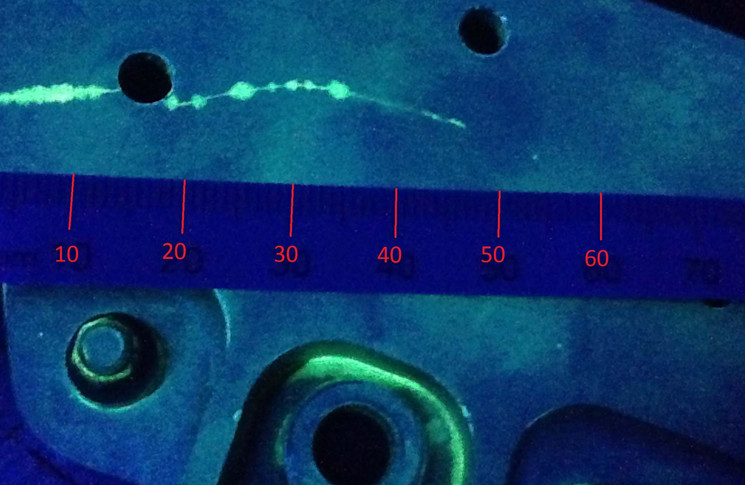 Eurocopter EC130B4 empennage structure—fitting cracked. SDR 510022379 (photo above)

During inspection the stabiliser attach fitting was inspected closely due to the manufacturer issuing a recommended SB showing similar damage to the lower right fitting. A faint visual indication was noted and an eddy current inspection showed that further cracking was present below the painted area. The manufacturer was informed and a Level D repair through modification was carried out. P/No: 350A23422320. TSN: 1200 hours
Robinson R22 engine/transmission coupling—clutch unserviceable. SDR 510022386
Upon shut down pilot report unusual vibration and growling noise coming into land. A018-2 clutch assembly removed for inspection. Rotated in hand and bearing found rough. No evidence of seals leaking. Clutch assembly disassembled for further inspection and sprag clutch found cracked. P/No: A1882. TSN: 672 hours
Sikorsky S76C central display—display unit unserviceable. SDR 510022320
During landing, smoke was detected in the cabin, emanating from beneath the L/H co-pilot IIDS screen. Aircraft made a precautionary landing. Power was cut immediately on landing and aircraft was shut down. On shut down it was noted that IIDS feed circuit breakers were popped on the DC primary circuit. Both the centre and L/H co-pilot's IIDS screen were replaced, functional test and ground runs performed with no defects noted. P/No: 94080056. TSO: 515 hours
Sikorsky S76C rotorcraft flight control—actuator unserviceable. SDR 510022426
During post flight inspection a quantity of hydraulic fluid was noticed beneath the main gearbox. During subsequent inspection and testing it was found that the lateral main rotor servo was leaking from the nut at the bottom of the servo piston. The hydraulic system fluid was quantity was partially depleted. P/No: 7825001. TSN: 10055 hours