Airbus A320-232 external power system—electrical system short circuit. SDR 510022381
During connection of ground power, bonding lead shorted across two phases, blew a pin out of the socket, produced a flash and blew a hole in the side of the fuselage next to the external power panel. External power receptacle box replacement carried out. Area around damage cleaned and inspected. No further discrepancies noted. P/No: E023201
Boeing 717-200 brake anti-skid section—hydraulic line crossed. SDR 510022304
During landing No. 3 main tyre failed 'Anti-Skid R Fail' alert displayed. Anti-skid brake release test carried out and No. 3 and No. 4 R/H hydraulics found to be crossed over. Further inspection c/o and R/H hydraulics No. 3 and No. 4 wheel brake pipes from the brake fuses to the swivel gland found crossed. Pipes re-routed and brake tests for No. 3 and No. 4 wheels R/H hydraulics tested serviceable.
Boeing 717-200 pneumatic distribution system—hose worn and leaking. SDR 510022481
Air system fault alert illuminated through 6000 ft. Notable pulsing heard through air system. Notable temp difference seen on systems display before fault re-occurring. Fault confirmed, filter found satisfactory, wiring checks carried out satisfactorily. Leak check carried out of fan air valve supply with hose P/No 108280-223 found leaking excessively through braid, internal hose lining failed. Replacement hose sourced and fitted, EGR and operational check carried out. P/No: 108280223
Boeing 737-319 fuselage structure—intercostal corroded. SDR 510022445
Aft cargo—intercostal found corroded at STA 967-986.5, STR 21R. Intercostal replaced. 
P/No: 654585655
Boeing 737-376 wheel—bearing failed. SDR 510022259
During taxi out, flight crew reported a grinding sound from nose gear, and returned to gate for investigation. During return, L/H nose wheel outboard bearing failed, with subsequent pressure release from both nose wheels. Single nose wheel replaced to enable tow from taxiway. Bearing failure investigation commenced. P/No: 6558256281. TSO: 1673 hours
Boeing 737-81D windshield rain/ice removal—sensor failed. SDR 510022365
The flight crew have reported left side window heat—overheat annunciator illuminated. Turned off as per NNC and then, turned on again. Remained off until 5000 ft on descent when it illuminated again. Window sensor fault confirmed. Window sensor swapped to alternate sensor and tested satisfactory. No further occurrences.
Boeing 737-8FE aileron control system—bearing binding. SDR 510022288
Crew reported while on final approach with flaps at 40 degrees, aileron binding was felt in roll control when aileron displaced approximately two to three units. Troubleshooting carried out and traced defect to the aileron centring mechanism. A cam follower bearing of the aileron centring mechanism was replaced. Aileron control wheel force test carried out satisfactory. No re-occurrences to date. P/No: BACB10A339
Boeing 737-8FE aircraft fuel distribution system—actuator failed. SDR 510022431
Flight crew reported No. 1 spar valve indication light. Inspection of CB panel found No. 1 spar valve CB tripped. CB reset and start Lever cycled, CB tripped. No. 1 spar valve actuator replaced and tested satisfactory. No previous history and no further occurrences. 
P/No: MA30A1001. TSN: 12413 hours/4676 cycles
Boeing 737-8FE APU start/ignition system—starter/generator failed. SDR 510022267
APU failed to start with APU fail light illuminating. Fault light subsequently extinguished.
Defect confirmed. No APU rotation noticed during start. Troubleshooting carried out and BITE test shows maintenance message for GEN undervoltage. APU starter generator replaced. Several APU starts attempted satisfactorily. P/No: 28B5459. TSN: 11378 hours/7808 cycles
Boeing 737-8FE cabin cooling system—TC valve failed. SDR 510022265
After start checklist, the flight crew reported master caution activated for air conditioning pack, the LH pack light illuminated on the overhead panel and indication cleared after reset. 
Troubleshooting confirmed temperature control valve at fault. LH pack temperature control valve was replaced. Operation satisfactory. P/No: 3989084. TSN: 4373 hours/1471 cycles
Boeing 737-8FE central display—display unit failed. SDR 510022524
The flight crew reported FO's inboard display unit failed. Subsequent light odour smelt throughout cabin/flight deck. Display unit replaced and tested satisfactory. On removal of unit, charred residue found at cooling exhaust. No previous history and no further occurrences. P/No: 4086850922. TSN: 38020 hours/21865 cycles
Boeing 737-8FE engine oil pressure—transmitter faulty. SDR 510022599
The flight crew reported LH engine oil quantity fluctuating more than normal. Troubleshooting traced fault to engine oil quantity transmitter. Engine oil quantity transmitter replaced. Tested satisfactory. P/No: 8TJ146CFA1. TSN: 1477 hours/512 cycles
Boeing 737-8FE fuel boost pump—pressure switch failed. SDR 510022315
Flight crew reported R/H aft fuel pump low-pressure light when pump selected on. Troubleshooting revealed faulty pressure switch. Switch replaced and tested OK. P/No: 21C1321
Boeing 737-8FE fuel quantity indicator—pitot tube contaminated. SDR 510022585
The flight crew reported No. 2 engine start/master caution and IAS disagree displayed. All pitot probes and static ports inspected. Troubleshooting suspect mud wasp nets on pilot side pitot probes. As a preventive action, pitot probe replaced. Test satisfactory. P/No: 0851HT1. TSN: 11494 hours/4284 cycles
Boeing 737-8FE landing gear brake system—brake seized. SDR 510022575
During landing roll, the flight crew reported shudder felt through brakes during deceleration. Taxiing required higher engine power than normal. No. 3 brake assembly found seized and No. 3 main wheel tyre flat spotted from brake failure. Brake and No. 3 main wheel assembly replaced. No previous history and no further occurrences. P/No: 26123121
Boeing 737-8FE landing gear position and warning system—proximity sensor failed. SDR 510022388
After take-off, flight crew reported that the NLG failed to retract on first selection. The MLG retracted on first attempt, but the NLG remained in the down and locked position. Checklist carried out with normal retraction after the landing gear was recycled. Flight concluded with no further issues. Initial PSEU data interrogated showing NLG System 1 down sensor disagree and no faults on System 2. Troubleshooting traced issue to the NLG down position sensor, which was replaced. Extension and retraction tests were completed satisfactory. P/No: 189929. TSN: 43512 hours/17692 cycles
Boeing 737-8FE trailing edge flap control system—flap delaminated. SDR 510022350
On daily inspection, delamination was noted on the LH outboard trailing edge flap. An area of approximately 12 by 14 inches was found torn away on the inboard trailing edge corner lower surface. The affected AFT flap assembly was replaced. Independent inspection carried out satisfactory. Investigation continuing. P/No: 113A370025. TSN: 14388 hours/7671 cycles
Boeing 737-8KG attitude gyro and indicating system—sensor failed. SDR 510022364
The flight crew have reported both FMC missing data intermittently. Last flight fault data flagged total air temperature probe failure. Total air temperature probe was replaced and tested satisfactory. No previous history and no further occurrences. P/No: 102AH2AG. TSN: 6350 hours/3927 510022294 510022294cycles
Boeing 747-438 hydraulic power system—tube leaking. SDR 510022346
Forty minutes after take-off, "HYD QTY LOW 4" caution message appeared. No. 4 hydraulic pump turned off. The quantity dropped further from 0.34 to 0 in approx. 20 minutes. Alternative gear extension carried out. Upon arrival, system 4 hydraulic tube found damaged and leaking at body station 1350 and middle of body gear wheel well. Damaged section of line replaced. Damage appears to be FOD related. P/No: 272U4400604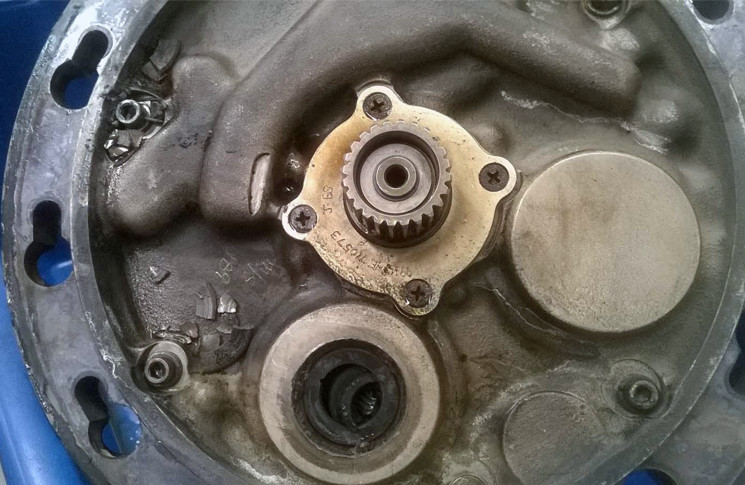 Bombardier CL604 DC generation system—IDG faulty. SDR 510022349 (photo above)
At cruise level the GEN 1 OFF CAS message was posted. Initial visual inspection of the LH integrated drive generator found the generator had lost oil and was had produced a lot of heat. There was delamination on the adjacent cowl, also bubbled paint. After removing the IDG it was observed the shaft was not sheared, but had no resistance if turned. It seemed there was an internal failure in the IDG. The failure may have been caused by a loss of oil, which then caused the IDG to overheat and fail; or something inside the IDG failed which caused an oil leak, and the IDG then overheated. P/No: 731579C
Bombardier DHC8-102 electrical power system—GCU unserviceable. SDR 510022493
Approaching top of descent, there was an abrupt loss of flight instrument functions on the captain's side and a number of caution and warning lights flickering. Loss of auto pressurisation control, FMS and EGPWS also occurred and electrical chattering was heard over the pilot's intercom. The captain contacted maintenance watch, the symptoms were consistent with the reasons outlined in Bombardier SB8-24-89, which is that this condition can occur as a result of an undervoltage condition and is rectified by replacing No. 1 DC GCU with one that now includes undervoltage protection. The SB was incorporated and aircraft released to service. P/No: 51539008C
Bombardier DHC8-402 landing gear door retract section—rod end loose. SDR 510022268
During routine inspection of nacelles, it was discovered that the rod ends of both MLG retract actuators were found to be loose. P/No: 4655027. TSN: 6210 hours TSO: 5942 hours
Convair 340 tyre—tyre punctured. SDR 510022286
During landing at the completion of a flight training dual exercise the brakes were applied before the aircraft had completely settled onto the runway causing No. 2 and No. 4 tyres to puncture. The mainwheel assemblies were replaced and the aircraft returned to service.
P/No: 39X1314PLY. TSN: 283 hours/175 landings TSO: 623 hours/274 landings
Fokker F27MK50 seat/cargo attach fittings—seat frame cracked. SDR 510022486
During scheduled inspection AD/SEATS/14 Amdt 2, engineering staff identified cracked seat assembly crossmembers at rows L4, R5, and R10. Engineering staff replaced the cracked crossmember at L4, and replaced the seat assemblies at rows R5 and R10, with the assemblies then declared serviceable. P/No: F11541300000.
Fokker F28 MK0100 autoflight system—autopilot suspect faulty. SDR 510022303
During flight, the flight crew identified that auto-pilot (AP) No. 2 was unable to be selected once the aircraft was above 500 feet, with a "No A/P Below 500" fault displayed on the multi-function display unit. Resulting investigation was unable to identify the root cause of the defect, with elevator servo motors No. 1 and No. 2 transposed for troubleshooting, operational checks carried out without fault, and the systems declared serviceable. Three similar defects reported.
Fokker F28 MK0100 engine oil pressure—transmitter unserviceable. SDR 510022352
Pilot reported low oil pressure No.1 engine, pressure was at 8-11 psi. Engineering found oil level within limits. Nil findings on engine chip detectors and main oil filter. Troubleshooting carried out per FIM. No findings. LOP switch and oil pressure transmitter changed for troubleshooting. Engine runs for oil leaks and power assurance carried out—no findings. P/No: APTE173RT175G1138PGCP115.
Fokker F28 MK0100 trailing edge flap control system—nut dislodged. SDR 510022597
During daily inspection, staff identified a nut, which was lodged between two-right hand wing, forward outboard, flap shroud doors. Subsequent investigation identified that the nut was missing from the right hand outboard, forward shroud door actuating rod, with further investigation also identifying other shroud door bolts which were not fitted correctly. Consequently a full inspection of the length of the flap system was carried out, with one further left hand inboard, actuating rod identified to be totally disconnected, and fretting on an adjacent flap torque tube, leading to the removal of the surface protection. All incorrect installations were then corrected as required, the fretted paint protection was restored, and the system was declared serviceable.
Fokker F28 MK070 emergency equipment system—battery discharged. SDR 510022357
During daily inspection, engineering staff carried out an operational check of the emergency cabin lighting, during which two lights failed to illuminate, with the remaining six failing within approximately five minutes. Resultant investigation identified that all associated emergency lighting batteries had been fully discharged, with all affected units subsequently replaced. Further operational checks were then carried out without fault, and the system was declared serviceable.
Fokker F28 MK1000 autoflight system—autopilot suspect faulty. SDR 510022311
Before the FMS calculated descent, the aircraft commenced an uncommanded shallow descent at approximately 300 ft/min. The flight had already received a descent clearance to FL290, and the change of level was picked up within 100 ft. The autopilot was reconfigured from the PROF mode to AFCAS and the rest of the descent was conducted without incident. The FMP settings at the time were HDG/PROF (deviations due weather) with MT, ALT HOLD (with DES armed) and HDGs displayed on the FMA.